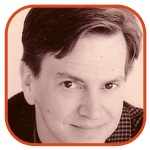 Posted by Tom Mason Categories: Editorials, Reviews, DC Comics, Image Comics, Marvel Comics,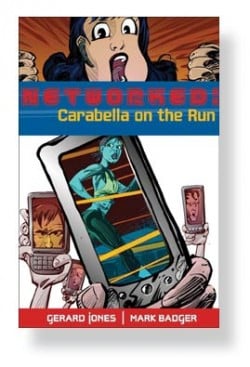 To create the Ultraverse, Chris Ulm convinced seven comic book creators to meet him and Malibu's editorial staff in Scottsdale, Arizona back in September 1992. Malibu Comics' Ultraverse flew into print in June 1993, led by those seven: Mike W. Barr, Steve Englehart, Steve Gerber, James Hudnall, Gerard Jones, James Robinson and Len Strazewski.
Click to continue reading Ultraverse: Checking In With The Founders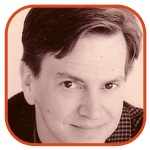 Posted by Tom Mason Categories: Conventions, Editorials, Interviews, Movies, Reviews, Television, Independent,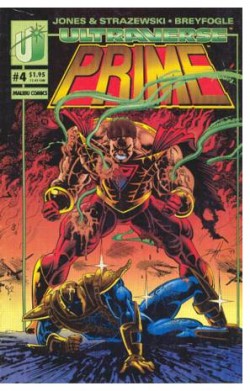 Comic Con International in San Diego is closer than you think. Years ago, I started compiling my own list of convention secrets starting with a great place to go to the bathroom that's tucked away in a corner, just minutes from the convention floor, and no one seems to know about it. Then I read the list compiled by Tom Spurgeon at The Comics Reporter and I am ashamed of my own ineptitude. If you're going to the con this summer, you need to read Tom's list of 135 tips.
After you've finished reading Tom's tips, here are a few other links to brighten your weekend…
Want To Be A Writer?: Of course you do. Who doesn't? Step into any cocktail party or backyard barbecue and it's full of people bursting with ideas, if only they can find someone who could take a few minutes to write it all down for them. The real trick is finding places that might be interested in publishing something once it's all written down. If you feel like writing some stuff down, John Scalzi (the Hugo Award-winning sf author) and Wil Wheaton (yes, that Wil Wheaton) have joined forces to create a writing contest that's win-win-win for all. Maybe even you.
Click to continue reading Weekend Reading: Comic Con International, Tom Peyer, Ultraverse and Paul Cornell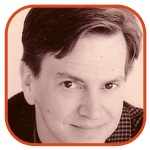 Posted by Tom Mason Categories: Reviews, Independent,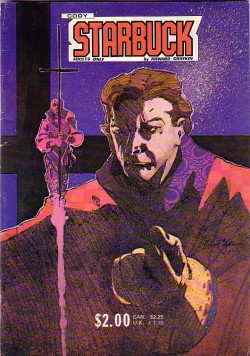 Mike Friedrich was one of the talents of the 1970s and 1980s who changed the comic book business for the better. Dean Mullaney, Phil Seuling, Bud Plant and several others belong on that list as well as several people I'm forgetting. Mike started out as a comic book fan, became a freelance writer for DC and Marvel, transitioned to publishing with his own company (Star*Reach) and later became an agent, turning Star*Reach into an agency representing artists and writers. As a freelancer, he knew well the contracts (and contractual problems) at the major companies. As a publisher he provided an alternative venue for creators to pursue projects DC and Marvel either didn't want or wouldn't let the creators own. That may not sound like a big deal, but back in the day if you wanted to tell stories outside of the standard Marvel-DC superhero template, or found yourself on the outs with those two companies, you had almost no alternatives until Star*Reach and Eclipse came along.
When Friedrich became an agent he was able to turn his experience loose on behalf of other creators to negotiate better deals. I've read comics Mike wrote, I've read comics that he published, and a couple of times I've been across the virtual negotiating table from him. [I won't name names, but at the initial Ultraverse Founders conference in Scottsdale AZ, he quite rightly had his client wait in the hall while he finished negotiating via phone his client's UV contract. My job at the time was to nod sycophantically and supervise the snack trays for the conference; Dave Olbrich did the actual nuts and bolts negotiating.]
Click to continue reading Forgotten Comics: Howard Chaykin's Cody Starbuck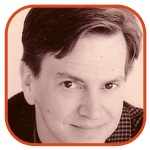 Posted by Tom Mason Categories: Editorials, Reviews,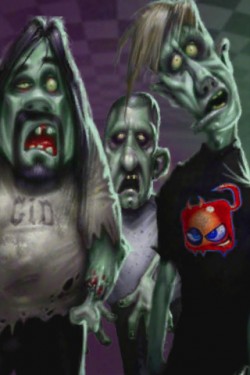 Halloween is coming and it's the favorite time for witches, ghosts and everybody's favorite: zombies. I love the undead, you love the undead, and so does Chris Ulm. But who's Ulm? He was one of the co-founders of Malibu Comics back in the day, the originator of what became the Ultraverse and co-creator of Rune with Barry Windsor-Smith. He's now one of the founders of Appy Entertainment, which creates games for the iPhone.
Working from their Secret Worldwide Headquarters, and just in time for Halloween, the Appy boys have released Zombie Pizza. The game has you racing against the clock to make pizzas with disgusting ingredients - brains, guts, bones, eyeballs, etc. Fill the orders fast enough or your undead customers will smash through the restaurant doors and take a thick slice out of your head.
According to Ulm, Zombie Pizza is "a fast-paced, light-hearted horror puzzle game where lightning-quick reactions are all that stand between you and a grisly fate at the hands of the ravenous undead."
Zombie Pizza is available at the iTunes store for just 99¢, about 1/4 the price of a regular comic book these days.
Click to continue reading Chris Ulm's Zombie Pizza
Read More

| Appy Zombie Pizza via Appy Entertainment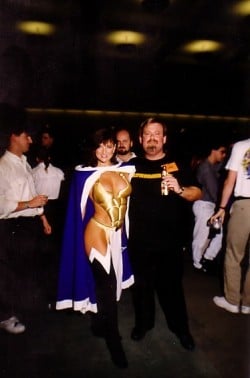 And here we go with the final installment of Old Comic Book Convention Photos week. I think everyone knows what a "Booth Babe" is – she's the model-like girl at a convention who usually works in an exhibitor's display area or prowls around in front of it, chatting with potential customers and repeating all the talking points she's been given for the day. She might even be handing out product literature or free samples and you willingly take it because "Hey, a pretty girl is giving me stuff." You could always find booth babes at car shows, boat shows, and consumer electronics shows like CES. The same types of places where Adam West might show up to lean against one of the original Batmobiles.
Back in the 1990s, there was an explosion of booth babes at comic book conventions, usually at a publisher's booth. Sometimes they were actually on staff at the publishing company, sometimes not. Thanks to the explosion of Image Comics in the early 1990s, there was a tremendous increase in costumed characters as well – not the fans dressed in costume, but professional models, male and female, hired by the publisher to wear custom-made costumes based on characters in their books. They would hang around the booth or stroll around on the floor, mingling with the fans, driving traffic back to their booth and posing for "Hey! Look at me with a pretty girl at the convention!" photos with tubby fans in too-small X-Men t-shirts. Image had them, Harris Publications trotted out a couple of different Vampirellas, and other publishers jumped in.
Malibu Comics, always able to identify and then exploit a trend, had their own costumed characters with the launch of the Ultraverse in 1993.
Click to continue reading COMIC CON INTERNATIONAL: Booth Babes and the Ultraverse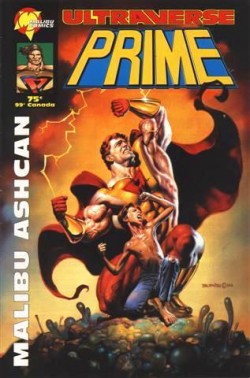 Lots of great stuff this week on the internets, covering a wide variety of my geeky interests. Here's a few of them to occupy you 'til Monday.
STAR TREK CONTINUITY: to celebrate the release of J. J. Abrams new Star Trek movie, let's revisit some classic Star Trek continuity, courtesy of Steve Ahlquist at Forces of Geek. (Did I mention that's one of my favorite blogs?) He works his geek-magic on the continuity of the original series, the Gold Key Star Trek comic books, Vulcan poetry from Star Trek fanzines, James Blish's novelizations and even Star Trek merchandise. Even if you only click the link to see Sky Diving Parachutist Mr. Spock, you have to visit.
HOWARD CHAYKIN: One of Howard Chaykin's most recent pieces of work didn't make it in the American edition of Christian Moerk's debut novel, Darling Jim. At the author's request – he's a big fan, especially of Chaykin's American Flagg! - Howard created an illustration for Moerk's book. You can see a snippet of the excised art at the link where there's a link to the much larger full-sized version. Thanks, GalleyCat!
Click to continue reading WEEKEND READING: Star Trek, Howard Chaykin, Buscema, and the Ultraverse!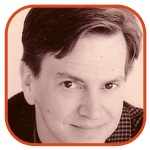 Posted by Tom Mason Categories: Video Games,


Chris Ulm was the guy who came up with the idea of the Ultraverse. I should know - I watched him do it. When Bob Jacob merged his Acme Interactive with Malibu Comics and became co-president with Scott Rosenberg, he wanted some ideas about what Malibu could do in its post-Image Comics years. "And bring me steak, not sizzle!" he demanded like a little kid who wanted the biggest piece of birthday cake.
Ulm pitched a couple of ideas. One was "Hire Jim Shooter" (which the company almost did, 2 1/2 times over the years). The second was the idea that became the Ultraverse (though its working title was the Megaverse, until we discovered that it was already a trademarked universe). Ulm served as Editor-In-Chief of the Ultraverse and co-created Rune with Barry Windsor-Smith.
After Marvel bought Malibu Comics, Ulm and took a look at his employment agreement and realized he could do something else. He went north and jumped into video games at Oddworld Inhabitants (check out Abe's Exoddus and Munch's Oddysee!). After Oddworld, he went to work farther south and joined the game company Sammy which later spun off into his own High Moon Studios (where he worked on the Bourne franchise and created the Darkwatch vampire western video game). Last year, he stepped away from Sammy and with some of his Sammy pals, including one-time comic book writer Paul O'Connor, launched Appy Entertainment – a game company that makes applications, apps, for the iPhone.
Click to continue reading CHRIS ULM: The Ultraverse and Appy Entertainment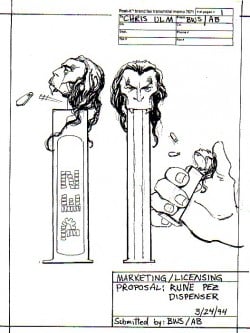 One of the great joys of working in comics is getting to hang out with a lot of creative people. As comics are Frankensteined together out of their various parts, you have access to fun stuff that never makes its way into print – notes, sketches, doodles, penciled pages, rough drafts, color tests, model sheets, costume designs, etc. Sometimes in the heat of production an artist will do something really funny that gets passed around from desk to desk and much laughter ensues.
Malibu Comics' Editor-in-Chief Chris Ulm was one of the founders of the Ultraverse (it was his idea, if anyone asks) and he was also the co-creator of Rune with Barry Windsor-Smith. They envisioned Rune as the UV's ultimate villain, a vampire of sorts who would be to the Ultraverse what Galactus was to the Marvel Universe and what Darkseid was to the DC Universe.
Rune starred in his own comic, guest-starred in others, and fought both Conan and the Silver Surfer. Not too shabby for an upstart neck-biter. One of the things the Ultraverse had going for it was a strong licensing department. There were a couple of people in the office who were always out hustling up licensing partners for t-shirts, watches, pins and more. That led to a little creative fun from Rune artist Barry Windsor-Smith and his inker Alex Bialy. They sent this little fax to Chris Ulm with their humorous pitch for a potential licensing partner. For the first time outside of the Malibu offices, you can now see the Toy That Should Have Been Made: The Rune Pez Dispenser, the first in a new product line of "vampire Pez" or possibly "comic book Pez." Enjoy!
(Rune © Marvel Comics)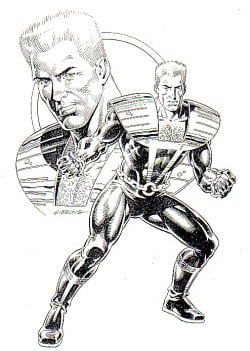 When Malibu Comics' Ultraverse was pulling itself together in 1992 and 1993, co-founder James Hudnall's concept for Hardcase was to go back in time. Specifically to 1938 and Jerry Siegel and Joe Shuster's original idea for Superman – a guy who was really strong and could leap tall buildings but wasn't necessarily indestructible. Then take that basic idea and mix it with the show business elements; more like The Player and less like The Fall Guy. Hardcase would be based in Los Angeles, move in show biz circles, have an agent, and pound a few people into the ground. Hardcase was once a member of a team known as the Squad, but by the time he debuted in the Ultraverse, everyone in The Squad had been killed except for him.
When putting together the character designs for Hardcase, Editor-In-Chief Chris Ulm (the guy who thought up the original Ultraverse idea in the first place) had only one artist in mind: Dave Gibbons. That's because of Ulm's long-standing love of Watchmen and Gibbons' designs for all those characters. In the Comics Buyer's Guide #1010, Ulm said that Gibbons had a strong design sense and was chosen to get the character's looks firmly established for subsequent artists. Gibbons had other commitments that prevented from a regular stint on Hardcase. To the right is the finalized b&w version of Hardcase, scanned from an old photocopy from a Malibu Comics press kit circa 1993. I used to have a whole stack of photocopies of Dave's original pencil sketches but much like Mad Max, they live on only in my memories. (I do have a couple of odd color pieces that I might post in subsequent days.)
If you've missed some of Watchmen Week, you can still make up for your error here:
Watchmen Week, Part 1
Watchmen Week, Part 2
Watchmen Week, Part 3
(Hardcase © Marvel Comics, Inc.)
Well, of course, we all know that Warren Ellis, Mark Evanier, and Neil Gaiman have blogs (and all three are highly recommended), but there are some other blogs by comic book professionals past and present that are worth a look as well. Here are some of my favorites – check 'em out this weekend and see what you think:
CARL POTTS is a former Editor-In-Chief at Marvel Comics during the go-go 1990s. He's also the co-creator of Alien Legion. At his blog, General Eclectic, he writes regularly about his days at Marvel (with a lot of behind-the-scenes stuff about the business), creates well-illustrated essays on visual storytelling, and more. Favorite recent post: Marvel Tales: Making Comic Book Editors.
DAVE OLBRICH is a good buddy from my Ultraverse years. At his blog Funnybook Fanatic he posts regularly about the comics of his youth, his Ultraverse years and his adventures in comic book land with guys like Marv Wolfman, Jack Kirby and Stan Lee. Favorite story so far: freezing at a luau in Hawaii with Stan.
GERARD JONES was a writer for DC Comics, Epic, Malibu Comics and the Ultraverse and Dark Horse during the aforementioned go-go '90s. At one time a writer for National Lampoon, he was also the co-creator of The Trouble With Girls with writing partner Will Jacobs. He has since become a writer of more serious fare, including Men of Tomorrow. He's also occasionally posting his novel-in-progress, My Pal Splendid Man, that he's writing with Jacobs. It's about a would-be writer who befriends a superhero. Gerard doesn't post that often, but he's still worth a visit if only to read chapters from his upcoming books.
TOM RICHMOND got his start at NOW Comics working on their Married…With Children licensed comics. He has since become a mainstay at MAD Magazine, among other places. At his officially unofficial MAD Blog, he posts regularly about MAD, his illustration assignments, the business of cartooning and caricatures and highlights a lot of his wonderful artwork, taking the reader through his process from concept to sketch to pencils/inks/color. Tom also blogs about his non-publishing-related second career, as a caricaturist. Favorite Post: Reviewing The Cintiq 12wx (Seriously, it's a great review.)
TODD KLEIN is one of the most in-demand letterers in the comic book business. He currently letters Fables for DC, Nexus for Mike Baron and Steve Rude and The League of Extraordinary Gentlemen for Alan Moore and Kevin O'Neill. Most recently, he did the cover lettering for Amazing Spider-Man #583, the Obama issue. On his blog Klein Letters he posts regularly about the business, does logo studies of long running comics like Fantastic Four, House of Mystery and Justice League, reviews comics and books, and highlights classic lettering samples from DC's files. Occasionally he throws in some nifty bird photos and vegetarian recipes. Best post: Celebrating Gaspar Saladino, the legendary DC letterer. It's a 3-part post and worth every second you spend reading them.
© Gear Live Media, LLC. 2007 – User-posted content, unless source is quoted, is licensed under a Creative Commons Public Domain License. Gear Live graphics, logos, designs, page headers, button icons, videos, articles, blogs, forums, scripts and other service names are the trademarks of Gear Live Inc.