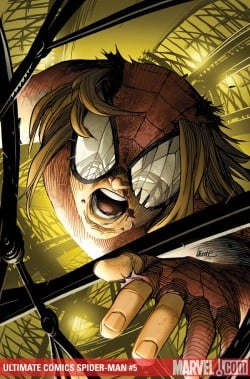 Rating: ****
If you are a new reader of Brian Michael Bendis's run on Ultimate Comics Spider-Man and if you think that things are moving a bit slow, do not worry. Look at the pace that Bendis is presenting in his story as if it were a fine dining experience. When you are eating a fine meal, you don't wolf down your food as if you're at McDonald's. Instead, you take your time to savor every moment of every bit of food. Bendis's take on the Spider-Man character is so perfect, that you want more after every issue you've read. What's the old saying? Leave with them wanting more. I guess that's the best way to describe how I feel when I'm reading his Spider-Man - I want more.
Although the comic audience is mostly adult males, Brian Bendis writes Ultimate Comics Spider-Man as a comic geared more towards a tween/teenage audience. I can see a kid in that age range who has enjoyed Harry Potter and Twilight really enjoying this book more than an adult would. Spider-Man really acts like a teenager here. You don't get the feeling of a writer trying to write dialogue that a teenager would say - particularly towards the end of the book with Peter and Gwen.
Our story continues the opening arc of this relaunched title with Spider-Man battling Mysterio. When we last left off, Spider-Man was at the mercy of Mysterio. It looks grim, but thanks to the arrival of the mysterious new cloaked hero that first appeared in issue one, Spider-Man makes it out alive. Thanks to this intervention, Spider-Man is able to recover and duke it out with Mysterio. The cloaked figure knocks out Mysterio's technology and we see his face. As a result, an explosion happens, but all survive and Mysterio swears revenge.
Click to continue reading Marvel Comics Review: Ultimate Comics Spider-Man #5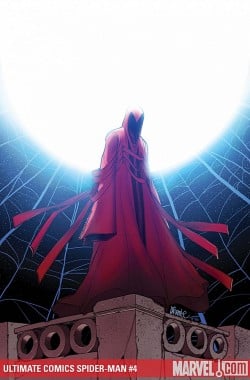 Rating: ****
Another great issue by Brian Michael Bendis. The artwork is good too with artist David LaFuente. I complained before about how I thought Peter Parker looked like he was 12 years old instead of 16, but that doesn't really bother me all that much. The way he tells the story panel-to-panel is reminiscent of Mark Bagley's work on the original Ultimate Spider-Man title. I think LaFuente is becoming more the true air to the title than Stuart Immonen. No disrespect to Immonen, but I think both Bagley and LaFuente's styles are better fit for the characters than Immonen. I hope LaFuente stays around for a while.
Bendis continues his masterful run on the Spider-Man character, which began almost 10 years ago. It's always fascinating to see a writer stay with a character for that long and see the amount of different stories they can tell.
In typical Bendis fashion, the plot is moving along slowly, but you're not bored. It's like having a fine meal and you're slowly enjoying yourself. So far Peter is still dealing with his new house guest the Human Torch and the drama of dealing with his past and current girlfriends Mary Jane and Gwen. The villain is still Mysterio and this new hooded superhero that first appeared in issue one makes another appearance. Is this new character an Ultimate version of the Hood - the villain Bendis is using over in Avengers? Maybe the Hood is a hero in the Ultimate universe.
Click to continue reading Marvel Comics Review: Ultimate Comics Spider-Man #4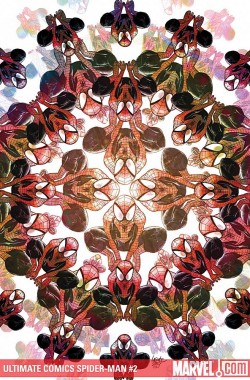 Rating: ***
The relaunch of the Ultimate Universe continues this month with issue two of Ultimate Comics Spider-Man. I liked this issue, but it was nothing spectacular. Where issue one showed more of the aftermath of Ultimatum, this issue sets up the various stories that will be taking place in the book. At the end of issue one we saw the Kingpin fall to his death thanks to Mysterio. Issue two confirms that as for now, the Ultimate Universe's Kingpin is now dead. I say as for now because you never know with comics. Maybe that guy wasn't the Kingpin. Maybe it was an actor playing the Kingpin. Right Aunt May? Ugh!
Anyway. Mysterio is looking to not simply be the new Kingpin of Crime, but the ruler of the world. Get in line Mysterio, so does every other bad guy in the comic book world. I like this version of Mysterio better than the regular Marvel Universe one. Although I like the classic fish bowl look, you could never really take Mysterio seriously as far being a serious threat to the world. This Ultimate version doesn't have the fish bowl and gives off a Dr Doom like vibe as far potential to really do some damage in the Ultimate Universe. It would be cool to see if Mysterio did become a major bad guy that all of the Ultimate Universe would have to unite against because he's so dangerous. We'll see.
Click to continue reading Marvel Comics Review: Ultimate Comics Spider-Man #2
© Gear Live Media, LLC. 2007 – User-posted content, unless source is quoted, is licensed under a Creative Commons Public Domain License. Gear Live graphics, logos, designs, page headers, button icons, videos, articles, blogs, forums, scripts and other service names are the trademarks of Gear Live Inc.