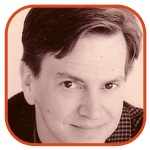 Posted by Tom Mason Categories: Editorials, Reviews, DC Comics, Independent, Marvel Comics,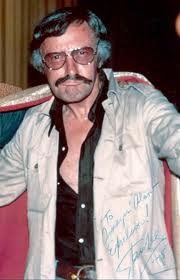 Whew! What a year! Let's see what the internets hold for the final few days!
Happy birthday to the Funky Flashman himself, Stan Lee, who turns 90. Buzzfeed has his life in pictures.
Here's what I like about the internets: finding a feature length animated film adapting a graphic novel I've never heard of. In this case, it's Alois Nebel, "a Czech feature length animation directed by Tomas Lunak and based on a trilogy of graphic novels by Jaroslav Rudis and Jaromir 99." There's a preview of it at the link.
Adam Beechen talks with Newsarama about Batman Beyond, and beyond.
My pal Richard Pachter reviews a nifty bunch of books including Happy, The Nao of Brown, Building Stories, Marbles, Fashion Beach, and more!
Click to continue reading Weekend Reading: Stan Lee, Alois Nebel, Adam Beechen and Stuntman!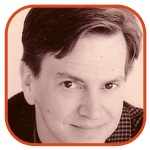 Posted by Tom Mason Categories: Editorials, DC Comics,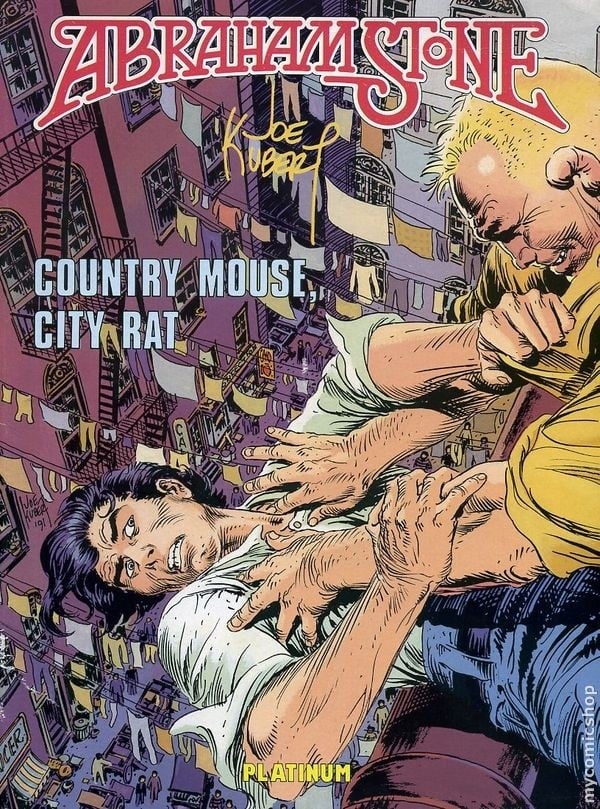 It's hard to believe that Joe Kubert passed away. His work was such a large part of my comic book experience and his war comics are so ingrained on my psyche that it feels like the passing of a great man of literature.
From Sgt. Rock, to Enemy Ace, to Tarzan and dozens more, his work never disappointed. His covers were dynamic, fluid, and never looked like anyone else's. I could spot Kubert art a mile away. I loved his covers on Son Of Tomahawk, and I really liked a tryout series of his called Firehair, about a red-headed boy raised by native Americans.
And as much as I loved his war comics, it was his Tarzan that was a revelation to me. I'd read the Gold Key stuff which I found stiff and unexciting, but when I picked up the first issue Kubert did for DC, I was amazed at how he got me to like a character I was never really interested in.
Years later, I was fortunate enough to be involved in the publication of one of Joe's graphic albums, Abraham Stone, at Malibu Comics. Here's how that came about.
Click to continue reading Joe Kubert, RIP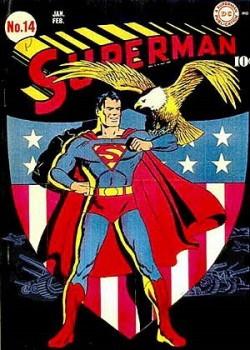 Hey America, happy birthday to you this weekend. If you find yourself too full of Pabst Blue Ribbon, overcooked hamburgers, runny macaroni salad and apple pie with too much HFCS in it, and it's too early to start shooting off those fireworks you smuggled over from North Carolina, do what I do: surf the internet.
Oh, Brother: Bob Weber, Jr. (creator of Slylock Fox) and Jay Stephens (Tutenstein, Land of Nod), have joined forces and launched a brand new comic strip. Alan Gardner at The Daily Cartoonist has the announcement and some samples, and it all looks really, really good.
Wonder Woman: When Nikki Finke calls recent changes to one of your iconic characters "dumbass stuff," shouldn't it be rethought?
Twin Spica: Looking for some good manga to spend your hard-earned money on? Rod Lott at Bookgasm has a recommendation for you, Twin Spica Volume O2 by Kou Yaginuma.
Click to continue reading Weekend Reading: Steve Ditko, Larry Doyle, Wonder Woman and Doc Savage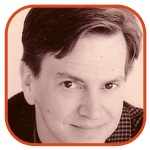 Posted by Tom Mason Categories: Editorials, DC Comics,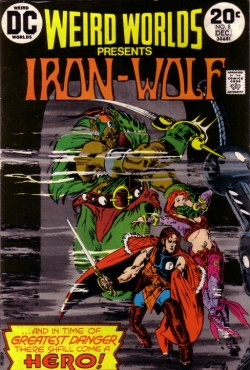 The DC comics of the early 1970s were still fairly stodgy, but newcomers like Howard Chaykin, Mike Kaluta, Bernie Wrightson, Walter Simonson and others were starting to shake things up. I've made no secret of my love of Howard Chaykin's work. He's a creator who continues to challenge the form, push it, break barriers and twist it around while still having interesting things to say. If for some crazy reason, he took over Bazooka Joe, I'd start buying gum by the case.
In 1972, DC published a comic called Weird Worlds that was a Tarzan tie-in title featuring John Carter of Mars and Pellucidar adaptations. By issue #8, they dropped all the Burroughs-related stuff and went with an original, non-DCU character, Iron-Wolf, created by Chaykin. He plotted it, penciled it and inked it, and Denny O'Neil did the script. The beautiful lettering - seriously, it's awesome - was by Walter Simonson.
The story is action-packed and a good set-up for a series: Lord Iron-Wolf refuses to turn over his planet's resources to "allies" of the Empress of Empire Galaktika out of fear it will leave his planet open to attack.
Click to continue reading Forgotten Comics: Iron-Wolf by Howard Chaykin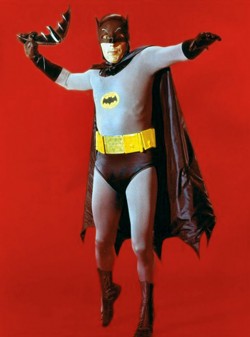 Lots of cool to click on lately, from horror and comic book author Christopher Golden to comic book and television writer Gerry Conway, with a dash of The Simpsons and a blast from the Direct Market past with the ghost of Steve Milo. Check 'em out:
Christopher Golden: When I first read Golden's Of Saints And Shadows, I was struck by two things: (1) he's really good and (2) this book reads like a horror version of X-Men. Novelist Ed Gorman plays Q&A with Golden over at his website.
Gerry Conway: One of my absolute favorite comic book writers (and now a TV writer in the Dick Wolf empire), Mr. Conway is excited about the new Predator reboot, Predators. He tweets: "Not that it matters: Predators seems to have a similar plot device to a movie Roy Thomas & I pitched years ago. Great minds, etc." He expands on that in subsequent tweets, "I'm not claiming idea theft, 'cause Roberto Rodriquez would've been 14-years-old when Roy & I made our pitch, and somehow I doubt…" Since he curtailed his blogging, his tweets make for fun reading.
Click to continue reading Weekend Reading: Starlog, Christopher Golden, Gerry Conway, Tarzan and Steve Milo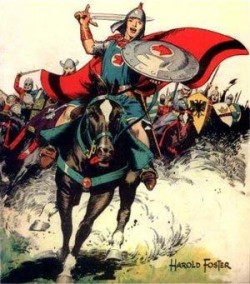 I get tired of hearing about Mozart. Yeah, he's a genius and he started composing music when he was 5-years-old. I get it, fine, blah, blah, blah. You know who else is brilliant? Harold "Hal" Foster, the critically-acclaimed creator-writer-artist on Prince Valiant. He created his most famous and enduring work when he was 45-years-old. Malcolm Gladwell, take note.
Continuing my series on cartooning and cartoonists, Hal Foster wrote about himself and his work back in 1964. This is pulled from an oversized saddle-stitched magazine from Allied Publications with the creatively-challenged title These Top Cartoonists Tell How They Create America's Favorite Comics. It featured an introduction by Beetle Bailey's Mort Walker and was compiled by Allen Willette.
Here's Foster on Foster:
Click to continue reading Hal Foster and Prince Valiant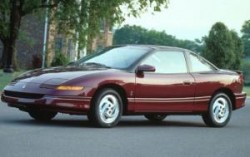 Now that GM is shutting down their Saturn division, let me tell you how comic books helped me get a really nice, reliable car. Years ago, my old car went on life support and, reluctantly, since I could no longer count on my friends to keep picking me up by the side of the freeway, I had to get another one. I hate buying a car more than I hate trying to get a hotel room for Comic-Con International in March. So I needed a plan.
At the time, I was intrigued by the ads for Saturn cars. They were owned by GM but had a separate factory somewhere near Davy Crockett's family home in Tennessee, used their own parts and built their cars using a team that wasn't connected to GM corporate. Also, the happy TV commercials showed their smiling employees enjoying picnics in the park. It was, they claimed, a different way to make a car.
Click to continue reading Comic Books And Saturn (The Cars)
© Gear Live Media, LLC. 2007 – User-posted content, unless source is quoted, is licensed under a Creative Commons Public Domain License. Gear Live graphics, logos, designs, page headers, button icons, videos, articles, blogs, forums, scripts and other service names are the trademarks of Gear Live Inc.