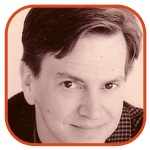 Posted by Tom Mason Categories: Editorials, DC Comics,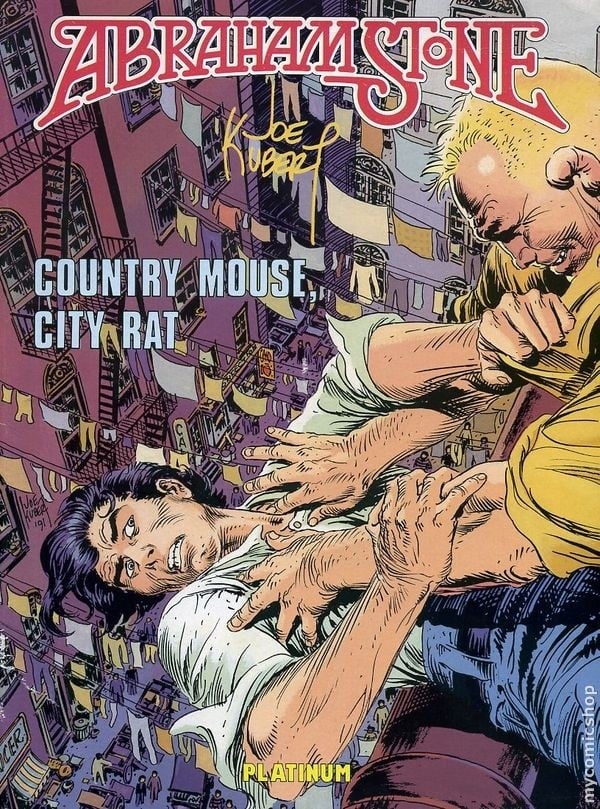 It's hard to believe that Joe Kubert passed away. His work was such a large part of my comic book experience and his war comics are so ingrained on my psyche that it feels like the passing of a great man of literature.
From Sgt. Rock, to Enemy Ace, to Tarzan and dozens more, his work never disappointed. His covers were dynamic, fluid, and never looked like anyone else's. I could spot Kubert art a mile away. I loved his covers on Son Of Tomahawk, and I really liked a tryout series of his called Firehair, about a red-headed boy raised by native Americans.
And as much as I loved his war comics, it was his Tarzan that was a revelation to me. I'd read the Gold Key stuff which I found stiff and unexciting, but when I picked up the first issue Kubert did for DC, I was amazed at how he got me to like a character I was never really interested in.
Years later, I was fortunate enough to be involved in the publication of one of Joe's graphic albums, Abraham Stone, at Malibu Comics. Here's how that came about.
Click to continue reading Joe Kubert, RIP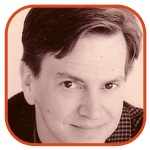 Posted by Tom Mason Categories: Editorials, Movies, Reviews, Marvel Comics,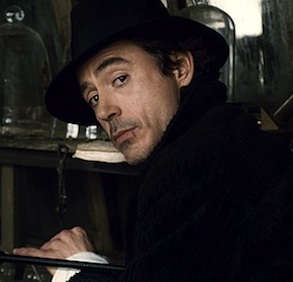 For starters, let's all wish writer Tom Spurgeon a speedy recovery. He took a blogging break earlier this year for health reasons and his essay about his health, his love of comics and his work is even more essential than his already-essential blog. If you read nothing else today, make it this.
Now let's see what else is going on across the internets:
Sherlock: Oh, that lovable curmudgeon Sherlock Holmes is causing trouble for the uneducated, easily threatened, fragile book burners of America. Apparently, A Study In Scarlet, a classic Holmes adventure, features an insensitive remark about Mormons. Imagine, a fictional character - not Holmes or Watson - from Victorian England having an unprogressive attitude. Forgive me while I clutch my pearls and head for the fainting couch. Galleycat has more on the story, including links to downloading the public domain book for free.
Don McGregor: The writer of Killraven and Black Panther (to name but two) has some thoughts about his wife Marsha on her birthday.
Click to continue reading Weekend Reading: Sherlock Holmes, Conan, and Spider-Man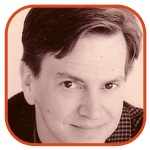 Posted by Tom Mason Categories: Editorials, Marvel Comics,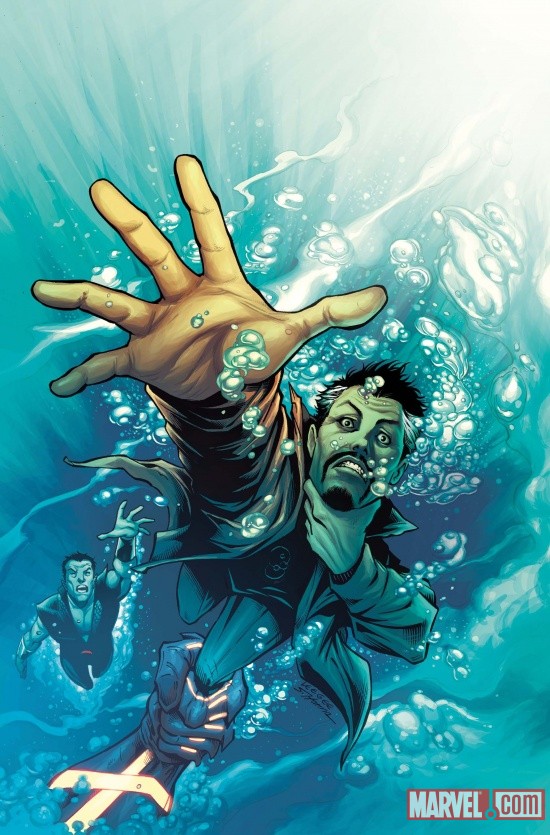 Greetings and welcome to the weekend. Let's read!
Toth: Animator Michael Sporn showcases a lot of great Alex Toth art from Dell Comics. Bonus: includes side-by-side comparisons of Toth's b&w pages with the much lower-quality printed copies. Nice.
Bunn: Chris Arrant at Collecting Comic Books has a nifty interview with Cullen Bunn, writer of the upcoming Fear Itself: The Deep.
Cap: Novelist James Reasoner reviews The Trial of Captain America: "Under Brubaker's guidance, Captain America continues to be one of the best comics out there today."
Cartoons: Cartoonist Dan Rosandich gets himself a shout out from the Los Angeles Times Pressmens 20 Year Club.
Plop!: Diversions of the Groovy Kind has an old classic from Steve Skeates and Sergio Aragones.
Comics: We all knew that Nick Fury was a Sergeant and an agent of S.H.I.E.L.D. Did you know he was a fan of the comics? Mike Sterling reveals all.
Click to continue reading Weekend Reading: Alex Toth, Nick Fury and Doug Wildey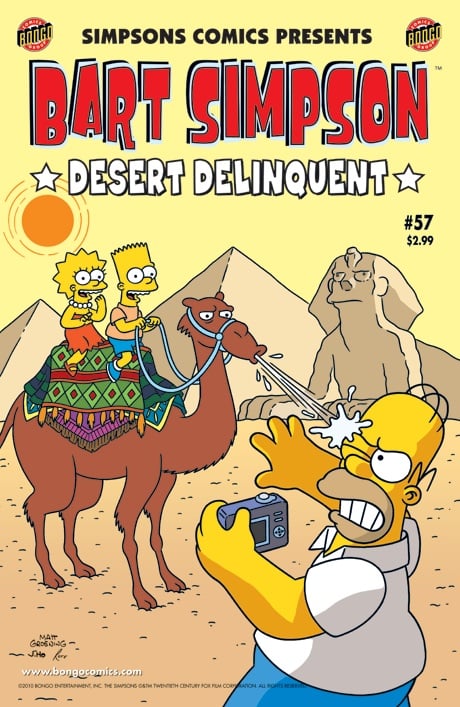 Can you really go wrong with an issue of Bart Simpson that features work by Sergio Aragones and Evan Dorkin?
I don't need to know the contents or what the stories are about or any of the pertinent details.
All I know is that those guys are in it, along with some of the usual Bongo creators, and that makes it well worth my $2.99.

It's on sale this week, and I'll be rushing to the LCS to get my copy. I suggest you do the same.

[Artwork: Cover to Bart Simpson #57, © Bongo Comics]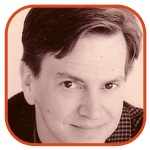 Posted by Tom Mason Categories: Editorials, Reviews, Independent,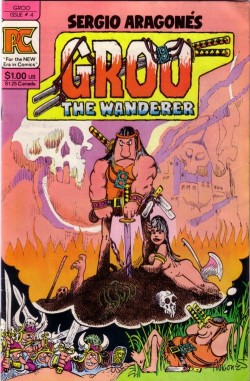 You might think that my favorite place to buy back issues would be my local comic shop, or maybe haunting eBay or perhaps running to a comic book convention, want list in hand.
You'd be wrong.
One of my favorite places to find oddball comics is a thrift shop – you know the kind I mean, the ones with old clothes, chipped glassware and broken Betamaxes. The kind of thrift shop that's usually run by the Goodwill or the Salvation Army or a local charity organization.
The DNA of antique dealers runs through my veins, straight from my maternal grandfather and on down to me. So as a kid, our family field trips were often to estate sales, drafty auction houses, flea markets and, of course thrift shops. My reward was that sometimes I'd find comics. I once won a box lot of 50 or so good-condition Silver Age DC's for $10.00, so the rewards were often very nice.
When you're poking through a thrift shop the condition of whatever comics you find might be too worn for a comic book store to bother with, and a lot of them may be multiple copies of Darker Image #1, but that only makes finding the nugget of gold all the sweeter.
Click to continue reading Groo And My Favorite Comic Book Store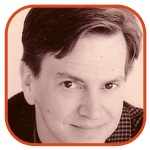 Posted by Tom Mason Categories: Reviews, Independent,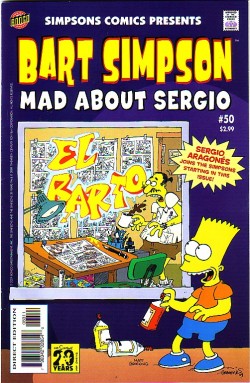 Let's get this out of the way right up front: I have a bias when it comes to Sergio Aragonés. I grew up reading his Marginals in MAD Magazine and later worked for a company that published his work (two graphic albums and The Mighty Magnor mini-series with Mark Evanier). During that time, I not only met him, but he once dropped by the office on a day that coincidentally was my birthday and, in the time it might take me to read an email, he drew in ink (no penciling) a breathtaking 9x12 illustration of multi-character cartoon goodness as a gift. I still have it, framed on my office wall.
So my bias goes well beyond fancrush. I was saddened that MAD Magazine went quarterly because it meant 8 fewer paychecks per year for all those freelancers associated with the magazine, including Sergio. But I knew that anyone who draws as fast and funny as he does would find another outlet for his work, and I was delighted - and surprised - to discover that it would be The Simpsons.
He's joined Bongo Comics, and they've made a big deal out of his debut on Simpsons Comics Presents Bart Simpson #50, subtitled "Mad About Sergio." Sergio writes, pencils and inks two complete stories. The first is "The Simpson Project," about what happens when Bart and Milhouse's homemade rocketship triggers a domino effect of international nuttiness. And the second is "Big Top Flop" where Bart and his friends sneak away from Cirque Du Lune ("the elegant art of mime and the subtle fantasy of Asian contortionists") and try to sneak into a "real" circus. There are also two shorter gag pieces by Sergio.
Click to continue reading Bart Simpson #50: Sergio Aragonés!
Read More

| The Beat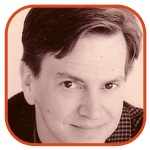 Posted by Tom Mason Categories: Editorials,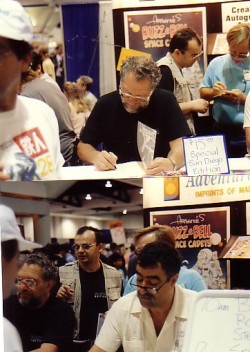 Platinum Editions was a joint venture between Ervin Rustemagic's Strip Art Features (S.A.F.) and Malibu Comics. The idea was that since Ervin's client roster of fantastically-talented big name artists was already creating graphic albums for distribution in multiple European countries, why not publish a US edition as well. Why not, indeed.
Malibu agreed to pay for a black plate change during the press run and produce a version of each book with English dialogue (and lettering), and distribute the books under a new imprint. Ervin originally wanted to call the imprint "Exit" because he had a theory that the sheer number of "Exit" signs on the freeways, interstates and highways across the U.S. amounted to a ton of free advertising. But Platinum Editions won the name game.
Once printed in Europe, the books would then ship to the US. It gave Malibu – in 1991 – access to some creators it normally would not have gotten to work with, including Joe Kubert (who would later illustrate Rustemagic's Fax From Sarajevo) and Sergio Aragones. Kubert's book was Abraham Stone, and Sergio did two books, Buzz & Bell: Space Cadets and Smokehouse Five.
Click to continue reading COMIC CON INTERNATIONAL: Joe Kubert and Sergio Aragones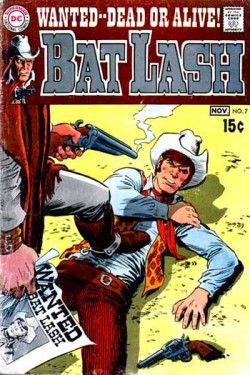 One of my favorite artists of all time is Nick Cardy. His name on the credits always meant a visually interesting comic book, and he drew one of my favorite comics of all time: the original Bat Lash, written by Sergio Aragones and Denny O'Neil.
DC Comics is doing me a huge favor this July by collecting the Bat Lash comics in a new trade-paperback, Showcase Presents: Bat Lash.
It's a great example of Nick's abilities and I've already pre-ordered my copy. The volume will include Bat Lash's first appearance, Showcase #76, all 7 issues of his original series, plus the Bat Lash stories from DC Special Series #16, Jonah Hex #49, 51 and 52. It's not an all-Cardy all-the-time collection - other artists represented in the book include Mike Sekowsky and Dan Spiegle - but it's enough Nick for a solid fix. And Showcase #76 + Bat Lash #1-7 are enough to make it fanboy heaven. Cardy had a dynamic storytelling sense and was equally adept at drawing super-heroes (Aquaman), regular people, cowboys (Bat Lash) and Jungle Lords raised by Apes (Tarzan). He was part of the generation of comic book artists who also knew how to draw people with hats, and could draw a horse or a car with the same skill he could draw Aquaman riding a seahorse into an underwater battle with some guy made out of coral.
One of his great skills was as a cover artist and he was one of DC's mainstays in the 1960s and 1970s. His bold, dynamic, and imaginative covers seemed to always scream: "Buy this issue! Now!"
Click to continue reading NICK CARDY: Bat Lash, Aquaman, The Teen Titans
© Gear Live Media, LLC. 2007 – User-posted content, unless source is quoted, is licensed under a Creative Commons Public Domain License. Gear Live graphics, logos, designs, page headers, button icons, videos, articles, blogs, forums, scripts and other service names are the trademarks of Gear Live Inc.