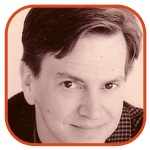 Posted by Tom Mason Categories: Editorials, Movies, Reviews, Dark Horse Comics,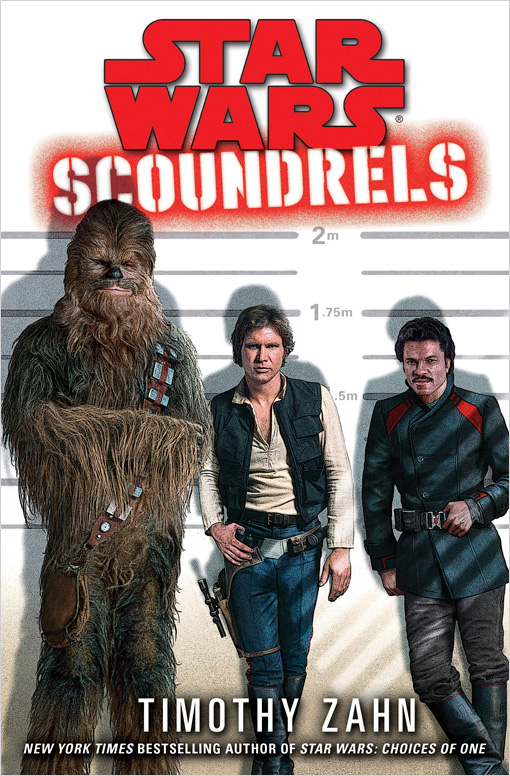 The internets are abuzz with all sorts of great stuff this week. Let's take a look.
Gerry Conway is one of my favorite writers. I love his Marvel work on Spider-Man and countless others, his Atari Force for DC is an unsung gem, and, more importantly, I think his work as a writer-producer on Law & Order: Criminal Intent gave that show its best episodes. This project with him looks very interesting.
Great news. An old DC book that slipped under the radar is getting collected by Dark Horse. It's Dan Jolley's (and Leonard Kirk's and Robin Riggs') Bloodhound. Here's a solid interview with Dan at Robot 6.
Mickey Mouse tries to kill himself, in 1930.
A Star Wars novel as caper with Han, Chewy and Lando? Here's a very favorable review from Randy Johnson of Star Wars: Scoundrels by Timothy Zahn.
Click to continue reading Weekend Reading: Star Wars, Gerry Conway, Bloodhound, & Mickey Mouse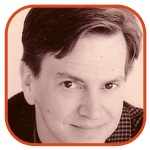 Posted by Tom Mason Categories: Editorials, Interviews, Reviews, DC Comics, Independent, Marvel Comics,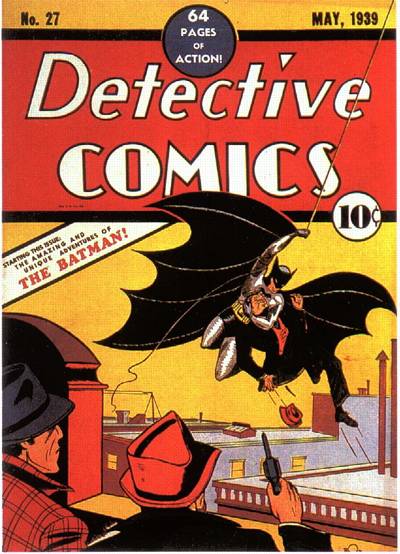 Yeah, yeah, Avengers-mania is dying down and we're back to counting the days until San Diego, right? Well, I am. In the meantime, let's read:
Want some story-writing advice from the gang at Pixar? Of course you do.
There's no doubt that without writer Bill Finger, Batman wouldn't be Batman. Booksteve's Library has read and enjoyed Bill, The Boy Wonder: The Secret Co-Creator of Batman by Marc Tyler Nobleman. "Bob Kane was rather a self-serving individual who rarely did anything himself when he could get someone else to do it for him." One of those someones was the writer Bill Finger.
Longbox Graveyard blogger Paul O'Connor has a companion gig: a regular column at Stash My Comics called The Dollar Box. Start here.
Click to continue reading Weekend Reading: Bill Finger, Pixar, Toth and Calvin & Hobbes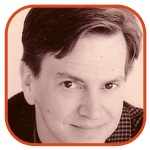 Posted by Tom Mason Categories: Editorials,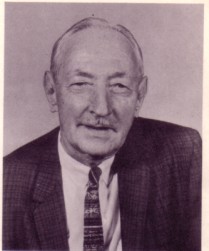 I think it's hard to take over a comic book or comic strip from a creator whose work is so ingrained in the original. Like Fantastic Four after Jack Kirby or Amazing Spider-Man post-Ditko, or American Flagg! after Howard Chaykin. It can be done, of course, and it's done all the time since, with few exceptions (Calvin And Hobbes and Peanuts to name just two), keeping the property alive is advantageous to the rightsholder.
Leslie Turner was one of those takeover guys. With Roy Crane's blessing to his former assistant, Turner took over Captain Easy (formerly known as Wash Tubbs) when Crane left to create Buz Sawyer in 1943. Turner did a pretty good imitation Crane, and even stuck with the Craftint technique that Crane pioneered on the good Captain.
Click to continue reading Leslie Turner, Roy Crane, Wash Tubbs and Captain Easy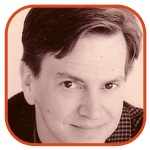 Posted by Tom Mason Categories: Editorials,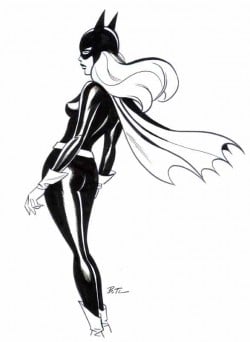 Another big week for people with money to throw around as Nickelodeon just bought the Teenage Mutant Ninja Turtles for $60 million. This is yet another reason why it's great to hold onto your copyrights. If you're just working on Batman And The Outsiders #128, you already know it's a basically a boilerplate work-for-hire contract, but if you've created Dingo, Rescue Dog Of The Outback get that thing copyrighted in your name and hold onto it. Because it's always better for you to have the control - and any related money - than it is to just give it away to a corporation. In the meantime, if you're tired of reading about contract negotiations, take a look around the internet and discover what folks like Mo Willems, Alan Kupperburg, Bill Crider and Bruce Timm are up to. Here's how you can fill up your weekend:
Alan Kupperburg: Steven Thompson over at Hooray for Wally Wood, has a nice interview with Alan talking about his days working for Wood. Great stuff. Here's a taste: "So then he (Wood) asked me if I could pencil Cannon for him. I took the pages home and opened up my T.H.U.N.D.E.R. Agents and copied out the appropriate panels and adapted them to the situation. And Woody flipped out. He said, 'You're hired.' Within three weeks I was also writing Sally and Cannon."
Click to continue reading Weekend Reading: Mo Willems, Bruce Timm, TMNT and Wally Wood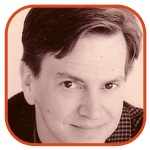 Posted by Tom Mason Categories: Interviews,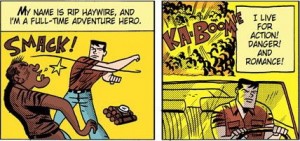 It's been a long time since a good adventure strip debuted in the newspaper, and it's great to see one come along. Even better when the creator, Dan Thompson, has a fresh take on the genre and a style that pops off the page. "RIP HAYWIRE" debuted on January 12, 2009 and from the moment you see it, you know it's not your grandfather's comic strip. Thompson has crafted a wonderful and funny homage to the era of Steve Canyon and livened it up with a sense of humor, great draftsmanship and a lot guys and gals getting popped in the head and blown up real good. I can't wait for the pirates to show up!
Click to continue reading Q&A: Dan Thompson and RIP HAYWIRE
© Gear Live Media, LLC. 2007 – User-posted content, unless source is quoted, is licensed under a Creative Commons Public Domain License. Gear Live graphics, logos, designs, page headers, button icons, videos, articles, blogs, forums, scripts and other service names are the trademarks of Gear Live Inc.