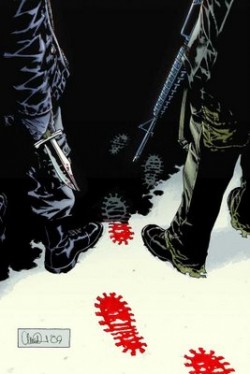 We have finally arrived at the second part of Robert Kirkman and crew's "Fear the Hunters" arc, and I am once again quite disappointed. While the level of my sadness does not reach my opinion of the last issue, this book has yet to fulfill my expectations for this storyline.
Past Andrea's heartbreaking and relentless search for Dale, the gang finally makes the trek to Gabriel's church and uncovers the truth beneath his flimsy story. His confession is frightening; to think that he committed such an act against his brothers and sisters right under the eyes of his god truly unmasks the horror Kirkman was once so keen in illustrating for us. All the same, this makes me wonder whether God is watching after his children after all, considering Gabriel somehow managed to survive unharmed on his way to Rick's group after such a contemptible deed. Granted, this is under the assumption that Gabriel's confession is veritable… If so, the reveal reminds me more of Kirkman's ability to portray humans' true ugliness when mirrored against the undead (compared to the hunters reveal).
About those hunters… (spoilers after the jump)
Click to continue reading Walking Dead #63 Moves Forward, Sans Shock or Surprise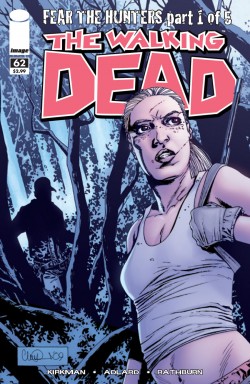 I know, I know: how can I label anything that Robert Kirkman touches as "weak"? Trust me, I was just as disappointed as you were with this month's issue of his never ending zombie saga, The Walking Dead #62. Even more upsetting is the fact that this issue marks the first of five issues in his "Fear the Hunters" arc!
We start off post-Billy and Ben murders, where Dale has plunged deeper into his anti-social abyss (clearly depicted in the second panel where he is outright facing the opposite of the party). Kirkman then spotlights the very intriguing progression of Carl's character, which I foolishly assumed in the last issue was his mirroring Rick. Judging from what Kirkman showed us this month, I cannot even imagine what he has in store for Carl, but it does make me giggly and excited.
Then… ZOMBIES! Oh how I missed you guys last month!
Enough of a recap—on to what I have to say about this letdown (so as to halt you from throwing stones at my head).
Click to continue reading Walking Dead #62 Weakly Introduces Hunter Arc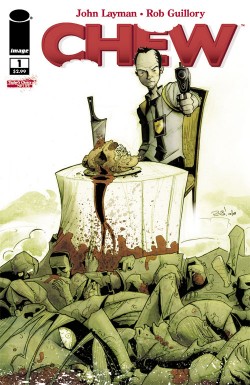 Ever since last month's issue of The Walking Dead gave me a taste of John Layman's humorously grotesque story, Chew, I have been counting down the days more vehemently than I do for Whedon comics (that's saying a lot). After all, Robert Kirkman doesn't put a preview of just any comic behind his widely-worshiped zombie saga.
Within minutes of immersing myself into Layman's fiction, I instantly found myself actively falling for the cynical, cibopathic (psychic abilities that come from eating) Tony Chu. Forced to stick to beet consumption (the only food from which he doesn't receive psychic sensations) most of the time, Tony serves as a police officer in an alternate America where chicken is illegal. The poultry prohibition works in his favor until he and his partner begin to unearth an FDA secret that conflicts with their department's objectives.
In seeking out one suspect, a bite of chicken and vegetable soup reveals that there is yet another murderer within their proximity. It is here that Tony commences his sprint down the rabbit hole.
Although I wait the thirty days for just about every comic I follow, Chew was genuinely worth the wait.
Click to continue reading Image Serves Up a Promising Dish with Chew
© Gear Live Media, LLC. 2007 – User-posted content, unless source is quoted, is licensed under a Creative Commons Public Domain License. Gear Live graphics, logos, designs, page headers, button icons, videos, articles, blogs, forums, scripts and other service names are the trademarks of Gear Live Inc.