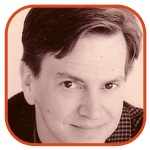 Posted by Tom Mason Categories: Editorials, Reviews, Television, Image Comics,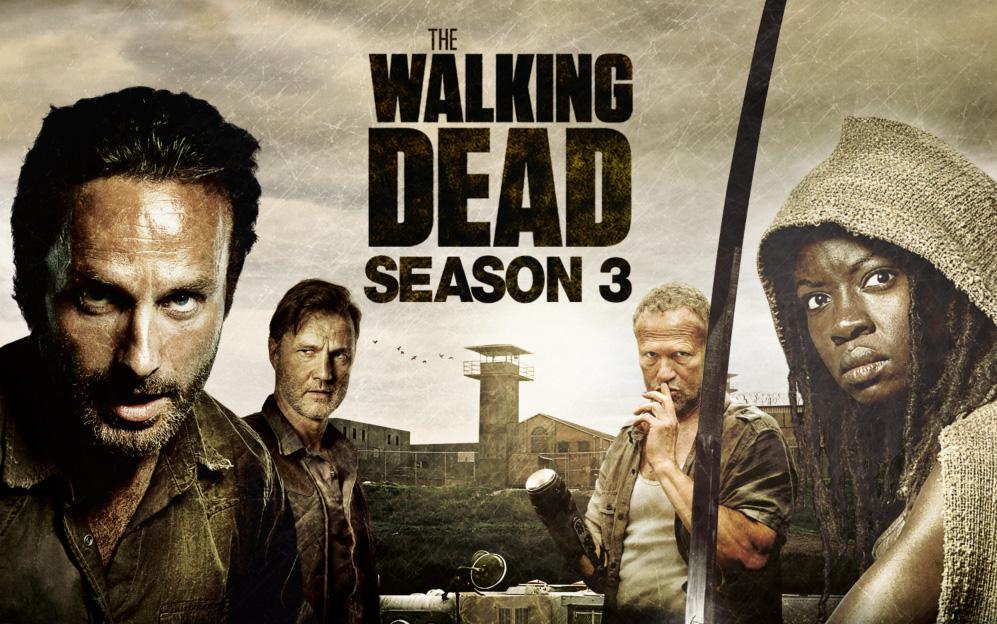 Oh Walking Dead, you make this so difficult! That's because it's hard to write about The Walking Dead without giving anything away.
Season 3 just debuted on AMC and so much happened that's gasp-worthy and intriguing in a "What's next?" kinda way that to write it out is to spoil it for anyone who DVR'd it. Sure, a bunch of zombies get killed, things aren't quite what they seem, and Carl's getting pretty handy with a gun and hand-to-hand zombie-fighting is pretty intense (I could probably do it if I had to, but I'd almost certainly be bad at it).
Click to continue reading Walking Dead: Season 3 Premiere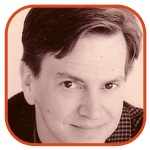 Posted by Tom Mason Categories: Reviews, Image Comics,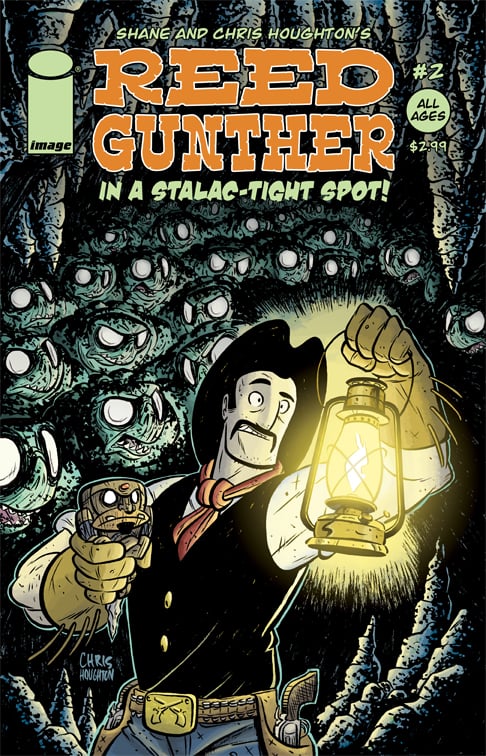 One of the great things I love about going to Comic Con International in San Diego is taking a stroll through the small press section, Artist's Alley and the Image set-up. I never know what I'll find, but I always find something interesting that nearly makes the whole convention worthwhile.
In 2011, it was Ian Churchill's Marineman.
This year, it was Reed Gunther by Shane and Chris Houghton.
I've forgotten which one of the creators I met at the Image Comics booth (got to start writing these things down), but he hand-sold me a copy of Reed Gunther #2, one of the older issues.
This is a terrific comic book. The story is touted for all ages, and it truly is. I can easily see this being enjoyed by a 9-year-old and a 39-year-old - it's just great fun with terrific storytelling chops on display by both writer and artist.
Click to continue reading Reed Gunther: Cowboys, Monsters & Bears, Oh My!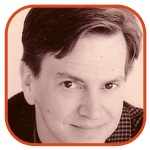 Posted by Tom Mason Categories: Reviews, Marvel Comics,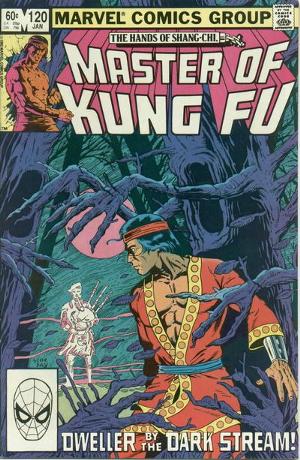 Doug Moench did not create Shang-Chi (Steve Englehart and Jim Starlin did), but when he took over the book, he ran with it, creating an epic 100-issue run on Marvel Comics' Master Of Kung-Fu that remains, I think, unsurpassed in its 1970s-1980s greatness.
Shang-Chi is the son of the legendary villain Fu Manchu. And the cast of characters that Moench added to the book include elderly Fu Manchu-hunter Sir Denis Nayland Smith and his muscle, Black Jack Tarr, Clive Reston (who is alleged to be the son of James Bond and a nephew of Sherlock Holmes), Leiko Wu, and a pair of recurring characters based on Groucho Marx and W.C. Fields.
Issue #120, January 1983, "Dweller By The Dark Stream," is a stand-alone story, not part of some giant conspiracy-laden arc. All of the series' regular cast is tied up with the exception of Shang-Chi. His planned meditation is interrupted by Rufus Carter, a former CIA agent (and former kickboxing champ) who some call "the ebony Bond." Carter's a one-eyed freelance private eye who persuades Shang-Chi to be his back-up man on his first case.
Click to continue reading Master Of Kung-Fu #120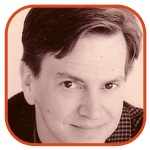 Posted by Tom Mason Categories: Reviews, Independent,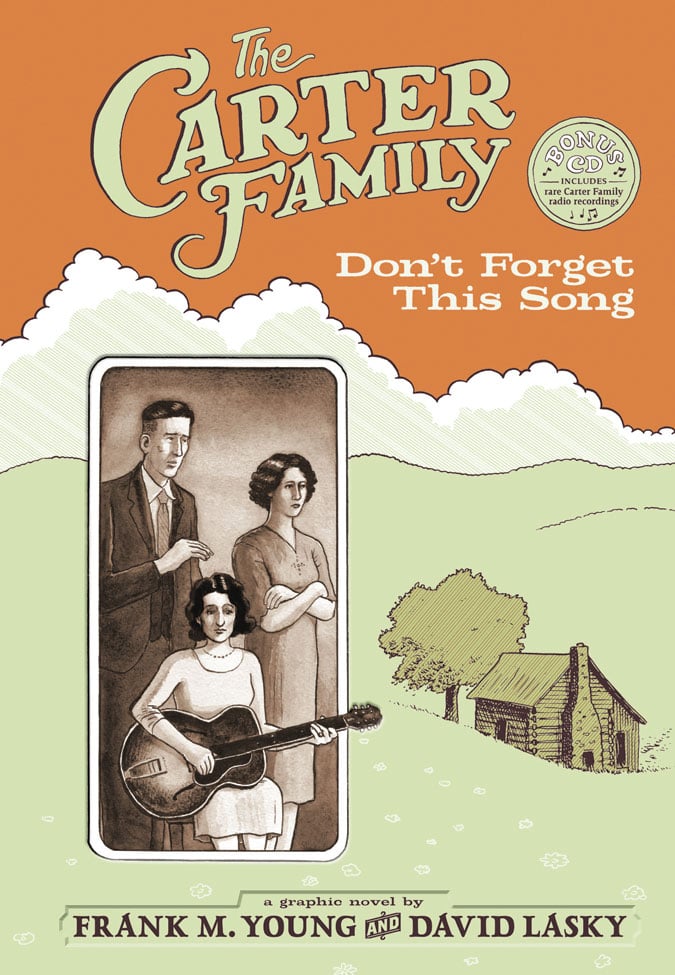 There are two kinds of music I don't like: Country and Western. And there's one kind of comic book I'm not naturally drawn to: the celebrity biography, particularly one of a musical act.
And yet at San Diego this year, I picked up a preview copy of Abrams Comicarts' upcoming musical biography graphic novel The Carter Family: Don't Forget This Song by Frank M. Young and David Lasky.
I'm not supposed to quote from it since it's an uncorrected proof - a sampler - and only contains the first 64 pages out of 192, but based on what I read, I'm hooked.
The Carter Family is a legendary music act that featured A.P (Alvin Pleasant), Sara and Maybelle Carter and that, from 1927 to 1956, pretty much defined and set the standard for country music. They sang, recorded and kept alive classic tunes and also wrote their own. June Carter was one of the Carters and she eventually married Johnny Cash - the Carter Family had a long reach.
Click to continue reading The Carter Family: Don't Forget This Song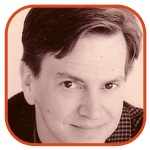 Posted by Tom Mason Categories: Editorials, Reviews, DC Comics,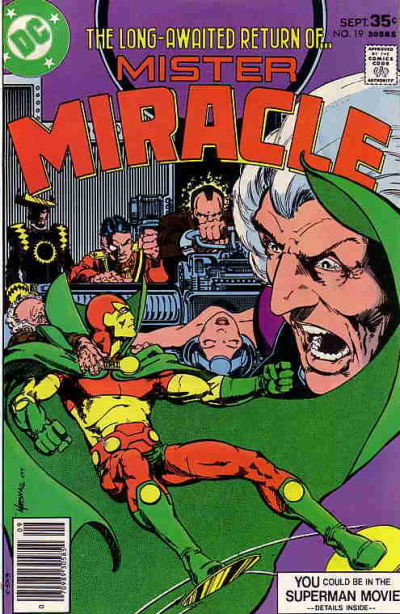 When my local comic book store bellied-up over the summer, I picked up some back issues at bargain prices.
One of them was Mister Miracle #19, a comic that I absolutely hate not because of the creative inside, but because of what it represents: everything wrong with corporate comics.
Mister Miracle #19 (September 1977) is the first issue of a reboot of the Jack Kirby title nearly 3 years after the series was cancelled at #18 (March 1974). When DC revived an old title back in the day, they preferred to keep the numbering intact because of the demands of newsstand distribution. Quite the opposite of what happens now.
It's a fun revival by Steve Englehart and Marshall Rogers, who'd achieve greater impact with their work on Detective Comics at around the same time. Their story in MM #19 picks up pretty much where #18 had left off and it reveals how comics used to be written.
Click to continue reading Mister Miracle #19: Why I Hate This Comic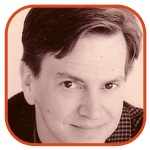 Posted by Tom Mason Categories: Editorials, Movies, Reviews, Marvel Comics,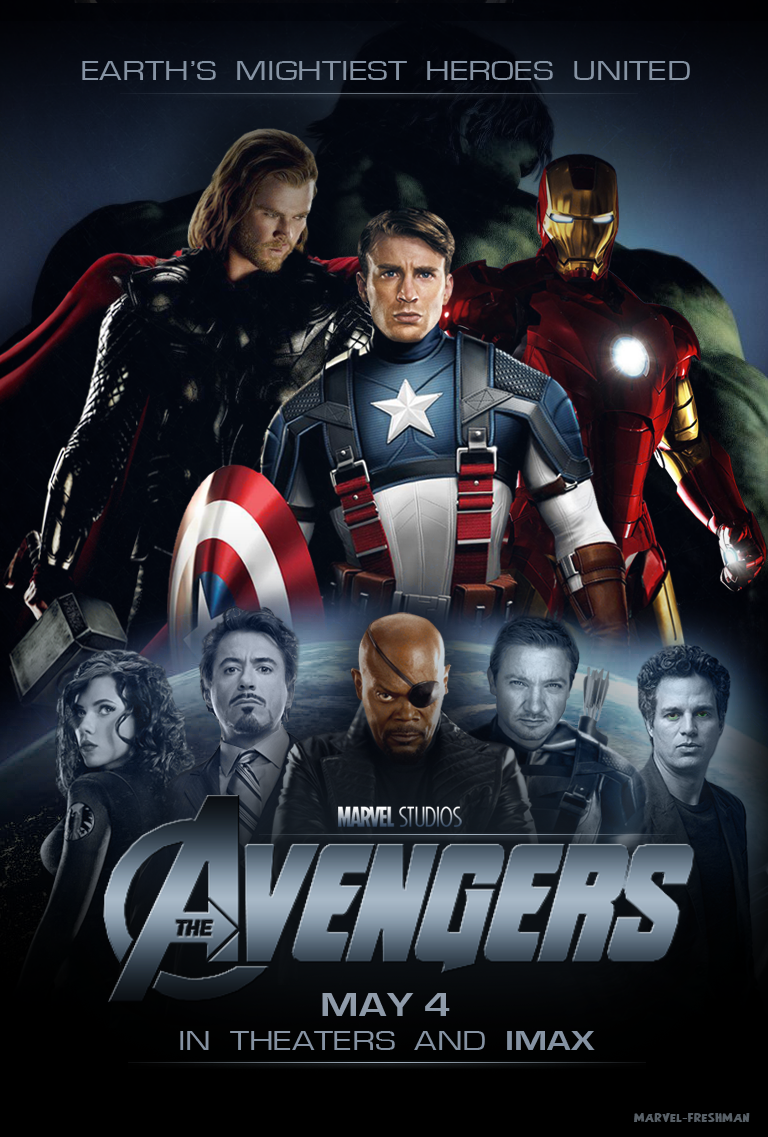 Yeah, my bad. I finally got around to seeing The Avengers on the big screen with my old pal Dave Olbrich (he was seeing it for the third time).
I'll echo what is probably the view of 99% of the super-hero movie audience: (1) I loved it and (2) where was this movie when I was 13?
Afterwards, I had a few thoughts.
I was surprised by the sudden death of what I thought was a fairly major character in the continuity. I know Joss Whedon always likes to kill off someone in his movies – I'm sure the first draft of Toy Story had a sacrifice from Mr. Potato Head – so I should've been better prepared. But I wasn't. Sad to lose the character and sadder that the actor has lost a pretty good gig.
Tom Hiddleston was riveting as Loki, an excellent performance capturing the character's grandiose plans and his petty humanness. Here's hoping he gets as good a role in subsequent years and doesn't end up playing a Russian mobster on Person of Interest, or the put-upon dad in some lame sitcom.
This is my favorite Scarlett Johansson movie. And yes, I've seen more than one. Including that one. And that one too.
Click to continue reading The Avengers: I Finally Catch Up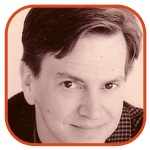 Posted by Tom Mason Categories: Movies, Reviews, Marvel Comics,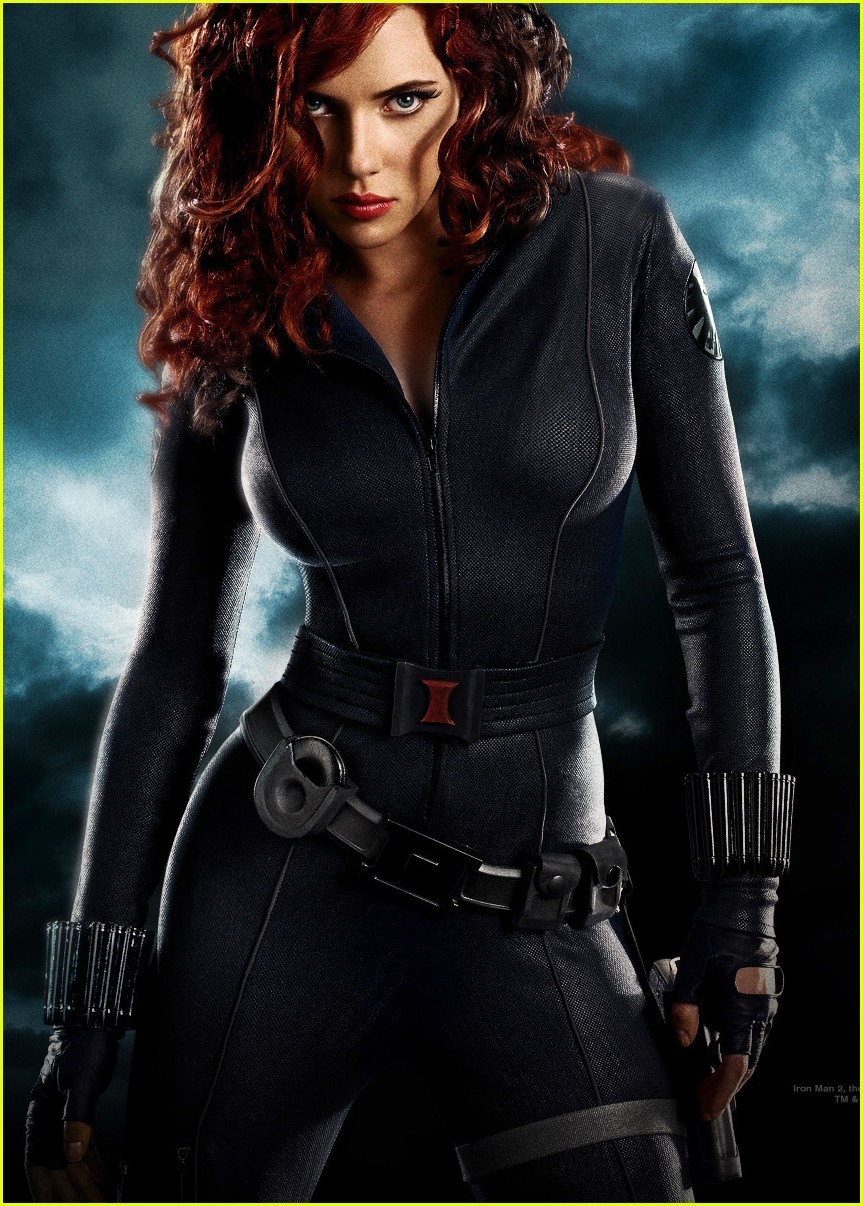 "There's no more blatant sexism than sneering at a woman for playing 'dress-up' in a movie where the men around her are dressed in tights and robot costumes. The belief that superhero movies are a No Girls Allowed zone couldn't be more obvious."
- Writer Amanda Marcotte on The Avengers
Be sure to check out our other notable quotes!
[Artwork: Scarlett Johansson as The Black Widow]
Read More

| Pandagon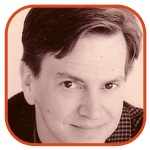 Posted by Tom Mason Categories: Editorials, Reviews, DC Comics,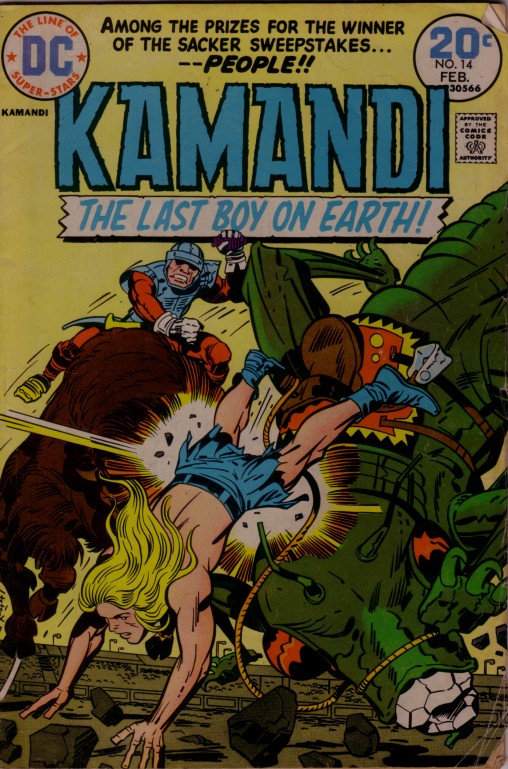 I used to rank Jack Kirby's Fourth World series as my favorite of all his post-1970s comic book work, with Mister Miracle as my favorite title. Over the years, that shifted.
My favorite Fourth World title became Jimmy Olsen because of two things: (1) it's such a whacked out, imaginative take on the Olsen universe and (2) it's the first time anyone thought about Olsen as a character instead of the victimized afterthought he was for years in the Mort Weisinger comics.
But since then, my favorite has shifted once more. It's Kamandi, The Last Boy On Earth. What began with the basic elements of Planet Of The Apes turned into an epic of post-apocalyptic Earth. Animals are in charge, humans are slaves or playthings, and only Kamandi stands as the last hope for mankind.
It's been a long time since I read individual issues. I picked up a bunch on sale for $1 each during Free Comic Book Day, and Kamandi #14 was one of them, the earliest in the pack.
Click to continue reading Kamandi #14 by Jack Kirby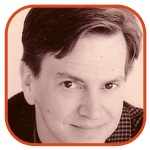 Posted by Tom Mason Categories: Editorials, Interviews, Movies, Reviews, Television,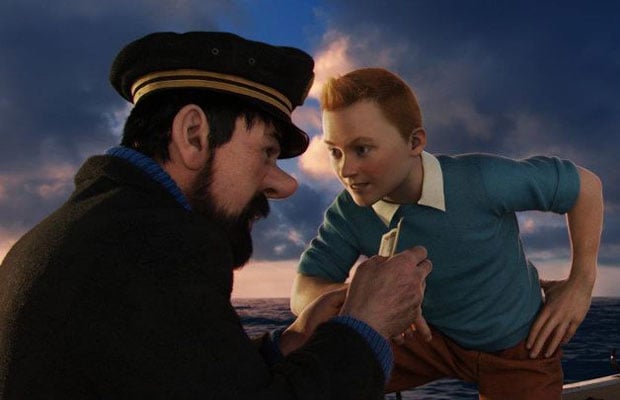 It's not just the weekend, it's a long holiday weekend into a whole new year. Have a happy one with a few links to read.
Beau Smith writes a wonderful tribute to his friend and frequent collaborator, Eduardo Barreto.
If you're tracking the future of digital comics, Appy Entertainment's Paul O'Connor has an interview with the guy behind Operation Ajax, Daniel Burwen.
The writer Lance Mannion goes to see Tintin. There have been lots of reviews over the internets already, but I'm partial to this one. "In fact, The Adventures of Tintin [is] as good an Indiana Jones movie as Indiana Jones and The Last Crusade. In parts, it's as thrilling and new as Raiders of the Lost Ark. Throughout, it's much better than Kingdom of the Crystal Skull and a reminder that as great as the young Harrison Ford was what made the movies was the spirit of adventure that infused them, and that spirit was a boy's (and girl's) spirit."
Click to continue reading Weekend Reading: Ajax, Tintin, Chaykin & Barreto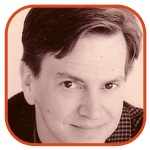 Posted by Tom Mason Categories: Conventions, Editorials, Image Comics,
Every year when I go to Comic Con International in San Diego, I always find something unexpected, interesting and surprising in the world of comics.
This year, 2011, was no exception.
Of all the things I picked up at the various booths, there was one that really stood out for me and I stumbled across it by accident while lurking around the Image Comics area.
Marineman: A Matter Of Life And Depth by Ian Churchill (Cable, Deadpool, The Coven).
Churchill had a spot to himself and was selling trades, individual issues, and sketches.
He's a charming, affable guy who genuinely believes in his story and his work.
He handsold me on the trade - I'd only heard of the in passing and yet I gladly handed over the $15 to get a copy.
Click to continue reading Marineman by Ian Churchill
© Gear Live Media, LLC. 2007 – User-posted content, unless source is quoted, is licensed under a Creative Commons Public Domain License. Gear Live graphics, logos, designs, page headers, button icons, videos, articles, blogs, forums, scripts and other service names are the trademarks of Gear Live Inc.