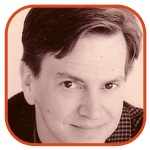 Posted by Tom Mason Categories: Editorials, DC Comics, Marvel Comics,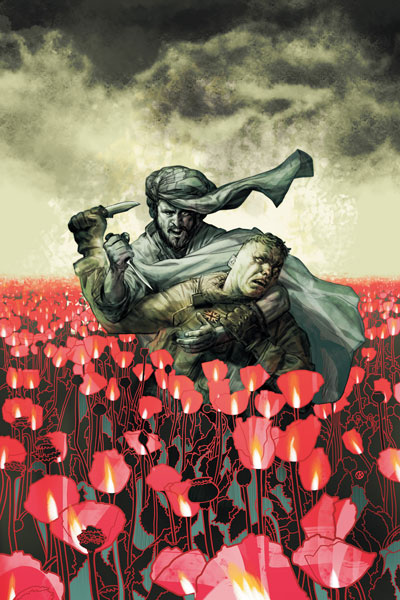 After a few months in the #2 slot, Marvel regained its long-standing #1 position, by a tiny margin. It pushed out DC Comics, which had been #1 since it's big reboot and launch of 52 #1's.
Now DC's New 52 is changing.
Heidi at Comics Beat reports that the New 52 is about to become the "Recent 46 and the New 6" with the cancellation of 6 titles with issue #8, and 6 others coming in off the bench.
Plus the return of Earth 2 and crossovers.
If you had 8 months in the office pool, you're the winner. I had 10, so I have to cough it up.
Happy new year!
[Artwork: Men Of War #7, the penultimate, © DC Entertainment]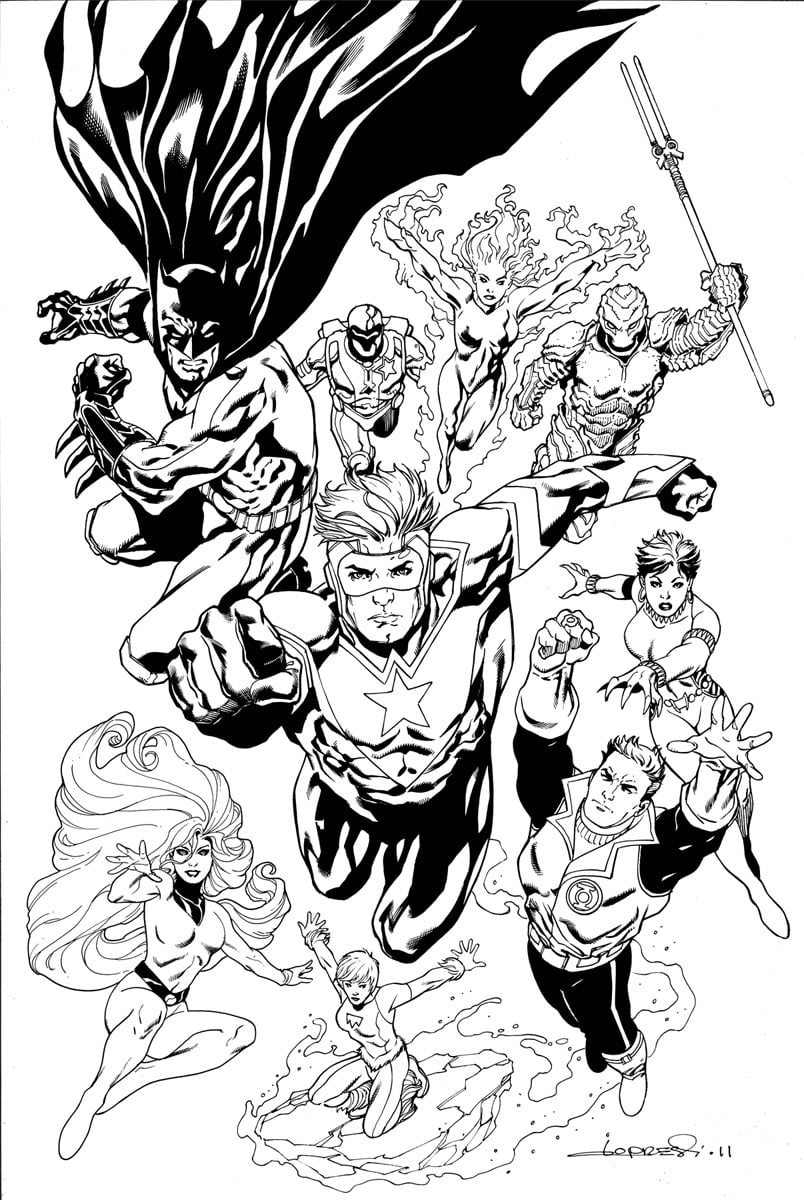 Have you got the reboot fever yet? There are a lot of the new DC Comics titles that I'm interested in, and a lot that I'm not.
But that should be expected when there's a Fifty-Twoniverse to deal with.
One of the new titles that I'm anxiously awaiting is Justice League International. It's written by Dan Jurgens - a guy who certainly knows his way around super-heroes, and it's illustrated by my friend Aaron Lopresti (the recent Wonder Woman artist who just did a stint on Weird Worlds with his own creation, Garbageman).
I'd let Aaron draw my Costco shopping list, so turning him loose on the JLI characters is a no-brainer for me.
Here's what DC says about the first issue:
Click to continue reading Justice League International #1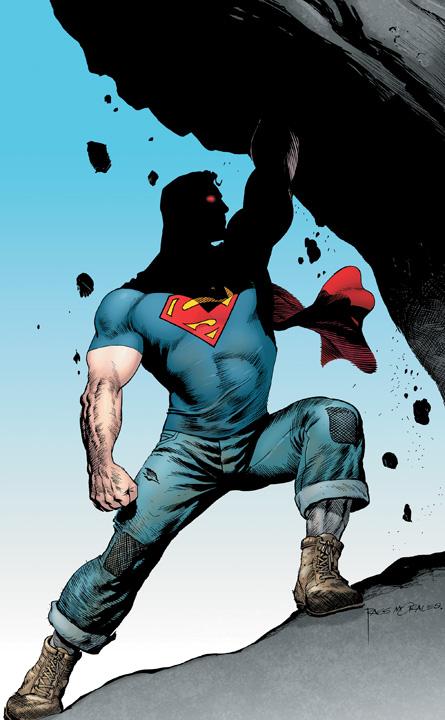 There are those in the industry who track these kinds of things who believe that DC Comics has been making significant changes to the Superman character over the years in a continuing effort to thwart claims by the estates of Jerry Siegel and Joe Shuster about the character.
A good place to start with this story is at Comics Beat.
With DC's newest relaunch/reboot/do-over of their universe this fall, they are making more changes to Superman, and it's not just his costume or his fresh L'il Abner look. A lot of the changes won't be clear until you actually read Action Comics #1, on sale September 7. I've read that first issue, and here are the Top Ten changes to Superman's mythology.
10. Able to leap Kim Kardashian's butt in a single bound.
9. Fights for truth, justice and the Military/Industrial Complex's way.
8. Bottle City of Kandahar.
Click to continue reading Top 10 Changes In Superman Reboot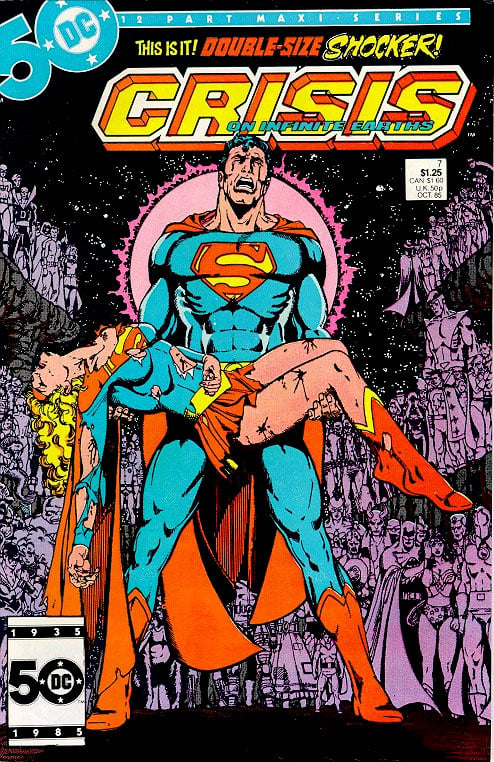 I think George Perez has had an amazing run in comics, and I think his run on Teen Titans with Marv Wolfman will long be considered a career highlight.
I find it interesting that he's back doing one of DC Comics' headline titles.
He recently posted this on Facebook, and since that's read by countless millions and retweeted and linked to my millions of others, I'm stealing it for here.
Here's what George wrote about his new gig as part of the DC Comics reboot of Superman:
"Since I'm not going to be doing any interviews regarding the Superman reboot (not wishing to inadvertently spill any plot beans) I just want to give you all the skinny on what exactly I'm doing on the book. As was recently revealed is that I will be writing the new series Superman: The Man Of Tomorrow.
"What wasn't explained is that I'm also doing the thumbnail layouts for the book, something I did for artist Kerry Gammill years ago when I worked on Action Comics. This way, I'd be providing my storytelling style, body language and suggestions for facial expression, but the final look of the book and characters will be handled by Jesus Merino, and from what I've seen of his work so far, we're going to work quite well together.
Click to continue reading George Perez On Superman: The Man Of Tomorrow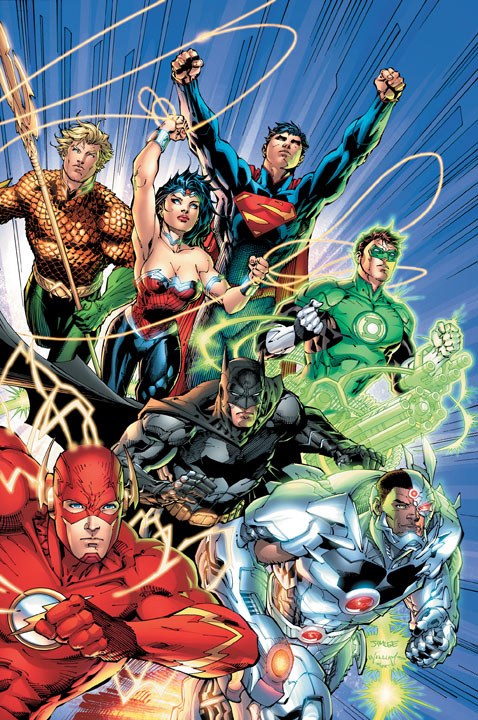 Reboot, relaunch, retcon.
The comics industry is full of fun words that mean the same thing: sales tool.
In case you've been living in a house with a mortgage and haven't heard the news yet, DC Comics is taking their entire comic book universe back to some sort of beginning and starting all over again.
It's a great strategy because I think we all know hundreds of fans that have been avoiding comic books because of how high the issue #'s are.
And as part of the same announcement, DC's switching to same day digital release of their printed comics, so I don't have to rush to the comic book store.
Naturally, everyone's talking about this bold move and not just on Twitter and Facebook. Here's a rundown of the Top 10 Things That People Are Saying about DC's new initiatives:
10. Finally! A reboot that changes everything forever! ZOMG!
9. Now I can bitch about DC's titles on the same device I read them on!
Click to continue reading DC's New Reboot: Top 10 Comments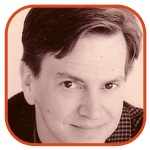 Posted by Tom Mason Categories: Editorials, Movies, Marvel Comics,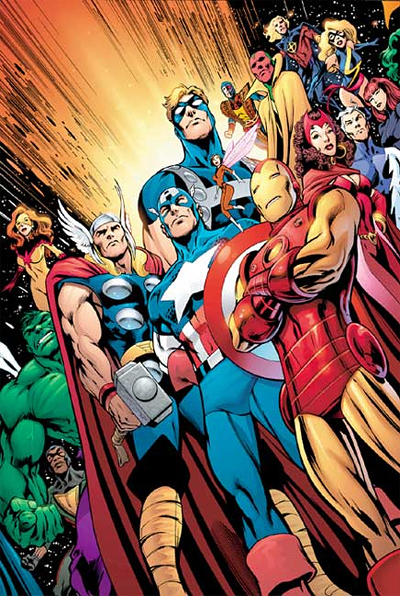 HOLLYWOOD, CA - Call it "Avengers Reassembled!"
Marvel Comics today announced that even though their new all-star superhero movie The Avengers won't debut in theaters until 2012, they will reboot it for 2013.
Said Avengers executive producer Avi Arad, "It's important to get an early jump and stake out our release dates." He added that the easiest way to do that and guarantee another hit movie for for the company is to remake a movie that's almost certain to be a hit.
Marvel's rationale is borne out by the facts of movie production and audience tracking. "Word of mouth on the first Avengers movie is Snakes On A Plane huge," Arad said. "But we've got superheroes."
Arad added that by the time the first Avengers film debuts in theaters and appears on DVD, enough people will have seen it that they will be clamoring for something new. But they'll also want something that's familiar and reliable so they don't feel like they've wasted the price of a movie ticket.
Click to continue reading Marvel Reboots The Avengers Movie For 2013!
© Gear Live Media, LLC. 2007 – User-posted content, unless source is quoted, is licensed under a Creative Commons Public Domain License. Gear Live graphics, logos, designs, page headers, button icons, videos, articles, blogs, forums, scripts and other service names are the trademarks of Gear Live Inc.