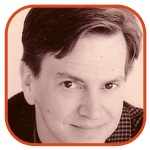 Posted by Tom Mason Categories: Editorials, Reviews, Independent,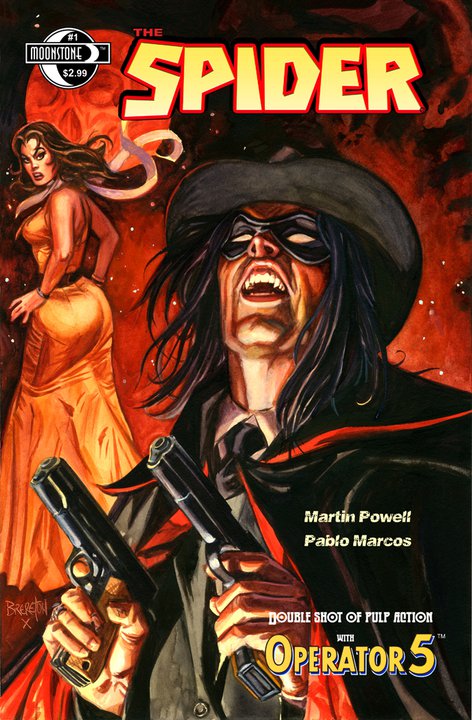 Before The Punisher, before Batman, even before Superman, there was The Spider, Master of Men. The classic pulp hero was created in 1933 by Harry Steeger (co-founder of Popular Publications) to compete with the other pulp crime-fighter, Street & Smith's The Shadow.
Now, here it is 70 + years later and The Spider is back, now as a comic book character in his first ongoing series, courtesy of award-winning writer Martin Powell and artist Pablo Marcos. The cover is by Dan Brereton (The Nocturnals), and the interior coloring is by Jay Piscopo.
The Spider #1 debuts this week from Moonstone Books as part of their ""Return of the Originals" publishing program.
Here's the Moonstone pitch: "There was no escape for Nita Van Sloan, abducted by a horde of inhuman monstrosities, doomed to become the victim of a diabolical experiment. The Spider, Master of Men, strikes back with a vengeance, fighting alone against the brutally brilliant creator of the Frankenstein Legion, in a desperate race against time to save the only woman who shares his darkest secrets!"
Click to continue reading The Spider #1: Martin Powell & Pablo Marcos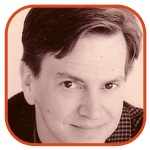 Posted by Tom Mason Categories: Editorials, Reviews, Dark Horse Comics, Independent,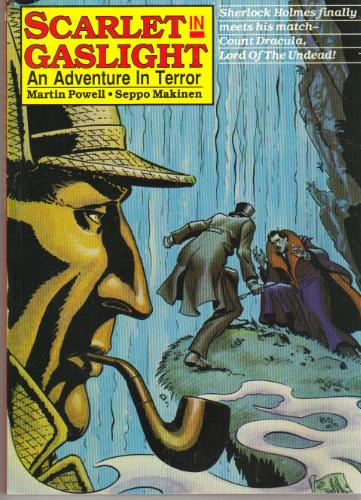 Back in the day, one of the comic books that I was peripherally involved with was Scarlet In Gaslight, a Sherlock Holmes & Dracula mini-series. And I'll clarify that right away by saying that I had nothing to do with its creation.
It was created and written by Martin Powell, and illustrated by Seppo Makinen and after it was acquired by Malibu Comics for its Eternity imprint, it was edited by Chris Ulm. My role was limited to reading the issues as the original art came in. Ulm would drop it off on my desk and say, "You gotta read this." I was later the art director for the first collected edition.
Malibu was a creator-owned publisher back in those days, and the rights to Scarlet In Gaslight were held by the creators. In the years since its original publication, Martin has done an excellent job of keeping the collected edition in print. Its last edition is sold out, but the good news is that it's coming back, along with other Martin-based projects.
Click to continue reading Scarlet In Gaslight Is Back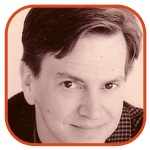 Posted by Tom Mason Categories: Editorials, Reviews, Independent,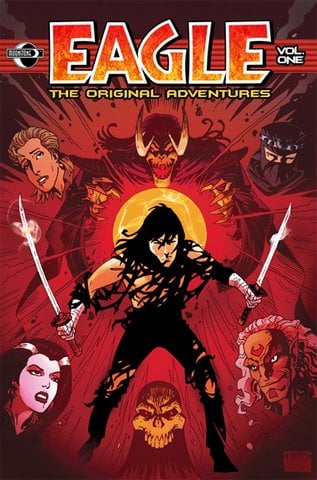 Back in the go-go 1980s there were a number of creators who jumped into the direct market with their own comic books, spurred on by a low barrier to entry, an open marketplace and a burst of energy and talent. And the ability to own and control the rights to their creations.
One of the very best of that bunch was Eagle by Jack Herman, Neil Vokes and Rich Rankin.
Now, Moonstone Books is releasing the first collection of this black-and-white classic in a deluxe edition trade paperback.
Moonstone's PR describes the series as "Lone Wolf And Cub meets Blade Runner" and I'd say that's pretty on the mark. Eagle is supernatural adventure with swords. Even if I weren't already a fan of the original series, I'd pick it up based on that alone.
This volume collects the first six issues and offers up a preview of the new series that the guys have in development. Neil and Co. have tossed in some extras here too: a cover gallery, concept sketches, and "editorial pieces from the creative team and artists that were inspired" by Eagle.
Eagle: The Original Adventures TPB Vol. 1 is a whopper, weighing in at 200 pages for just $16.95. That's a bargain for this kind of comic, and its success will pave the way for the rest of the series.
[Artwork: Eagle: The Original Adventures TPB Vol. 1 cover by Neil Vokes]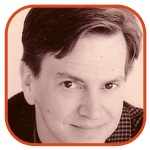 Posted by Tom Mason Categories: Reviews, Dark Horse Comics, IDW Publishing, Independent,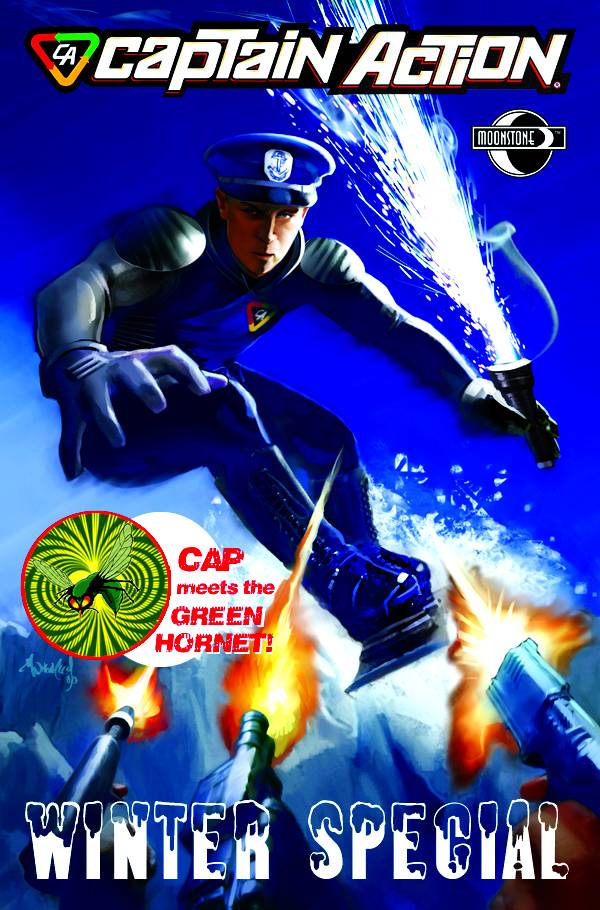 Beau Smith and Eduardo Barreto make a great comic book team, a kind of one-two punch of writing and art. Of course, you already know this if you've put down some cash for Cobb: Off The Leash (IDW) or their recent graphic novel, Wynonna Earp: The Yeti Wars (also IDW).
They're back at it again with Moonstone Books' latest Captain Action title, Captain Action Winter Special. Beau and Eduardo have teamed up for a Captain Action Classified story called "White Lies."
Beau wrote it, and Eduardo illustrated and colored it. In this 13-page extravaganza, the Captain mixes it up with spies, commies, a Yeti (they make great villains, and Eduardo draws an impressively dangerous one), and a traitorous gal.
As always with Beau and Eduardo, the dialogue pops and the action never lets up. They make Captain Action a real man of action, a James Bondian character who rocks the blue jumpsuit and Captain's hat. There's another story in this issue, too, where Cap meets the Green Hornet (not Seth Rogen). But "come for the Beau/Eduardo, and stay for the GH."
Click to continue reading Captain Action Winter Special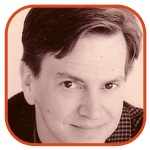 Posted by Tom Mason Categories: Editorials, Reviews, IDW Publishing,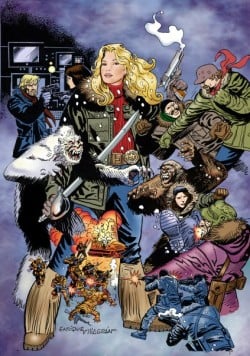 What do Bigfoot, Vampire Nation, Yeti, and Russian Immortals have in common? They're all appearing with Wynonna Earp in Beau Smith's upcoming original graphic novel, Wynonna Earp: The Yeti Wars illustrated by Enrique Villigran, and published by IDW.
All I can say is "about damn time." You can quote me.
Wynonna Earp is, in case you haven't guessed, related to ol' Wyatt himself. She's a US Covert Marshal, only instead of hunting bank robbers and "hoss thieves" like her famous relative, she's after more dangerous, contemporary game: Paranormal lawbreakers. As Beau says, "There's nothing normal about paranormal crime."
In this all new graphic novel, debuting in December, Beau and Enrique are dropping Wynonna into the middle of a "paranormal range war" between Russian Immortals and the Vampire Nation. Beau clarifies, "There are four Bigfoot in this book as well as a tribe of Yeti, The Vampire Nation, A Consortium of Immortals and a Mad Scientist that likes to splice animal and human DNA. How's that for a Monster kitchen sink?"
Click to continue reading Wynonna Earp Is Coming Back!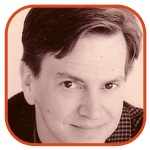 Posted by Tom Mason Categories: Reviews, Independent,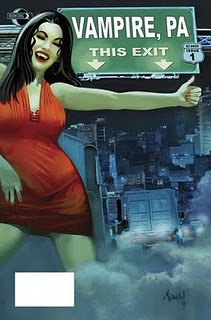 "I finally had the guts to ask Dee-Dee out, but only after she saw me drive a stake through the heart of a vampire."
That's Dean Marklin, vampire hunter in suburban Pittsburgh, the star of Vampire, PA, the new 3-issue mini-series from Moonstone. The series is created and written by J. C. Vaughn and illustrated by Brendon and Brian Fraim. Dean's found himself in the middle of two warring factions of vampires, and one of the vampires, Jocelyn, may be trying to play him for a sucker. Dean's already killed her once and he may have to do it again.
This "Fistful of Dollars with vampires" set-up delivers the goods, in large part because of the characters. Dean treats his nighttime vampire hunting as a job – a thing that has to be done to clean up his hometown. He goes about it with precision and good-natured humor, and drags along his friend Scuba Dave and girlfriend Dee-Dee. And, except for the wooden stakes and Super-Soakers filled with holy water, he's got a normal life – he'd like to get married and re-open the town's aging movie theater. He's not some super-human guy either – he's simply doing the best he can to rid his town of these creatures and is still learning as he goes.
Click to continue reading Vampire PA: J. C. Vaughn, Brendon & Brian Fraim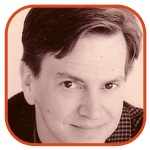 Posted by Tom Mason Categories: Conventions, Editorials, Movies, Television,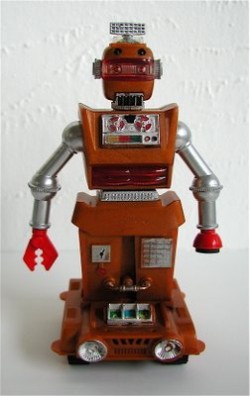 Welcome to the first post-San Diego version of Weekend Reading. I'm not linking to any convention reports because, well, other people do a much better job of tracking them all down. However, I will link to this. Mark Evanier does a much better job than I ever could of explaining how the Hollywood invasion of Comic Con International is not only necessary but welcome.
Spurgeon V. Field: There are many reasons why Tom Spurgeon won the Eisner this year at San Diego. This is one of the reasons why he should win it next year, too.
iPad: If you're thinking of getting one, Beau Smith can make that decision easier for you.
Up, Up, And Away He Goes: James Bond and Superman screenwriter Tom Mankiewicz has passed away. Says The Guardian's classy obit: "In 1977 the director Richard Donner recruited Mankiewicz to work on the script of Superman, for which he received the credit of creative consultant, a fancy name for script doctor."
Click to continue reading Weekend Reading: Comic Con International, iPads, and Zeroids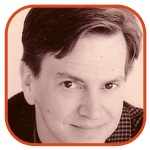 Posted by Tom Mason Categories: Conventions, Editorials, Movies,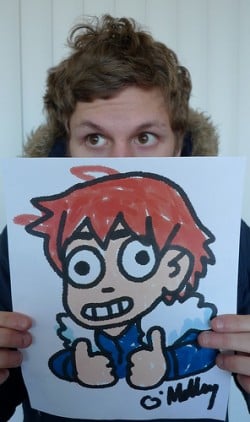 Comic Con International is literally just around the corner and no one's got time for long-winded intros. Let's get right to it:
Scott Pilgrim: Adam Sternbergh writes about Michael Cera, Scott Pilgrim Vs. The World and ties it all in to his fancrush on Alpha Flight. Yes, you read that right. It all takes place in The Walrus, the Canadian magazine of, oh yeah, you read that right, too. Canada has a magazine.
Captain Action: He's not a "doll," he's an "action figure," and he's back in action courtesy of Beau Smith and Eduardo Baretto in the upcoming Captain Action Winter Special from Moonstone. Beau talks about the issue with First Comics News.
Dick Tracy: The plainclothes detective's self-titled comic strip may soon go the way of Little Orphan Annie, but at least there's a website devoted to his work. And it's packed with goodies for Tracy fans to enjoy, including some never-before-published material by Max Allan Collins and Joe Staton. Click fast because the site is referred to as a "limited time tribute website."
Click to continue reading Weekend Reading: Scott Pilgrim, Captain Action, Dick Tracy and Mel Gibson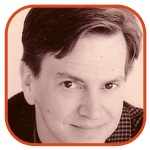 Posted by Tom Mason Categories: Editorials,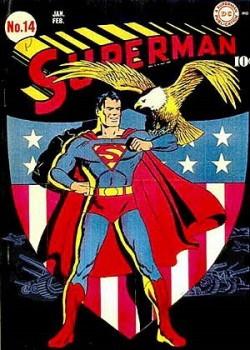 Hey America, happy birthday to you this weekend. If you find yourself too full of Pabst Blue Ribbon, overcooked hamburgers, runny macaroni salad and apple pie with too much HFCS in it, and it's too early to start shooting off those fireworks you smuggled over from North Carolina, do what I do: surf the internet.
Oh, Brother: Bob Weber, Jr. (creator of Slylock Fox) and Jay Stephens (Tutenstein, Land of Nod), have joined forces and launched a brand new comic strip. Alan Gardner at The Daily Cartoonist has the announcement and some samples, and it all looks really, really good.
Wonder Woman: When Nikki Finke calls recent changes to one of your iconic characters "dumbass stuff," shouldn't it be rethought?
Twin Spica: Looking for some good manga to spend your hard-earned money on? Rod Lott at Bookgasm has a recommendation for you, Twin Spica Volume O2 by Kou Yaginuma.
Click to continue reading Weekend Reading: Steve Ditko, Larry Doyle, Wonder Woman and Doc Savage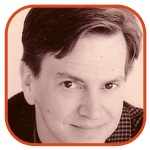 Posted by Tom Mason Categories: Interviews,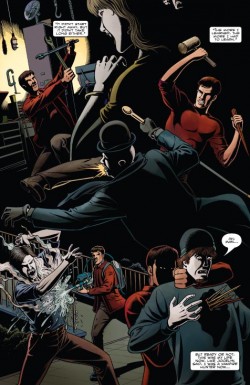 The comic book industry is like a city with a lot of restaurants. If you want to find something good, you need a recommendation. That's how I discovered the most-excellent work of the twin brothers Brendon and Brian Fraim.
My friend J.C. Vaughn is not just the Executive Editor and Associate Publisher of The Overstreet Comic Book Price Guide, he's also a comic book writer. He pointed me in their direction because J.C., Brendon and Brian collaborated on the serialized adventure/mystery strip, Antiques, for The Antique Trader newspaper.
Their new project, Vampire, PA is debuting from Moonstone in June. J.C. wrote it, Brendon and Brian illustrated it and Mark Wheatley is coloring it. There's a great 8-page preview of the first issue over at Vaughn's website, Well-Defined Productions.
Click to continue reading Q&A: Brendon Fraim and Brian Fraim (Vampire, PA)
© Gear Live Media, LLC. 2007 – User-posted content, unless source is quoted, is licensed under a Creative Commons Public Domain License. Gear Live graphics, logos, designs, page headers, button icons, videos, articles, blogs, forums, scripts and other service names are the trademarks of Gear Live Inc.