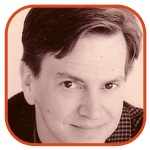 Posted by Tom Mason Categories: Editorials, Reviews, DC Comics, Independent,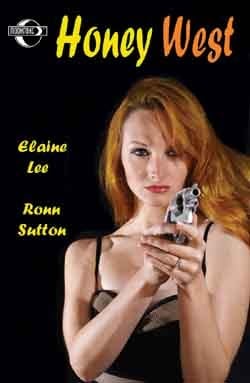 Hey, anybody see Green Lantern yet? Anyone like it? Anyone wonder why Marvel makes three movies in one year and DC Comics makes one movie every three years?
I'm traveling this weekend, so it's a shorter run of links. (The last time I saw the Space Needle it was sticking out of Scratchy's eye). Enjoy!
Ploog: At Vintage Hardboiled Reads, August West finds a vintage hardboiled comic book: Atlas Comics' Police Action with art by Mike Ploog.
Abe: Francesco Francavilla shares his variant cover for September's release of Abe Sapien - The Devil Does Not Jest #1 from Dark Horse.
Honey: Ray Tate at Comics Bulletin enjoys him some of Moonstone's Honey West by Elaine Lee and Ronn Sutton.
Honey II: Steve Thompson at Booksteve's Library has some similar nice feelings about the Honey West comic book.
Click to continue reading Weekend Reading: Atlas Comics, Honey West and DC Comics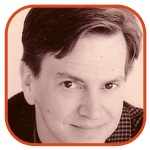 Posted by Tom Mason Categories: Editorials, Interviews, Movies, Dark Horse Comics, TokyoPop,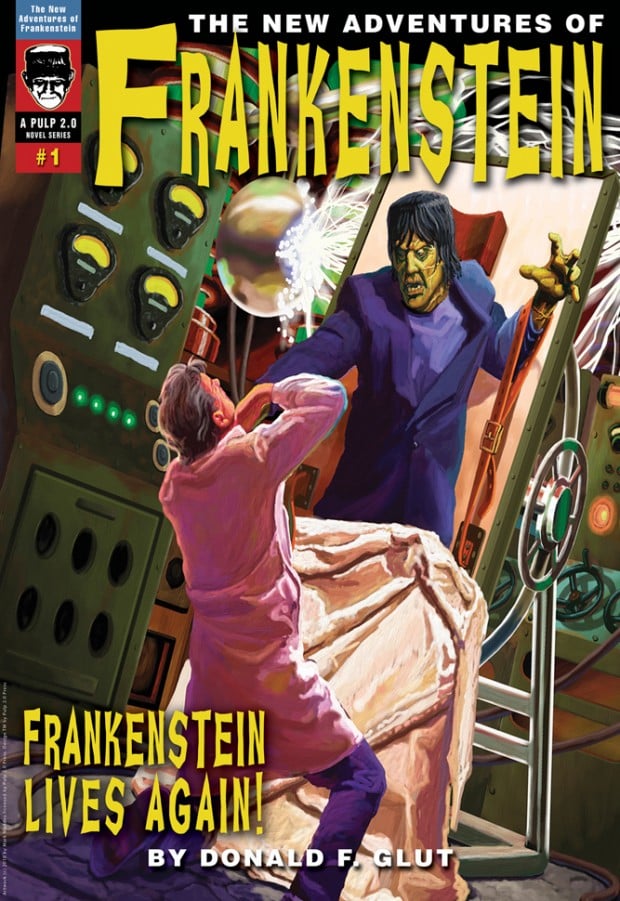 So, not a great week for comic book publishers as Tokyopop finally called it quits. If you have a project over there, it's a good time to get a lawyer to look over your contract and see about rights reversion when the publisher goes away without declaring bankruptcy (yet) or getting sold.
Then Dark Horse laid off a bunch of employees, many of them beloved and had been there a long time.
But at least the US Government is stepping in to try to stop Borders executives from looting the stores they've already ruined.
Rise: I love the way the new Planet of the Apes comic book from Boom! is looking. The Scoop has a sneak preview of the first issue, on sale April 27.
Victor: Here's a great interview with writer Don Glut that's mostly about Frankensten. "Why don't I do a series of Frankenstein novels that would be based on the movies and all of these other things? In each one I would bring in some other character from fiction or whatever. I would create this whole Frankenstein universe."
Click to continue reading Weekend Reading: Dark Horse, Tokyopop, Borders, Glut & Apes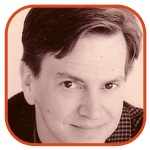 Posted by Tom Mason Categories: Interviews, Marvel Comics,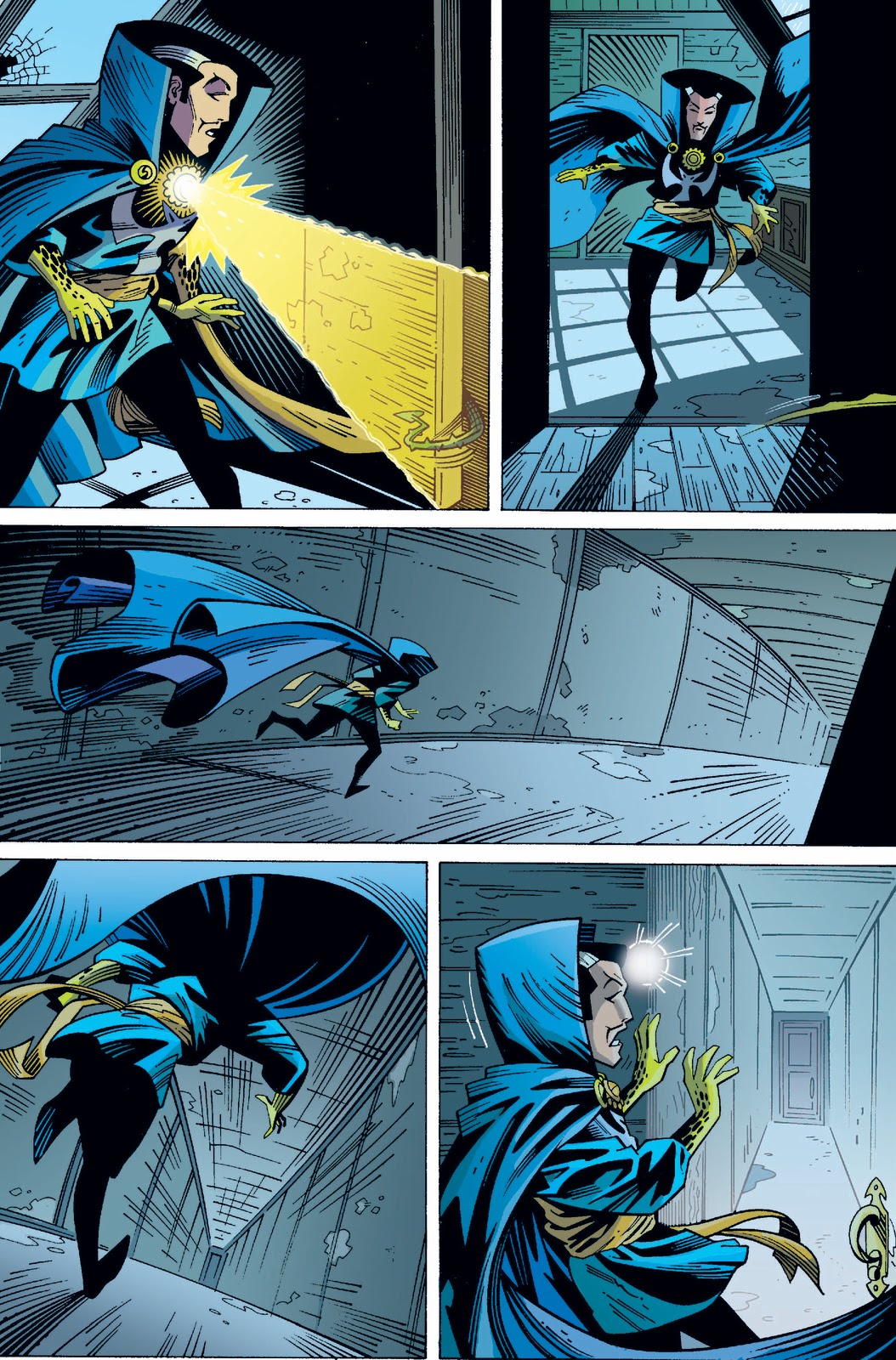 One of my favorite comics back in the 1980s was an independently produced gem called Eagle from writer Jack Herman and artist Neil Vokes. Neil's carved out quite a career for himself since then working for all of the big publishers and becoming a fan favorite.

Coming up in February, Neil teams up with writer Roger Stern (Amazing Spider-Man) for a Dr. Strange one-shot called Doctor Strange: From The Marvel Vault #1.

Going back into the continuity archives, this issue tells the story of Dr. Strange's first night in the house that would become his Sanctum Sanctorum for many years (the weird old brownstone at 177-A Bleecker Street in Manhattan).

Marvel's solicitation copy says "But what eerie secrets does the building hide? What lurks within its walls? Is it...haunted? Now, at last, the full story of Doctor Strange's first night in his Sanctum Sanctorum stands revealed."
Hopefully, Dormammu will make an appearance behind one of the doors!

Vokes has a nice, spooky style that's perfect for Dr. Strange and since the story is set back in the Manhattan of the 1960s (the Ditko version of Manhattan), I wanted to find out more.
Click to continue reading Q&A: Neil Vokes And Dr. Strange #1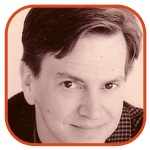 Posted by Tom Mason Categories: Editorials, IDW Publishing,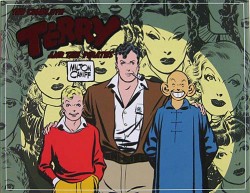 Writer, Marketer and all-around Good Guy Beau Smith has been announced as the new Director of Marketing for IDW's Library of American Comics imprint. LOAC's Creative Director is Dean Mullaney and it's not the first time these two have worked together; Beau was Marketing Director for Dean's Eclipse Comics back in the 1980s.
The Library of American Comics specializes in archival reprints of some of the best comic strips ever, including Dick Tracy, Terry and the Pirates, Rip Kirby, Bringing Up Father, Little Orphan Annie, King Aroo, Bloom County, The Family Circus, Li'l Abner, and Archie. They've even won a couple of Eisner Awards for their quality work. I love their Noel Sickles book and I can't wait for the one on Alex Toth.
Click to continue reading Comic Book Jobs: Beau Smith Gets Library Card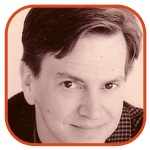 Posted by Tom Mason Categories: Reviews, Independent,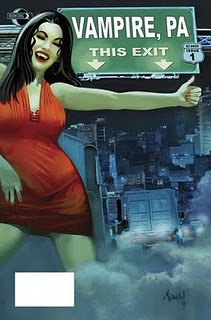 "I finally had the guts to ask Dee-Dee out, but only after she saw me drive a stake through the heart of a vampire."
That's Dean Marklin, vampire hunter in suburban Pittsburgh, the star of Vampire, PA, the new 3-issue mini-series from Moonstone. The series is created and written by J. C. Vaughn and illustrated by Brendon and Brian Fraim. Dean's found himself in the middle of two warring factions of vampires, and one of the vampires, Jocelyn, may be trying to play him for a sucker. Dean's already killed her once and he may have to do it again.
This "Fistful of Dollars with vampires" set-up delivers the goods, in large part because of the characters. Dean treats his nighttime vampire hunting as a job – a thing that has to be done to clean up his hometown. He goes about it with precision and good-natured humor, and drags along his friend Scuba Dave and girlfriend Dee-Dee. And, except for the wooden stakes and Super-Soakers filled with holy water, he's got a normal life – he'd like to get married and re-open the town's aging movie theater. He's not some super-human guy either – he's simply doing the best he can to rid his town of these creatures and is still learning as he goes.
Click to continue reading Vampire PA: J. C. Vaughn, Brendon & Brian Fraim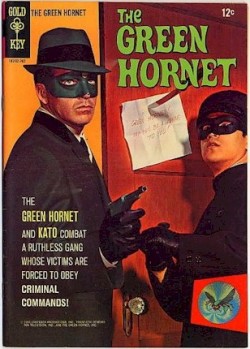 The many tubes of the internets are always clogged with great stuff. Here's a few pleasant time-killers to take the edge off a long work-week (for those of us still hanging onto a job) and ease us into the holiday weekend.
WATCHMEN: Still can't get enough Watchmen linkage from all over the internets? Here's one more: Doug Atkinson – whose last name means "too much time on my hands" in Esperanto – has gone through and footnoted/annotated all 12 chapters of the graphic novel (or issues, for you original serialized readers) in a highly detailed and analytical fashion. Debate on, you funnybook fanatics.
MORNING WOOD: Over at his blog, My Delineated Life, Tom Buchanan has a great post about Wally Wood's tryout for Prince Valiant. King Features was looking for a replacement when Hal Foster retired and Woody was one of the applicants (as was Gray Morrow and the winner John Cullen Murphy). Tom's got the facts and the samples. A must for fans – Wood would have been a great choice to carry on.
(h/t Booksteve's Library)
WHAT'S UP, CHUCK?: Cartoonist Mike Lynch has a short but fascinating post about the time he met Chuck Jones, the great animation director.
GREEN HORNET I: Writer/Editor/All Around Good Guy Bob Greenberger has a knack for finding the most interesting projects to work on. I missed this post, but Bob Greenberger has announced, some time ago in fact, that he's writing some new non-comics adventures of the Lone Ranger's relative (no really, they are related) for Moonstone Books. You can find all about it at Bob's blog and a little bit more at the Moonstone website.
GREEN HORNET II: Meanwhile, blogmeister Dave Olbrich, an old friend from the Ultraverse, has finally weighed in on the whole "Seth Rogen as Green Hornet" debate. I reserve all judgment – Mr. Olbrich went on record like this once before when he brayed that Michael Keaton was a bad choice for Batman. Casting decisions are always a fun debate – I cringed when supposedly-clean Robert Downey, Jr. was announced as Tony Stark but wasn't he ten shades of awesome? So it'll be interesting to see where a Green Hornet movie goes. Besides, true GH fans know that the real star of anything GH is Kato.
GREEN HORNET III: So he's back in book form, and he's coming back in comic book form, now what's left? Oh, yeah, he's coming back to comic books, too. The Scoop has the, well, scoop.
MARVEL COMICS: Why is Marvel Comics making it so hard for this guy to read and enjoy Marvel Comics?
That's it for this weekend. If you're celebrating, enjoy your holiday, and try to bite the heads off as many chocolate bunnies as you can, and then see how many Marshmallow Peeps you can stuff into an EC Comics hardcover slipcase. (My guess is 176.)
© Gear Live Media, LLC. 2007 – User-posted content, unless source is quoted, is licensed under a Creative Commons Public Domain License. Gear Live graphics, logos, designs, page headers, button icons, videos, articles, blogs, forums, scripts and other service names are the trademarks of Gear Live Inc.