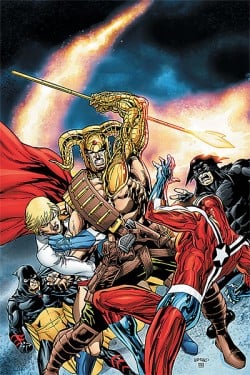 Rating: *** 1/2*
A big improvement from the previous issue. Our story continues with the aftermath of a rogue group of B-level super villains attacking the Justice Society of America. The group was designed by a still unseen leader who hired specific super-villains capable of matching up against each member of the JSA . Also, the All-American Kid was taken over by a mysterious force that made him stab Mr. Terrific. Angered by the situation at hand, Magog and WildCat go at each other and we start from there.
The fight is broken up by the new Dr. Fate and he informs the team that blood is needed to save Mr. Terrific's life. Everyone is to donate as Fate will change everyone's blood to match that of Terrific's blood. The All-American kid is interrogated by several JSAers. The kid swears that he didn't do it even though a video shows him doing it.
Click to continue reading DC Comics Review: Justice Society of America #31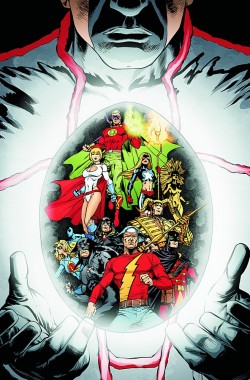 Rating: ***
I have given Geoff Johns a lot of praise in numerous posts over the past few months. So I won't go into that here. I mentioned before how I was disappointed that he'd be leaving the Justice Society of America and hoped that the new writers would do well because I love these characters. After a two-issue guest stint by Jerry Ordway, the new writing team of Bill Willingham and Matthew Sturges begins here in issue #29. Jesus Merino is the new artist for the title and begins his run here as well. I liked his work here. It's strong and it reminds me a bit of the work that was done by the previous artist, Dale Eaglesham. Willingham and Sturges do a good job, but they didn't knock my socks off with their first issue in control.
The two writers are best known for their critically acclaimed work on the Vertigo title Jack of Fables a spin-off of the Vertigo title Fables which is also written by Willingham. I've never read these titles, so this is the first time I've been introduced to their work. The story here was okay. It revolves around two things that may be connected somehow by the end of the story arc. Flash discovers a black orb in the JSA headquarters. It's a mysterious orb and the team doesn't know what it is or where it came from. After some investigating, the team discovers that the orb is in fact their teammate Obsidian. Somehow his body has transformed into this orb and Mister. Terrific takes it upon himself to investigate why this has happened.
A smaller side plot is also intertwined between the two major events that occur in this issue. In this issue we see two new junior members join the team. One is a sidekick to the current Mister America. Evidently the Golden Age Mister America had a sidekick called the All-American Kid. I did some research and I didn't find a reference to the character on Wikipedia so this might be a retcon. The original Kid was killed during World War II and the new one is the great-nephew to the original. The second is a young boy named King Chimera. He is the son of a Golden Age character named King Standish. A little known character who didn't show up immediately after a Google search. He's arrogant and has the power to create illusions.
Click to continue reading DC Comics Review: Justice Society of America #29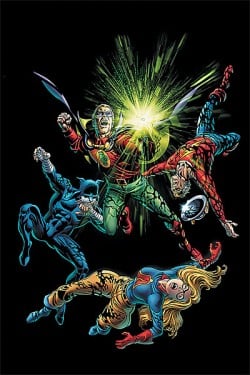 This month's issue of the "Justice Society of America" (JSA) is the first issue of the post-Geoff Johns era. Comic book veteran Jerry Ordway is writing and penciling a two-part story prior to the new writing team of Bill Willingham and Matthew Sturges come on board in July. Many fans of this title were sad to hear the news of Geoff Johns exit and I've been hesitant to continue collecting this title as many times when a popular writer leaves a book, the quality of that title drops. Geoff Johns work on "Teen Titans" was great and that book hasn't been the same since he left.
I've just finished reading this month's issue and I'm happy to say that at least with what Ordway has done with this here, the quality of writing for this book has not gone down. The story finds founding JSA members Green Lantern (Alan Scott), Flash (Jay Garrick), and Wildcat along with fellow member Liberty Belle trapped within the JSA headquarters at the hands of Alan Scott's son Obsidian. Has Obsidian gone insane once again or is truly doing this to protect the members of the JSA.
Lets find out…
Click to continue reading DC Comics Review: Justice Society of America #27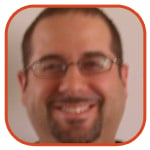 Posted by David Torres Categories: Editorials, DC Comics,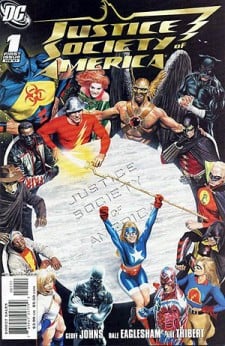 It's been announced on various comic websites that Geoff Johns is leaving "Justice Society of America" (JSA) after issue #26. I read this last night and was very disappointed. I thought JSA would be a book Geoff would stay on for many more years to come - unfortunately that will not be the case.
I will probably drop JSA after Geoff leaves. I've liked Geoff's run on this title over the past two years, but I think the work he did on the previous JSA title is far more superior. I think by the end there were just too many characters to really focus on. What happened to Mr. America? I'll flip through the first issue after Geoff leaves to see what the new creative team is doing, but if it doesn't grab me, I'm gone.
There is no one at DC right now that's doing anything that would make me consider continuing this book if they came on after Geoff. Maybe Paul Dini. Right now comics are getting too expensive and with a family to support, other things have to take top priority over comics. I'm looking forward to Geoff's "Flash Reborn" next year and I'm interested in seeing what he does with "Superman: Origins". Hopefully this reboot of Superman's origin is much better than "Birthright"; it was so boring. Great art by Leinil Yu though.
JSA is a great book and has great characters. I hope a writer is found who respects and loves the characters as much as Geoff does. Many of these characters have been around for decades and I would love to see them continue to shine in the limelight for decades to come.
Read More

| Newsarama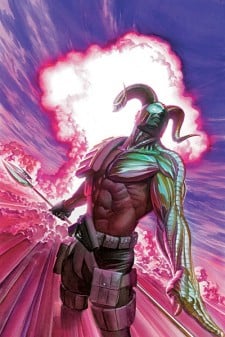 This issue was written by Peter Tomasi with the art provided by Fernando Pasarin. It's a very good issue featuring Lance Corporal David Reid who was resurrected as Magog in the current "One World Under Gog" storyline. I liked the introduction of David Reid to the team by Geoff Johns and Alex Ross. The character is the great-grandson of President Franklin Roosevelt who was a part of the formation of the Justice Society of America (JSA). I love American history and I always love comic stories that weave real history into their storylines.
This issue has some JSA members following Gog on his "mission" to help the people of the world. The group comes across a river with dead bodies floating in it. They discover that it has been poisoned by militants and it will kill everyone in the immediate area who use it for water if they don't block it's path. The river is blocked by Gog and he and the JSA members make their way to locate the militants.
Click to continue reading DC Comics Review: Justice Society of America Kingdom Come Special: Magog
Read More

| DC Comics

© Gear Live Media, LLC. 2007 – User-posted content, unless source is quoted, is licensed under a Creative Commons Public Domain License. Gear Live graphics, logos, designs, page headers, button icons, videos, articles, blogs, forums, scripts and other service names are the trademarks of Gear Live Inc.