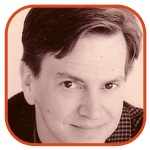 Posted by Tom Mason Categories: Editorials, Independent,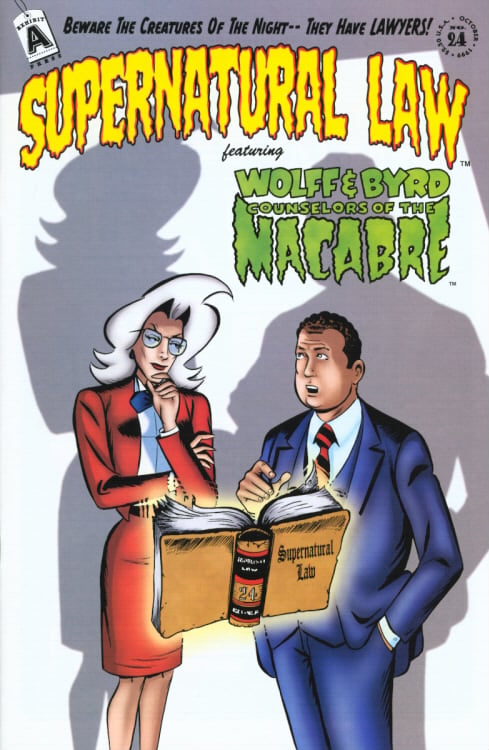 I really enjoyed reading this article about a new TV series in development at Fox. The working title is Magical Law and according to the article "the would-be hour-long Fox show takes place in a Harry Potter–esque world where supernatural beings are part of the fabric of everyday life."

I thought that was a cool idea for a show - a logical extension of the popularity of Harry Potter, Twilight, The Walking Dead and others since TV loves to make shows about cops, lawyers and doctors when it's not obsessed with dancing.

I also thought it was a cool idea because I'd read Batton Lash's Supernatural Law, a comic book series (created back in 1979) that "features the law practice of Alanna Wolff and Jeff Byrd, who specialize in serving the legal needs of monsters and other supernatural beings, or those who find themselves in conflict with such beings."

I'm not the only one who sees similarities, either. The A.V. Club also weighs in.
You can check out some Supernatural Law over at Webcomics Nation.

As the tag line to Lash's series notes: "Beware the creatures of the night - they have lawyers!"
[Artwork: Supernatural Law © Batton Lash]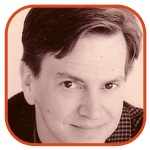 Posted by Tom Mason Categories: Conventions, Editorials, Interviews, Movies, Reviews, Television, Independent,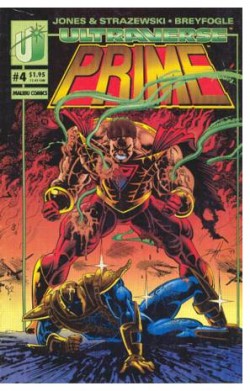 Comic Con International in San Diego is closer than you think. Years ago, I started compiling my own list of convention secrets starting with a great place to go to the bathroom that's tucked away in a corner, just minutes from the convention floor, and no one seems to know about it. Then I read the list compiled by Tom Spurgeon at The Comics Reporter and I am ashamed of my own ineptitude. If you're going to the con this summer, you need to read Tom's list of 135 tips.
After you've finished reading Tom's tips, here are a few other links to brighten your weekend…
Want To Be A Writer?: Of course you do. Who doesn't? Step into any cocktail party or backyard barbecue and it's full of people bursting with ideas, if only they can find someone who could take a few minutes to write it all down for them. The real trick is finding places that might be interested in publishing something once it's all written down. If you feel like writing some stuff down, John Scalzi (the Hugo Award-winning sf author) and Wil Wheaton (yes, that Wil Wheaton) have joined forces to create a writing contest that's win-win-win for all. Maybe even you.
Click to continue reading Weekend Reading: Comic Con International, Tom Peyer, Ultraverse and Paul Cornell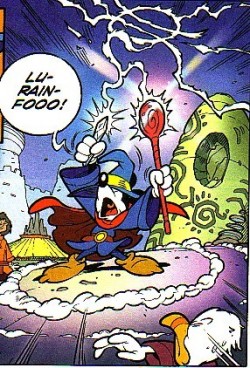 I'll get this out of the way early: I don't like Mickey Mouse as a character. I find him the most irritating one in the Disney cartoon universe and his high-pitched voice makes him the Jennifer Tilly of animation for me. So I was all poised to not like the new Boom! Kids comic with him as the star.
Naturally, I'm wrong, again. Mickey Mouse and Friends #296 kicks off Boom!'s launch of the title with a tale by Stefano Ambrosio (translated by Saida Temafonte) and artists Lorenzo Pastrovicchio, Roberto Santillo and Marco Giglione that ties in with Sorcerer's Apprentice continuity (from Fantasia). Mickey's still the apprentice to the sorcerer Nereus and still not doing a good job, magically speaking. When Nereus leaves for an emergency, Mickey is tricked out of the drought-suffering village's magic crystal by Peg-Leg Pete.
Before Nereus returns and realizes what a dope his apprentice is, Mickey has to join a sorcerer's team in the far-off city of Grand Haven and enter a tournament to try to win the crystal back. Fortunately, he's found Goofy, a sorcerer who really wants to be an alchemist and herbalist, and Donald Duck, a sorcerer with a pet dragon. Together, the three form their own sorcerer's team and set out to defeat Pete, who's determined to stop them (and he's got Disney's classic Beagle Boys on his side).
Click to continue reading BOOM! Mickey Mouse and Friends #296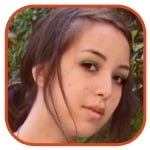 Posted by Robin Paulson Categories: Editorials, Independent,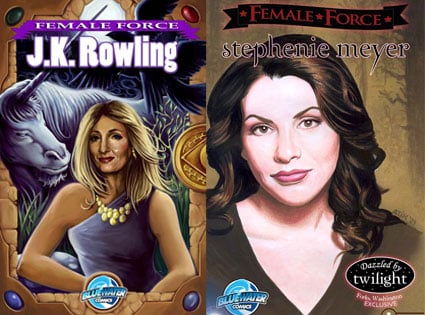 Bluewater Comics recently announced a JK Rowling edition of their Female Force series, set for a December release.
Unfortunately for Harry Potter fans, Twilight creator Stephenie Meyers is ahead of that curve, having her own biographical issue released in November.
While I have not had the privilege of reading the Hilary Clinton nor Sarah Palin issues, I just can't bring myself to give the series a chance. Maybe it's the awkward art, or perhaps it's just the title, Female Force—whatever it is, I can't imagine as to why either sets of fanatics will be willing to shell out money for it. Let's see if the Potterheads and Twihards prove us wrong.
Read More

| E! Online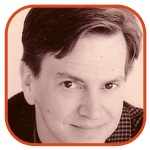 Posted by Tom Mason Categories: Editorials,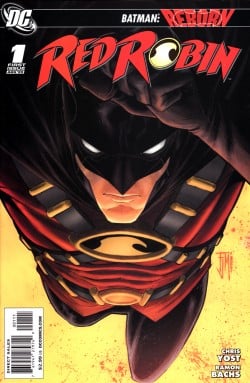 Gather 'round, internet pals. There's a lot of great stuff all over the internets this week and not all of it has to do with Comic Con International. For example, there's George Orwell, Philip K. Dick, Joe Murray and Wally Wood, Doug Mahnke and a whole lot more out there. Let's roll some of it out:
DOUG MAHNKE: You might know Doug Mahnke as the original artist on The Mask with writer John Arcudi. Maybe you know him from Major Bummer or Stormwatch, or even the new Green Lantern series with Geoff Johns. But Tom Richmond knows Doug as one of the inventors of live airbrushed caricatures, and he tells all over at The Mad Blog.
RED ROBIN: Todd Klein is not only a great letterer and logo designer, he's also a blogger. Over at his blog, Klein Letters, he breaks down the step-by-step process he used to design the logo for DC's new Red Robin comic book.
WALT DISNEY: With Disney's new The Princess And The Frog animated film due later this year, expect all kinds of blogposts about the Disney empire. Here's a good one: Over at Bookforum, writer Hannah Frank revels in the ubiquity of the Disney brand by looking at five Walt-themed books that are not the usual "Disney is God" hagiography. One of the books even has Walt's HUAC testimony where he outs one of his employees as a communist. Fascinating!
(h/t Galleycat)
Click to continue reading WEEKEND READING: SpongeBob, Wally Wood, Philip K. Dick, Star Wars and Harry Potter!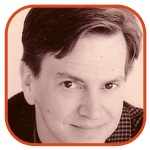 Posted by Tom Mason Categories: Editorials,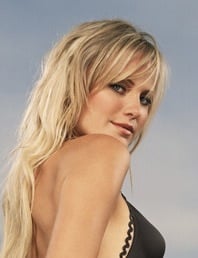 How can it be anything other than a great week when the internets are packed with Malin Akerman swimsuit pictures, an appreciation of classic Superman artist Wayne Boring, a look at best and worst futuristic cop cars, British comics legend Leo Baxendale talking about himself and Bash Street, and Shaolin Robots? Well, it just doesn't get any better. Read and click your weekend away!
WATCHMEN'S MALIN AKERMAN: The boys (and girls) over at Short List know exactly what fanboys want. They've put up a five-click gallery of Malin Akerman (you might know her as Silk Spectre from Watchmen) in the latest swimwear. She looks like she eats right, gets her precious eight hours of sleep, and exercises. It's the next best thing to Watchmen 2.
Click to continue reading WEEKEND READING: WATCHMEN'S MALIN AKERMAN, WAYNE BORING, WOLVERINE, and MEGAN FOX
© Gear Live Media, LLC. 2007 – User-posted content, unless source is quoted, is licensed under a Creative Commons Public Domain License. Gear Live graphics, logos, designs, page headers, button icons, videos, articles, blogs, forums, scripts and other service names are the trademarks of Gear Live Inc.