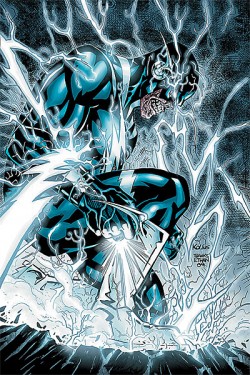 Rating: ****
If you were a fan of the run Geoff Johns and Scott Kolins did on The Flash, this book is for you. I wasn't a fan of Kolins' work on The Flash at first, but the artwork grew on me and the stories that Geoff was pumping out were classic. This issue picks up during the Blackest Night event and after the Flash: Rebirth series.
I was a bit confused by the story in this issue at first because we see that Eobard Thawne aka Professor Zoom the Reverse Flash appears as a Black Lantern, which got me wondering how could he be a Black Lantern if he's been resurrected? Then I remembered that when Zoom returned in the Flash: Rebirth series, he stated that he was from the future after he was resurrected by a friend of Barry's. This is what happens when series get delayed. Flash: Rebirth has yet to end so we don't know what has happens to Zoom at the conclusion to the series. One can assume that he's still alive at the end. Who is the "friend" that resurrects Zoom? My guess is it's Hal Jordan as it seems he will get possessed by Paralax once again in Green Lantern #50.
This series will also focus on the Rogues as they battle the Black Lantern Rogues. Geoff has done a great job in developing the Rogues characters. He really writes them as characters who walk the line between good and evil - especially Captain Cold, my favorite of the Rogues. The current Captain Boomerang Owen Mercer makes an appearance at his father's grave here. I'm sure his father the original Captain Boomerang will be resurrected and we'll be seeing father and son battling it out sometime during this series. Boomerang is buried at the special Rogues cemetery and it is here that a Black Lantern ring find the grave of Zoom and resurrects him as a Black Lantern.
Click to continue reading DC Comics Review: Blackest Night: The Flash #1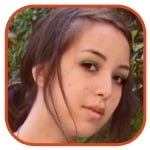 Posted by Robin Paulson Categories: Interviews, Movies, Marvel Comics,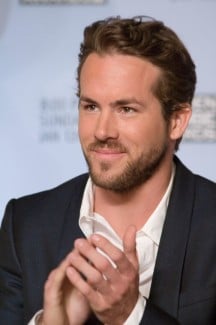 Although filming isn't scheduled until next year, Green Lantern actor Ryan Reynolds threw fans some tidbits regarding the movie.
"It is [an origin story] to a certain degree, but it's not a labored origin story, where the movie [truly] begins in the third act. The movie starts when it starts. We find out Hal is the guy fairly early on, and the adventure begins," Reynolds explained.
The X-Men Origins: Wolverine actor also stated that it is similar to last year's blockbuster Marvel hit, Iron Man:
"I think you walk away from this first film, and the moments that you remember and the moments that mean so much to you, not unlike Iron Man, are the moments where the guy's not in the suit… That to me is the tough thing to get right. And that's something that they did get right [in Iron Man]. You see why this guy's in the suit, and that's what's interesting to me. Not that he is in the suit, but why."
While the guy is rather protean—he kicks ass in films like Blade Trinity and then makes the girls drool in chick flicks like The Proposal—I'm not sure if he's right for Hal Jordan. That could be, however, the huge Firefly/Nathan Fillion fan talking, though…
Read More

| MTV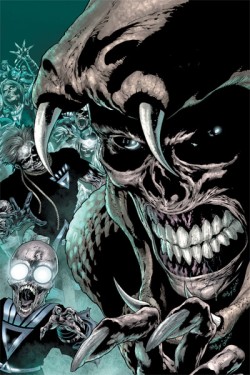 Rating: ***
I'm a bit disappointed in this issue. After the first three issues blew me away and I proclaimed that this series was a future classic in the making, writer Geoff Johns stumbles a bit with this month's issue of Blackest Night. For me, some of Black Lantern Firestorm's dialogue was written poorly in the opening pages. We also jump to Gotham City for no reason other to see Jean Paul Valley aka Azrael resurrected as a Black Lantern while The Scarecrow whines about admiring the fear that the Black Lanterns are able to invoke (he can't get scared because he's used too much of his fear gas). Poor baby. He does have one fear of course - The Batman (cue dramatic Batman music).
This issue mostly focuses on Barry Allen - the Flash and his quest to take the reigns and try to "hold down the fort" here on Earth against the Black Lanterns. He's with the Atom and Mera of Atlantis and he gives them a good pep talk to try to get them to step up and fight back against the Black Lanterns. The Flash then runs across the Earth continuing his pep talk and informing the other heroes of the situation. He tells them that Green Lantern is off trying to destroy the source of the Black Lanterns' power and they have to keep fighting until that happens.
Click to continue reading DC Comics Review: Blackest Night #4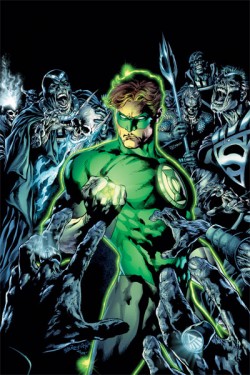 Rating: *** 1/2*
Non-stop action. Great artwork. A great story. The Blackest Night mini-series continues this week with another great issue by Geoff Johns and Ivan Reis. In the last issue we saw the murder of Hawkman and Hawkgirl and their resurrection as Black Lanterns. In this issue, more of the dead rise to become Black Lanterns as we see Aquaman's body rise to become a Black Lantern along with Aquagirl and Dolphin. They battle Aquman's wife Mera and the former Aqualad Tempest (worst super-hero name ever!). In another shocking turn of events, Tempest gets killed and becomes a Black Lantern. I'm curious to see how all of these dead heroes will be resurrected as I assume Tempest, Hawkman, Hawgirl, and anyone else who gets turned into a Black Lantern won't stay dead by the end of the series.
In an interesting twist, the super-hero Boston Brand aka Deadman, sees his body become a Black Lantern, but his spirit form is not effected. His story continues in Blackest Night: Batman which also comes out this week. Some members of the DC magic community: Spectre, Zatanna, Blue Devil, and the Phantom Stranger, become interested in what has happened to Brand and come to investigate his grave. They are greeted by none other than Pariah of Crisis on Infinite Earths who is now a Black Lantern. From his body bursts numerous Black Lantern rings. They do not effect any of them except the Spectre as the ring turns Crispus Allen the current host of the Spectre into a Black Lantern. In a stunning splash page by Reis, we see the Spectre as a giant Black Lantern screaming that he wants Hal Jordan back. Very cool.
Click to continue reading DC Comics Review: Blackest Night #2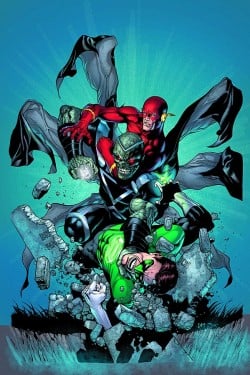 Rating: ***
Blackest Night continues in this week's issue of Green Lantern #44. I liked this issue. It wasn't as good as last week's first issue of the Blackest Night mini-series, but it was still a good read. Geoff Johns is also the writer here as he continues his run on the main Green Lantern title. Doug Mahnke who many know from his work on Batman, provides the artwork here and does a great job. Some very cool splash pages. I think his work is better here than it was over in Batman.
The story picks up from Blackest Night #1 as we saw the Martian Manhunter, J'onn J'onnzz is now a Black Lantern and he confronts Hal Jordan and Barry Allen. In a very cool scene we see when the black ring found the body of the Martian Manhunter as the Oreo cookie that Batman left on his coffin falls to the ground and crumbles as he bursts out of the coffin and flies off. J'onn keeps talking about how both Barry and Hal should be dead. I wonder if their resurrections have anything to do with the prophecy behind the rise of the Black Lanterns and the war that will take place among the various colored lanterns.
Click to continue reading DC Comics Review: Green Lantern #44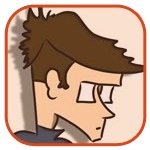 Posted by Kris Madden Categories: Collecting, Editorials, Reviews, DC Comics, Marvel Comics,
If you're a "Punisher" fan, then you've already picked this one up, sped through the pages, and like me are already waiting for issue #2. However, if you haven't picked up a "Punisher" comic before, this arc is already shaping up into something great, and with Garth Ennis and Steven Dillon attached, you really can't go wrong. Also, don't judge the character by his recent translations into film; while this comics bears the same name of the recent film about the "Punisher," it is not based on the film.
My personal experience with "Punisher" comics is that they're bred of hit and miss. In some versions, he is more hero than villain and in others he's just a villain. Many have contributed to my wrapping paper collection. The Punisher's anti-hero status has long been forged in the high mortality rates of his enemies. As with all great anti-heroes, a good Punisher comic always brings a good debate of what separates the heroes from the villains, much like Alan Moore's main character in "V for Vendetta" or Charles Bronson in "Death Wish". So if you've never picked up a Punisher comic, this would be a great place to start. Enjoy.
Click to continue reading My Wednesday Reading List
© Gear Live Media, LLC. 2007 – User-posted content, unless source is quoted, is licensed under a Creative Commons Public Domain License. Gear Live graphics, logos, designs, page headers, button icons, videos, articles, blogs, forums, scripts and other service names are the trademarks of Gear Live Inc.