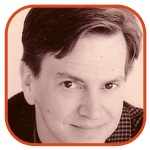 Posted by Tom Mason Categories: Editorials, Interviews, Movies, DC Comics, Image Comics, Marvel Comics,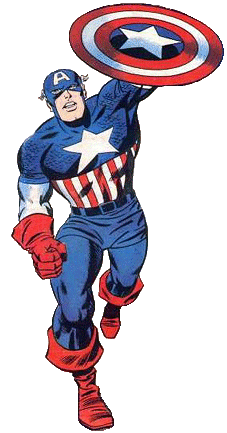 I'm sure you've heard by now that the Kirby family lost its claim in court to the copyright to characters Jack Kirby created. As usual, Tom Spurgeon at The Comics Reporter has the best analysis.
Now let's see what else is out there.
Cowboys: Deadline continues to do the number-crunching on this week's comic book-inspired film, Cowboys & Aliens. The early results show an under-performer.
Blood: And over at Bleeding Cool, Rich Johnston looks at the long journey getting Cowboys & Aliens from concept to screen.
Ditko: Tom McLean at Bags & Boards doesn't post as often as he should, but when he does, it's worth reading. His latest is a review of Blake Bell's Strange and Stranger: The World of Steve Ditko from Fantagraphics. This is a beautiful snip: "Could Ditko be a first-generation fanboy, an 83-year-old whose life was spent obsessing first over comics and later over a juvenile political philosophy that only makes sense within a self-imposed bubble?"
Click to continue reading Weekend Reading: Kirby, Ditko, Cowboys & Aliens And Marvel Comics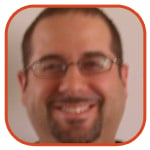 Posted by David Torres Categories: Reviews, DC Comics,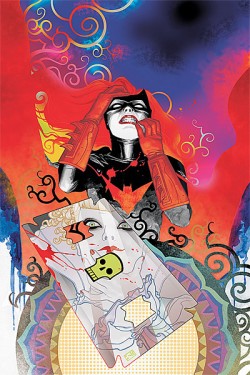 Rating: ***
The first issue of the new Detective Comics featuring Batwoman as the lead character was very good. I was not expecting to like it, but I was very surprised at how good it turned out. Unfortunately, the second issue did not thrill me as much the first one did. This issue wasn't bad, in fact it was pretty good. I just didn't enjoy it as much as I did the last one.
In the last issue we saw Batwoman was looking to find out who was the new leader of the Religion of Crime (ROC). She discovered that the new leader was a woman who looks like a Goth version of Lewis Carroll's Alice. The cliffhanger for the last issue had Batwoman confronting Alice and shooting her. We weren't sure if the gun was a real gun or not and I thought that if it was, it would be a cool twist to the Batman universe to have one of Bruce's "followers" use a gun. It would have been very cool if DC went this route and it would have added to the story of Dick Grayson now being Batman, but DC did not go in this direction as the gun that Batwoman used was not a real gun. It was a gun that shoots pepper spray bullets.
Batwoman takes Alice away from her minions and uses something to dilute the effects of the pepper spray. Batwoman wants to know what the ROC wants with her. In a very cool scene, artist J.H. Williams III does something I don't think I've ever seen before in a comic. He presents the POV of the story from the inside of Alice's mouth. There we see her fiddling around with a razor blade that she has in the inside of her mouth and then bites down on it and uses it as a knife to slash Batwoman in the face. Very cool. My hat is off to Mr. Williams on his work on this issue. The way he tells the story written by Greg Rucka is very different. It kind of reminds me of the work I saw Tony Harris do on the Starman title in the 90s.
Click to continue reading DC Comics Review: Detective Comics #855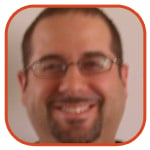 Posted by David Torres Categories: Reviews, DC Comics,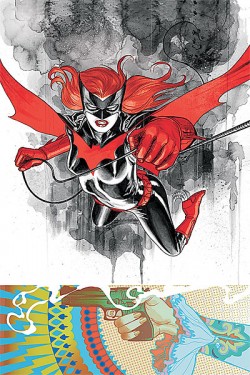 Rating: ***
Batman: Reborn continues in the pages of Detective Comics this week. Big changes have been happening in the world of Batman and one of those changes is that Batman will not be appearing in the pages of Detective Comics. Instead we have the new Batwoman Kate Kane flying solo in Detective Comics with Greg Rucka as writer and J.H. Williams as the new artist for the book. Batwoman is not a character that really grabbed me when she first appeared in the pages of 52.
According to Wikipedia, Barbara Gordon was originally supposed to return as Batgirl a while back, but wanting to be more diverse and continue to have a handicapped character, DC decided to bring back Batwoman instead. It seemed more like DC wanting to do a bunch of different things here: 1) Bring back a Silver Age character. 2) Bring in a new female character in the male dominated world of super-hero comics and 3) make her a lesbian to show even more diversity. I have no problem with any of these reasons, I just think DC mishandled her introduction to the DC Universe and didn't give me a reason to care about this character. However with this first issue of her in Detective Comics, they've taken a good first step in giving me a reason to read stories about Batwoman.
With the prices of comic books going up, and being the father of two children and a mortgage to pay, comic books can be an expensive hobby to continue. So I have the various titles I collect on a very short leash. If after an issue or two I don't find myself interested in the story anymore, the comic gets dropped from my pull list. This first story has a good beginning and its given me a reason to stick around.
Click to continue reading DC Comics Review: Detective Comics #854
© Gear Live Media, LLC. 2007 – User-posted content, unless source is quoted, is licensed under a Creative Commons Public Domain License. Gear Live graphics, logos, designs, page headers, button icons, videos, articles, blogs, forums, scripts and other service names are the trademarks of Gear Live Inc.