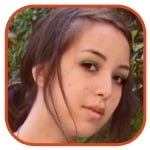 Posted by Robin Paulson Categories: Television, Image Comics,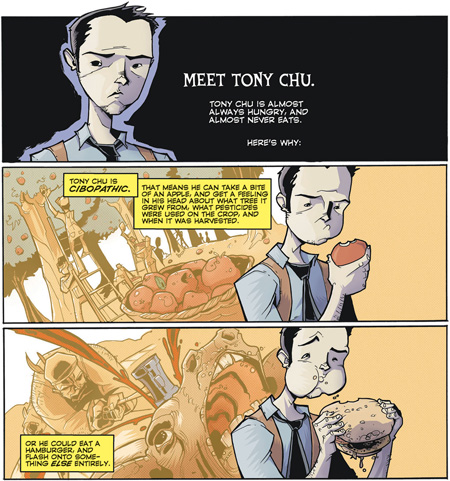 Tony Chu will soon be taking literal bites out of crime... on TV.
Showtime recently purchased a script -- written by Terri Hughes Burton and Ron Milbauer -- based off of John Layman and Rob Guillory's Chew, which chronicles FDA Agent Chu's detective work, primarily performed thanks to the psychic impressions he receives from eating things (which aren't always the most edible).
Circle of Confusion, the company behind fellow Image TV adaptation The Walking Dead, is fueling the project, which Stephen Hopkins is set to direct and executive produce.
While I imagined back-to-back marathons of Chew and The Walking Dead on AMC, I take comfort in the fact that Chew has found its TV home at Showtime, which has seen a show centering on a serial killer continue past five seasons.
The biggest question, of course, is whether or not Ken Leung will be cast as Tony...
Read More

| Deadline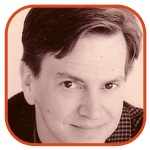 Posted by Tom Mason Categories: Editorials, Interviews, Movies, Reviews, Television, Dark Horse Comics, DC Comics, Image Comics, Marvel Comics,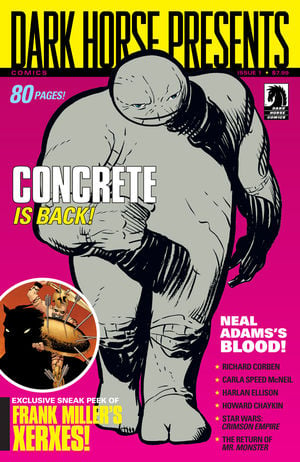 You can't beat the power of the hammer. There's a new Thor trailer floating around that feels much more impressive than the earlier Fortress of Solitude one. I'm liking it more and more, even if the big battle in the desert town looks very movie set-ish.
Now let's read some stuff...
Chaykin: Here's an interview with one of my favorite creators, Howard Chaykin, talking about his upcoming work at Dark Horse.

Chew: Marc-Oliver Frisch at Comics Beat tackles John Layman to the ground and asks him lots of questions about food, comics and work-for-hire.

Smart: I wanted to conduct an interview with Darryl Cunningham, but he's so smart that it would only serve to point out how not-smart I am. Fortunately, Tom Spurgeon at The Comics Reporter is a smarty and he landed an excellent interview with the creator of Psychiatric Tales.

Batman: The Pullbox talks to my old friend, the comics historian Peter Sanderson. Subject: The Batman TV series from 1966.
Click to continue reading Weekend Reading: Chaykin, Layman, Cunningham & Batman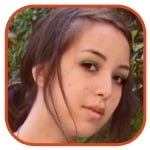 Posted by Robin Paulson Categories: Conventions, Image Comics,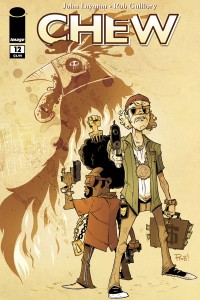 The congratulations keep coming for Chew writer John Layman and artist Rob Guillory!
Following in the footsteps of the Image comic's first trade paperback, Taster's Choice, the second volume, International Flavor landed on the New York Times Best Sellers List this week. Considering that the Scott Pilgrim movie buzz has sent fans flocking to comic book stores and blockading much of the list, this is quite an accomplishment.
The series follows Tony Chu, an FDA agent who receives psychic sensations from anything he consumes (coined a "cibopath"), on his adventures in a reality where eating chickens is illegal.
Layman and Guillory are scheduled to be at San Diego Comic Con, selling the hardcover Chew Omnivore Edition (set for wide release on August 11) as well as a special convention variant cover for Chew #12 (in stores next week, on July 14). Make sure you get there quick—I have a hard time believing that a cover titled "The Radioactive Mona Lisa Chicken Cover" will take long to sell out.
Read More

| NY Times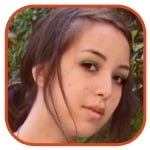 Posted by Robin Paulson Categories: Interviews, Movies, Image Comics,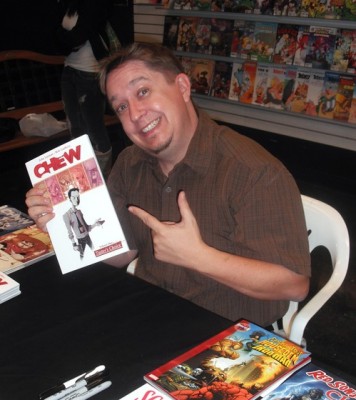 "The Jim Carrey/Bruce Willis companies called me and asked why I didn't go with them. I said, because I can't call Jim Carrey. I can call [Brian Michael] Bendis!"
- Chew writer John Layman on Hollywood adaptations.
(Make sure to check out other notable quotes.)
Read More

| Comic Book Resources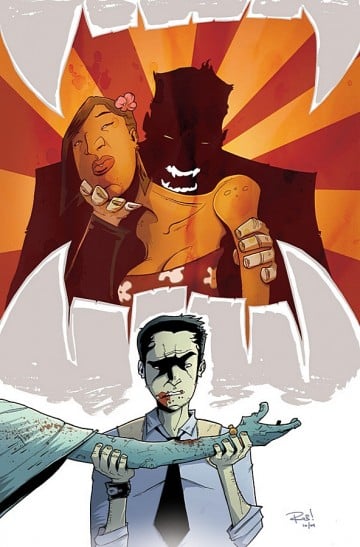 Rolling into the second five-issue arc, "International Flavor," Chew's John Layman and Rob Guillory offer a sneak peek of what's to come with the cover of issue #9.
Vampires with a thing for Hawaiian chicks? Tony Chu's retelling of Lilo and Stitch? Sometimes it pains me more to see these covers, knowing that I'll have to wait an entire four months before I will actually discover what the story entails.
In the meantime, I highly suggest that you pick up the first trade book on your way to purchasing Chew #6 when it hits your local comic book shop this Wednesday—it makes for a great holiday gift (even more so if you need to catch up on the series)!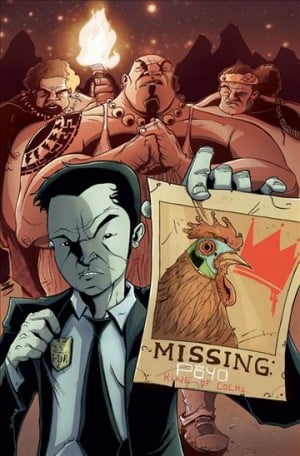 In celebration of John Layman and Rob Guillory's kick-ass comic Chew completing its "Taster's Choice" arc with Chew #5 today, Image Comics posted the cover of Chew #8 on their Twitter.
Protagonist Tony Chu looks pretty darn angry. Then again, I probably would be too if I was looking for a missing
rooster
King of Cocks. While I'm quite confused about where this story is going to head, I know that from the last five issues of this series, I will not be one bit disappointed.
So go out and buy Chew #5 already (and good luck finding previous issues)!
(FYI - You can also follow Comix411 on Twitter.)
Read More

| Image Comics Twitter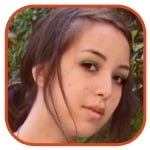 Posted by Robin Paulson Categories: Reviews, Image Comics,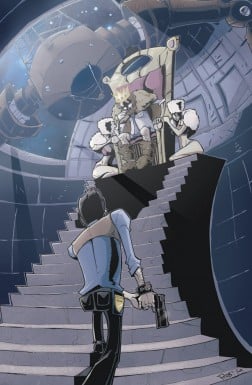 UPDATE: You can now find the correct translation on Guillory's blog.
Following up an issue where our protagonist finds love in the midst of ubiquitous regurgitation (among other delightful surprises) would be difficult. That is, of course, unless you're John Layman and Rob Guillory.
Chew #4 begins with an expected and humorous Applebee-loathing-Chu scene; yet, the rest of the issue takes a path dissimilar from what we've seen in this series so far, quelling any doubts (if there were any) that Layman and Guillory can't keep us interested. In a very Lost fashion, the last issue gave us Amelia, E.G.G., and the creepy guy with a box, only to leave us to our theories as this issue produces a number of different, unrelated (or not?) questions.
This issue, despite my not thinking it possible, gets so much stranger and weirder, making for a very scrumptious read.
Click to continue reading Chew #4 Gets Weirder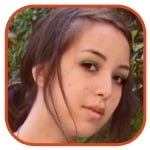 Posted by Robin Paulson Categories: Reviews, Image Comics,
With a prologue closely resembling any fast food customer's and/or employee's worst nightmare, I had a feeling that the Chew duo wouldn't let us down in this second issue.
It's resident cibopath Tony Chu's first day on the job at the FDA, and his first order of business is to take a bite out of a decomposed finger. And you thought that your first day of work was bad?
Click to continue reading Chew #2 Delivers a Tasty Treat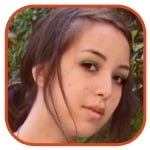 Posted by Robin Paulson Categories: Collecting, Reviews, Image Comics,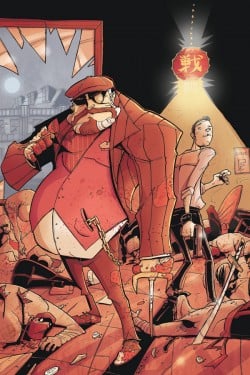 Considering Image's Chew #1 sold out in two days, it should have been no surprise to fans that its succeeding issue would sell out just as quickly. Turns out Chew #2 has sold out before it hits stores this Wednesday!
Instead of scratching your head and trying to figure out just how exactly this series became so popular, you ought to call up your comic book store and make sure they reserve a few copies of it for you (the first issue has sold up to $50 on eBay)!
You don't have to fret so much if you haven't read Chew #1, considering the second printing is set to release this Wednesday as well—just make sure you get a few copies of those, too.
If you really can't wait four days, you can check out this review of Chew #1.
Read More

| Bleeding Cool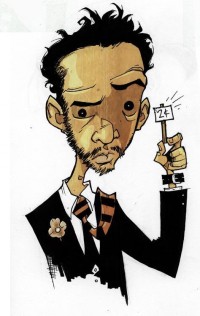 Like everyone else and their five year-old sister, I have become addicted to Twitter. Unlike deleterious addictions (i.e. following P. Diddy), however, I receive first-hand news from my favorite comic book artists, including a look at the Chew #4 cover!
Rob Guillory, one-half of the creative force behind Image's sold out comic, divulges the daily progression (and news!) of the darkly humorous detective story without the slightest indication of just how much he fuels nerdish excitement (mine definitely included) all around. Coming from someone who foolishly followed Jhonen Vasquez's pretentious and irksome tweets back in the day, I am overwhelmingly thrilled to see artists like Guillory and Fabio Moon tweeting.
Now, onto the Chew #4 cover…
Click to continue reading Guillory Tweets First Look at Chew #4
© Gear Live Media, LLC. 2007 – User-posted content, unless source is quoted, is licensed under a Creative Commons Public Domain License. Gear Live graphics, logos, designs, page headers, button icons, videos, articles, blogs, forums, scripts and other service names are the trademarks of Gear Live Inc.