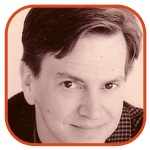 Posted by Tom Mason Categories: Editorials, Television, Marvel Comics,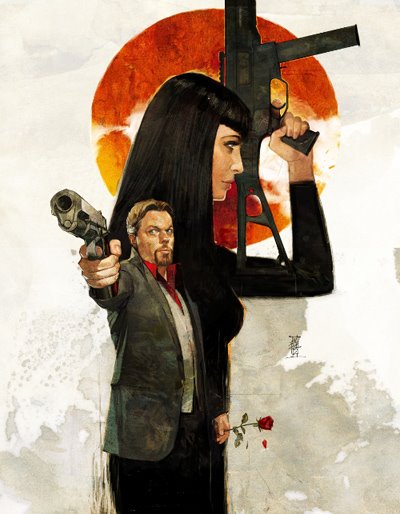 One of the shows that I'm really looking forward to is Alan Spencer's Bullet In The Face. It debuts on IFC on August 16.
And why am I looking forward to it? Just one reason, really: it's Alan Spencer. He created the great Sledge Hammer! sitcom and based solely on that, he gets a free pass from me for life - I'll check out anything he's involved in. Plus, this stars Eddie Izzard and Eric Roberts.
To promote his new show, Alan took to Facebook and posted the following: "Here's something I'm proud to share. IFC's publicity team made a classy move by commissioning Alex Maleev to create this artwork for Bullet In The Face. The artist cited Robert McGinnis' posters for James Bond as an inspiration, making this doubly meaningful… or shall I say 007 meaningful."
Maleev, of course, is perhaps best known for his work on Daredevil with Brian Bendis. Looking at his poster for BITF, all I can think is that he should do more.
Click to continue reading Bullet In The Face: Alan Spencer & Alex Maleev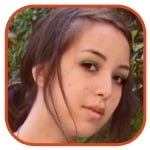 Posted by Robin Paulson Categories: Interviews, Movies, Image Comics,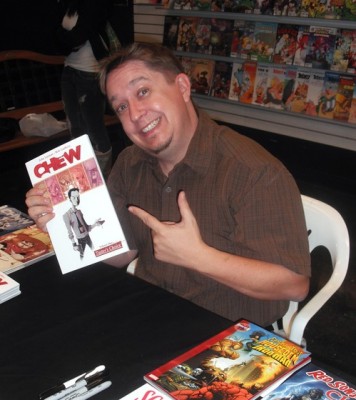 "The Jim Carrey/Bruce Willis companies called me and asked why I didn't go with them. I said, because I can't call Jim Carrey. I can call [Brian Michael] Bendis!"
- Chew writer John Layman on Hollywood adaptations.
(Make sure to check out other notable quotes.)
Read More

| Comic Book Resources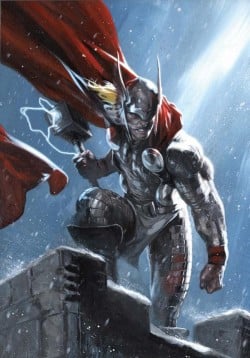 Rating: *** 1/2*
Marvel Comics' Siege continues this week with issue two of the four part mini-series. The issue returns to the scene of the battle in Oklahoma where Norman Osborn, HAMMER, and the Dark Avengers are battling it out with Thor and the citizens of Asgard. All look lost as Norman Osborn stands over a defeated Thor, but he's saved by Maria Hill using a bazooka, which blows Norman out of the way.
Ares discovers quickly that he's been duped by Norman into helping lead the invasion of Asgard. Ares decides to make good on his promise and rip Norman's head off when the Sentry comes in to protect Norman. They duke it out and in a shocking big splash page moment, the Sentry rips Ares in half. I knew someone was going to die in this issue and I had a feeling it would be Ares, but in no way did I see him meeting his end this way. Very cool!
Issue one left off with an angry Steve Rogers watching the footage of the invasion of Asgard. We pick up here with Steve gathering the New Avengers, the Young Avengers, and Nick Fury and his Secret Warriors so they can all head to Oklahoma to defeat Osborn once and for all. Also with this group is Bucky the new Captain America. He hands over the shield to Steve stating he believes if they are going to do this, it has to be done right and Steve must wield the shield once more.
Click to continue reading Review: Marvel Comics Siege #2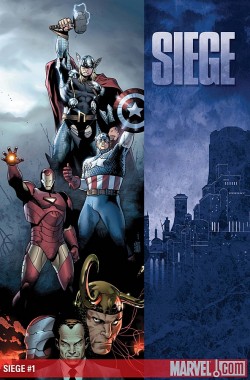 Rating: *** 1/2*
Marvel Comics is promoting their latest blockbuster crossover Siege as a project that has been seven years in the making. It began with Avengers #500 when writer Brian Michael Bendis first took over the title. The storyline was called Avengers Disassembled where the Scarlet Witch went crazy, the Vision was destroyed, and Hawkeye and Ant Man (Scott Lang) were killed off. It was a good story and a huge turning point for the team that left many fans very angry as fan favorite Hawkeye was killed in an unsatisfactory manner and the New Avengers were then launched with a non-traditional lineup which included the Sentry.
As the years have gone by, we've had various crossovers such as Civil War, Secret Invasion, and Dark Reign which further complicated the lives of the Avengers and the Marvel Universe in general. All of this has lead us to Siege, which is a storyline that will focus on Norman Osborn and his Dark Avengers invading Asgard to expel it from the Earth. This was a very good start. Osborn wants power and looks at Asgard as a roadblock. With the assistance of Loki, Osborn is able to get a reason to invade Asgard.
During the Civil War, innocent civilians were killed during an incident involving the New Warriors. Loki is able to replicate a similar incident using the Asgardian Volstagg who battles the U-Foes which results in the death of thousands of civilians at Soldier Field in Chicago. Osborn's Dark Avengers are not too willing to go along with the invasion - especially Ares who promises Osborn if this is a trick of some sort, he will kill him personally.
Click to continue reading Review: Marvel Comics Siege #1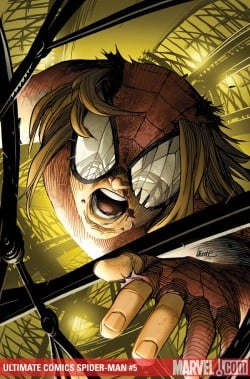 Rating: ****
If you are a new reader of Brian Michael Bendis's run on Ultimate Comics Spider-Man and if you think that things are moving a bit slow, do not worry. Look at the pace that Bendis is presenting in his story as if it were a fine dining experience. When you are eating a fine meal, you don't wolf down your food as if you're at McDonald's. Instead, you take your time to savor every moment of every bit of food. Bendis's take on the Spider-Man character is so perfect, that you want more after every issue you've read. What's the old saying? Leave with them wanting more. I guess that's the best way to describe how I feel when I'm reading his Spider-Man - I want more.
Although the comic audience is mostly adult males, Brian Bendis writes Ultimate Comics Spider-Man as a comic geared more towards a tween/teenage audience. I can see a kid in that age range who has enjoyed Harry Potter and Twilight really enjoying this book more than an adult would. Spider-Man really acts like a teenager here. You don't get the feeling of a writer trying to write dialogue that a teenager would say - particularly towards the end of the book with Peter and Gwen.
Our story continues the opening arc of this relaunched title with Spider-Man battling Mysterio. When we last left off, Spider-Man was at the mercy of Mysterio. It looks grim, but thanks to the arrival of the mysterious new cloaked hero that first appeared in issue one, Spider-Man makes it out alive. Thanks to this intervention, Spider-Man is able to recover and duke it out with Mysterio. The cloaked figure knocks out Mysterio's technology and we see his face. As a result, an explosion happens, but all survive and Mysterio swears revenge.
Click to continue reading Marvel Comics Review: Ultimate Comics Spider-Man #5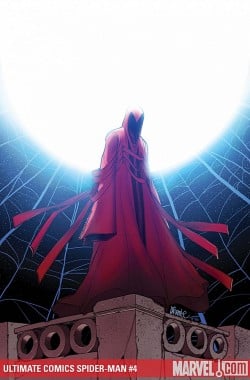 Rating: ****
Another great issue by Brian Michael Bendis. The artwork is good too with artist David LaFuente. I complained before about how I thought Peter Parker looked like he was 12 years old instead of 16, but that doesn't really bother me all that much. The way he tells the story panel-to-panel is reminiscent of Mark Bagley's work on the original Ultimate Spider-Man title. I think LaFuente is becoming more the true air to the title than Stuart Immonen. No disrespect to Immonen, but I think both Bagley and LaFuente's styles are better fit for the characters than Immonen. I hope LaFuente stays around for a while.
Bendis continues his masterful run on the Spider-Man character, which began almost 10 years ago. It's always fascinating to see a writer stay with a character for that long and see the amount of different stories they can tell.
In typical Bendis fashion, the plot is moving along slowly, but you're not bored. It's like having a fine meal and you're slowly enjoying yourself. So far Peter is still dealing with his new house guest the Human Torch and the drama of dealing with his past and current girlfriends Mary Jane and Gwen. The villain is still Mysterio and this new hooded superhero that first appeared in issue one makes another appearance. Is this new character an Ultimate version of the Hood - the villain Bendis is using over in Avengers? Maybe the Hood is a hero in the Ultimate universe.
Click to continue reading Marvel Comics Review: Ultimate Comics Spider-Man #4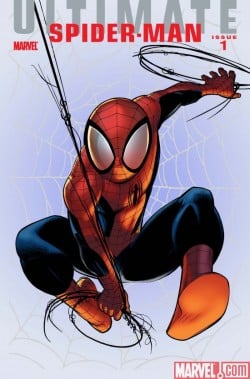 Rating: ****
Marvel's Ultimate line of comic books began in the year 2000. It was an attempt to get new and young readers on board without them having to jump in and figure out the years of confusing continuity that's existed before. I wasn't collecting comics at the time when issue one of Ultimate Spider-Man came out, but I decided to pick up the first few issues. I thought it was okay. In my opinion, I think Ultimate Spider-Man really took off after the first story arc. The comic lasted for over one hundred issues and there were some moments where I lost interest in the book. I think I stopped collecting around the time Ultimate Moon Knight showed up. However, I got back into the title when writer Brian Michael Bendis introduced his own take on the Clone Saga for the title. I don't know what it is about clones and Spider-Man that makes me go crazy. The Clone Saga got me to pick up Ultimate Spider-Man again and now it's done it again with the regular Spider-Man book.
After the Ultimate Clone Saga ended, I dropped the book and haven't read it since. With Ultimatum wrecking havoc in the Ultimate Universe, Marvel decided to cancel all of their Ultimate books and relaunch two of them with new number one issues. So Ultimate Spider-Man is now Ultimate Comics Spider-Man and The Ultimates is now the Ultimate Comics Avengers. So does Bendis deliver the goods once again with this new Ultimate Spidey title? You betcha!
Click to continue reading Marvel Comics Review: Ultimate Comics Spider-Man #1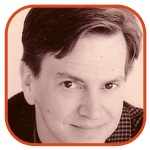 Posted by Tom Mason Categories: Editorials,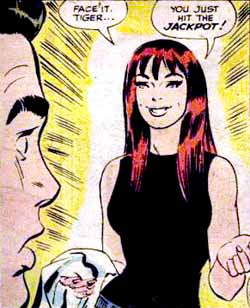 The weekend is upon us again and the internets have delivered a bounty of excellent reading. From Peter Parker's love life to Cyanide And Happiness. Check 'em out.
BRIAN MICHAEL BENDIS: Paul Morton over at Bookslut has a great interview with Brian. Mostly it's about his work on Ultimate Spider-Man but there are a couple of detours, including Alias and Jessica's relationship with Luke Cage. Here's a nice Bendis quote about Peter Parker's love life: "Doing my initial Spider-Man research, in going back and reading everything, [I found] for a sad sack this guy was getting laid left and right. This guy had more girlfriends than I ever had in high school. Betty Brant was hitting on him. MJ, Gwen. There were girls everywhere. There is an element of Peter that sees himself a certain way. But the reality is that he's doing much better than he thinks."
CYANIDE AND HAPPINESS: As hard as it might be to believe, The New Yorker has a touch of the hip in them. They sent one of their staffers to the recent New York Comic Con and scored an oh-so-brief interview with the guys from Cyanide and Happiness. You won't learn much, but it's good for a couple of laughs. After you read the interview, be sure to click on over to the Explosm website for greater goodness.
STARLOG: The old fan favorite is still being published (though it's $7.99 a copy on the newsstand – if you can still find a copy and a newsstand). Better still, they're finally back up on the internets. It's a subset of the Fangoria website, but they're just getting started and they have a nice Comics Scene section that looks like it'll expand over time. Starlog has an impressive backlog of material – great articles, profiles, interviews and more, and it would be great to see some of that fun stuff online.
MARVEL COMICS: I would totally buy a Marvel comic that looked like this.
BATMAN: This guy loves him. (Warning: this is graphics heavy so if you're backwards enough to still have dial-up, ye have been warned)
That's all for now, have a great weekend and don't forget to say thanks to the internets whenever you see them.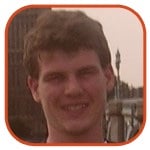 Posted by Todd Matthy Categories: Editorials, Reviews, Marvel Comics,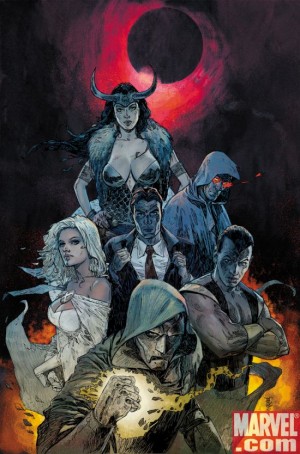 Last week Marvel's event three years in the making ended anti-climatically with a last page that was an advertisement for this week's one-shot, "Secret Invasion: Dark Reign".
I have loved the team of Brian Michael Bendis and Alex Maleev since they began their run on "Daredevil" in 2001. Maleev's gritty, yet realistic artwork complemented Bendis' down-to-earth dialogue perfectly for a dirty, street level character like Daredevil. These three ingredients sparked one of the greatest runs in comic book history, so it's easy to see why Marvel would use this team to launch the new direction of the Marvel Universe. Unfortunately, the Marvel Universe is not one-size-fits-all, and what works on Daredevil won't necessarily work for the Avengers.

Click to continue reading Reviewing and Betting on Dark Reign
© Gear Live Media, LLC. 2007 – User-posted content, unless source is quoted, is licensed under a Creative Commons Public Domain License. Gear Live graphics, logos, designs, page headers, button icons, videos, articles, blogs, forums, scripts and other service names are the trademarks of Gear Live Inc.