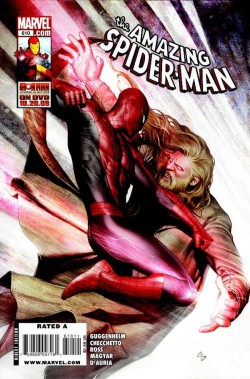 Rating: *** 1/2*
This issue was a lot of fun. It was fast paced and it had non-stop action, which is good for the final issue of a comic book storyline. I also enjoyed the artwork this time; maybe I just grew accustomed to it, but the artwork didn't bother me as much here in this issue as it did in the others.
Well, I called it in my last review when I said that Kaine would interrupt the stand-off between Peter Parker and Raptor so Peter wouldn't have to reveal his identity; however, Kaine is there to assist the Raptor - not Peter. We also the flashback to the time when Ben Reilly confronted Raptor (then known as Damon Ryder) in his house - the same house that we know will burn down and kill his family. So we have a two fights playing out back and forth - Kaine showed up during that fight as well. Writer Marc Guggenheim does a nice job of jumping back and forth between the past and the present as well as building up a suspense to final outcome of both stories.
Screwball also shows up again as Spider-Man sets her up for a fight, but it really was a planned diversion for his confrontation with Raptor. This distraction enables Peter to free Harry Osborn and his cousins so that he can change into Spider-Man. Raptor is curious as to why Spider-Man continues to show up to help "Ben Reilly." Kaine answers that question by pulling off Spider-Man's mask. The clone situation is explained to Raptor, but Kaine says that Peter is the clone. I think Kaine explains it this way as an excuse for Raptor to take out his revenge on Peter. Raptor may not want to attack Peter if he knew that Ben was really a clone. Just my theory on this situation.
Click to continue reading Marvel Comics Review: Amazing Spider-Man #610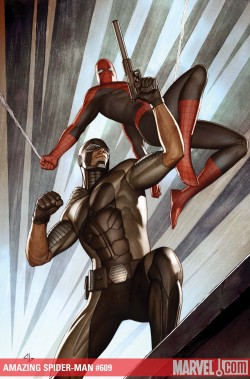 Rating: *** 1/2*
Part one of the "Who was Ben Reilly" story arc left me a bit disappointed two weeks ago. This week, the story continues and picks up right where we left off. This issue was a much better read as there wasn't as much silliness here in this issue than there was in the last. For whatever reason the silliness annoyed me and here we have some serious action with a sprinkling of the Spider-Man wit mixed in.
When we last saw Spider-Man, he was fighting Kaine at Raptor's abandoned hide out. Spider-Man wants to know the connection as to why Kaine has showed up at the same time Raptor has shown up thinking Peter is really Ben Reilly. Kaine reveals to Spider-Man that he is not here to fight him, but is instead looking for Raptor aka Damon Ryder as he maybe the only man who can stop his cellular degeneration.
Click to continue reading Marvel Comics Review: Amazing Spider-Man #609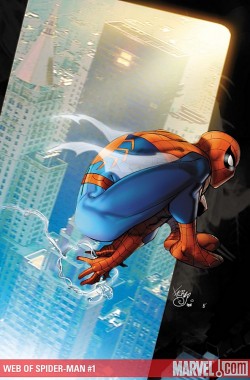 Rating: *** 1/2
I began collecting comics in the mid-80s. I remember that my first issue of Uncanny X-Men was #188 and that my first issue of the Avengers was #250. My first Spider-Man comic was Amazing Spider-Man #264, but I also received around that time, the premiere issue of the new monthly Spider-Man comic book, Web of Spider-Man. This all took place during the hype of Spider-Man's black costume which was featured prominently in this first issue. The suit was a symbiote, meaning that it was alive and it wanted to fully take over Peter Parker. In this issue, Peter fights back and we see the famous bell ringing scene that had Peter ripping the costume off of himself. An homage was made in Spider-Man 3.
Click to continue reading Marvel Comics Review: Web of Spider-Man #1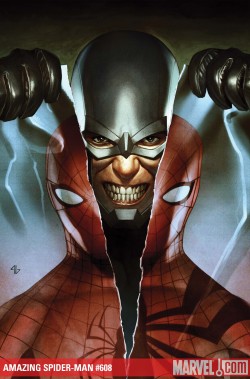 Rating: ***
Since I read the amazing (no pun intended) Amazing Spider-Man Annual #36, I've been looking forward to more Spider-Man stories focusing on the Spider-Man story the Clone Saga. In Amazing Spider-Man Annual #36, we saw the premiere of the character called Raptor who has a grudge against Ben Reilly. He blames Ben for the death of his family and he's out for revenge. Since Peter obviously looks like Ben, Raptor has set his sights on Peter.
Our story begins with Spidey battling it out with the relatively new super-villain Screwball. I wasn't reading Spider-Man back then so this was my first introduction to the character. I like this character. A perfect modern character that uses the Internet in order to get that "celebrity" status that comes with it if you can get people to watch your videos. Peter tries to use his photos of the fight to try and sell them to Ben Urich at Front Line. Raptor whose name is Damon Ryder shows up to the offices of Front Line to confront Peter. Ryder calls Ben and hands Urich an old newspaper clipping of the fire that occurred at his house that resulted in the deaths of his family. A sketch of the suspect matches that of Peter's face.
Click to continue reading Marvel Comics Review: Amazing Spider-Man #608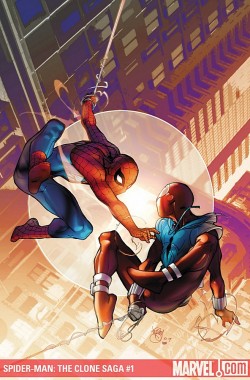 Rating: ***
Finally, Marvel will be returning to the infamous Clone Saga storyline with a mini-series that is set to tell the story of the Clone Saga as it was meant to have been told. As I've mentioned before in previous posts, I was a big fan of the Clone Saga when it first began and have always liked the character of Ben Reilly. So this week, issue one of the revisited Clone Saga storyline hit the stands, and while it did not blow me away, I was entertained. Two of the writers working on Spider-Man back in those days have come on board to tell the tale: Tom Defalco and Howard Mackie.
Before I go into my review for this issue, I must profess my love for the Spider-Girl title in which Defalco worked on. Defalco's Spider-Girl/M2 universe sprang from the stories that were created during the Clone Saga, and he was able to make a grown up Spider-baby May Parker work well along with continuity of those storylines. Marvel completely abandoned the characters for years in the regular 616 universe until the upcoming Who was Ben Reilly? storyline that we'll see next month in Amazing Spider-Man.
Click to continue reading Marvel Comics Review: Spider-Man: The Clone Saga #1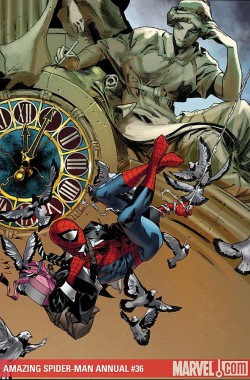 Rating: ****
Wow! Last week I gave a glowing review to Grant Morrison's Batman and Robin #2 where I used the phrase "wow" to express my appreciation for that issue. Well, here I am saying "wow" again for Amazing Spider-man Annual #36 because that is exactly how I felt after reading this issue.
I've been reading Spider-man on-and-off since the mid-80s. If the writing was good, I read it, but if it wasn't I dropped it. There were three or four monthly Spider-man titles to chose from so I was at least collecting one of them at some point through out the years. In the 90s there was a storyline that will go down infamy as far Spider-man and comics in general: The Clone Saga. If you're a comic reader, there is no explanation needed for what was the "Clone Saga". I am one of the few people who liked the "Clone Saga" at first, but as time went on the story became a mess and the original planned ending was abandoned due to fan outrage.
I haven't read Spider-man for probably over a year now. I haven't read it since Marvel Comics committed the sin of the "Brand New Day" storyline which effectively wiped Peter Parker's marriage to Mary Jane from continuity. The way in which they did it was atrocious and I refused to buy another Spider-man comic until they reunited Peter and MJ. Well, I decided to break my promise this once and pick up this issue. The reason I broke my promise is because of one name: Ben Reilly
Click to continue reading Marvel Comics Review: Amazing Spider-man Annual #36
© Gear Live Media, LLC. 2007 – User-posted content, unless source is quoted, is licensed under a Creative Commons Public Domain License. Gear Live graphics, logos, designs, page headers, button icons, videos, articles, blogs, forums, scripts and other service names are the trademarks of Gear Live Inc.