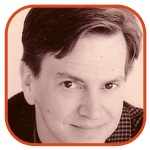 Posted by Tom Mason Categories: Editorials, Reviews, DC Comics, Independent,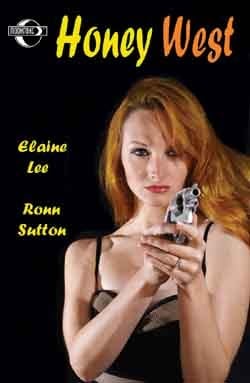 Hey, anybody see Green Lantern yet? Anyone like it? Anyone wonder why Marvel makes three movies in one year and DC Comics makes one movie every three years?
I'm traveling this weekend, so it's a shorter run of links. (The last time I saw the Space Needle it was sticking out of Scratchy's eye). Enjoy!
Ploog: At Vintage Hardboiled Reads, August West finds a vintage hardboiled comic book: Atlas Comics' Police Action with art by Mike Ploog.
Abe: Francesco Francavilla shares his variant cover for September's release of Abe Sapien - The Devil Does Not Jest #1 from Dark Horse.
Honey: Ray Tate at Comics Bulletin enjoys him some of Moonstone's Honey West by Elaine Lee and Ronn Sutton.
Honey II: Steve Thompson at Booksteve's Library has some similar nice feelings about the Honey West comic book.
Click to continue reading Weekend Reading: Atlas Comics, Honey West and DC Comics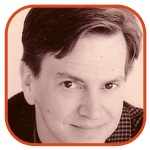 Posted by Tom Mason Categories: Collecting, Editorials, Reviews, DC Comics, Independent,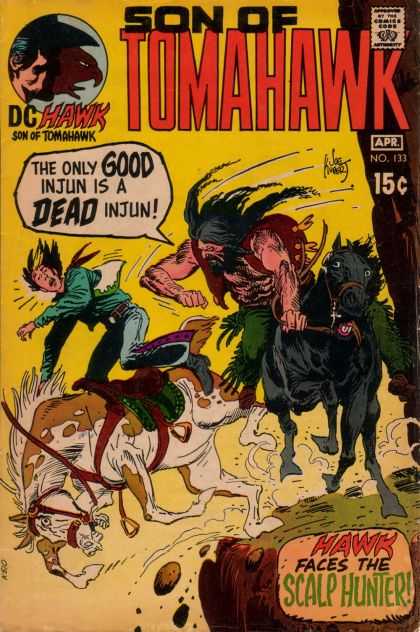 I hope you enjoyed your free comics on Free Comic Book Day!
I don't know how successful the event is at growing the industry, but I do like getting a lot of free comics to sample - it's like opening up a birthday present and finding Christmas inside.
Let's see what else is free:
Comics: Lance Mannion visits the local comic book shop, on the streets of New York City.
Cowboys: At Western Fictioneers, Troy Smith lays out his favorite Western comic books of all time. Bonus: Son of Tomahawk!
Mickey: Mark Evanier got himself an advance copy of Walt Disney's Mickey Mouse: "Race to Death Valley" (Vol. 1) by Floyd Gottfredson, published by Fantagraphics Books. And there was much rejoicing.
West: I love this poster by Thomas Perkins.
Bongo: Over at Bongo's blog, Comic Book Guy runs down a list of comic book places where he'd like to live.
Click to continue reading Weekend Reading: Gottfredson, Satan, Starlin and Comic Book Guy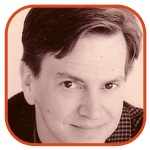 Posted by Tom Mason Categories: Editorials, Interviews, Reviews, TokyoPop,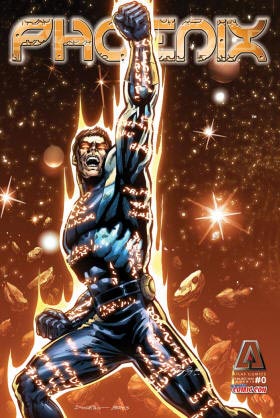 It's the weekend and I have just one word for you: Winning!

Now let's see what you've won:

Tie-In: I missed this: Apparently Scott Rosenberg's Cowboys & Aliens has been reissued by It Books, a division of HarperCollins.

Plainclothes: If you're a fan of Dick Tracy or Joe Staton, you might already know that there's going to be a change in your newspaper on March 14. Mike Curtis and Staton will be the new team on Dick Tracy, and here's a little profile of them, courtesy of their syndicate.

Atlas: If you remember the old Atlas/Seaboard comics of the 1970s or just love a good comic book retrospective, mark your digital calendar for March 11. Geppi's Entertainment Museum is hosting "Atlas At Last," which also ties in with the relaunch of the company's characters from Ardden. Check it out!

Wulf: And speaking of the Atlas relaunch, here's a review of one of the titles I've been waiting for: Wulf The Barbarian, written by Steve Niles.
Click to continue reading Weekend Reading: Atlas, Dick Tracy and Cowboys & Aliens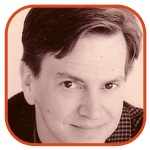 Posted by Tom Mason Categories: Editorials, Interviews, Reviews, Television, DC Comics,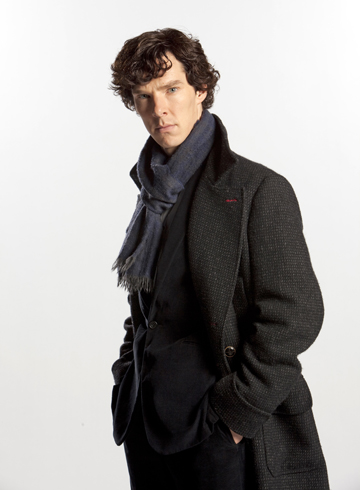 It's all over the internets that the acclaimed business site iCV2 has invoked the "suck" word to describe direct market comic book orders for Q3 2010.

Offering your captive audience books they don't want and prices they can't afford no longer seems to be a viable strategy. What lessons will anyone take away from this? Cue another Metamorpho relaunch in 3...2...1...

Let's see what else is out on the internets...

Gardner Fox: The prolific writer is said to have written more that 4000 comic book stories. He co-created The Sandman, created the concept of Earth-2, wrote Batman, Hawkman, The Flash, Justice Society of America and many, many more. He also had a career as a writer of many so-called "sleaze" paperbacks. Paul Bishop has a nice look at a bunch of them. So many of them in fact, that you might think of the author more as "Gardner Foxy."
Click to continue reading Weekend Reading: Sherlock, Gardner Fox, Atlas Comics and Watchmen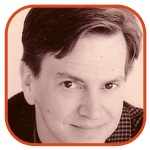 Posted by Tom Mason Categories: Editorials, Interviews, Television, DC Comics,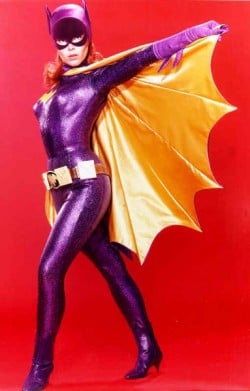 Mark Waid says it best in the blurb he wrote for the book I most want this Christmas. Says the man from Boom! Studios: "I now have a new book for my 'Five I'd Take to a Desert Island' list. Gotham City 14 Miles is the perfect companion to my favorite pop-culture phenomenon of all time!"
In case you need an explanation, 14 miles is the distance from the Batcave underneath "stately Wayne Manor" to Gotham City in the 1960s Batman TV show starring Adam West and Burt Ward. Gotham City 14 Miles is the title of a forthcoming book of essays about that TV classic, edited by my pal Jim Beard.
Inside, Beard's bunch offers up a thoughtful reevaluation of the 44-year-old show, one of the first big comic book successes on the small screen. The series had an impact not just on pop culture, but on the DC Comics Batman as well. According to Beard, "essays examine Batmania, camp, the role of women, the show's participation in '60s counter-culture, its many celebrated actors, its lasting cultural effects, and other critical subjects."
Click to continue reading Batman: Gotham City 14 Miles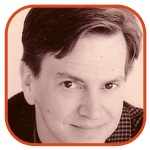 Posted by Tom Mason Categories: Conventions, Editorials, Independent,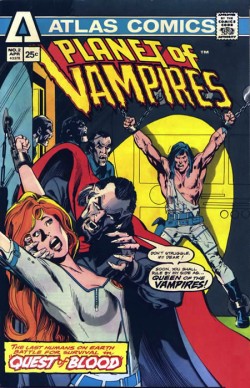 Some years ago, in the pre-Ultraverse of Malibu Comics the company had a chance to acquire the old Atlas/Seaboard comic book characters from two guys who claimed to have the rights.
It was very tempting at the time to pursue it – Atlas had a bunch of great characters created by folks like Howard Chaykin, Steve Ditko, Pat Broderick, Gary Friedrich, Mike Ploog, Larry Hama, Michael Fleisher, Ernie Colon, Neal Adams, Alex Toth, John Severin, Russ Heath, Wally Wood, and Mike Sekowsky and many others.
At the time, it would've been quite a boost to the company to acquire the characters: they had a certain brand recognition, a lot of sentimental fanboy attachment, and had only been out of the marketplace for less than 15 years or so at the time.
Once acquired, the plan would've been to try to round up the original creators – as many as possible - and launch a new Atlas universe that would be separate from the company's other titles.
Click to continue reading The Return of Atlas Comics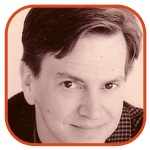 Posted by Tom Mason Categories: Editorials, Interviews, Reviews, IDW Publishing,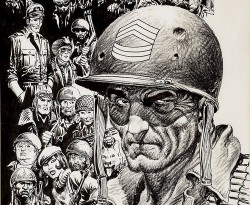 Welcome to the weekend on the internet. Let's get it started with Mr. Joe Kubert.
I had the pleasure of working for a company that published one of Mr. Kubert's books (Abraham Stone) and got to hang out with him a little at Comic Con International one year. Just a great, great guy, as well as a fantastic artist. Marty Pedler at Bookslut has a new interview with him, and if you haven't read it yet, get over there. Here's a little snip: "I still feel that if it's not a children's medium, it's at least a young person's medium—despite the fact that the average person who reads comic books is now, I'm told, probably in their early twenties. Maybe it's because I'm an old fogey, I don't know, but I still feel a little strange and awkward when I see stuff that's so blatantly sexual."
Click to continue reading Weekend Reading: Star Wars, Star Trek, Scooby Doo and Joe Kubert
© Gear Live Media, LLC. 2007 – User-posted content, unless source is quoted, is licensed under a Creative Commons Public Domain License. Gear Live graphics, logos, designs, page headers, button icons, videos, articles, blogs, forums, scripts and other service names are the trademarks of Gear Live Inc.