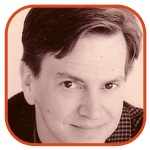 Posted by Tom Mason Categories: Interviews,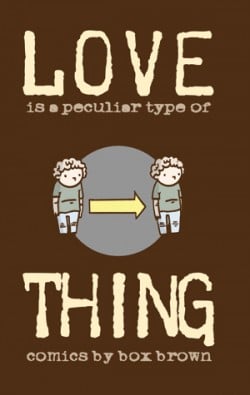 If you're not familiar with the work of Box Brown, run over to his site and check it out. Then come back here. It's the internets; I'll wait. Box has been doing his own webcomic, Bellen! (Ben and Ellen, see?) since 2006. In addition, he won a Xeric Grant for his big, fat collection of cartoons called Love Is A Peculiar Type of Thing, which can be ordered from Diamond Comics right now.
Recently, a revised version of Bellen! was nearly syndicated by United Features, but Box pulled it when the syndicate let go of its progressive comics editor, Ted Rall. Box says his work has been influenced by both Charles Schulz' Peanuts and James Kochalka's American Elf, so let's chat.
TOM MASON: Were you surprised to win the Xeric Grant for Love Is A Peculiar Type of Thing?
BOX BROWN: Kinda shocked, really. When I created my proposal the book was only a little more than a third finished and I put it on hold between mailing the proposal and receiving the grant. It was a great fire under my ass to get moving on finishing the book.
TOM: What was it like becoming your own publisher?
BOX: There's a lot of work in publishing a book like this. I had done a lot of self-publishing in the past but nothing of this magnitude.
TOM: What surprised you about it?
BOX: I had no idea what it would be like dealing with Diamond or "marketing" really.
Click to continue reading Q&A: BOX BROWN, Bellen!, and Love Is A Peculiar Type of Thing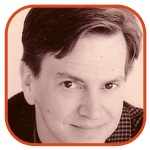 Posted by Tom Mason Categories: Interviews,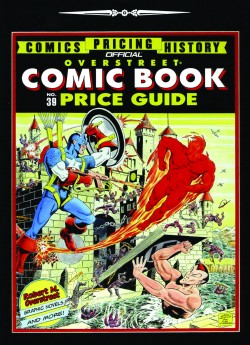 I have a total fancrush on The Overstreet Comic Book Price Guide. For years, it was the only regularly published reference for comic books and while I didn't really care if my personal collection increased in value, I did like to use the book as my first line of "nerd defense" ("See? This comic book is worth more than your car!"). I might have mentioned that I have relatives in the antique business and whenever they'd stumble across a handful of old comics at some flea market or in the back of a dusty old store, I'd be the point person because, thanks to Overstreet, I knew the difference between Donald Duck #9 and Four Color Comics #9.
Overstreet is a reference book that no fan should be without as it reports on the back issue market for comic books – and not in a rapid-fire "this book is hot-hot-hot now-now-now!" way, but in a calm and measured long view of the industry. In addition to prices based on condition and sales data, it's a valuable tool for first appearances, collectible issues, rare comics, new costume designs, high profile artists' work, team-ups, you name it. It's as valuable to funny book fanatics as Leonard Maltin's movie book is to Turner Classic Movie nuts.
I also like the idea that Robert Overstreet staked his claim on a piece of the marketplace decades ago that didn't involve writing, drawing, publishing or selling comic books. He took his home-based business idea and grew it into an empire. We should all be that smart.
My friend J. C. Vaughn has for many years been the Executive Editor and Associate Publisher of The Overstreet Comic Book Price Guide. He knows more about comics, prices, retail trends, auctions and back issues than I think is humanly possible. And he tracks it all without a Blackberry or iPhone. Just walking around Comic Con International with him is an adventure. With the new edition of the Guide set for release on 3/25, J.C. took a few minutes to talk shop.
TOM MASON: How long have you been the Executive Editor and Associate Publisher of The Overstreet Comic Book Price Guide?
Click to continue reading Q&A: J. C. VAUGHN & The Overstreet Comic Book Price Guide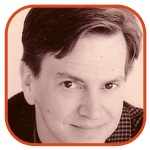 Posted by Tom Mason Categories: Interviews,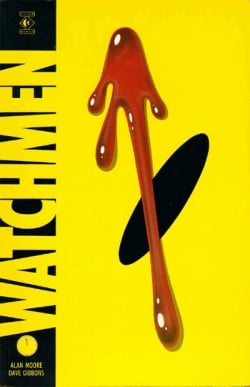 Hey, Welcome back! If you're just joining us we're in the middle of Watchmen Week, celebrating a case of Watchmen Fever now that the movie is finally coming out. I took a little survey among my longtime friends and acquaintances in the comics industry about where we all were in June 1986 when Watchmen #1 by Alan Moore and Dave Gibbons went on sale. If you missed part 1, it's still available right here along with a much better introduction that I encourage you to click over there, read it and come back here.
If you remember where you were and what you were doing back when Watchmen #1 debuted, feel free to leave your story in the comments. And now, here's Part 2 of Where Were You in 1986:
FRANK MANGIARACINA: I remember 1986 as an exciting–maybe even turning point–year in comics. The guys at my warehouse and stores, and me, were all already excited about the Dark Knight, which had come out earlier that year. Besides the book itself, we were also gratified by the reception it was receiving: the Chicago Sun Times had put the cover of Dark Knight #2 on the front page! Though we loved Frank Miller, I think most of us were even bigger Alan Moore fans, and I remember the early looks at Watchmen were exciting – we'd never seen anything that looked like this before. As #1, and subsequent issues, came out we all read them the day they came out, and would talk about 'em on smoke and lunch breaks. You have to remember that in the '80s comics weren't respectable.
Click to continue reading WATCHMEN WEEK: Where Were You in 1986? Part 2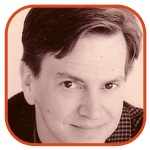 Posted by Tom Mason Categories: Interviews,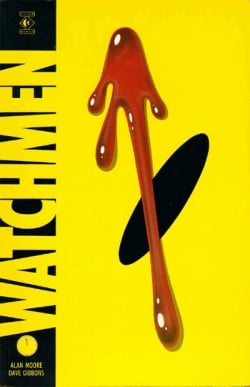 Alan Moore's and Dave Gibbons' Watchmen #1 went on sale in June 1986, nearly 23 years ago. It's forgotten by a lot of recent converts, but back then there were no internets to get the word out or issue spoilers or post and host endless debates. Solicitation copy wasn't quite the artform it is today, and the Watchmen issues came out every month (more or less) – you couldn't just order the whole thing off Amazon like you can today. There was also no "wait-for-the-trade" guarantee back then. You had to wait for each new issue to tease its way into the marketplace. If you missed an issue, you had to scramble. Moore and Gibbons had to create a compelling-enough story to hold the audience every 30 days over a 1-year period. Over at Mike's Amazing World of DC Comics, you can see what other comics DC released around the same time. Many of them proved to be not quite as compelling.
We all have memories of where we were when great events took place. You might remember your first computer, your first iPod, your first car, the first time you spoke to a woman dressed as Silk Spectre or a man dressed as Nite Owl. Comic book industry types of the Watchmen/Dark Knight era certainly remember where they were when Watchmen #1 debuted. I asked them to share…
Click to continue reading WATCHMEN WEEK: Where Were You in 1986? Part 1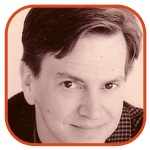 Posted by Tom Mason Categories: Interviews,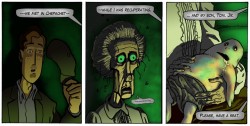 What if horror master H. P Lovecraft's infamous stories were actually based on fact? Animator and artist Larry Latham has the answer to that question and he's explaining it all in Lovecraft Is Missing, his spooky 6-issue comic book-in-progress that's currently online for free-reading. A new page is up every Wednesday and Friday. You can start reading the first issue here.
Latham confesses that Lovecraft Is Missing "is kinda-sorta my first comic book." He's quick to qualify that because back in the mid-1970s, "I wrote and drew one issue of a Betty Boop underground comic, and in the early '80s I drew two stories (one of Hong Kong Phooey; one of Squiddly-Diddly) for Mark Evanier, who was packaging a Hanna-Barbera line for European distribution."
His lack of comic book output in the years since is our loss, but Larry's quickly making up for any lost time. Lovecraft Is Missing had its origins as a CD-Rom game, almost became an animated project, was pitched to DC Comics' Vertigo imprint and is now seeing glorious life as a webcomic. Lovecraft Is Missing is a tour-de-force display of graphic storytelling – a tremendously spooky and entertaining mix of horror story, excellent graphics and unbelievable coloring.
The complete first issue is up online and the second is in progress. Larry posts pages every week so you can read it as he finishes, or you can read big chunks of it at one time. I do both, because I'm just a little OCD. Let's see what Larry has to say about himself…
TOM MASON: Where did your interest in H. P. Lovecraft come from?
LARRY LATHAM: When I was in junior high, I was one of the founding members of the Oklahoma Alliance of Fandom, or O.A.F. You may laugh, but we just had our 40th anniversary convention in 2007. Of course, at that age, I was into Marvel Comics, but most of the members were older, with more refined tastes. The first Arkham House book I ever bought was Carnacki The Ghost-Finder, for $3.00, as it was still in print. About that same time, fandom was beginning to blossom all over the country, and though they were hard to find (there were no sf/fantasy/horror sections at the bookstores), the Lovecraft and (Robert E.) Howard Conan stories started coming out in paperback.
Click to continue reading Q&A: Larry Latham & H. P. Lovecraft Is Missing!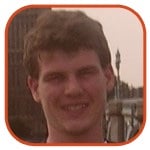 Posted by Todd Matthy Categories: Interviews,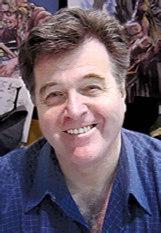 With New York Comic Con having just passed earlier this month, I've decided to bring to you this gem from last year's convention. Here is an interview I conducted with the legendary, Neal Adams. Unfortunately, I was not able to publish this interview until now. (I'm sorry, Neal) But, Neal is so interesting that an interview from last year is too good to let sit idle. So, without further ado, Neal Adams.
Click to continue reading An interview with Neal Adams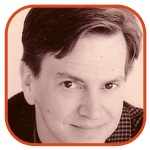 Posted by Tom Mason Categories: Interviews,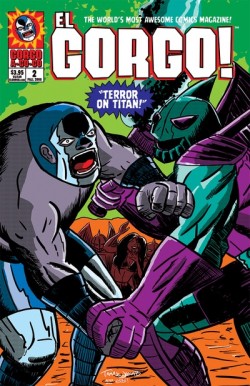 The great thing about comic books is that right there on the rack beside 70-year-old Batman and 47-year-old Spider-Man there can exist a comic that's less-than-a-year-old and stars a butt-kickin' luchador super-hero who happens to be (wait for it) a gorilla! Is this a great industry or what?
TAMAS JAKAB the artist and MIKE McGEE the writer are the creators behind El Gorgo! a new independent comic that debuted last year. The second issue is available as of February 20th and if you can't find it at your local LCS (it's not carried by Diamond), you can order it from the El Gorgo! website. But because we live in the modern age, you don't have to order blind. Tamas and Mike have posted the complete first and second issues online for free-reading on the very sound internet principle that if you like it on the screen, you'll love to hold it in your hands and slip it into its Mylar Snug.
In El Gorgo! #2, "Terror On Titan!," the story takes place 10,000 years in the future as El Gorgo! and Nika face a new breed of Deep Ones. If you love the Kirby, if you love the Cosmic and if you're thrilled by the idea of a Gorilla super-hero strong enough to kick a dinosaur in the face, this is the comic for you, and probably a couple of your friends as well. Read on, and see how Tamas and Mike do it…
TOM: First of all, who is El Gorgo?
Click to continue reading Q&A: Mike McGee & Tamas Jakab – El Gorgo!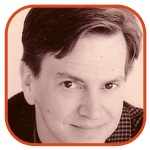 Posted by Tom Mason Categories: Interviews,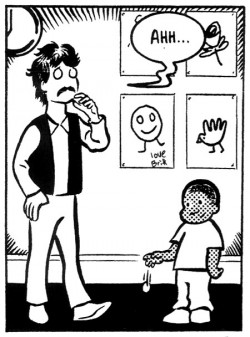 RYAN ALEXANDER-TANNER is a Xeric Award winner, indie cartoonist, and self-publisher (Television). Now one of his next projects is sure to set tongues wagging. It's a graphic novel in collaboration with William Ayers called To Teach: The Graphic Memoir and scheduled to be published in 2010 by Teachers College Press.

TOM: Let's talk about your Xeric Grant first. What did you have to submit to get it?
RYAN: In order to get one you have to submit a finished - or at least close to finished - comic book. I had everything done except the cover when I submitted Television #1. You also have to get a really solid budget proposal together, which a lot of people understandably have a hard time with. I got some help from my great friend Alex Cahill - an earlier recipient of the Xeric - and Gary Grinde over at Morgan Printing - who is a friend to indie comics artists across the nation - and it really wasn't too bad. That's one of the great things about indie comics; it really is a small world so it's pretty easy to reach out to people if you need some help. I would recommend to anyone who was applying for one to contact previous recipients for some sage advice.
Click to continue reading Q&A: Ryan Alexander-Tanner on the Xeric, Television and William Ayers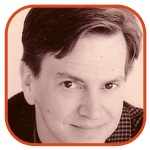 Posted by Tom Mason Categories: Interviews,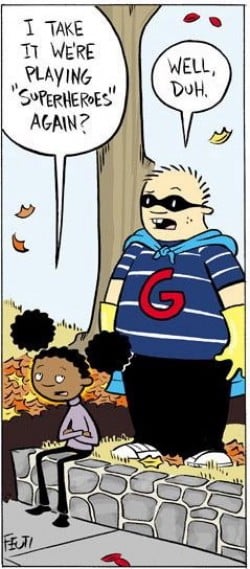 Cartoonist Norm Feuti must draw with both hands at the same time. He has not one, but two comic strips going simultaneously. One strip, Retail, is syndicated by the granddaddy of all newspaper syndicates, King Features. The other is his own web comic Gill which debuted toward the end of last year. Retail is set in the world of, well, retail – about four employees of the fictitious Grumbel's department store. It currently appears in about 70 newspapers worldwide. If your local paper isn't one of them, you can read Retail everyday right here.
Gill is Norm's second strip. Despite the syndicated success of Retail, Gill didn't get traction with the syndicates. Norm made the leap to the internets and launched it as his first web comic. Gill is the story of a chubby kid, trapped in a lower income lifestyle, whose parents are divorced. Hijinks, naturally, ensue.
That might be more than enough to keep any cartoonist busy, but in 2007, Hyperion published Norm's humorous Retail Employee Handbook called Pretending You Care. See what I mean about the drawing with both hands thing?
TOM: You have two regular strips going at the same time. How do you work your busy schedule around being a stay-at-home Dad?

Click to continue reading Q&A: NORM FEUTI on Gill and Retail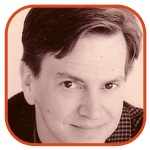 Posted by Tom Mason Categories: Interviews,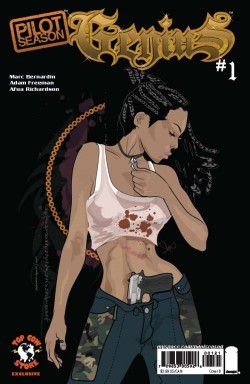 MARC BERNARDIN is a Senior Editor at Entertainment Weekly. He edits the Galleries that you find on EW.com, so he says, "whenever you see '25 Best Action Movies Starring Danes' or '13 Peruvian Documentaries' that's my fault." By his own admission, he's also their Resident Geek. "I get called into every meeting that involves comic book, sci-fi, videogames, or general nerd subject matter." Despite the turmoil in magazine publishing Marc admits he's "survived the bloodlettings that have been sweeping the publishing business for the last six months or so. I guess there's still some value in having a geek-in-residence…" That's his day job. By night he, mostly with writing partner Adam Freeman, is a comic book writer who's already squeezed some very nice books into the marketplace: The Highwaymen (Wildstorm), Monster Attack Network (AiT/Planet Lar) and Push (Wildstorm, and on sale now). Their upcoming series, Genius, was one of two winners in 2008's Pilot Season contest from Top Cow.
TOM: First off, congrats on winning Top Cow's 2008 Pilot Season. How long is the upcoming series going to be and when can we anxious voters expect to see the first issue?
Click to continue reading Q&A: MARC BERNARDIN on Monster Attack Network and Genius
© Gear Live Media, LLC. 2007 – User-posted content, unless source is quoted, is licensed under a Creative Commons Public Domain License. Gear Live graphics, logos, designs, page headers, button icons, videos, articles, blogs, forums, scripts and other service names are the trademarks of Gear Live Inc.