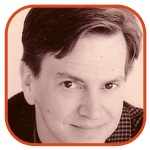 Posted by Tom Mason Categories: Reviews, Image Comics,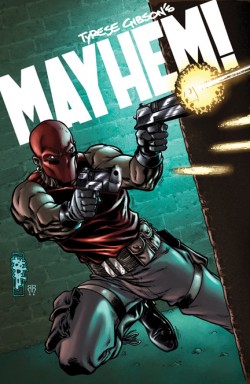 I think of the comic book industry like a quirky town, and I love it when the new people show up. I love it when the big money types walk in - the Teknos people and the Virgins and the Crossgens. Come on in, boys and girls - bring your cash and hire my friends.
I think it's great when book people show up - either authors (like Michael Chabon and Jonathan Lethem) who long to write a few comics or executives who are curious about leaving the musty book world for a dip in the superhero pool. And I really love it when actors pop up, and either lend their name to a comic or take a more active role.
Click to continue reading Mayhem #1: Tyrese Gibson & Tone Rodriguez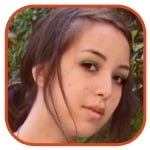 Posted by Robin Paulson Categories: Image Comics,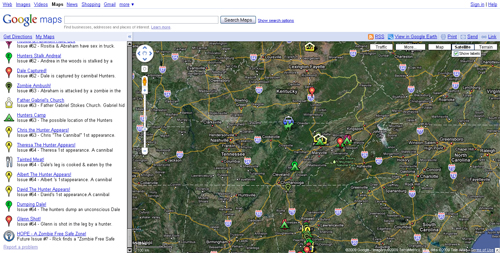 A fan of Robert Kirkman's The Walking Dead has taken it upon himself to pinpoint every major event in the series—talk about dedication!
From the major points like Julie/Chris suicide pack and Rick losing his hand to more subtle events like the "sick" zombie too weak to attack (issue #55), the map seems to have just about everything in the continuing series chronicled. I also enjoy the fact that he noted each and every sex scene—I mean, did anyone really remember or care that Axel and Patricia had sex back in issue #46?
Click on the map above to check it out. Then make sure you mark September 16th on your calendar—issue #65 (part 4 of 5 in the "Fear the Hunters" arc) hits comic book shelves that day!
Read More

| Google Maps via Image Comics Twitter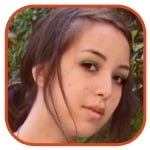 Posted by Robin Paulson Categories: Television, Image Comics,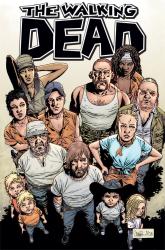 Just days after sealing the deal to The Walking Dead series, the comic book's creator Robert Kirkman finally has a few words to say:
"I'm a huge fan of Frank Darabont's body of work and AMC has impressed me to no end with Breaking Bad and Mad Men. I couldn't be happier with The Walking Dead ending up here."
Darabont will serve as the executive producer of the show, in addition to writing and directing duties. Image reports that "the plan is to keep the show extremely faithful to the Kirkman and Adlard's comic book series," which is why Kirkman had been so keen as to whom he was going to give up the rights to.
Read More

| Image Comics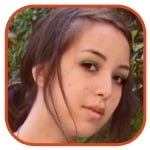 Posted by Robin Paulson Categories: Television, Image Comics,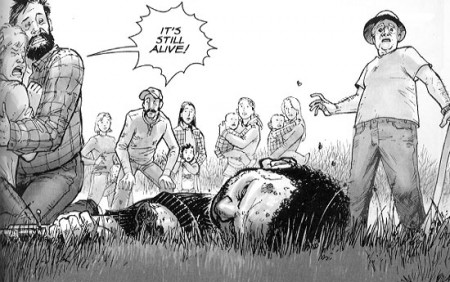 For years, The Walking Dead creator Robert Kirkman has waited patiently for the perfect opportunity to pass on his precious to a director. That director is Frank Darabont.
Instead of harnessing the beloved comic books into a movie, The Green Mile director is taking the undead to the small screen with AMC.
Click to continue reading Frank Darabont Sealing 'The Walking Dead' Deal
Read More

| Variety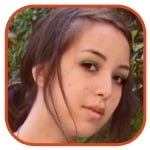 Posted by Robin Paulson Categories: Reviews, Image Comics,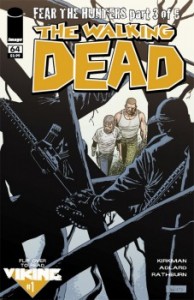 Image Comics released a five-page preview (which can be seen after the jump) of Robert Kirkman's upcoming The Walking Dead #64.
The issue, which hits your local comic book store next Wednesday, is the third part of the five-issue "Fear the Hunters" arc. Last issue left us with a chilling image of a helpless Dale surrounded by the merciless hunters.
From the looks of the preview, Robert Kirkman masterfully delivers readers the disturbing dialogue perfectly in tune with Charlie Adlard's gruesome images. While I have lamented about my dislike of the last couple issues, the preview alone has satisfied my insatiable craving for a nice twist.
Click to continue reading Preview: The Walking Dead #64
Read More

| Comic Book Resources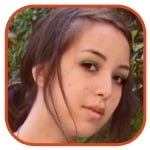 Posted by Robin Paulson Categories: Reviews, Image Comics,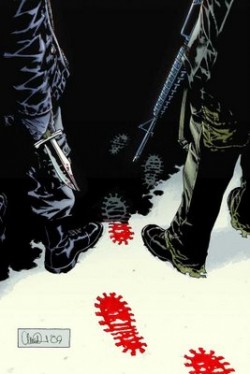 We have finally arrived at the second part of Robert Kirkman and crew's "Fear the Hunters" arc, and I am once again quite disappointed. While the level of my sadness does not reach my opinion of the last issue, this book has yet to fulfill my expectations for this storyline.
Past Andrea's heartbreaking and relentless search for Dale, the gang finally makes the trek to Gabriel's church and uncovers the truth beneath his flimsy story. His confession is frightening; to think that he committed such an act against his brothers and sisters right under the eyes of his god truly unmasks the horror Kirkman was once so keen in illustrating for us. All the same, this makes me wonder whether God is watching after his children after all, considering Gabriel somehow managed to survive unharmed on his way to Rick's group after such a contemptible deed. Granted, this is under the assumption that Gabriel's confession is veritable… If so, the reveal reminds me more of Kirkman's ability to portray humans' true ugliness when mirrored against the undead (compared to the hunters reveal).
About those hunters… (spoilers after the jump)
Click to continue reading Walking Dead #63 Moves Forward, Sans Shock or Surprise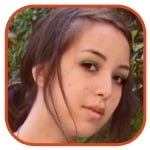 Posted by Robin Paulson Categories: Reviews, Image Comics,
With a prologue closely resembling any fast food customer's and/or employee's worst nightmare, I had a feeling that the Chew duo wouldn't let us down in this second issue.
It's resident cibopath Tony Chu's first day on the job at the FDA, and his first order of business is to take a bite out of a decomposed finger. And you thought that your first day of work was bad?
Click to continue reading Chew #2 Delivers a Tasty Treat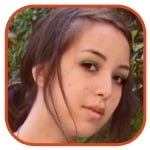 Posted by Robin Paulson Categories: Collecting, Reviews, Image Comics,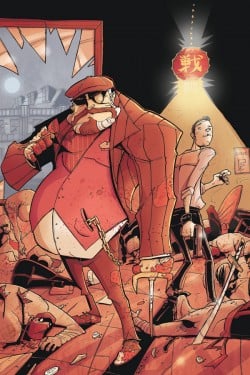 Considering Image's Chew #1 sold out in two days, it should have been no surprise to fans that its succeeding issue would sell out just as quickly. Turns out Chew #2 has sold out before it hits stores this Wednesday!
Instead of scratching your head and trying to figure out just how exactly this series became so popular, you ought to call up your comic book store and make sure they reserve a few copies of it for you (the first issue has sold up to $50 on eBay)!
You don't have to fret so much if you haven't read Chew #1, considering the second printing is set to release this Wednesday as well—just make sure you get a few copies of those, too.
If you really can't wait four days, you can check out this review of Chew #1.
Read More

| Bleeding Cool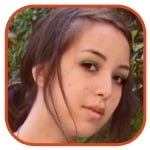 Posted by Robin Paulson Categories: Image Comics,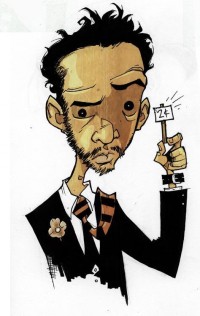 Like everyone else and their five year-old sister, I have become addicted to Twitter. Unlike deleterious addictions (i.e. following P. Diddy), however, I receive first-hand news from my favorite comic book artists, including a look at the Chew #4 cover!
Rob Guillory, one-half of the creative force behind Image's sold out comic, divulges the daily progression (and news!) of the darkly humorous detective story without the slightest indication of just how much he fuels nerdish excitement (mine definitely included) all around. Coming from someone who foolishly followed Jhonen Vasquez's pretentious and irksome tweets back in the day, I am overwhelmingly thrilled to see artists like Guillory and Fabio Moon tweeting.
Now, onto the Chew #4 cover…
Click to continue reading Guillory Tweets First Look at Chew #4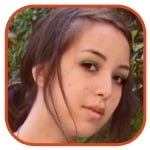 Posted by Robin Paulson Categories: Reviews, Image Comics,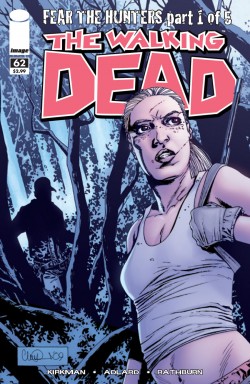 I know, I know: how can I label anything that Robert Kirkman touches as "weak"? Trust me, I was just as disappointed as you were with this month's issue of his never ending zombie saga, The Walking Dead #62. Even more upsetting is the fact that this issue marks the first of five issues in his "Fear the Hunters" arc!
We start off post-Billy and Ben murders, where Dale has plunged deeper into his anti-social abyss (clearly depicted in the second panel where he is outright facing the opposite of the party). Kirkman then spotlights the very intriguing progression of Carl's character, which I foolishly assumed in the last issue was his mirroring Rick. Judging from what Kirkman showed us this month, I cannot even imagine what he has in store for Carl, but it does make me giggly and excited.
Then… ZOMBIES! Oh how I missed you guys last month!
Enough of a recap—on to what I have to say about this letdown (so as to halt you from throwing stones at my head).
Click to continue reading Walking Dead #62 Weakly Introduces Hunter Arc
© Gear Live Media, LLC. 2007 – User-posted content, unless source is quoted, is licensed under a Creative Commons Public Domain License. Gear Live graphics, logos, designs, page headers, button icons, videos, articles, blogs, forums, scripts and other service names are the trademarks of Gear Live Inc.