Saturday March 19, 2011 12:05 am
Weekend Reading: Borders, Bruce Jones, Dick Tracy And Alan Moore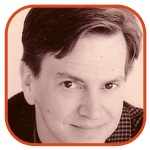 Tweet
Posted by Tom Mason Categories: Editorials, Interviews, Movies, Reviews, Television, DC Comics, Marvel Comics,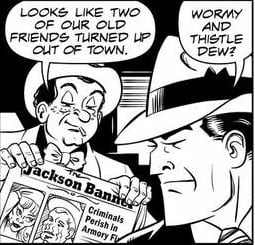 Can you believe another weekend is already here? I can't, so I'd better post a few links and then hit the liquor store!
Let's see what's out there on the interwebs for those of us not already enjoying C2E2:
Borders: The bookstore chain just didn't drop into bankruptcy overnight. Here's a list of a half-dozen balls they dropped that you'd think they wouldn't have.
[Link: Making Light]
Bruce: Comic book writer (remember his run on Hulk?) and novelist Bruce Jones ponders the future of fiction.
Return: John Zipperer at Weimar World Service reports that editorial cartoonist Lyle Lahey is back from his sabbatical, and in top form as he makes fun of Gov. Scott Walker of Wisconsin.
Dick: For those of you who don't already know, there's a new creative team on the venerable comic strip, Dick Tracy. It's writer Mike Curtis and artist Joe Staton, and the whole thing is 3 daily panels of awesome. Hogan's Alley interviews Staton about his new job.
Man-Thing: It's been Unintentional Man-Thing Week at Mike Sterling's Progressive Ruin. You can start with Friday's post and work backwards for all the swampy goodness.
Deadboy: You know who's got an ebook out? Award-winning cartoonist Rick Parker who just put his graphic novel Deadboy online. "A wisecracking kid sets off on a journey with no destination in sight, along the way meeting ghouls, zombies, and ghosts, some frightening, some friendly -- all unpredictable."
Relief: From out of the ashes of the late Rory Root's Comic Relief comes The Escapist, a new comic book shop in Berkeley. I used to love bumping into Rory every year at Wondercon and San Diego, so anything that keeps his legacy alive deserves support. Go buy stuff if you're in the area.
Vampires: SEK at Lawyers, Guns And Money takes a look at Steve Niles and Ben Templesmith's 30 Days Of Night and compares the ending of the graphic novel to the ending of the movie. Note: Dayenu.
Ultraverse: Tom Brevoort talks vague specifics about why the Ultraverse isn't coming back anytime soon. [Note to lawyers: I'll happily renegotiate my contract so my co-creations can have a more active role in the massive Disney empire. You know where to find me!]
[Link: Heidi at Comics Beat]
Tennis: Speaking of Heidi, she's got the lowdown - and some terrific art - on a lost Marvel comic from the Bill Jemas era, written by Andi Watson. It's called 15 Love and illustrated by Tommy Ohtsuka.
Moore: Forces of Geek has the very good word that Terry Moore (Strangers In Paradise) is back with a new one, Rachel Rising.
Superman: Evan Lewis has some fun clips of Superman hawking breakfast cereal!
Moore: I'm sure this link is floating around everywhere already, but here's a nice interview with Alan Moore, y'know the Watchmen guy. Here he is talking about Dodgem Logic: "...issue eight will be the last issue for a while. This is because Dodgem Logic has been entirely funded with my money, and we have not yet managed to break even."
Shayne: I love this old Mike Shayne comics that Paul Bishop found.
Wacky: Cartoon Brew has the unaired pilot for an updated version of Hanna-Barbera's Wacky Races. To echo some of the comments: I'd watch the heck out of this as a regular series.
Cowboys: Writer James Reasoner brings word that Western Classics: Graphic Classics Volume 20 is now out. It features stories adapted by Cynthia Martin (worth the price alone for her version of Zane Grey's Riders Of The Purple Sage), Trina Robbins, John Findley, Arnold Arre, George Sellas, Reno Maniquis, Ryan Huna Smith, and some Hopalong Cassidy stuff by Dan Spiegle.
And finally, fans of the new BBC Sherlock Holmes series might get a kick out of this: the BBC Writers Room has uploaded the script for the episode The Blind Banker for all to read. Good stuff, chaps!
Now use your internets responsibly!
[Artwork: Dick Tracy by Joe Staton, © King Features]
Related Tags:
15 love, 30 days of night, alan moore, andi watson, bbc, bill jemas, borders, bruce jones, cartoon brew, cynthia martin, dan spiegle, deadboy, dick tracy, graphic classics, joe staton, john zipperer, lyle lahey, man thing, mike shayne, mike sterling, rick parker, sherlock holmes, sidefeatured, steve niles, superman, terry moore, the escapist, tom brevoort, ultraverse, wacky races, weekend reading, weimar world service
© Gear Live Media, LLC. 2007 – User-posted content, unless source is quoted, is licensed under a Creative Commons Public Domain License. Gear Live graphics, logos, designs, page headers, button icons, videos, articles, blogs, forums, scripts and other service names are the trademarks of Gear Live Inc.