Monday December 7, 2009 9:52 am
Victorian Undead: Sherlock Holmes Vs. Zombies!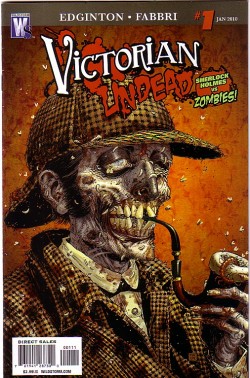 Everyone who knows me knows that I love the comics that are out there on the fringes of the industry. You want to make everyone turn into apes or zombies or contestants on So You Think You Can Dance? and I'm right there, eager to throw my $2.99 in your direction.
So when I saw Tony Moore's "iconic" cover on Victorian Undead #1 (Wildstorm) on the rack with a blurb that says "Sherlock Holmes Vs. Zombies," my hand shot out faster than John H. Watson, M.D.'s revolver. And I wasn't disappointed. Far from being as "out there" as its B-movie subject matter might suggest, it actually feels like a real Sherlock Holmes adventure but with, y'know zombies. And Automata (aka robots). Following a celestial event in the skies of London in 1854, there are rumors of the dead coming back to life and desecration of the bodies by beheading. By 1898, when two London workmen succumb to zombiness, leaving one in the custody of Inspector Lestrade, the call goes out for Sherlock Holmes who's busy on a seemingly separate case trying to figure out who's behind the robot that just tried to kill him. (I've read stories where Holmes has gone up against the aliens from War of the Worlds, and also Dracula, Jack The Ripper and The Invisible Man, so zombies and Victorian robots don't feel out of place in my personal Holmes canon.)
Zombies are still popping up everywhere in pop culture, but this book has less the feel of Marvel Zombies and more the feel of Pride And Prejudice And Zombies. If your tastes run to Sherlock and the idea of mixing in a mystery with zombies sounds interesting, this is a book that'll payoff.
But here's what I don't understand and what fascinates me about corporate comic book marketing. There's a major Sherlock Holmes movie coming up directed by Guy Ritchie (Lock, Stock and Two Smoking Barrels and Snatch) and starring Robert Downey, Jr. It's being produced by DC Comics/Wildstorm's parent company, Warner Bros. And whether it's good or bad is irrelevant - it's from a major studio and it's getting a lot of buzz and a huge promotional push as Downey, Jr.'s first post-Iron Man movie. It's also coming out this month, while Victorian Undead is on sale.
In addition to zombies, Victorian Undead is a mystery, filled with twists and turns and enough going on to make me very interested in subsequent issues. Especially when government agents pop up and I realize that there's a gap between 1854 and 1898 that has to be filled in. Writer Ian Edginton sets a nice pace with a solid characterization of Mr. Holmes and his trusty medical friend. They haven't been "reimagined" for a "modern" audience, but neither are they stodgy in the stiff-upper-lip tradition. Credit to Edginton for keepin' it real. It probably helps that the author has other, more "traditional" Holmes projects on his resume, including adaptations of the novels by Sir Arthur Conan Doyle.
There aren't that many artists around who can draw Victorian London with its horses and buggies, foggy streets, and old-school clothing and mix it up with zombie attacks. Big props to Davide Fabbri for making the old seem fresh.
Sherlock Holmes doesn't factor into many studio movies in the modern era; the last big opportunities were Murder By Decree (1979) and The Seven Percent Solution (1976). You could even toss in Young Sherlock Holmes (1985) if you wanted. So there aren't many chances to suckle at the cross-promotional teat of Sherlock. Why then did DC choose to market Victorian Undead without including Sherlock Holmes in the title and just barely mentioning him on the cover, in lettering smaller than the creators' names?
If a retailer who only has a split second as he scans the Diamond Order Form, sees Victorian Undead or Sherlock Holmes And The Victorian Undead, which one is he likely to order more copies of if he knows there's a major Holmes movie coming out the same month? It's hard enough to rise up from the pack. Why make it any harder?
[Comic Book Resources has a nice Sherlockian interview with Edginton, illustrated with some pages from the comics.]
[FTC Disclaimer: To you watchers who watch, I paid cash for my own copy. Saved the receipt, too.]
[Artwork: Cover to Victorian Undead #1 by Tony Moore, © DC Comics, Inc.]
Related Tags:
davide fabbri, dr. watson, guy ritchie, ian edginton, inspector lestrade, iron man, john h. watson, murder by decree, review, reviews, robert downey jr., sherlock holmes, sir arthur conan doyle, the seven percent solution, tony moore, victorian undead, wildstorm studios, young sherlock holmes, zombies
© Gear Live Media, LLC. 2007 – User-posted content, unless source is quoted, is licensed under a Creative Commons Public Domain License. Gear Live graphics, logos, designs, page headers, button icons, videos, articles, blogs, forums, scripts and other service names are the trademarks of Gear Live Inc.