Monday November 30, 2009 11:16 pm
Supergod #1: Warren Ellis & Garrie Gastonny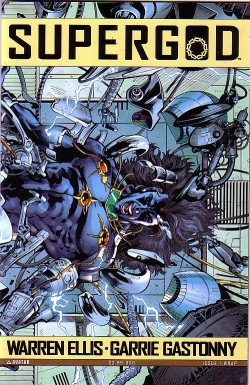 Avatar publisher William Christensen deserves all the kudos he can collect, even the signed, alternate cover, limited edition, convention special kudos. He started out as a fan, became a secondary (or tertiary) sub-distributor with a sharp eye on market trends, and expanded that into a publishing company where talent like Warren Ellis, Jaime Delano, Mark Millar, Garth Ennis and Alan Moore can find a non-Marvel, non-DC home for their more outrageously adult work.
Ellis has made Avatar Press a second-home for himself, regularly turning out original, thoughtful, violent and/or quirky material that I find far more interesting and satisfying than his work for the corporatists. That he and other creators come to Avatar and stick around also speaks highly of Christensen's ability to not just attract but keep talent.
Now Ellis - with artist Garrie Gastonny - has a new 5-issue mini-series called Supergod. Whatever it is that Ellis is drinking, let me be the latest to say, "I need me a couple of pints of that, yes, please."
In England, Simon Reddin is relaying "an oral history of how we all died" before he loses power and spends the remainder of his life "in the bloody stone age." In the events leading up to to that, it's revealed that London, you see, had its own super-hero, as did India, Somalia and Iran, and the US, and who knows what other country dabbled in the creation of their own Big Daddy Protector And Savior.
India's creation, Krisha, took it upon himself to "take the pressure off the population" and re-engineer India, destroying lots of it in order to save it. That alarmed Pakistan which fired its nuclear arsenal at India, but Krisha turned the missiles back to Pakistan. And holy hell broke loose.
It's a very intriguing start and a violent meditation on global power with the metaphor of superheroes as nuclear weapons. Leave it to Ellis to tell almost the entire issue in flashback. But he does it so well that you don't realize the only person who speaks is Reddin, except for the final line of the issue.
Gastonny's art is super-heroic when it needs to be and quiet and understated when it needs to be as well. He portrays the destruction of various parts of the world with a gleeful power: cities burn, fiery heads float in the Ganges, and the brief appearance of Somalia's engineered superhero is positively nightmarish (it's the revived head of Haile Selassie, fitted with a Terminator-style body). Gastonny even works in some visuals that evoke biblical imagery to further sell what Ellis is up to. Maybe it's just me, but I see touches of Bart Sears in Gastonny's superheroes.
If you're looking for something quite a bit different in a superhero book, Supergod makes a nice companion to Mark Waid and Peter Krause's Boom! book Irredeemable.
You can read Ellis' notes for the upcoming second issue at his website.
[Disclosure: Warren worked on a book published by a company I used to work for in which I had a percentage. However, we never actually met, or talked on the phone or even exchanged primitive emails, but there you have it.]
[Artwork: Cover to Supergod #1, © Warren Ellis]
© Gear Live Media, LLC. 2007 – User-posted content, unless source is quoted, is licensed under a Creative Commons Public Domain License. Gear Live graphics, logos, designs, page headers, button icons, videos, articles, blogs, forums, scripts and other service names are the trademarks of Gear Live Inc.