Thursday January 22, 2009 7:46 pm
Q&A: Marc Tyler Nobleman on Jerry Siegel, Joe Shuster and Bill Finger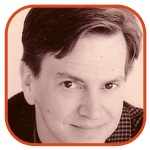 Tweet
Posted by Tom Mason Categories: Interviews,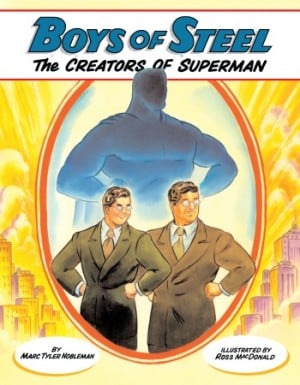 Look! Up in the sky! It's a bird! It's a plane! It's…a children's book about Jerry Siegel and Joe Shuster, the creators of Superman. Marc Tyler Nobleman published his first book in 1996 and is the author of over 70 children's books, including the recent Boys of Steel, the story of how Jerry Siegel and Joe Shuster came to create Superman back in the 1930s. It's the behind-the-scenes story of their struggle to create the Man of Steel and to get it published, all while never letting go of their dream. Best of all, Marc uses Siegel and Shuster's own words, culled from interviews with both creators in fanzines, magazines and newspapers.
Published by Knopf, "Boys of Steel" just won the prestigious Kirkus Reviews "Best Children's Book" Award for 2008. In addition to "Boys of Steel," Marc's current book is "What's The Difference?" a whimsical reference for teens and adults that explains the distinctions between things we often confuse, such as geek/nerd, alligator/crocodile, vanilla/French vanilla, democracy/republic, and rap/hip-hop.
TOM: First off, how big a comics fan are you?
MARC: I've read comics (mostly DC) on and off since childhood. These days, I admit my interest is waning…I'm down to only a couple titles a month. Part of that is the inconsistent quality, part of that is the bugaboo of continuity, and part of that is simply time.
TOM: "Boys of Steel" is such a cool idea. There are always bios for sports figures and political or historical figures, but I can't recall any based on comic book creators. Where did the idea come from?
MARC: Thank you. This is the first picture book on the creation of any fictional character, let alone the world's first superhero. The idea came from my longtime appreciation for Superman, which started with "Superman: The Movie," which I saw from the front row in my pajamas at age six.
TOM: Was it a hard sell to your publisher?
MARC: It was not a hard sell to my publisher (meaning the one who bought it—I'd not published with them prior) but twenty-two other editors said no.
TOM: Siegel and Shuster never did anything else that was as big as Superman. Was it their contentious relationship with DC that taught them to keep their original ideas to themselves or were they one-hit wonders who created one gigantic hit or was there something else?
MARC: The overwhelming success of Superman probably did doom them in this regard. If there had been no litigation, no bad blood, perhaps their creativity potential would not have been dampened and they would have come up with another lasting character. There is Jerry Siegel's Spectre, but he, of course, doesn't come within a galaxy of the iconic status of Superman.
TOM: From the book, I get the impression that these guys were so hungry to break in and believed so much in Superman that they really weren't going to stop until somebody published it. Were they working on other projects at the same time, or was it "all Superman all the time" for them?
MARC: Offhand I don't remember but they must have been writing Slam Bradley and perhaps other stories in those three years. They were definitely working. My book focuses exclusively on Superman and whatever I read in my research four years ago is hazy now!
TOM: I know this is idle speculation, but if they hadn't sold Superman, what do you think Siegel and Shuster would have done instead?
MARC: Worked steadily if somewhat anonymously in comics for a couple of decades, although Joe's eyesight was already plaguing him at the end of the 1930s.
TOM: How closely did you work with your artist and how did you find him?
MARC: We still have not met! The publisher and I compared lists of who we'd like and agreed on Ross MacDonald—which was a blessing. Editors do not want the writers and artists to correspond until the work is done (presumably to stave off possible personality conflicts, etc.), so I gave my editor a list of what illustrations I wanted and she shared that with Ross. For example, I did not want the whole book to look like a comic. I wanted ONLY that spread about midway through (the night of Jerry's epiphany) to look a comic; this would visually stand out and emphasize the point at which Jerry's mind itself became a comic book, so to say. Ross graciously ran with that and many more of my suggestions and of course tapped his own wonderful interpretation the rest of the time.
TOM: The art looks like a modern tribute to Joe Shuster's style – is that a deliberate choice, or just a natural style of the artist?
MARC: Natural style of the artist - the reason I called him a blessing!
TOM: The research is evident in the book – how difficult was it?
MARC: The research was involved, particularly after the book was sold, ironically. That's when I went to Cleveland (where the story takes place) to do photo research for Ross, and that's when I found some of my biggest discoveries including the truth about the death of Jerry Siegel's father - it was NOT murder by gunshot the way (Gerard Jones') "Men of Tomorrow" or Brad Meltzer's novel "The Book of Lies" state - and the first known photo of the building Shuster was living in when he first drew Jerry's idea of Superman.
TOM: Have you gotten any feedback from Siegel or Shuster's family since publication?
MARC: I have not heard from the families directly but I am about to send them each a signed book and I did hear indirectly that Jerry's daughter Laura said nice words about me.
TOM: Can you talk about your next comic book-related project? I understand it's a book about legendary Batman writer Bill Finger. How's that coming along?
MARC: The manuscript is done and being shopped around. Cross your Finger!
TOM: Bill Finger is kind of a mystery man of comics. What kind of guy are you finding him to be?
MARC: Almost universally respected yet also somewhat pitied by his peers and successors. He was a gifted man, quiet but sharp and funny. Not a fighter, had trouble with money, and apparently wounded self-esteem but none of that detracts from his towering contribution to American pop culture.
Thanks, Marc. If you're interested in Marc's other books or want to check on the progress of the Finger bio, there's a lot more at his website. He's teasing progress on the book this week, and in the past he's also posted some rare photos of Bill Finger from back in the day.
© Gear Live Media, LLC. 2007 – User-posted content, unless source is quoted, is licensed under a Creative Commons Public Domain License. Gear Live graphics, logos, designs, page headers, button icons, videos, articles, blogs, forums, scripts and other service names are the trademarks of Gear Live Inc.