Thursday February 26, 2009 7:20 pm
Q&A: Larry Latham & H. P. Lovecraft Is Missing!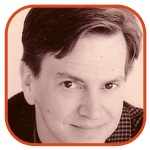 Tweet
Posted by Tom Mason Categories: Interviews,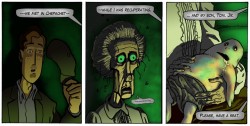 What if horror master H. P Lovecraft's infamous stories were actually based on fact? Animator and artist Larry Latham has the answer to that question and he's explaining it all in Lovecraft Is Missing, his spooky 6-issue comic book-in-progress that's currently online for free-reading. A new page is up every Wednesday and Friday. You can start reading the first issue here.
Latham confesses that Lovecraft Is Missing "is kinda-sorta my first comic book." He's quick to qualify that because back in the mid-1970s, "I wrote and drew one issue of a Betty Boop underground comic, and in the early '80s I drew two stories (one of Hong Kong Phooey; one of Squiddly-Diddly) for Mark Evanier, who was packaging a Hanna-Barbera line for European distribution."
His lack of comic book output in the years since is our loss, but Larry's quickly making up for any lost time. Lovecraft Is Missing had its origins as a CD-Rom game, almost became an animated project, was pitched to DC Comics' Vertigo imprint and is now seeing glorious life as a webcomic. Lovecraft Is Missing is a tour-de-force display of graphic storytelling – a tremendously spooky and entertaining mix of horror story, excellent graphics and unbelievable coloring.
The complete first issue is up online and the second is in progress. Larry posts pages every week so you can read it as he finishes, or you can read big chunks of it at one time. I do both, because I'm just a little OCD. Let's see what Larry has to say about himself…
TOM MASON: Where did your interest in H. P. Lovecraft come from?
LARRY LATHAM: When I was in junior high, I was one of the founding members of the Oklahoma Alliance of Fandom, or O.A.F. You may laugh, but we just had our 40th anniversary convention in 2007. Of course, at that age, I was into Marvel Comics, but most of the members were older, with more refined tastes. The first Arkham House book I ever bought was Carnacki The Ghost-Finder, for $3.00, as it was still in print. About that same time, fandom was beginning to blossom all over the country, and though they were hard to find (there were no sf/fantasy/horror sections at the bookstores), the Lovecraft and (Robert E.) Howard Conan stories started coming out in paperback.
TOM: You worked in animation in Los Angeles and moved back to Oklahoma. Why the change?
LARRY: Let's see, stupidity? Impulsiveness? Maybe a combination of the two. The real story is that I was going through some difficult personal issues, and an old friend in Oklahoma had this idea to make low-budget, direct-to-video movies; he'd made one, had the scripts for two more. Thinking it would be a nice break, I put my stuff in storage and moved back to help him, never thinking I would stay. Several things, including 9/11, got me stuck here. No offense to Oklahoma, but I miss the big city.
TOM: It's quite a trip to take a project like Lovecraft Is Missing from proposed CD-Rom game, to potential animated cartoon, to possible Vertigo comic and now to the web.
LARRY: Yes, but let me say that LIM was never even close to becoming a Vertigo comic. There's not a lot of animation work in Oklahoma, and for various reasons I could not move back to L.A., so I was looking for some alternative work. I dusted off LIM, spruced it up a bit, and had no idea what to do with it. Howard Chaykin is a friend of a friend of mine, and he agreed to read it. You could have knocked me over with a feather when he called to tell me how much he liked it. It was his idea to take it to Vertigo, which he did. He called me the next day - this was early 2005 - to say that the editor he called at Vertigo wasn't interested because they had done a Lovecraft title the year before and it had stiffed for them. This was the Hans Rodionoff graphic novel.
TOM: Has your story evolved as the possible outlets changed over the years?
LARRY: The general mystery angle and the idea of Lovecraft's stories being true was part of the CD-Rom game proposal, but the main character would have been the gamer. None of the main characters in the comic book were around then.
TOM: And after that, it became an animated project.
LARRY: When I developed a pitch for animation, I came up with Win and Nan; at one time, there was a kid sidekick (gag!) but I can't remember his name. Munsford Jackey was the bookseller. As I've said elsewhere, the story was pretty loosely plotted, as you have to spin it out over a longer period of time. My real hope was that it might be made as a low-budget animated feature, or direct-to-video release.
TOM: And now it's a webcomic. What's surprised you most about putting up a comic on the internet?
LARRY: How simple it all is—and how hard it is. It's a lot of work, and I would never have been able to figure out the Wordpress/Comicpress stuff without the help of Eric Lee, but when all is said and done, you don't have forty other people looking over your shoulder, trying to tell you what to do. You don't have to find a printer, you don't have to worry about distribution or inventory. You don't make any money, either, but everything has its price.
TOM: So you like the freedom?
LARRY: I enjoy putting my own unadulterated work out there for people to respond to. If it's good, then it's because of what I've done, and if it's bad, then I'm ready to take my lumps. But there's no wondering how it might have worked if only I could have done what I wanted, rather than what I was told to do.
TOM: What's the hardest thing you've learned about doing a webcomic?
LARRY: It's hard to promote well. Advertising, even something as inexpensive as Project Wonderful, can add up quickly. Beyond the dedicated webcomic sites, it's hard to get anyone to notice your work. Big sites, like AICN, are so in the mainstream that they don't spend much time looking at webcomics. I understand, as a lot of webcomics are amateurish and cliched, but there are some real gems out there. Zombie Hunters comes immediately to mind.
TOM: Have other opportunities come your way because of Lovecraft Is Missing?
LARRY: Not yet, but I'm hoping.
TOM: When you're done with the six-issue story, where do you see it going? Graphic novel? Feature? Sequel?
LARRY: I'd like to collect it in trade paperback, either by myself or through a publisher, but I'll wait and see what the demand is. The last thing I want is a closetful of wastepaper. I have a vague notion for a sequel, but again, it will depend on the interest. I'm not looking to hit a home run, but there's no point in doing all this work if NOBODY is going to read it. Right now, readership is rising, so things are looking good.
TOM: Your artwork for LIM has a real European/Herge feel to it. Who were your influences?
LARRY: Several people have told me that, and I find it amusing. It certainly wasn't intentional, it's just the way I draw. I did read Tintin years ago, and liked the stories, but I doubt if it had any real impact on me. But I have always been more attracted to linear styles rather than the heavily rendered look. When I was ramping up on LIM, I was thinking more of Roy Crane's Capt. Easy and Chester Gould! I'm a big fan of Winsor McCay and V.T. Hamlin. Love Kyle Baker. (Alan Moore and) Kevin O'Neill's League of Extraordinary Gentlemen is always right on my desktop. I don't know if I'll ever want to work this way, but I also love the really graphic guys like Alex Toth, Frank Miller (at least in the Sin City series), Matt Wagner. And of course I like Mike Mignola, but that has almost been a burden, trying to keep my vision of Lovecraftian horror separate from Hellboy. But probably closer to the truth, I've worked in animation for 30 years, and it is a linear medium. If I could make LIM as an animated film, it would be heavily influenced by Japanese animation. I shy away from the term anime, as it conjures up Pokemon and Dragon Ball-Z to a lot of people, but films like Giant Robo, the Lupin films, 8th Man, Ninja Scroll, Armitage are probably bigger influences on me than comic books. And old movies. I keep a scrap file of screen grabs from silent and 1930s films for reference.
TOM: Are the scripts written for all six?
LARRY: No. I'm working on the script for the third issue now. When I started, I wrote out a 15-page master plot, broken down into six issues, but I left it kind of loose. Half of the fun for me is discovering things along the way. I know if I'm surprised, then it's likely the reader will be also. If you nail down everything right up front, I think the material gets stale. Plus, I'll rewrite dialogue (and redraw panels!) as I'm coloring the pages if I think of something better.
TOM: Is the whole thing digital, or do you do some of it with paper/pencil/ink?
LARRY: For the first two issues, I penciled and inked on Bristol board, then scanned it in and painted in Photoshop. For the third issue, trying to speed the process up without sacrificing quality, I am going to pencil right into Photoshop and omit the scanning time. Of course, I won't have the original artwork to sell, but I'll survive somehow.
TOM: I think the coloring is some of the best I've ever seen in comics. Can you describe how you achieve it?
LARRY: Wow. That's very flattering. I hope I don't disappoint you when I say I am making it up as I go along. I'm always trying new things. But the basic process I follow is this: for each sequence, I decide two things up front, a base color and the light source. Both of course are dictated by the mood of the scene. In Photoshop, I put the line art on the bottom level, add a layer and fill it with the chosen color, name it 'color,' then set that layer to "Blending Mode:multiply" so the line art will show through. I add a mask to the 'color' layer. My next step is usually to select areas of the line art with the magic wand, like Win's coat, or Nan's hair; I select the 'color' layer, then use the Hue/Saturation/Lightness control to ease into the color I want, generally something that feels right, but that retains as much of the base color as possible. If there's a strong light source, as in, for instance, Thomas Malone's apartment, I will determine the color of the light, add another layer beneath the color level, and fill it with the light color. Again, I set it to multiply, which will change the base color dramatically. Then I go back to the 'color' layer, select the mask, and start working the light areas. From then on, I add color layers at percentages, knock out pieces of them, try different blending modes, erase, cajole and thrash about until I'm satisfied, then move on to the next panel. Right now it is taking me anywhere from a day to a day and a half to color one page.
TOM: Has Hollywood come looking around to kick the tires yet?
LARRY: No, and I'm not holding my breath. I think the focus of the story is too narrow for any kind of big budget movie. You and I may know Lovecraft, but I can assure you that my sister doesn't, and she represents the larger part of the movie-going public.
TOM: What's been the reaction to the strip so far?
LARRY: Response has been enthusiastic, at least insofar as those people who have bothered to send in comments. My readership has been growing steadily. Right now I am averaging 3600 visits a day, with about 14,000 page views a day. There are lots of other numbers in the stats, but I don't pretend to understand them. I have posted every comment I've received except for four that were about unrelated topics, like the future of webspeak. I have yet to receive a negative comment, though it's possible that people that don't like the strip just don't bother to comment.
TOM: What kind of feedback do you get from Lovecrafters?
LARRY: Lovecraft fans have also been enthusiastic. I like to think it's because they've gotten so tired of every Lovecraft comic doing the same old same old: we go to Arkham, there's lots of tentacles, everybody has their copy of the Necronomicon, something obscene and blasphemous occurs. It's the same problem you have with so many Sherlock Holmes stories, in that Moriarty always has to be the villain, and you have to make all the right passing references to 221B, and on and on. There's so much more to Lovecraft than that, especially the mood. I am NOT trying to write a pastiche, so I am not trying to emulate his storytelling style. But I am trying to express my own vision of the things and places and moods he describes. I hope people will respond to it that way.
Me, too! Thanks, Larry, for taking the time. It also sounds like he's got some original art for sale, so spread the word about the site, and pick up a page or two to frame and hang. And if you want to hit the source material, there's a great selection of Lovecraft's original stories at Amazon.
(Artwork from Lovecraft Is Missing @ Larry Latham)
For more interviews with webcartoonists, check out:
ZACH WEINER - on SATURDAY MORNING BREAKFAST CEREAL
TAMAS JAKOB and MIKE McGEE on EL GORGO!
NORM FEUTI on GILL and RETAIL
© Gear Live Media, LLC. 2007 – User-posted content, unless source is quoted, is licensed under a Creative Commons Public Domain License. Gear Live graphics, logos, designs, page headers, button icons, videos, articles, blogs, forums, scripts and other service names are the trademarks of Gear Live Inc.