Sunday March 22, 2009 4:33 pm
Q&A: J. C. VAUGHN & The Overstreet Comic Book Price Guide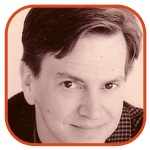 Tweet
Posted by Tom Mason Categories: Interviews,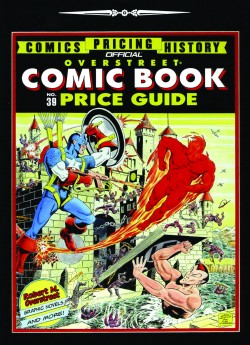 I have a total fancrush on The Overstreet Comic Book Price Guide. For years, it was the only regularly published reference for comic books and while I didn't really care if my personal collection increased in value, I did like to use the book as my first line of "nerd defense" ("See? This comic book is worth more than your car!"). I might have mentioned that I have relatives in the antique business and whenever they'd stumble across a handful of old comics at some flea market or in the back of a dusty old store, I'd be the point person because, thanks to Overstreet, I knew the difference between Donald Duck #9 and Four Color Comics #9.
Overstreet is a reference book that no fan should be without as it reports on the back issue market for comic books – and not in a rapid-fire "this book is hot-hot-hot now-now-now!" way, but in a calm and measured long view of the industry. In addition to prices based on condition and sales data, it's a valuable tool for first appearances, collectible issues, rare comics, new costume designs, high profile artists' work, team-ups, you name it. It's as valuable to funny book fanatics as Leonard Maltin's movie book is to Turner Classic Movie nuts.
I also like the idea that Robert Overstreet staked his claim on a piece of the marketplace decades ago that didn't involve writing, drawing, publishing or selling comic books. He took his home-based business idea and grew it into an empire. We should all be that smart.
My friend J. C. Vaughn has for many years been the Executive Editor and Associate Publisher of The Overstreet Comic Book Price Guide. He knows more about comics, prices, retail trends, auctions and back issues than I think is humanly possible. And he tracks it all without a Blackberry or iPhone. Just walking around Comic Con International with him is an adventure. With the new edition of the Guide set for release on 3/25, J.C. took a few minutes to talk shop.
TOM MASON: How long have you been the Executive Editor and Associate Publisher of The Overstreet Comic Book Price Guide?
J.C. VAUGHN: I started with Gemstone a few days shy of 14 years ago as Associate Editor, then served as Marketing Manager before becoming Executive Editor some years ago. I added the Associate Publisher title, which I'd had on a project-by-project basis, just a couple years ago. The first two years I didn't work much on the Guide. I was hired for our late, mostly unlamented magazine, Overstreet's Fan.
TOM: What does the job entail?
JCV: Anything that needs to be done except layout and design, and I can do a little of that if needed. It ranges from gathering pricing data or historical research for Bob Overstreet to talking to our advertisers, from coordinating our tradeshow and convention efforts to writing feature articles, and from creating the production schedule to coordinating the release of the book each year, which is what I'm doing now.
TOM: What's new in this year's edition?
JCV: In addition to pricing and historical information on comics since the 1500s, we have a look inside the Hero Initiative, a 70th anniversary retrospective of Batman's first year, and our largest class to date of new members for The Overstreet Hall of Fame.
TOM: For many years, the book has boasted different covers. Who did the covers for this year's volume?
JCV: As we have for several years, we have three covers this year, two in the comic book specialty market and one in the traditional bookstore market. The first of the two in the Direct Market is a modern recreation of The Avengers #1 by my good friend John K. Snyder III. On and off since The Overstreet Comic Book Price Guide #31, John and I have been working our way through the great Silver Age key issues from Marvel Comics, sort of culminating in this one. I think it's fantastic. The second cover is Murphy Anderson's fantastic recreation of Alex Schomburg's cover for All-Select Comics #1, a truly iconic piece featuring Captain America, Submariner, and the original Human Torch. The bookstore market cover is a piece that's actually been in our collection for many years, but which we've never used, a beautiful Sheldon Moldoff recreation of the cover for All-Star Comics #3, the first appearance of the Justice Society of America.
TOM: When you're updating for next year's edition, where do you start? What information do you look for?
JCV: In some ways, we start working on the next Guide before the current one even goes to press. We always say it's an 18-month production schedule for an annual book, so there are one or two points when we can actually end up dealing with three Guides (the one currently on sale, the one about to go to press, and the one in the planning stages). It usually starts with the data submitted in various forms by our Overstreet Advisors. Whether it comes in the form of raw data – lists of sales, catalogs, documentation of private transactions or whatever – that comes in by email or regular mail, the information that comes in from retailers, show dealers, experienced collectors and/or historians is the fuel. There are also plenty of times that Bob Overstreet has noticed a trend and does some particular digging. And sometimes it's just something that those of us on the staff spot in reviewing the information that we haven't noticed before. We're always looking to note important historical information, particularly things that might go to making an individual issue somehow more scarce or more significant than the ones on either side of it.
TOM: Are there still little old grannies with rare comics socked away in their attic?
JCV: Yes, I am sure there are, though with the increased level of coverage in recent years from the establishment media I think we can probably do away with the image of the gray-haired little old lady who doesn't know what she has. In the last half year we've seen an original owner copy of Superman #1 brought to light by dealers Harley Yee and Jamie Graham, and just yesterday (3/16/09) Metropolis announced they have an original owner Action Comics #1 going in their next auction. Those are only two examples, of course.
TOM: What's the rarest comic and how many copies are actually known to exist?
JCV: There are plenty of very rare comics with few known copies. The most attractive or best known of them, for very good reasons, is Action Comics #1. Aside from being the first appearance of the most widely recognized comic character in the world, it's an issue of math. Roughly 200,000 copies were printed originally. Of those, about 130,000 sold and 70,000 were returned from the newsstands and destroyed. That was in a nation of roughly 130 million people. Now, in a nation of roughly 305 million people, we'd be lucky if there are 130 copies. A lot of people put the estimate under 100 copies, but personally I've always suspected just a few more than that, but we're really splitting hairs there.
TOM: Action Comics #1 just sold for $317,200. It gets a lot of the old "Biff-Bam-Pow Old Comics Are Worth $$$" media play, but does it really have an impact in the overall market?
JCV: I think it does, though one does get really tired of the clever establishment media starting articles in the Biff-Bam-Pow motif. The main factor in this is the sustained performance of the market. It's no longer an anomaly for significant vintage, high-grade comic books to sell in the six-figure range; it's something that has happened for a few years now. Aside from improved documentation, perhaps the most significant factor in this is the increased liquidity the market for vintage pop culture collectibles in general has shown. There really doesn't seem to be much of a recession for the high-grade material. While it's not hard to outperform the stock market right now, the comic market has now outperformed the stock market in a forty-year average.
TOM: Does the sale of something like an Action Comics #1 suddenly unleash a rush of Detective Comics #27 or More Fun #52 hitting the market?
JCV: There's a temptation to believe that, isn't there? It doesn't happen. Sure, particularly in tough times, you may see a few more changing hands than you might otherwise, but the cultural awareness of these characters is huge. The success of the superhero movies means all sorts of people who never read a comic book are getting to know and love the characters we've been all over for years. Combined with the normal increase in population and the static or decreasing supply of key Golden Age, Silver Age, or Bronze Age comics, demand outstrips supply.
TOM: When the economy is down, are more people looking to sell their collections?
JCV: Certainly some people will be looking to do so, but the big motivators for selling don't ever change. They mainly revolve around personal economic circumstances rather than macro-economic circumstances. Either one has observed a favorable climate in which to sell, or one is forced to sell by personal circumstances. You might see more people selling right now, but given the volatility of other markets at the moment it's just as likely as for someone seeking stability to move into comics at this point.
TOM: When talking about rare comics, is there a certain demographic that's collecting them?
JCV: There clearly has not been enough done to document this yet, but I have high hopes for that changing.
TOM: Is there a comic book holy grail - the rarest of the rare that everyone is searching for?
JCV: Sure. It all comes back to Action Comics #1. It's by no means the oldest comic book – we'll go almost 100 years earlier for one we'd still quickly recognize as an almost-modern comic book – but it's one that every serious collector would love to find at an estate sale. Even most of the people who have one dream of finding a Near Mint copy.
TOM: What's been the effect of eBay on prices and on the back issue business as a whole?
JCV: I think the signals are mixed. Some stuff it's made seem more common, while in other areas it's driven prices up. The perception of scarcity seems to play a sustained factor in that. You can put one of the Marvel 30¢ or 35¢ variants on there and watch it soar. You can put something else on there, perhaps something not as thoroughly documented, and it won't go for the price you're expecting.
TOM: Who determines the prices each year; what factors are involved? Is there a secret price guide board that gets together every month?
JCV: The final prices in the Guide are Bob Overstreet's call, based on all the data and market conditions. The Overstreet Advisors don't get together wearing long robes with hoods in darkened rooms. They submit pricing data and suggest areas of review or recent activity. That's about it. Unlike a lot of price guide authors in a variety of fields, Bob was never a dealer, so he's always been correctly perceived as an impartial player. This, along with his long-term accuracy, is a big part of what's given the Guide the stature it's attained since 1970.
TOM: The new online generation of comic book fans may not have the great love of printed comic books that's driven the back issue collectibles industry for the last 40+ years. Where do you see the comic book collectibles market going as the existing collectors age?
JCV: I don't think any one person has the whole picture of what will happen going forward, but I think there are lots of changes in store for the new comics market. The popularity of comic characters – not just the comic books themselves – does as much as anything to guaranty the collectible side of this will continue to build.
TOM: Cool. And now my most important question because it directly affects me: Will my first printing copy of Spawn #1 ever be worth more than what I paid for it?
JCV: That depends. How much did you pay?
I got my copy for free as a comp because I worked for the company that published it! Looks like I'm golden right there – I'm already $1.95 ahead. Thanks, JCV for the solid marketplace observations and information. The new edition of The Overstreet Price Guide goes on sale this Wednesday (3/25) at all fine direct market retailers or you can order a copy directly from the folks at Gemstone.
[J.C. Vaughn's Antiques was previously posted about on this site. You can read about it here. He also maintains a nifty blog where he's currently talking about his next project with Brendon and Brian Fraim, Vampire Hunter Dean.]
(artwork: One of this year's covers to The Overstreet Comic Book Price Guide #39. This one's by Murphy Anderson, channeling the great Alex Schomburg from All-Select Comics #1)
RELATED INTERVIEWS:
Marc Tyler Nobleman on Jerry Siegel, Joe Shuster and Bill Finger
Aaron Lopresti on Wonder Woman
Dean Mullaney on Noel Sickles
© Gear Live Media, LLC. 2007 – User-posted content, unless source is quoted, is licensed under a Creative Commons Public Domain License. Gear Live graphics, logos, designs, page headers, button icons, videos, articles, blogs, forums, scripts and other service names are the trademarks of Gear Live Inc.