Wednesday January 14, 2009 11:59 pm
Q&A: Dan Thompson and RIP HAYWIRE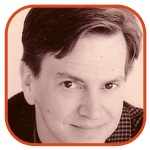 Tweet
Posted by Tom Mason Categories: Interviews,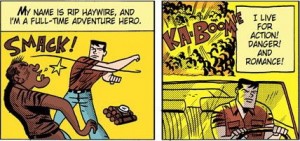 It's been a long time since a good adventure strip debuted in the newspaper, and it's great to see one come along. Even better when the creator, Dan Thompson, has a fresh take on the genre and a style that pops off the page. "RIP HAYWIRE" debuted on January 12, 2009 and from the moment you see it, you know it's not your grandfather's comic strip. Thompson has crafted a wonderful and funny homage to the era of Steve Canyon and livened it up with a sense of humor, great draftsmanship and a lot guys and gals getting popped in the head and blown up real good. I can't wait for the pirates to show up!
TOM: Let's start with Rip Haywire's first adventure: Who's who and what's up?
DAN: There are three main characters in the comic strip. Rip Haywire is a contemporary adventure hero in the classic mold. Rip is a brave, handsome man of honor who lives only for dangerous thrills. Cobra Carson is in her late 20s. Cobra is a self-reliant master thief, total hottie, and case study in amorality. True to her name, she can be dangerous, cold-blooded and venomous. She'd sell out her own mother - but only for the right price. TNT is the sidekickiest of all sidekicks! A coward's coward! TNT is the classic dog hero à la Rin Tin Tin, Old Yeller, and Lassie…minus the pluck. Without giving too much away about the upcoming adventures, I'll just say Rip Haywire and Co. have their hands full.
TOM: How long will each storyline play out?
DAN: I can't really predict how long the stories will run. But most of them right now are two weeks or a little longer and always have a humorous gag/punch line at the end.
TOM: It seems like an odd time to launch a new strip, particularly an adventure one. "Rip" seems like a great choice, but not the safe one that syndicates and papers would rush to embrace. What's been the response so far?
DAN: There really aren't any safe bets unless Bill Watterson or Gary Larson came out of retirement and launched a new feature. But the response to "Rip Haywire" has been great. My syndicate, [United Features] and the newspapers have been fired up about the strip from day one. Newspaper readers are normal people, they like the same things we all do, so embracing a funny soldier of fortune is like embracing all the other whack jobs in the funnies. An overweight Viking, talking animals, Army soldiers who have been in boot camp for 50 years, Cathy doesn't even have a nose, and yet we embrace . . . Comic lovers are all about the embracing.
TOM: What kind of outreach is being done to promote the strip?
DAN: UFS has an awesome sales staff that goes around the globe, and tries to sell the strip.
TOM: With newspapers suffering a decline in advertising and circulation, it's left a lot of cartoonists pondering the future. Where do you see the future of the syndicated newspaper comic strip?
DAN: I see the future of syndication opening up to even more outlets for their features than they had even 10 years ago. But right now we're in a transition period moving things from print to digital. I think newspaper comics can thrive in digital once E-Ink and E-Paper become commonplace (cheap). Imagine if all you had to do was pick up a thin piece of E-Paper and your daily newspaper automatically arrived for you to read it, and all you had to do was click a button and it turned to the next page. That's exciting, and hopefully it will bring an end to size constraints for comics. Personally, I'd love to draw 7 inches high and 2 feet wide dailies like Milton Caniff and the rest of the cartoonists did. But I also think the web is exciting too, and once advertising payments start to rise, I think cartoonists will become less worried. The big problem is that syndicates aren't the only game in town anymore for comic strip cartoonists and young cartoonists have to understand that it's even more competitive now getting an audience than it was even five years ago.
TOM: Can you trace the road from development to acceptance with Rip? How did it get from your desk to UFS and how long was the journey?
DAN: Once I came up with the idea of creating a humorous adventure strip, I came up with the names of the characters. I knew the lead's first name was going to be "Rip" I always liked those cool names like "Rip," "Chic," "Gig" and "Dude" that men had back in the 40's and 50's, and it was also a hat tip to Alex Raymond's Rip Kirby. Then I was always a big fan of Frank Robbins' Johnny Hazard, and I always wanted to create a character with a dangerous last name, so I pulled out the old thesaurus and found "haywire," and it was like I dipped chocolate into peanut butter. So, after working on it for about four days I mailed it out (I work fast) and it got the best rejections I had ever gotten. So, I tried again and I resubmitted in the fall of 2007 after totally reworking the style and characters. Two days later Ted Rall called me and said, "What are you doing for the next 30 years?" I told him I was free, and we started talking about moving forward with getting "Rip Haywire" syndicated.
TOM: What kind of input did they bring to the strip?
DAN: The one funny thing we changed in the strip was that TNT was originally a Pomeranian. The editors wanted me to change him to something else so I made him a collie. I thought to have a really tough guy whose sidekick is a Pomeranian would be funny, but now I'm glad we changed that. I didn't get a development deal, the syndicate felt the strip didn't need it, and we moved really fast as I was at the sales meeting in NYC in the fall of 2008, and launched in Jan 09.
TOM: Indiana Jones, James Bond and Jason Bourne are the cited contemporary influences, but I see a lot of Roy Crane's Captain Easy in Rip. Am I crazy?
DAN: You are not crazy. Roy Crane's a huge influence. Roy Crane was THE master at high action and adventure in daily and Sunday comics. I've been reading anything I can get my hands on from Roy Crane. Also, I'm a huge fan of his "Buz Sawyer," and also Leslie Turner's "Captain Easy." His work was deceptively simple, and I think Fantagraphics is going to reprint "Captain Easy" so I can't wait for that.
TOM: How did you ever get hooked into Roy Crane? You really have to look hard to find his stuff nowadays.
DAN: I'm the type of person that seeks out things to an obsessive degree that interest me, and thanks to eBay, and always having the luck of living near comic book stores whose owners liked the classic newspaper reprints, Dragon Lady Press, Steve Canyon Magazine, Ron Goulart's "The Adventurous Decade," etc. That got the ball rolling into my adventure strip habit as a youth ("Steve Canyon" was my gateway drug into adventure strips). Then recently Dailyink.com (King Features' pay site) started running "Buz Sawyer" daily, and then I picked up the first couple Buz Sawyer books, "The War in the Pacific" and "Sultry's Tiger" published by Rick Norwood, and that did it. After that I was hooked. Roy Crane's deceptively simple style and his use of black, white, and gray tones added with his amazing storytelling, how can you NOT get hooked on his work! But it all started as research for "Rip Haywire," and if you want to attempt an adventure strip even if it's a humorous adventure strip, seek out the ones who did it best.
TOM: Are you running into any problems with the "violence"?
DAN: No, I have Rip punch bad guys, or as he puts it "Drop the Haywire Hammer," and he likes to blow things up, but he's no worse than Popeye, Sarge and Beetle, or Calvin and Hobbes as far as violence.
TOM: What tools are you using to create the strip? Are you old school with pen and ink or is it all digital?
DAN: I'm old school meets new school. I use pen and ink, and then I scan in my strips and add a zip a tone effect and also color the strips digitally.
TOM: Can you talk a little about the process - how you get it done?
DAN: When it comes to an actual schedule, I'm all over the place. I try to work on new ideas Saturday, Sunday, Monday, when I have free time, and draw up roughs on Tuesday, and send them to Ted Rall at UFS on Wednesday mornings and he tries to edit them by Friday, and we discuss were the story is going or what I should tackle next. In between that I do things in giant clumps, like ink, scan, color a month's worth of strips all at once. I would love to do 2 on Mon, 2 on Tues, 2 on Wed, and a Sunday on Thursday and have a 3-day weekend, but that's not possible for me right now…. but I'm pretty far ahead of deadlines with actual work inked and ready to send in.
TOM: How many papers are you in? Is there a client list for people to check out?
DAN: As soon as I can brag about the amount of papers I'm in, I'll let you know. 2008 was an awful year for everybody but I'm optimistic about 2009. A couple of the larger circulated papers are The Denver Post, and The Oregonian, and "Rip" also appears on www.comics.com
TOM: "Rip" isn't your first syndicated feature. You did "Lost Sheep" as a syndicated webcomic for a few years. How was that experience?
DAN: "Lost Sheep" was a really fun experience for me. I really loved the characters, and I had some success with it, but what I really wanted was to get into newspaper syndication, and it wasn't going to happen with "Lost Sheep."
TOM: If people want to see "Rip Haywire" in their local newspaper, what can they do?
DAN: They can email their local newspaper's editor and demand it. They'll crack under the pressure I'm sure of it.
Thanks, Dan, and good luck with the strip. It's tough to launch a new comic strip in today's economic climate, so if "Rip" is in your local paper, write a letter of support, and if you want to see it in your local paper, write a letter for that too. And if you don't know what a local paper is, you can always read it online!
© Gear Live Media, LLC. 2007 – User-posted content, unless source is quoted, is licensed under a Creative Commons Public Domain License. Gear Live graphics, logos, designs, page headers, button icons, videos, articles, blogs, forums, scripts and other service names are the trademarks of Gear Live Inc.