Monday April 27, 2009 4:49 pm
Q&A: BOX BROWN, Bellen!, and Love Is A Peculiar Type of Thing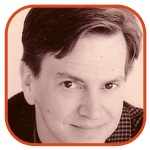 Tweet
Posted by Tom Mason Categories: Interviews,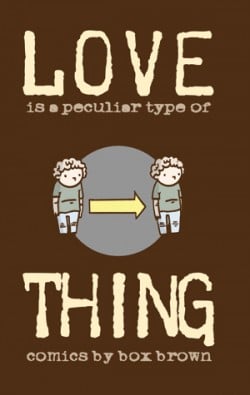 If you're not familiar with the work of Box Brown, run over to his site and check it out. Then come back here. It's the internets; I'll wait. Box has been doing his own webcomic, Bellen! (Ben and Ellen, see?) since 2006. In addition, he won a Xeric Grant for his big, fat collection of cartoons called Love Is A Peculiar Type of Thing, which can be ordered from Diamond Comics right now.
Recently, a revised version of Bellen! was nearly syndicated by United Features, but Box pulled it when the syndicate let go of its progressive comics editor, Ted Rall. Box says his work has been influenced by both Charles Schulz' Peanuts and James Kochalka's American Elf, so let's chat.
TOM MASON: Were you surprised to win the Xeric Grant for Love Is A Peculiar Type of Thing?
BOX BROWN: Kinda shocked, really. When I created my proposal the book was only a little more than a third finished and I put it on hold between mailing the proposal and receiving the grant. It was a great fire under my ass to get moving on finishing the book.
TOM: What was it like becoming your own publisher?
BOX: There's a lot of work in publishing a book like this. I had done a lot of self-publishing in the past but nothing of this magnitude.
TOM: What surprised you about it?
BOX: I had no idea what it would be like dealing with Diamond or "marketing" really.
TOM: Are you nervous about meeting the Diamond minimums?
BOX: I am, definitely. But, I feel like I've done all I can to promote the book and if it doesn't make it, it doesn't make it. At least I'll know I did all I could. It's a tough row to hoe but there will be some real satisfaction if it works out.
TOM: Can you give me the details on the new book?
BOX: It's a 96-page book, 2-color printing on beautiful 60# natural paper, perfect-bound selling for $10 USD. It's a collection of thinly veiled auto-bio stories of varying length about sex, drugs, love and fear.
TOM: If fans want to get out the word on Love Is A Peculiar Type of Thing, what can they do to help?
BOX: They can post links to the book's site and my site on their websites and blogs. They can also go to their local comics shops and ask for it by name.
TOM: You've talked in the past about how Charles Schulz and Kochalka's American Elf were influences, but a lot of your layouts and designs evoke some of the great children's books of the 1950s and 1960s.
BOX: In the webcomic for sure. The last few months I've been researching a lot of vintage design and studying what made it work so well. I've been translating a lot of that pretty closely to Bellen! I really love the design and illustration from the 50's and incidentally the 1920's also because the 50's design was really retro 1920's design. Further, Europe had our asses kicked in the design field back then (probably now too) just search for vintage European advertising in Flickr, you'll see some amazing stuff.
TOM: You were so close to getting your strip picked up by United Features because of Ted Rall. Now that he's been let go, you pulled it from them. Can you elaborate on that decision?
BOX: I went over it pretty thoroughly in this blog post but to elaborate: You know, a web syndication deal has not really worked out profitably for anyone in the last bunch of years. Further, I don't think it's even done much for a comics' exposure. Sure, you'll hit a different audience but not necessarily a better one. For me, when it came down to decision making time the big benefit would have been working with an (amazing) editor on a new project. But, since Ted left there isn't much to be gained anymore. Ted has a great vision for where strip comics in print could be, but it seems the brass had different ideas. I'm sure it was a fight for him everyday.
TOM: What changes had you made to prepare Bellen! for syndication under Rall's direction?
BOX: Oh, well, the newspaper comic was totally revamped into 3 panel strips (and Sundays), more gag-a-day but in keeping with Bellen!'s theme of finding magic in the mundane. The style was really clean and straightforward and there were even some character design changes. The characters didn't hunch over and Ben was given black hair to aid in the black and white balance and distinguish the character.
TOM: With the web comic, you play around with the length, size, shape and number of panels. Was it hard to adjust that for newspaper syndication?
BOX: I was really excited about the deal too because it was unique. They were going to syndicate a strictly-formatted newspaper strip 3 days a week and two days a week syndicate the webcomic as is, without restrictions on content or design. That was really exciting.
TOM: That sounds very progressive! What'll happen to those sample strips now?
BOX: I have over 12 full weeks of comics that have never seen the light of day. I?m collecting them in newsprint and they'll be for sale (cheap!) starting at MoCCA 2009.
TOM: Have you given up on newspaper syndication?
BOX: I have for now. No one knows what the future might hold. Though, without radical changes I think the US may be giving up on them too.
TOM: Where do you see the future of cartooning going?
BOX: I think (hope) that the word "webcomic" will be abolished and we can just start calling every thing a comic. Hopefully that'll end the big print vs. web debate which doesn't look good for anyone involved. I hope to see the return of the floppy alternative comic like what Buenaventura is doing this year. Further, I hope to see the death of the term "graphic novel"; it's comics, man.
TOM: Let's get into some technical details. What's your schedule with Bellen!?
BOX: M-W-F 12 am.
TOM: What tools are you using to create each strip?
BOX: Whatever tools are needed to get the job done. Lately, it's been Microns, a size 2 brush, Speedball super black ink, Bristol board, Photoshop CS3 and scads of old paper.
TOM: After Love Is A Peculiar Type of Thing, where do you go from here? What's next?
BOX: Well, without the newspaper strip project I'm left with a big hole. Who needs free time? I am starting production on the next book which will be done sometime next year?? I have no idea and preparing for cons! SPX and MoCCA definitely, with maybe another thrown in there.
Thanks, Box! Good luck with Love Is A Peculiar Type of Thing. More details about the book are at Box's website. The cut off date to let your Local Comic Shop retailer order the book in advance for you is April 30 (so, right around the corner, slowpokes). I just checked Amazon and the book isn't there, so the LCS is it for now, unless you grab Mr. Brown at a con.
(artwork: Cover to Love Is A Peculiar Type Of Thing, © Box Brown)
© Gear Live Media, LLC. 2007 – User-posted content, unless source is quoted, is licensed under a Creative Commons Public Domain License. Gear Live graphics, logos, designs, page headers, button icons, videos, articles, blogs, forums, scripts and other service names are the trademarks of Gear Live Inc.