Sunday February 8, 2009 10:32 pm
My Time at the NY Comic Con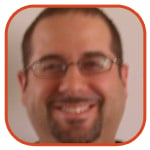 Tweet
Posted by David Torres Categories: Conventions, Editorials,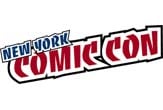 This weekend was the 4th annual New York Comic Con (NYCC).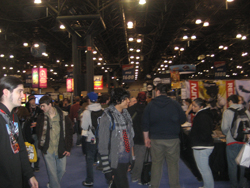 I have been going to the NY Comic Con ever since it began four years ago. Before the NY Comic Con, I had been to several small conventions in the area over the years. When the NY Comic Con was started, I wasn't planning on going because I figured the admission would be a bit expensive and I had a one year old boy at home. However, I discovered that since I'm a librarian, I could sign up as a "professional" and get in for free! Unfortunately, this year professionals didn't get in for free and we had to pay a small admission price. However, we had our own separate entrance onto the convention floor and I got in just as things opened up.
Since I started going to the NYCC, my main concern besides seeing if I can get some cheap comics was getting my books graded by CGC. Over the past few years, I've gotten the following books from my collection graded "Incredible Hulk" #181, "Ultimate Spider-man" #1, and "Uncanny X-Men # 139. Getting your books graded by CGC can be expensive. It's about $16 a book plus insurance and shipping. I decided this year would be different. I decided to get a few books graded, but this time, I decided to get them signed and graded.
There were numerous creators at this year's comic con - alot of big names. This is going to sound morbid, but I said to myself I'm going to get some signatures of some creators who were old. Lets face it, we all pass away at some point and who knows when some of these guys are going to go. The three older creators I set my sights on were Neal Adams who is 67 years old; Carmine Infantino who is 83, and the biggie was Joe Simon the co-creator of Captain America who is 91 years old.
This process was exhausting. To get a book signed and and graded by CGC I had to first go to the CGC booth on the convention floor. You see, for CGC to recognize that the signature on the comic book is authentic, a CGC representative has to witness the signing. So if you got a book signed by a creator and send it in to CGC thinking you'll get it recognized by CGC as being signed by the creator, you'll be out of luck. I found that out the hard way after I purchased a copy of "Kingdom Come" #3 that was signed by Alex Ross. I decided to get it graded and expecting it to come back with a recognized signature. It wasn't obviously and I called CGC to ask why and that's when I found out it has to be witnessed by a CGC rep. It's frustrating, but I can understand why. With so many dishonest people out there, you never know if you're truly getting something signed by the real person.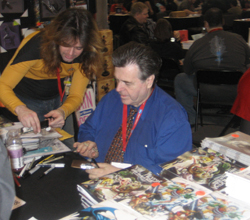 I got Neal Adams to sign a copy of "Batman" #234. This was the first Silver Age appearance of Two-Face. I was in okay condition so it shouldn't come back with a high grade. Neal also charged $5 for a signature. He was very nice. For Carmine Infantino, I got him to sign "Flash" #350. This was the final issue of the first "Flash"series and it was in Very Fine (VF) condition. Mr. Infantino charged $10 per signature. He was a bit crotchty, but whatever. As for Joe Simon, this was an experience. He started signing at 2:30 in the afternoon. I was dead tired and wanted to go home, but it was worth the wait. It was great to meet him. He was very kind and when he saw my last name, he mentioned that he worked with an artist by the name of Angelo Torres. I wasn't familar with him, but I found him on Wikipedia.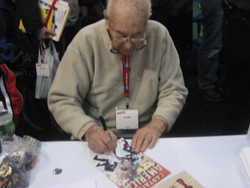 There was a woman behind me on line to meet Mr. Simon who had a restored copy of "Captain America Comics" #1. It was very cool to actually see a copy of that book in person. When it was her turn to get an autograph, Mr. Simon was taken aback and asked if that was an original copy. He was happy to sign it. According to the CGC census, there are no copies signed by Simon, so unless someone has an ungraded signed copy somewhere, I witnessed possibly the first and maybe only signing of "Captain America Comics" #1.
It was a great experience. I was geeking out and people around me said my hand was shaking as I handled the book he signed for me. Speaking of which, Mr. Simon signed a copy of issue #14 of the current "Captain America" series. That's a hot book, so I wanted Mr. Simon to sign that one. God willing he's still around for next year's convention as I was thinking of getting another book signed by him.
I got two other books signed at the convention. I got "Batman: The Cult" #1 signed by Jim Starlin and I got "Crisis on Infinite Earths" #7 signed by George Perez. Perez and I have something in common as we both graduated from the same high school: Cardinal Hayes High School. Cardinal Hayes will be celebrating the work of George Perez on February 9th. My older brother is a teacher there and he said he'd get me in. I can't stay the whole day because I couldn't get off for work. If anything interesting happens, I'll write about it.
It was a long day, but fun. Conventions are always cool as it's a great time to meet up with people and talk comics. There were a lot of people dressed up from super heroes to anime characters, to movies and television. One guy was even dressed up as Jesse Ventura in "Predator".
The next NYCC isn't until October of 2010. A long wait, but I'll be counting the days. My oldest son will be six years old by then. Maybe I'll take him with me. I haven't done so before because things can get crazy at these events. We'll see.
© Gear Live Media, LLC. 2007 – User-posted content, unless source is quoted, is licensed under a Creative Commons Public Domain License. Gear Live graphics, logos, designs, page headers, button icons, videos, articles, blogs, forums, scripts and other service names are the trademarks of Gear Live Inc.