Monday December 29, 2008 12:14 am
Graphic Novel Pick: "Caliber - First Canon Of Justice"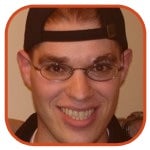 Tweet
Posted by Jeffrey Harris Categories: Reviews, Independent,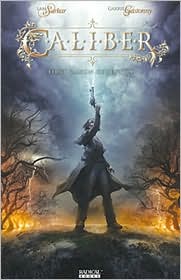 The recently founded Radical Comics has quickly become known for their mythological updated stories with beautifully painted artwork. Among one of their flagship books was Caliber: First Canon Of Justice, an adaptation of Arthurian myth and legend set in the Wild West. The five issue mini-series is now available as a hardcover collected volume graphic novel from Radical Comics.

In Caliber, vicious Cossacks are causing an uprising between the local Indian tribes and civilians so they can seize control. A half-Native American/Frenchman by the name of Jean Michel or "Whitefeather" (this story's Merlin) foresees the carnage, and sees that a man must wield the weapon Excaliber to bring peace, justice, and law to the land. This version of Excaliber though is no sword, but rather a gun that needs no bullets, but blasts with the power in the hands of a true soldier of justice. The young Arthur's father is a leader in the army, but a Cossack conspiracy leads to the death of Arthur's father, and Whitefeather goes into reclusivity until Excaliber's true owner emerges.
Arthur grows up and returns to his home of Telacoma, Oregon to reclaim his father's land which has been taken control of by the villainous Leary, who leads the Cossack cult. Leary uses the talents of the traitorus Indian witch, Morgan, who has the apparent gift of foresight. Arthur unwittingly takes up the gun of an Excaliber when Arthur's friend Kay is unjustly gunned down by the sore loser of a shootout competition.
Arthur becomes a wanted man and goes on the run. Whitefeather takes Arthur under his tutelage, explaining that the gun only serves one that believes and submits to the law, not just of the land, but the law of right for all humans. Arthur makes an alliance with the bounty hunter Lance who served under Arthur's father, and also Gwen; Arthur's childhood friend and now gorgeous, redheaded local saloon owner (maybe prostitute).
Writer Sam Sarkar writes strong characters who aren't really stuck in a grey area. Arthur's a character of pure morals and heart, which is cool. Not everyone needs to be like Wolverine or Rorschach. Arthur is able to wield the gun of Excaliber because he believes in the law and justice for everyone, no matter who they are. While Arthur's father was a good, noble man, his staunch duty inadvertently caused a clash between soldiers and local Indians that could've been easily avoided. Arthur doesn't use the weapon for revenge, but to bring peace to the land, which is why Excaliber in a way has chosen Arthur. In addition, Gwen feels like a much stronger character. She's a woman who knows what she wants and knows how to fight. Gwen comes off more as an equal to Arthur rather than a fragile damsel who thankfully doesn't make cow-eyes with this story's version of Lancelot.
Garrie Gastonny's fully painted artwork is beautiful and gorgeous to look at. The illustrations are very sharp rather than muddy. The female characters like Gwen, Sheng Yi, and Morgan are also gloriously hot.
Sarkar in an interview included in the collected implies that the story will continue with more adventures of Arthur wielding the gun of justice. Hopefully this Gwen and Arthur can stay together through thick and thin.
The hardcover volume of Caliber: First Canon Of Justice retails at $19.95 and is highly recommended for both western fans, Arthurian afficionados, and fun-loving readers.
© Gear Live Media, LLC. 2007 – User-posted content, unless source is quoted, is licensed under a Creative Commons Public Domain License. Gear Live graphics, logos, designs, page headers, button icons, videos, articles, blogs, forums, scripts and other service names are the trademarks of Gear Live Inc.