Saturday January 30, 2010 1:21 am
Fred Toole: Dennis The Menace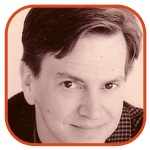 Tweet
Posted by Tom Mason Categories: Editorials, Independent,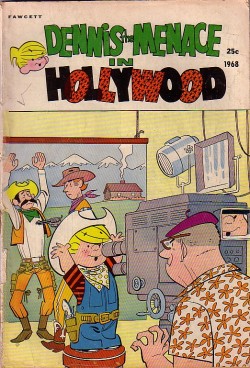 I have an ugly confession to make. My favorite Dennis the Menace comics aren't the individual panels from the newspapers. They're the stories that appeared in Fawcett's Dennis the Menace comic books, and they weren't done by Dennis' creator Hank Ketcham. Oh, sure, his work on the newspaper comic is great, but I like the comic books better. It was only later that I found out these favorites of mine were done by writer Fred Toole and artist Al Wiseman.
Back in 1964, a company named Allied Publications put out an oversized, saddle-stitched magazine with the very unwieldy title These Top Cartoonists Tell How They Create America's Favorite Comics. It featured an introduction by Beetle Bailey's Mort Walker and was compiled by Allen Willette.
39 cartoonists were profiled, one per page, and it appears that the cartoonists themselves were responsible for their own write-up. This is the one Fred Toole wrote about Ketcham and Dennis. Toole is identified as being "in charge of Public Relations for Hank Ketcham."
Writes Fred:
"Henry King Ketcham was born in Seattle, Washington, March 14, 1920. His interest in drawing goes back to the time he was seven years old and used to watch a family friend make cartoon doodles. Hank proceeded to make cartoons himself all during his school years. After a year at the University of Washington, where he was an art major, Hank went to Hollywood to work as an animator in the Walt Lantz studios. Later, at the Walt Disney studios, he worked on several major Disney productions.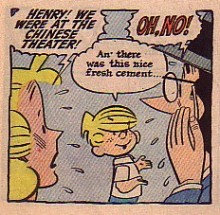 "During World War II he worked in the offices of the Secretary of the Navy, where he made War Bonds posters and did illustrations for service publications. Also during that period, Hank began to sell gag cartoons to magazines, and after his discharge he became a full-time freelance magazine cartoonist. Dennis The Menace, inspired by his own son, Dennis, began in 1951.

"Since 1952 he has put out annual collections of Dennis cartoons. They have also been reprinted in pocket-book form.

"He has made one innovation in the comic book field that, so far as I know, is still unique. In order that Dennis may visit various interesting places, he sends a writer-artist team to gather ideas and authentic scenes for such books. This began with Dennis in Hawaii, in 1958, and this particular book has been reprinted every year since.

"In 1958 Hank was invited, along with a noted sculptor, Arch Garner, to design a children's playground for the city of Monterey, California. Wanting to get away from the conventional swings, slides, and see-saws, they created several play devices that give full rein to youngsters' natural activities and imaginations. These colorful and unique play structures have been adopted for Dennis-the-Menace Playgrounds in nine other communities.

"Dennis has lent a helping hand to such organizations as the Community Chest, Goodwill, Red Cross, Boys' Clubs of America, and the American Dental Association. Hank has done special booklets for the Soil Conservation Society of America, and the United States Department of Health, Education and Welfare. He has also worked with the United States Treasury Department with Dennis posters to promote the sale of Savings Bonds and Stamps.

"While maintaining an office in Carmel Valley, California for handling mail and other public relations activities, Hank now lives and works in Geneva, Switzerland. His apartment there overlooks the lake, where he has a speedboat.

"Hank first sketches the cartoon panel in pencil on tissue and then, on a lightbox (a holdover from his experience at the animation studios), traces the finished drawing on drawing paper in ink. His light-and-heavy line is produced, not with a brush, but with a flexible #170 pen. He has two assistant artists."
A couple of things:
How difficult and expensive must it have been to work from Geneva in the pre-internet, pre-FedEx days of yore?
Was a speedboat really a sign of 1960s-era wealth?
Who wouldn't want to see one of Ketcham's War Bonds posters?
Since Fred and Al were mainstays of the Dennis the Menace comics and most often collaborated on the Dennis stories where he went to exotic lands like Hawaii, Hollywood and Mexico, Toole is talking about himself as one of the traveling Dennis creators.
A Dennis the Menace Playground still exists in Monterey, CA, open daily from 10am to dusk.
Fred Hembeck has a wonderful appreciation of Toole and Wiseman at his blog.
Mykal over at the Big Blog of Kids' Comics has a couple of great Toole/Wiseman Dennis stories that provide merely a taste of their tremendous talent.
Pappy's got a great Toole/Wiseman take on Treasure Island featuring Dennis.
[Artwork: Cover to and interior panel from Dennis The Menace In Hollywood, written by Fred Toole and illustrated by Al Wiseman. Simply one of the greatest comics of all time. © The Hall Syndicate, 1968]
Related Tags:
al wiseman, allen willette, allied publications, arch garner, cartooning, comic book artist, comic book writer, dennis the menace, dennis the menace in hollywood, disney, fawcett, fred hembeck, fred toole, hank ketcham, mort walker, pappy, sidefeatured, these top cartoonists tell how they create america
© Gear Live Media, LLC. 2007 – User-posted content, unless source is quoted, is licensed under a Creative Commons Public Domain License. Gear Live graphics, logos, designs, page headers, button icons, videos, articles, blogs, forums, scripts and other service names are the trademarks of Gear Live Inc.