Friday November 19, 2010 6:24 pm
Forgotten Comics: Howard Chaykin's The Shadow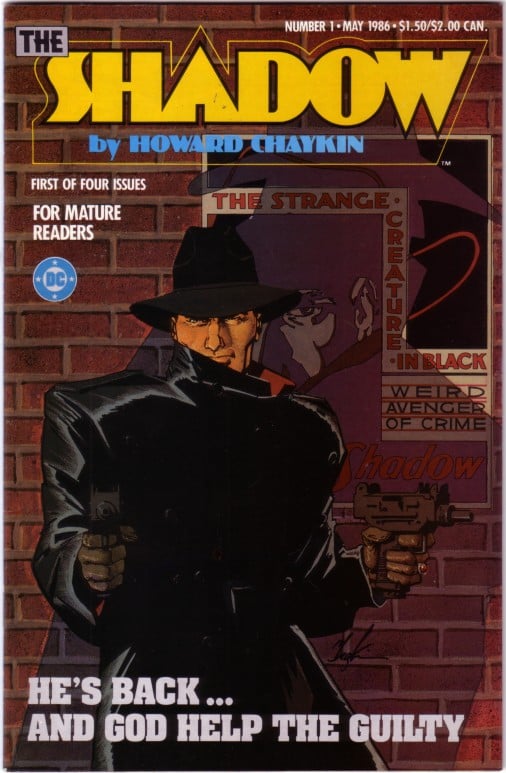 "He's back…and God help the guilty."
My favorite thing to hit at the San Diego Comic Con is the back issue bins – the so-called quarter boxes (usually greatly reduced in price by Sunday) of oddball and overstock comics from the 1980s – now.
At this year's con, there was one dealer in particular who had over a dozen long boxes of comics in nearly alphabetical order, and I and many other well-mannered scavengers thumbed through them all. One of my treasures was the complete 4-issue run of Howard Chaykin's The Shadow from DC Comics (1986).
Coming on the heels of his award-winning run at First Comics with his own American Flagg! Chaykin went over to DC for a revamp of the old 1930s pulp character created by Walter Gibson (aka Maxwell Grant). DC's previous attempt with the character back in the 1970s stayed true to its pulp origins and was unsuccessful despite the involvement of Denny O'Neil, Mike Kaluta and Bernie Wrightson.
By bringing in Chaykin a decade later, it was clear that some things were going to be shaken up and this was not going to be a standard pulp revival. You don't turn to Howard if you want the same old, same old.
In Chaykin's revamp, Lamont Cranston fought crime as the masked avenger called The Shadow in the 1930s and 1940s. But he disappeared without explanation in the late 1940s and hasn't been seen or heard from since. Now it's 1986 and he's back and he hasn't aged a day.
Also, as in the pulps, he's not really Lamont Cranston. The real Cranston was America's #1 douchebag criminal and drug smuggler who was thrown over a cliff by his pilot. The Cranston-thrower, Kent Allard, then usurped Cranston's identity and put it to better use as The Shadow, following his training in a hidden eastern Xanadu-like place called Shambala.
Now in the 80s, Allard/Cranston has returned to America with his two Asian sons because all of his old friends, agents and contacts from his pulp-era are in jeopardy. Someone, dubbed the Senior Citizen Killer, is knocking them off one at a time, trying to lure The Shadow into the open, to "draw me out…back to the West." Clyde Burke, Cliff Marsland, Shrevvy, all gone. Unfortunately, his old friends can't help because they are just that, old, and some of them aren't friendly about the way he left them years ago, and that he's back looking like he's never aged.
Here's an elderly and sour Margo Lane: "You're a vampire who sucked me into your circle of death, used me for sex, constantly put my life in danger, then left me flat, without a word." The weed of crime-fighting, it seems, also bears bitter fruit.
There's a lot of Flagg! influence here, both in plot and art, and Chaykin has a lot of fun with design, layout, sound effects and lettering (big ups to Ken Bruzenak).
I can see where some hardcore Shadow aficionados might've gotten bent out of shape at Chaykin's treatment of their beloved icon, but he manages the nearly impossible – he takes a dusty old pulp character that most people have never read in its original form, filters it through his own blend of sarcasm, sex, beautiful women, two-fisted action and plot twists and presents a new way to look at an old property.
He makes The Shadow not just modern, but interesting and fun, yet still connected to the character's pulpy past. [There are some 1980s references to things like Simon LeBon and Wham! but they don't rankle.] Nearly 25 years after its original publication, Howard Chaykin's The Shadow is still a great read and a lesson to others in how to resurrect old-school heroes for a new age. Sadly, the original DC compilation of the 4-issue series, The Shadow: Blood & Judgment, appears to be out of print, probably because the license has expired. Whatever the reason, it's well worth tracking down, even if you have to check the long boxes at your favorite convention.
The mini-series was successful enough to warrant an ongoing title, but Chaykin was not involved. That was Andy Helfer and Kyle Baker's assignment, which you can read about at Robot 6.
[Artwork: Cover to The Shadow #1 by Howard Chaykin, © Conde Nast Publications]
© Gear Live Media, LLC. 2007 – User-posted content, unless source is quoted, is licensed under a Creative Commons Public Domain License. Gear Live graphics, logos, designs, page headers, button icons, videos, articles, blogs, forums, scripts and other service names are the trademarks of Gear Live Inc.