Monday February 22, 2010 4:34 pm
Bud Sagendorf: Popeye and Segar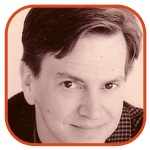 Tweet
Posted by Tom Mason Categories: Editorials,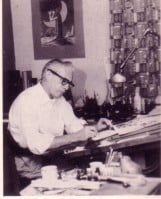 Forrest "Bud" Sagendorf was E.C. Segar's young assistant on Popeye in the 1930s. When Segar died in 1938, King Features Syndicate considered Sagendorf too young to take over the comic strip. Instead, they put him to work in the bullpen where he worked on the Popeye comic books until 1958, when King decided to hand the strip over to him.
Continuing my little cartoonist series, here's what Sagendorf had to say about his work back in 1964. This is pulled from an oversized saddle-stitched magazine from Allied Publications with the creatively-challenged title These Top Cartoonists Tell How They Create America's Favorite Comics. It featured an introduction by Beetle Bailey's Mort Walker and was compiled by Allen Willette. Newspaper comic strip writers and artists wrote about themselves and their work (or if they didn't then their syndicate wrote it for them).
Here's a previous entry in William Overgard.
And here's the one on Fred Toole, the guy who wrote some absolutely tremendous Dennis the Menace comic books.
Here's Sagendorf writing about himself: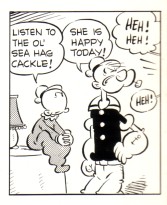 "My working habits are quite loose. Some of my fellow cartoonists are able to follow a regular, daily work pattern, but I have never been able to do this. I usually work on ideas and do my penciling in the morning and save the inking for the evening. Inking is the mechanical part of the business; so I enjoy half-watching TV while I do it.
"Any part of my work can be interrupted for something important like golf or bowling. There are about twenty syndicated cartoonists living in my area, and they all enjoy dragging a fellow comic artist away from his drawing board. I hate to admit it but I'm a deadline worker and do my best when my back is against the wall.
"In respect to ideas, I don't buy gags; I do them myself…with the help of my family. My son, Brad, is developing into a great idea man. I made the mistake of paying him for an idea once, and he quickly lost his amateur standing.
"I do not like to write out a complete daily continuity too far in advance. When I have a continuity idea I blab an outline into a small tape recorder and file it away until I'm ready for it. The day-to-day strips are done on a weekly basis. I feel that too-tight writing holds me down, and I lose the spontaneous ideas that always pop up when I'm working.
"As for my background, I started drawing at an early age because it was easier to make pictures than to learn to spell.
"I was born in Wenatchee, Washington. While I was still in high school I went to work for the late E.C. Segar, the creator of Popeye. I saw the birth of many wonderful characters: Swee'-pea, Eugene the Jeep, Alice the Goon, and Poop-deck Pappy. In recent years I have added Granny and Betty Beasky. After Segar's death in 1938 I was asked by King Features to continue the strip. Except for a period as an assistant comic editor, I have been doing the daily and Sunday Popeye ever since."
Some thoughts:
Following Segar on Popeye is no easy feat. I don't envy the position he was in, though Sagendorf fudges on the details of his takeover of the Popeye comic strip. King had others, like Doc Winner and Bela Zaboly, doing post-Segar Popeye before Sagendorf took over.
Cartoon Snap! has a Sherm! story by Sagendorf, one of the few non-Popeye things I've ever seen by him. He also has one of Sagendorf's comic book Popeye stories from Dell Four-Color #168, back in October 1947.
Fantagraphics Books continues to reprint - in beautiful hardcover - the Segar Popeye strips in order.
People Magazine profiled Sagendorf in 1980. "The Sagendorfs live in a modest house in rural Connecticut. A salaried employee of the syndicate for 42 years, he never earned any royalties until last year, when his Popeye book sold 53,000 copies in its first printing and was chosen by the Book-of-the-Month Club." That book was Popeye: The First 50 Years.
British writer, artist and cartoon historian Denis Gifford wrote Sagendorf's obituary for The Independent, back in 1994.
[Artwork: photograph of Bud Sagendorf (top); Popeye panel by Sagendorf (bottom), © King Features]
© Gear Live Media, LLC. 2007 – User-posted content, unless source is quoted, is licensed under a Creative Commons Public Domain License. Gear Live graphics, logos, designs, page headers, button icons, videos, articles, blogs, forums, scripts and other service names are the trademarks of Gear Live Inc.