Monday July 13, 2009 12:57 pm
BRITISH COMICS: Viz 187, The Fat Slags and Elton John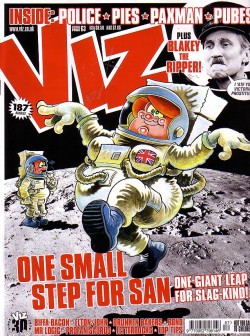 Now this is comedy, but it's not for children. This is funny stuff for adults who need a few giggles over bodily functions, naughty words, and sexual situations. Viz #187 (August 2009) has a lot of great strips featuring The Fat Slags, The Drunken Bakers, Mr. Logic, Biffa Bacon and Cedric Soft, Aesop's Cables (with a heartwarming fable about his bathroom habits), and a "super-hero" called The Brown Bottle who derives his courage from drinking a six-pack. PC Hubble and PC Bubble are two cops who take their jobs very seriously in a humorous 2009 abuse of power way. Even the girls of St. Bridget's School get into the act when they find a man – an "inconsequential piece of celebrity flotsam" - in the backyard and try to keep him as a pet.
There are also some celebrity comic strips. Elton John has his own strip with Sir Elton and his husband David Furnish trying to set up a personal injury scam when their limo is rear-ended by an old granny. Bono from U2 has one as well and he's portrayed as a celebrity man-of-action who spends his time trying to find a cause to embrace. Says Bono, "Sounds as if someone needs a short-arse megastar to make an ill-informed self-aggrandizing speech on world health issues." Even former Prime Ministers Tony Blair and Margaret Thatcher make cameo appearances in other strips.
In addition to the comics, there are a lot of fake newspaper-style articles, similar to what The Onion does in the US, but all with very British references that will be lost on cultural outsiders. The best one is a great piece on how the actor who played Blakey in the 1970s Britcom On The Buses had actually gone back in time to kill Victorian prostitutes as Jack The Ripper. A second favorite is People Who Help Us: The Policeman, which details how the police don't really help us at all. Good luck talking yourself out of that next speeding ticket, Viz crew.
At once funny, vulgar, scatological and political, Viz feels like a mash-up of MAD Magazine, The Onion and The Daily Show and the quality humor of the old 1970s National Lampoon. Individual creators in Viz are not credited, but they run a list of everyone in the indicia. This issue features contributions from Alex Collier, Nick Tolson, Tony Coffey, Tim Telling, Andy Dawson, Lew Stringer, Simon Ecob, Michael Scott, Barney Farmer & Lee Healey, Alex Morris, Cat Sullivan, John Camm and Glen Deaville. Congrats, people, you made me laugh.
Viz is the most expensive of the British comics I picked up on this trip. At £3.00 per issue, for 48 black and white pages, the exchange rate makes it approximately $5.40 a copy (although if you buy it in the US, the cover price is $9.50). Stupid exchange rate. I'd still pick it up again when I'm back in London.
[Artwork: Cover to Viz #187]
© Gear Live Media, LLC. 2007 – User-posted content, unless source is quoted, is licensed under a Creative Commons Public Domain License. Gear Live graphics, logos, designs, page headers, button icons, videos, articles, blogs, forums, scripts and other service names are the trademarks of Gear Live Inc.