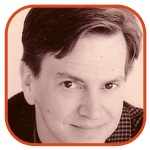 Tweet
Posted by Tom Mason Categories: Conventions, Editorials, Movies, Television, DC Comics,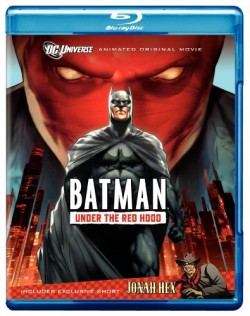 Are you tired of the hassle of trying to get a room at Comic Con International in San Diego each year? Do you want to be part of the solution and not the problem? Time Warner has your chance as they're looking for a Director, Publicity & Special Projects in "Worldwide Television Marketing."
You'll be reporting to and working "closely with the Senior Vice President, Publicity, as chief consumer strategist for special projects related to, but not limited to, programming from Warner Bros. Television, Warner Horizon Television and Warner Bros. Animation."
Fortunately, they expand on that. It means "strategizing, creating and executing consumer-facing campaigns, initiatives and events, and collaborating with the comedy, drama, unscripted and photo publicity directors and team to maximize opportunities across all of the Studio's primetime television properties." Consumer-facing campaigns, by the way, are those that are marketed to the public, ads and promotions that they actually see, y'know, with their face.
Click to continue reading Comic Book Jobs: Warner Bros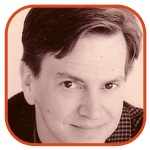 Tweet
Posted by Tom Mason Categories: Editorials, Movies, Independent,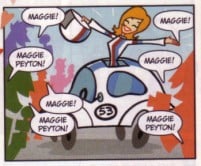 Let us all pause and give thanks to Lindsay Lohan, whose career trajectory will make Brad Renfro look like Gregory Peck.
Now that her most recent trial is behind her and her most recent rehab stint has ended and she's free-ranging in L.A. yet again, we should celebrate with a look at her comic book career.
Comic book career? That's right. You can be forgiven if you missed it. Her clothing line has lasted longer.
Click to continue reading Lindsay Lohan: Comic Book Star?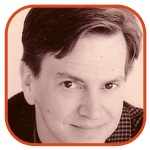 Tweet
Posted by Tom Mason Categories: Conventions, Editorials, DC Comics, Marvel Comics,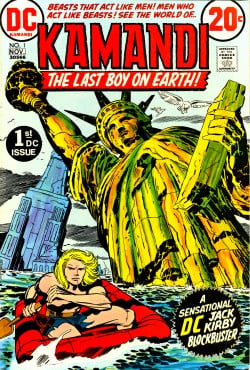 Happy Birthday to Jack Kirby, who was born 93 years ago and who I think is the greatest creator of comic books ever. I just love his stuff. If you want to know more about Jack the man, Mark Evanier has a bunch of great stuff about him that's well worth your time.
If you want some visual proof of Kirby's greatness, Tom Spurgeon at The Comics Reporter has assembled a fantastic array.
If you want to read some of the classic monster stories that Kirby illustrated, the Monster Blog has a selection of 39 of them that have yet to be reprinted.
I met Kirby only once, at the San Diego Comic Con years ago, so I don't have any personal anecdotes to share since all I did was shake his hand and burble something inconsequential. My pal Dave Olbrich, back when he was the publisher of Malibu Comics, was an occasional guest in the Kirby house - Malibu's offices were in the same town as the Kirbys. I was too nervous to try to tag along. I love re-reading Kirby's long run on Marvel Comics' The Fantastic Four - it starts slow and builds to greatness. But I really like his stuff for DC Comics in the 1970s - his Fourth World books, especially Mister Miracle and, yes, Jimmy Olsen. Kirby's the only creator who's made that cub reporter interesting. I also love Kamandi and The Demon.
In the discussion and debate over Kirby's many inkers, I go Joe Sinnott #1 and Mike Royer #2.
Happy Birthday, Jack!
[Artwork: The cover to Kamandi #1, by Jack Kirby, © DC Entertainment.]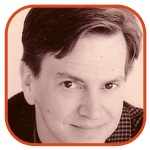 Tweet
Posted by Tom Mason Categories: Editorials, Image Comics,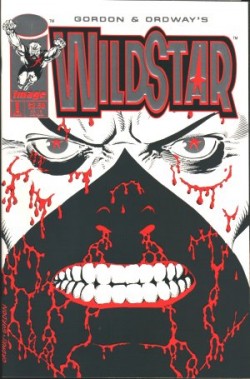 Taking a look around the Craigslist lately, I discovered not a job, but an opportunity. My old pal Al Gordon - a most excellent inker of comics and a fine comic book penciler in his own right, and a Harvey, Eisner and CBG award winner - is offering his comic book workshop.
Of course, it's in San Francisco because that's where Al is, but if you can make it there, it's sure to be worth the trip. Al's been doing his workshop since 2004, so there's probably more than a few things you can learn about making comics, making art, making a living and having a career in funnybooks and its related offspring.
According to Al, "If you're an accomplished 'creator' or just a frantic fan of this mind-melting medium and would love to produce your own comics, this is the workshop for you."
Al promises to teach each class the "craft of producing a comic book, from start to finish" with the goal of creating "a comic book of any style and take it from scratch to a print-ready comic book yarn."
It's four classes a month, details and cool stuff at Al's website.
[Artwork: Cover to Image Comics' Wildstar by Jerry Ordway and Al Gordon, © Jerry Ordway and Al Gordon]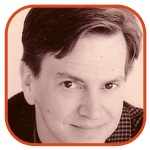 Tweet
Posted by Tom Mason Categories: Conventions, Editorials, Interviews, Reviews, Television, Independent,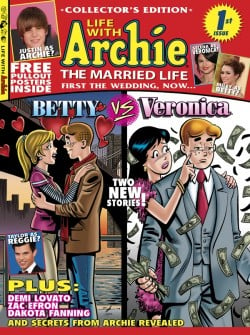 Welcome to the back to school edition of Weekend Reading. Here are a few things better than homework, unless your homework includes classes at MoCCA.
Everything's Archie: Norm Breyfogle is interviewed by Matthew Price over at NewsOK. The subject? Archie and the gang at Riverdale.
George R.R. Martin: You know what's coming up in November, back in print after a decade? Wild Cards 1, expanded with new stuff.
Witchblade: Author Paul Bishop has a favorite Forgotten Book. It's the Witchblade tie-in novels based on the short-lived TV series with Yancy Butler that was based on the Top Cow comic book without Yancy Butler.
Batman Under the Red Hood: SF Signal has a review of the just-released DVD.
Donald E. Westlake: Whether writing under his own name or his many pseudonyms, Westlake is one of my favorite crime-and-caper writers.
Click to continue reading Weekend Reading: Breyfogle, Batman, Whedon & Wild Cards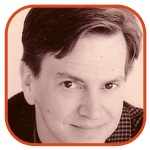 Tweet
Posted by Tom Mason Categories: Editorials, Marvel Comics,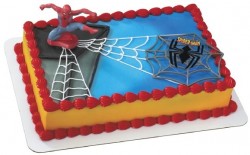 What do you like on your pizza? Pepperoni? Mushrooms? Spider-Man?
DecoPac, one of the leading cake decorating companies, already has a deal with Marvel Entertainment for cake toppers featuring Marvel Comics characters like Spider-Man, Iron Man and more.
And following a Direct Market tradition, the company has even created a series of limited edition cake decorations.
Click to continue reading Marvel Team-Up: Comics + Pizza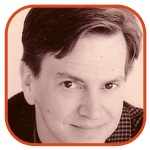 Tweet
Posted by Tom Mason Categories: Editorials, IDW Publishing,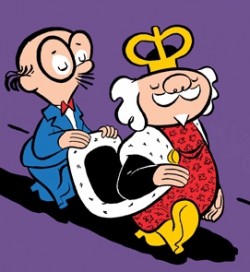 If you've been looking for a comic book job that allows you to wallow in a pile of numbers or computer technology, well, this is your lucky day.
IDW is looking for a temporary staff person in their accounting department.
IDW is one of the cooler comic book companies and they describe themselves as "a leader in the horror, action, and sci-fi genres." They're the home for CSI: Crime Scene Investigation, Star Trek, Transformers and Doctor Who, to name just a few. They also publish Dean Mullaney's Library of American Comics titles that makes me the happiest nerd in the neighborhood.
This is a temporary staff position, a minimum of three months in their San Diego offices, but could turn into something else over time.
Click to continue reading Comic Book Jobs: IDW and Diamond Comic Distributors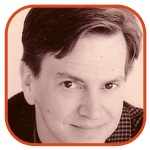 Tweet
Posted by Tom Mason Categories: Reviews, Independent,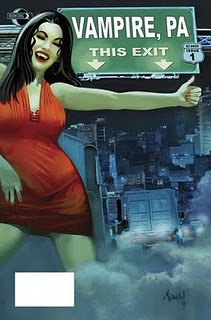 "I finally had the guts to ask Dee-Dee out, but only after she saw me drive a stake through the heart of a vampire."
That's Dean Marklin, vampire hunter in suburban Pittsburgh, the star of Vampire, PA, the new 3-issue mini-series from Moonstone. The series is created and written by J. C. Vaughn and illustrated by Brendon and Brian Fraim. Dean's found himself in the middle of two warring factions of vampires, and one of the vampires, Jocelyn, may be trying to play him for a sucker. Dean's already killed her once and he may have to do it again.
This "Fistful of Dollars with vampires" set-up delivers the goods, in large part because of the characters. Dean treats his nighttime vampire hunting as a job – a thing that has to be done to clean up his hometown. He goes about it with precision and good-natured humor, and drags along his friend Scuba Dave and girlfriend Dee-Dee. And, except for the wooden stakes and Super-Soakers filled with holy water, he's got a normal life – he'd like to get married and re-open the town's aging movie theater. He's not some super-human guy either – he's simply doing the best he can to rid his town of these creatures and is still learning as he goes.
Click to continue reading Vampire PA: J. C. Vaughn, Brendon & Brian Fraim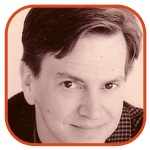 Tweet
Posted by Tom Mason Categories: Editorials, Interviews,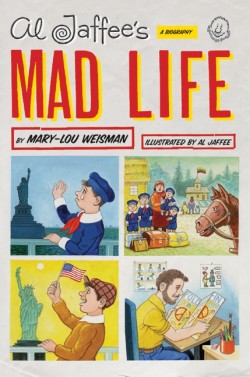 "Is this a follow-up post about Al Jaffee?"
"No, it's my grocery list. The internet will publish anything."
In an earlier post about MAD Magazine's Al Jaffee, I reprinted a biographical piece he'd written in the early 1960s.
Jaffee wrote that he spent 6 years in Lithuania as a child with his Mom. His Dad stayed in the US but dutifully mailed Al's beloved comic strips to him overseas. The story sounded like a fascinating morsel and I wanted to know more. And there is more. A lot more and it reads like a page-turning thriller.
Danny Fingeroth, the Senior VP of Education at MoCCA, the Museum of Comic and Cartoon Art in New York, sent me a note about the post and told me about Al's upcoming biography, Al Jaffee's MAD Life. The book, written by Mary Lou Weisman, "covers the story of his chilling six years in Lithuania with his mother (as well as the rest of his life and career, of course)," says Fingeroth. And what a life that was (and still is, fortunately).
Click to continue reading Al Jaffee's MAD Life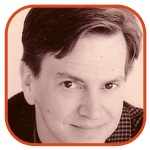 Tweet
Posted by Tom Mason Categories: Editorials,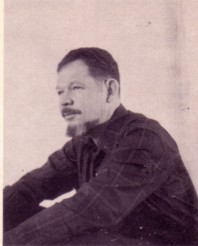 "Is this a blog post about Al Jaffee?"
"No, it's about Harvey Kurtzman. I just can't spell."
Al Jaffee, the creator of the classic Fold-In for MAD Magazine, as well as "Snappy Answers To Stupid Questions," has a style that's all his own. Goofy, buoyant and bouncy, you can enjoy his work even before you get to the gag.
From 1957-1963, he had a syndicated comic strip called Tall Tales that's one of those classic strips that's recently been rediscovered and thank goodness for that. Jaffee, a Reuben Award winner, is also getting his own exhibit at Mocca, the Museum of Comic and Cartoon Art, in New York City. Titled "Is This The Al Jaffee Art Exhibit?" the show will debut later this fall.
Continuing my series on cartooning and cartoonists, Jaffee wrote about himself and his work back in 1964. This is pulled from an oversized saddle-stitched magazine from Allied Publications with the creatively-challenged title These Top Cartoonists Tell How They Create America's Favorite Comics. It featured an introduction by Beetle Bailey's Mort Walker and was compiled by Allen Willette.
Here's Al on Jaffee and Tall Tales:
Click to continue reading Al Jaffee: Tall Tales, MAD Magazine & Mocca
© Gear Live Media, LLC. 2007 – User-posted content, unless source is quoted, is licensed under a Creative Commons Public Domain License. Gear Live graphics, logos, designs, page headers, button icons, videos, articles, blogs, forums, scripts and other service names are the trademarks of Gear Live Inc.