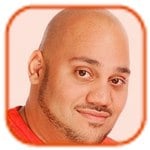 Posted by Andru Edwards Categories: Movies, Drugs, Drunk, Features,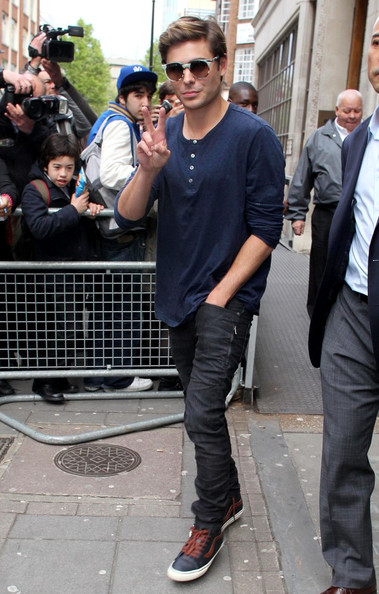 Zac Efron feels a "weight" has been lifted after he spoke out about his battle with drugs and alcohol last month.
The 26-year-old hunk, who sought treatment for addiction twice last year, is glad he opened up about his personal struggles because it was a relief to lift the lid on his secret. "It was a weight off my chest. It was great. It was a fantastic time. It was a rough year," he told the Today show.
The actor is currently starring alongside Seth Rogen in the comedy Bad Neighbors and he's happy he's finally getting his career back on track following a difficult year: "It's kind of funny -- Bad Neighbors is such a great icing on the cake for all of this. I was able to kind of channel all of that and put it back into this movie. I feel great. I feel really blessed to be here working with this group of guys. I couldn't be better right now. I'm really excited."
Meanwhile, Zac admitted last month he felt humiliated when his "mistakes" were made public. "I was drinking a lot, way too much. It's never one specific thing. I mean, you're in your twenties, single, going through life in Hollywood, you know? Everything is thrown at you. I wouldn't take anything back; I needed to learn everything I did. But it was an interesting journey, to say the least," he previously said.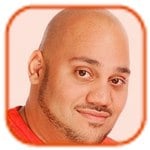 Posted by Andru Edwards Categories: Movies, Rumors,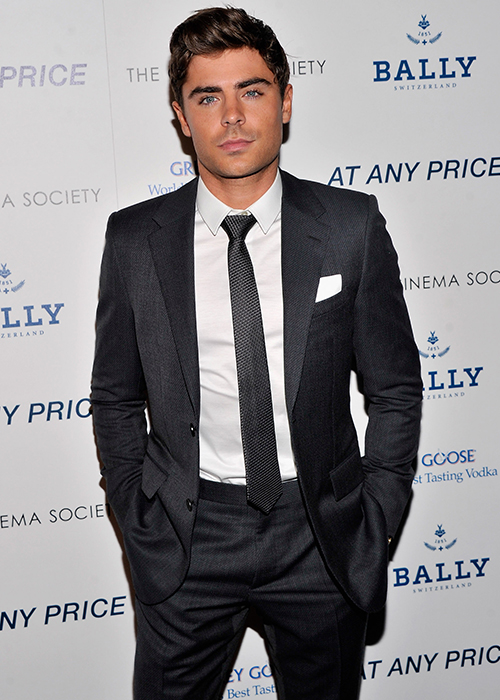 Zac Efron was reportedly involved in a fight at the weekend.
The 26-year-old actor was spotted by police in a "very bad area" of downtown Los Angeles shortly after midnight on Sunday in a "full-blown" bust-up with his bodyguard and three other people. Police on patrol under the Harbor Freeway broke up the fight between Zac - who went to rehab twice last year for cocaine addiction - his bodyguard and the other men, before questioning the Neighbors actor.
According to TMZ, the hunky star told officers he had run out of gas and were sitting in their car. As they waited for a tow truck, they threw a bottle out of the window and it smashed on the pavement near their alleged attackers. The three men confronted them because they believed the bottle had been deliberately thrown at them and, according to the actor, two of them then attacked the bodyguard and when he got out of the car to help, he got hit in the mouth.
"It was the hardest I've ever been hit in my life," Zac said.
Click to continue reading Zac Efron Involved in Fight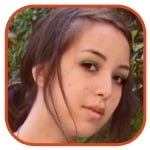 Posted by Robin Paulson Categories: Movies, Music, Television, Dating, Weddings, Celebrity Babies, Parties, Photos, Rumors,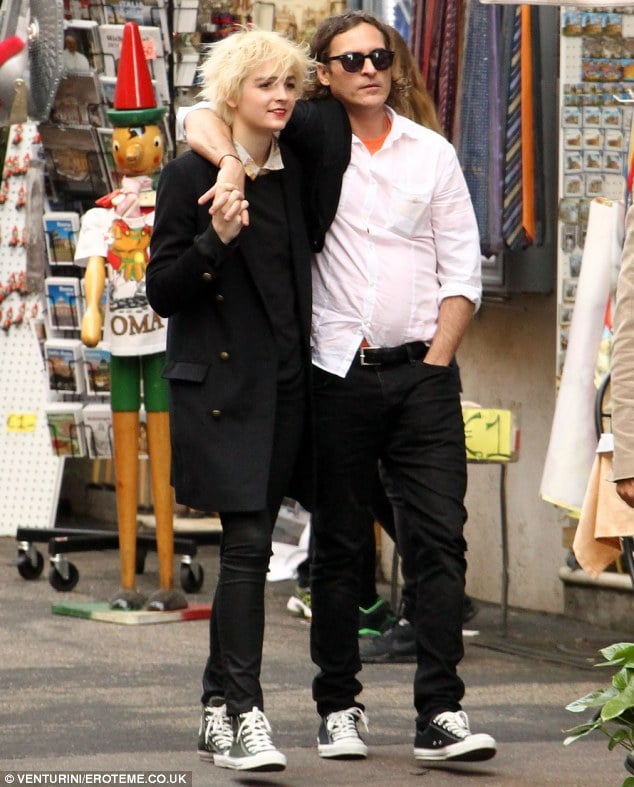 + Good celebrity Samaritan Isla Fisher reportedly tried to help Julianne Hough avoid what became her blackface scandal by advising her to wash her face off before the paparazzi got to her. Hough clearly didn't take her up on the advice, and Isla's reps are denying that she attempted to intervene.
+ Her actor Joaquin Phoenix was photographed frolicking around in Rome with a new lady who looks like Madonna straight out of the Eighties. Sadly, he didn't go back in time to bring Eighties Madonna to 2013, as it's been revealed that she's Allie Teilz, a 19 year-old DJ.
+ Want to see cute photos of baby North West posing with Givenchy designer Riccardo Tisci? Of course you do, which is why Kim Kardashian has been snapping up a storm over it.
+ Miley Cyrus has come out and proclaimed herself as one of the world's biggest feminists. Though one can't argue that she's definitely a staunch proponent for women expressing their sexuality however they may please, she doesn't seem too keen on abstaining from using other women's (especially black women's) bodies for one's own purposes.
Click to continue reading Celebrity Chatter: Isla Fisher's Advice to Julianne Hough, Kim Shows Off Baby North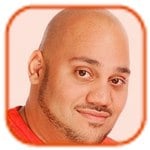 Posted by Andru Edwards Categories: Movies, Dating, Rumors,
Zac Efron and Lily Collins are reportedly dating again.
The pair - who briefly dated in 2012 - have sparked rumors they have rekindled their romance after they were spotted holding hands while wandering around the grounds of Disneyland in Los Angeles yesterday. The duo were said to have been in a casual relationship last year, but split after just three months as neither of them were particularly serious about each other and they wanted to focus on their careers.
"It's true that their schedules are crazy right now, which isn't conducive to a relationship being easy," a source said previously.
The 26-year-old actor - who entered rehab earlier this year for alcohol and cocaine abuse - was spotted getting cozy with his Hairspray co-star Brittany Snow at the beginning of the month, but admitted he has been surrounding himself with women to help him forget about his troubles.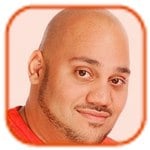 Posted by Andru Edwards Categories: Movies, Television, Drugs, Rumors,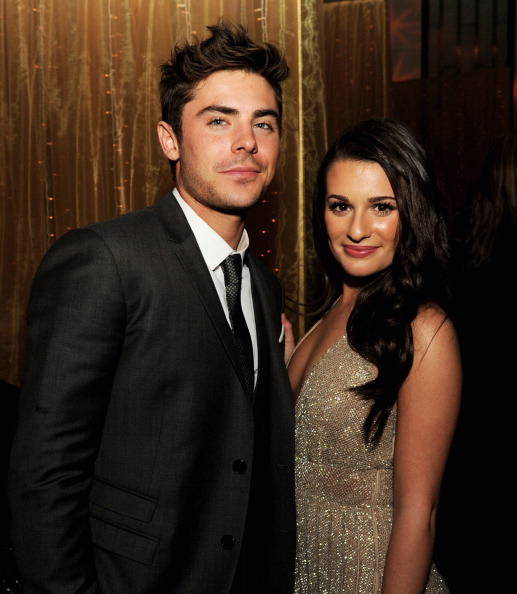 Lea Michele has offered her support to Zac Efron following his recent rehab stint.
The Glee actress - whose boyfriend Cory Monteith died from a heroin and alcohol overdose in July - has reached out to her New Year's Eve co-star following revelations he has been battling cocaine addiction and has vowed to do her best to help him stay sober. "Lea called Zac and told him, 'I'm here if you need me.' She urged him to get serious about having a 24-hour sobriety coach and to only spend time with people who care about his welfare. Lea must feel sad that she wasn't able to prevent Cory from relapsing. She knows Zac well and would hate to see him go down the same path," a source said.
Zac was delighted to hear from his friend and has promised to stay in regular contact with her. "Zac was really glad to hear from her. They have plans to go on a yoga outing together in LA later this year and he promised to discuss his state of mind with her weekly by phone or email," the source added.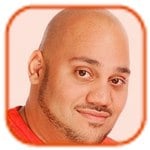 Posted by Andru Edwards Categories: Movies, Dating,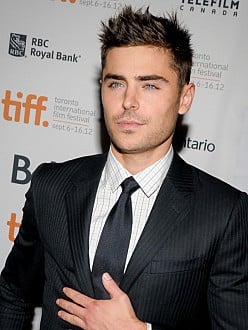 Zac Efron finds dating "awkward." The Paperboy star hasn't been in a serious relationship since splitting from High School Musical co-star Vanessa Hudgens, and Zac admitted one of the reasons is because he finds going out to dinner with a person he doesn't know very well, difficult.
"Dating is kind of hard. Like dinner or something like that. Like a forced awkward situation is very strange. Especially for me, for some reason. I like to go and do something adventurous. I like to go out and do some sort of crazy activity," he told Ellen DeGeneres on her talk show.
Zac also revealed he can never be sure if people like him for him or if they are just interested in his fame. "You know you always have to be careful, I guess, about that kind of thing," he explained.
However, one woman he was recently impressed by was his Paperboy co-star Nicole Kidman:
Click to continue reading Zac Efron: 'Dating Is Awkward'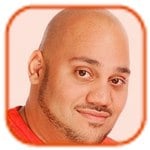 Posted by Andru Edwards Categories: Movies, Rumors,
Zac Efron refuses to "live in fear" about rumors that he is gay.
The 24-year-old actor - who has previously dated Vanessa Hudgens and Lily Collins - is happy to embrace his gay fanbase and does not worry if people question his own sexuality in the process.
"It's very flattering. After High School Musical and Hairspray, I've always felt embraced by the gay community, and I feel incredibly grateful. I don't like to live in fear about things like rumours and backlash to begin with - that's the way I was raised - but I just can't see what's so wrong about being gay."
Zac also supports gay marriage, because he believes it is important all people who are around him are allowed to be happy. "It's an issue that affects so many people in my life -- a lot of my close friends and some of the most influential people around me. I just want them all to be happy. It would make me so happy to see them able to live their lives and do what they want to do," he told Advocate.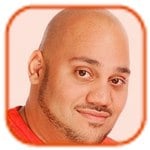 Posted by Andru Edwards Categories: Movies, Photos,
Nicole Kidman sent "provocative" text messages to Lee Daniels to land her role in Paperboy.
The director was reluctant to cast such a big-name actress in the low-budget movie - which sees Zac Efron and Matthew McConaughey play two brothers investigating the case of a death row inmate played by John Cusack - so Nicole went to extreme lengths to get him to agree to cast her as a sex-crazed woman obsessed with marrying a convicted killer.
"Lee said, 'Look, we've got no money, you're going to have to do your own hair and make-up. So I actually went into my bathroom and I got out the fake tan and put on fake eyelashes and got a hairpiece thing that was platinum, threw it all on and texted a photo to Lee in all these different provocative positions. That's how it came together. What he sent back I can't say, but it was a thumbs up."
Click to continue reading Nicole Kidman Sent Sexy Texts to Land 'Paperboy' Role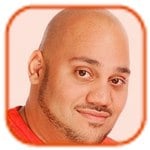 Posted by Andru Edwards Categories: Movies, Dating, Features,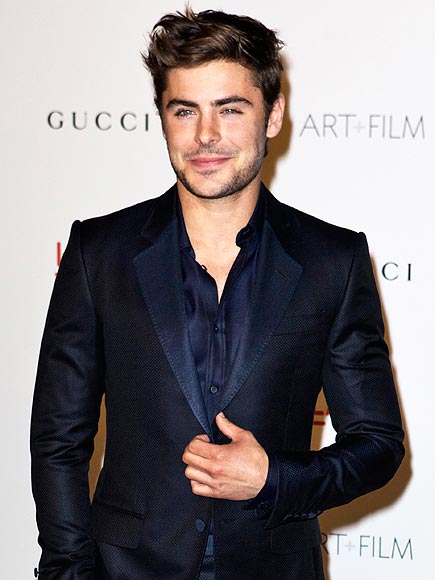 Zac Efron wants the woman he marries to be ambitious but laid back. The 24-year-old Lucky One star admits he already knows what kind of woman he wants to spend the rest of his life with.
"A sense of ambition and a sense of freedom, which is a careful mix. You have to balance those two. I haven't exactly found it yet," he said when asked what makes someone marriage material.
But the former High School Musical actor is having a good time looking for Mrs. Right and likes to improvise when it comes to chatting up the opposite sex.
Sharing his techniques, he said, "[I ask] 'So do you like High School Musical?' I'm kidding! If the situation's right, buy someone a drink. Think on your toes, use what's around you, and come up with something organic and fun."
And he knows a date is going well when it ends up going on longer than planned ... and you don't even realize it. You don't want it to end."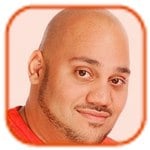 Posted by Andru Edwards Categories: Movies, Music, Dating,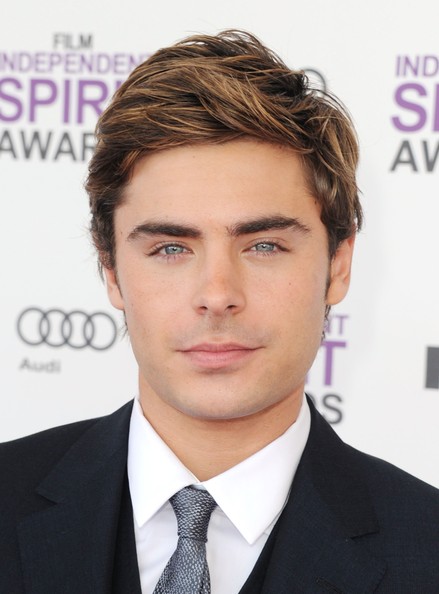 Zac Efron has written songs and painted pictures to impress girls.
The High School Musical star - who is rumored to be dating Mirror Mirror actress Lily Collins - admits he is a traditional romantic at heart, and not afraid to express his feelings in a song or artwork.
"I'm a fan of small romantic gestures. I've done things like write a romantic song for a girl or do a painting or something like that. Those are more up my alley, I think," he said.
Zac, 24, has also recently admitted he got embarrassed watching his love scenes with Taylor Schilling in The Lucky One with his mother: "We saw the film together and I was kind of squirming. Even though she was a couple of seats down from me, I tried to duck out during those scenes because it was too embarrassing. Obviously I'm acting, but knowing that my mom and my family were watching is kind of awkward. There's really no way around it."
© Gear Live Media, LLC. 2007 – User-posted content, unless source is quoted, is licensed under a Creative Commons Public Domain License. Gear Live graphics, logos, designs, page headers, button icons, videos, articles, blogs, forums, scripts and other service names are the trademarks of Gear Live Inc.