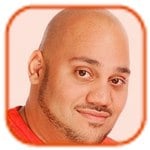 Posted by Andru Edwards Categories: Movies, Divorce, Child Stars,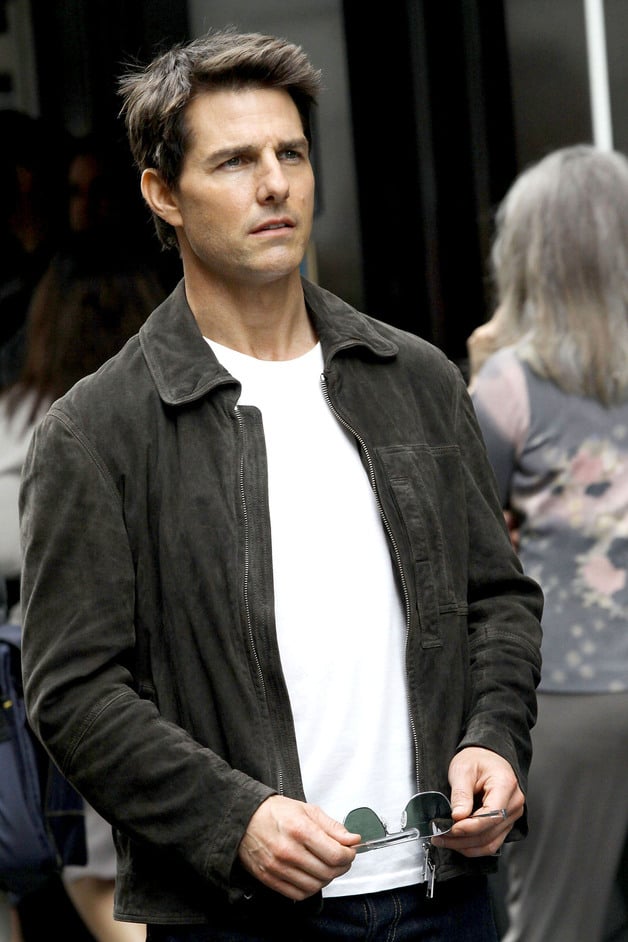 Tom Cruise is getting special treatment from Scientology leaders.
The 50-year-old actor has allegedly been granted exclusive visitation privileges to see his daughter Suri since his divorce from Katie Holmes thanks to his A-list status, despite Scientology normally banning members from contacting those who have left the church.
Nancy Many, ex-president of the religion's Celebrity Center, told RadarOnline, "They have already bent the rules for Tom. If Tom was any other Scientologist, including lesser celebrities, he would not be allowed to continue seeing and maintaining communication with Katie or Suri, because they are no longer in Scientology. So far, because of who he is, Cruise has spent time with Suri, which has already upset the parents and children of existing Scientologists who can't talk to their loved ones. If he is supposed to be a Scientologist, why don't the rules for every other member apply to him?"
The Mission Impossible actor hasn't seen Suri, 6, since their fun-filled trip to Disney World on August 5, and even missed her first day of school due to filming new action flick All You Need Is Kill in London.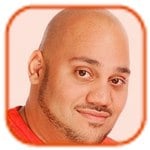 Posted by Andru Edwards Categories: Movies, Dating, Rumors,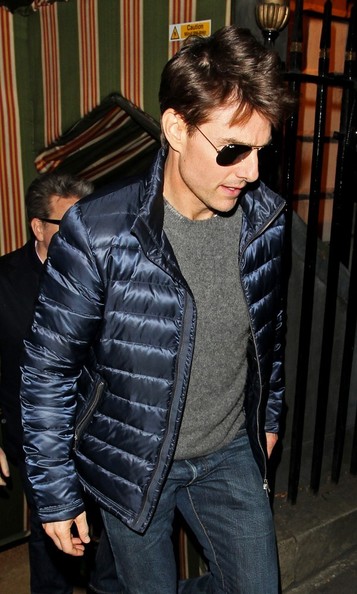 Tom Cruise is not ready to date.
The actor - who split from Katie Holmes in June after five years of marriage - has enjoyed a series of late nights out in London recently but pals insist he is not ready for a new romance.
"When he's in London he's going to be seeing his friends. [But] there is no mystery woman," a close friend told People.
The 50-year-old star is said to have made a number of new friends in the city and enjoys letting his hair down after long hours working on the set of his new sci-fi thriller All You Need Is Kill.
The actor was spotted partying until 3 a.m. at Annabel's nightclub earlier this month, where he reportedly chatted up several fellow-club goers. "Tom loves the people here [in England]. They're friendly," the source added.
But three months after his third divorce, Tom - who has most recently been linked to actress Cameron Diaz - is apparently not ready to move on with a new girlfriend just yet.
The father-of-three is said to be focusing on his career and children, particularly his youngest daughter Suri, who lives in New York City with Katie.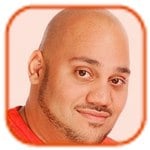 Posted by Andru Edwards Categories: Movies, Child Stars,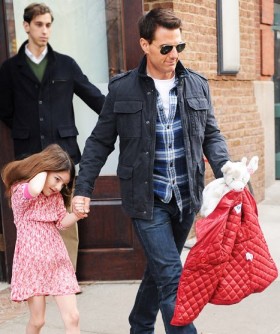 Tom Cruise misses daughter Suri "very much."
The 50-year-old actor is currently in Europe filming new movie All You Need Is Kill, while the six-year-old tot is in New York with her mother and Tom's ex-wife Katie Holmes, and the distance is starting to take its toll on Tom.
"Tom talks to Suri several times a day. He misses Suri very much. Tom and Suri are very, very close. He's up on everything that's going on in her life," a source close to Tom told People.
Tom's attorney Bert Fields recently revealed the Rock of Ages star was calling Suri twice a day as he wants to play a big part in her life. "Tom has been in England shooting a film. He calls Suri every day, sometimes twice a day. He loves Suri and is a constant presence in her life. As in the past, when he's shooting in a foreign country, he has to rely on daily phone calls," he said.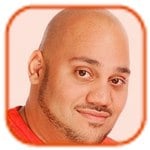 Posted by Andru Edwards Categories: Movies, Divorce, Child Stars, Rumors,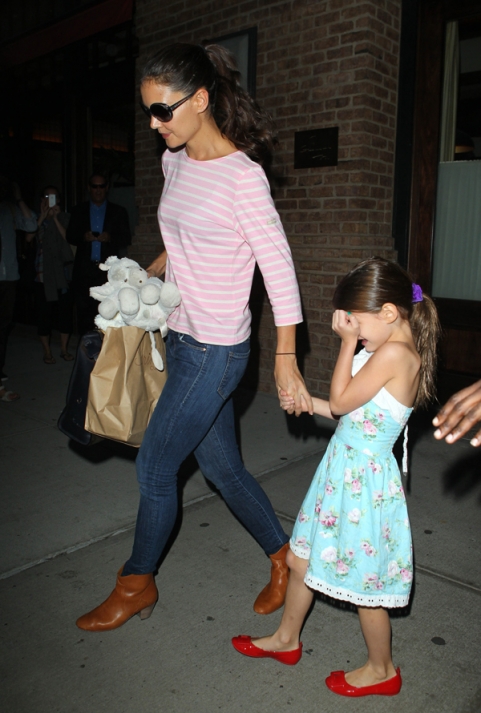 Katie Holmes is finding it hard not to give daughter Suri everything she wants.
The former Dawson's Creek actress - who was given primary custody of the six-year-old tot as part of her divorce settlement from ex-husband Tom Cruise - knows it's important Suri is not spoiled but has told friends it's not easy telling her no because Tom is happy to indulge in his daughter's every whim.
"She said the divorce has been hard on Suri and she's acting out. Katie says no to some things, but gives a little leeway. She knows Tom is going to spoil her," one friend said.
While Katie wants Suri to stay grounded, it was recently revealed Tom had set up a "sizeable trust fund" for the little girl. The Top Gun actor - who is giving his former spouse $400,000 per year in child support until Suri turns 18 - has created the additional payment plan for the youngster upon Katie's request, although the youngster will be unable to fully legally claim the money until she's in her 30s.
Click to continue reading Katie Holmes Tries to Say No to Suri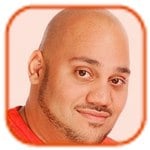 Posted by Andru Edwards Categories: Movies, Divorce, Child Stars, Where Are They Now?,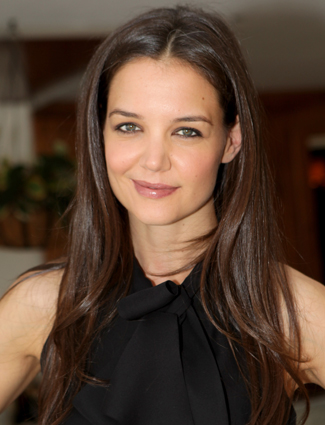 Katie Holmes tries to keep her life in "perspective."
The former Dawson's Creek actress - whose divorce from ex-husband Tom Cruise was finalized last month - admits being in the public eye can be tough but knows she's a lot better off than some people.
Katie - who was given primary custody of the couple's six-year-old daughter, Suri, while Tom was awarded extensive visitation rights - said, "I have a lot of feelings about the press. But there are a lot of people with much bigger problems and who are less fortunate. I try to keep it all in perspective."
Katie also says she tries her best to keep Suri grounded, despite the youngster being born to incredibly wealthy and successful parents: "I spray-paint shoe racks, because, why not? I think, 'Oh, I'm a great mom' - and then it doesn't really pan out the way I think it's going to. But the intention's there. I've always painted and done crafts at home - I have to stay creative in every aspect [of my life]. My sister teaches art, and she gives me a lot of ideas."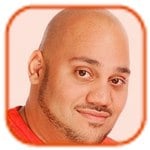 Posted by Andru Edwards Categories: Movies, Rumors,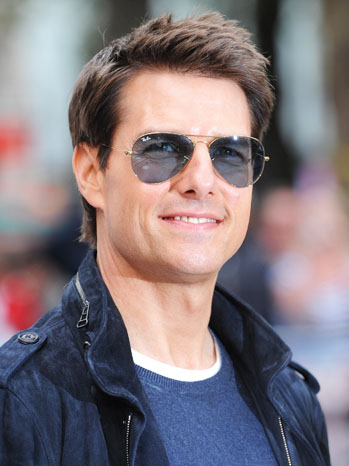 Tom Cruise demanded a hotel kick out all its guests so he could dine alone.
The Rock Of Ages actor wanted complete privacy for a meal at the boutique Forza Mare hotel in Dobrun, Montenegro recently and insisted no one else could be around at the same time as him. However, the outraged manager denied his request with a source telling The Sun newspaper, "Who does Mr. Cruise think he is? The hotel was full. It would have been unfair to other guests."
This didn't deter the 50-year-old actor: he ordered a seafood banquet to be delivered to his luxury yacht Lady S so he could dine in peace.
Recently Tom was left embarrassed in Hertfordshire, East England when he couldn't pay his bill in a local restaurant. Tom was left red-faced when the Veer Dhara restaurant didn't accept his American Express card or dollar bills with manager Darshit Hora explaining, "It was a big shock for us when he walked in. He said we had been recommended to him, but he would not say by whom. At the end of the meal he wanted to pay, but we could not accept American Express. He said his whole group only had dollars, then a lady came forward and paid in £50 notes."
Click to continue reading Tom Cruise Demanded Empty Restaurant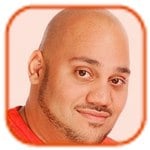 Posted by Andru Edwards Categories: Movies, Divorce, Child Stars, Rumors,
Suri Cruise is "adjusting well" following her parents' split.
The six-year-old daughter of Tom Cruise and Katie Holmes is now living in New York with her mother following the actress filing for divorce last month, and insiders say the couple are keeping their problems away from the little girl in order to make the separation as easy as possible for her. "Both Katie and Tom have really gone out of their way to make sure the transition between both households is as easy and normal as possible for Suri. Tom and Katie aren't fighting with each other because they haven't seen each other and so Suri has been protected from any uncomfortable situations. And both have agreed to not say anything derogatory about the other," a source said.
Insiders believe that Suri is adjusting so well as she was used to Tom being away for long periods of time with his work before he and Katie split. "Suri is used to her dad being away filming and not spending every single day with him. She loves the daddy/daughter time they get together and loves the trips so this isn't a new thing for her. She always spent time with him either on set or at home and even on vacation so she's really adjusted well," the source added.
Click to continue reading Suri Cruise is 'Adjusting Well' to New Life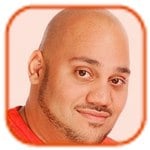 Posted by Andru Edwards Categories: Movies, Divorce,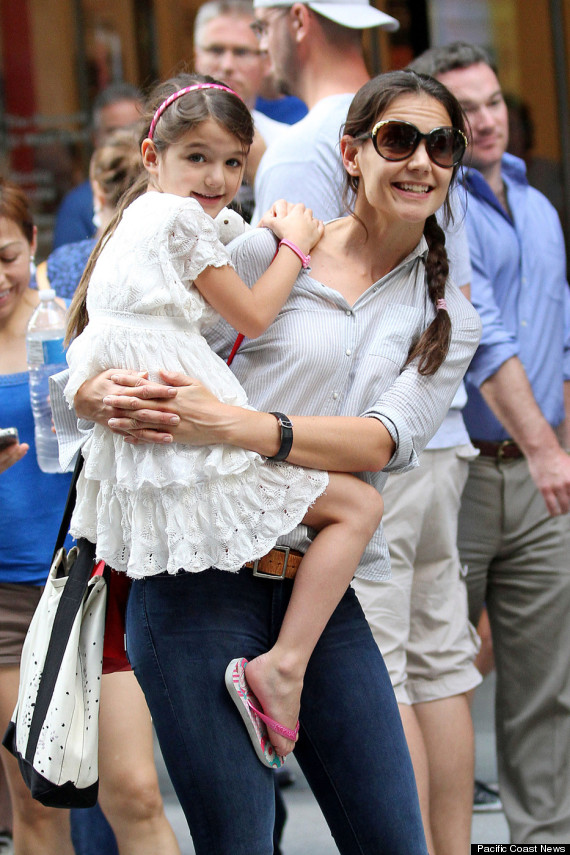 Katie Holmes is a "new woman" since splitting from Tom Cruise.
The former Dawson's Creek actress filed for divorce from her husband of five years in June, and insiders say she is happier than ever as she is no longer under his control or has to follow the rules of his religion Scientology.
"She now gets to see her family more, feels free to concentrate on her career and is no longer living in fear of Scientology. Katie is a new woman, she feels refreshed, free of Tom and doesn't have a worry in the world," a source close to Katie said.
Katie is also embracing single life as it means she can put herself first and not worry about upsetting Tom. "When before she used to fret if she was ever single, now she's happy to be alone. Katie's enjoying her independence and is working on herself right now. Tom also influenced what movies she appeared in, so she was unable to steer her career in the way she wanted to. Now, she has full control over what she wants to do and that freedom is exciting for her," the insider added.
Click to continue reading Katie Holmes Is a 'New Woman'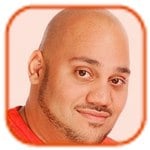 Posted by Andru Edwards Categories: Movies, Divorce,
Tom Cruise's ex-wife Mimi Rogers wishes "the best" for him and Katie Holmes.
The 56-year-old actress - who was married to Mission: Impossible star Tom from 1987 to 1990 - has expressed her sincere feelings of sympathy towards her ex-husband and his third wife Katie over their recent split.
"I wish them both the best. There's not much else to say. I really do, though. I wish them the best," she told Us Weekly.
Speaking at the New York premiere of bittersweet romantic comedy Hope Springs on Monday night, she reflected on what makes a marriage work and the importance of friendship: "I think marriage is hard work no matter what. I think it's about first and foremost being great friends."
Hollywood couple Katie and Tom - who have six-year-old Suri together - split in June after five years together when the former Dawson's Creek star filed for divorce. Katie has since been granted sole custody of their daughter.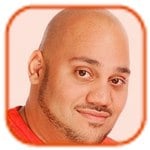 Posted by Andru Edwards Categories: Movies, Divorce, Celebrity Babies, Rumors,
Tom Cruise is set to buy a new home in New York City so he can spend more time with daughter Suri.
The Rock of Ages actor is said to be looking into purchasing a new property in the city after estranged wife Katie Holmes relocated to "The Big Apple" following her decision to divorce Tom and was then given primary custody of the six-year-old girl in their divorce settlement.
Katie, 33, intends to live permanently in New York with Suri, so Tom wants a base their so he can see his child whenever he wants. "Tom's looking for a new home here. He wants a fresh start. He doesn't want to go back to the East Village apartment where he was living with Katie. He's looking for something that's very private where he won't have to deal with going through a lobby, and people outside all the time," a source told The New York Post.
Click to continue reading Tom Cruise to Buy New York Home
© Gear Live Media, LLC. 2007 – User-posted content, unless source is quoted, is licensed under a Creative Commons Public Domain License. Gear Live graphics, logos, designs, page headers, button icons, videos, articles, blogs, forums, scripts and other service names are the trademarks of Gear Live Inc.