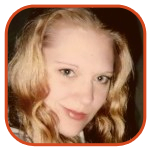 Posted by K.C. Morgan Categories: Movies, Music, Television,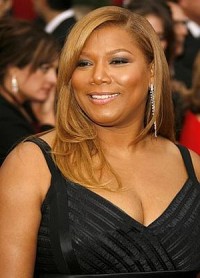 Taylor Lautner, Mariah Carey and Hugh Jackman are only a few of the names that will be bandied about during the People's Choice Awards, which takes place January 6.
Sandra Bullock, Ellen DeGeneres and Carrie Underwood also plan to attend the event at LA's Nokia Theater which Queen Latifah is scheduled to host.
CBS will be broadcasting the event live, which means Adam Lambert probably won't be invited.
Read More

| Yahoo! News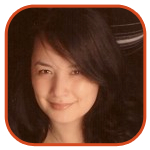 Posted by Veronica Santiago Categories: Movies, Music, Break-ups,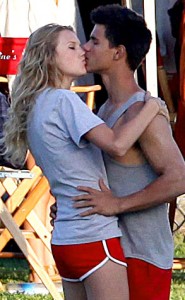 If there's one thing I've learned from Reese Witherspoon and Jake Gyllenhaal, it's this: If it's too cute, it'll never last.
After nearly three months of dating, country music's hottest star and Tiger Beat's hottest abs couldn't make their love match last. That's right - Taylor Swift and Taylor Lautner are now taking their individual names back.
According to sources, the relationship was never really a relationship because it simply lacked chemistry. "It wasn't really developing into anything, and wasn't going to, so they decided they were better as friends," a source claimed.
Unfortunately, the interest level may have been uneven. "[Lautner] liked her more than she liked him," the insider added. "He went everywhere he could to see her, but she didn't travel much to see him."
Let's just hope the two "plan to stay friends" as reported. They still have their film Valentine's Day to promote in just a few weeks.
Read More

| Us Weekly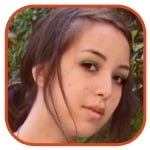 Posted by Robin Paulson Categories: Movies, Red Carpet,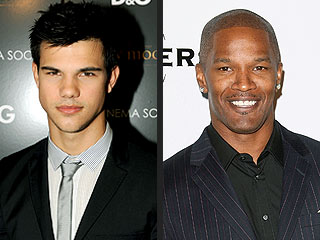 Apparently it's not just screaming women who pine for Taylor Lautner—A-list, Oscar-winning actors like Jamie Foxx enjoy Twilight!
Lautner recently told George Lopez on his show, Lopez Tonight, about his surprising run-in with the star at last year's premiere of the first film:
"There's tons of fans and we hear all of these high pitch voices and we hear 'Rah, rah, Taylor, Taylor!' All of a sudden I hear this deep voice behind me: 'Taylor, Taylor!' .... And this guy walks up to me and he goes 'Hey ... my daughter is a huge fan, and I'm a huge fan is there any way I can get a picture with you. I'm Jamie Foxx.' I was like, 'Are you kidding me? Can I get a picture with you?'"
Read More

| People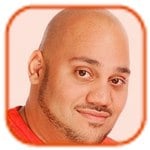 Posted by Andru Edwards Categories: Movies, Hair Styles, Style,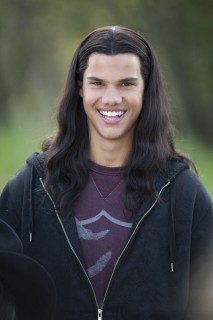 Teenage hunk Taylor Lautner loves having short hair again after being forced to wear a long wig for his new movie.
The 17-year-old actor had to don lengthy tresses for upcoming film New Moon, but was relieved to be told he could ditch it for good in the second half of the sequel: "I would not want that hair. When I looked at myself in the mirror, I couldn't even recognize myself."
The star also discovered he was a book worm after reading the novels the movie series is based on. Taylor admits he never really read much before picking up Stephanie Meyer's Twilight Saga series - and then he was hooked:
"As a matter of fact, I was not a book reader at all. The only books I ever read were the ones I was forced to in school. But when I started reading this book series, I fell in love with the characters and started turning the pages one after another. It was crazy. I never thought I could do that. But I love this story. This franchise has everything in it - romance, action, suspense. It has a dark side to it."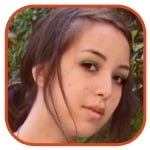 Posted by Robin Paulson Categories: Movies, Music, Dating, Rumors,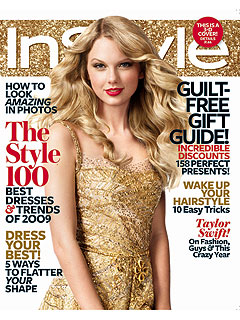 While she sparkles on the 3D cover of December's InStyle issue, Taylor Swift squashes some dating rumors on the inside pages.
"I've never thought it was a curse to be single, and at this point in my life, I'm in the mind-set where I choose to be single—like I got to light scented candles and write in my diary and I wouldn't have time for that if I had a boyfriend right now!" the multiple CMA winner said.
Throwing us off her and Taylor Lautner's scent, eh? Well, considering all the evidence surrounding their clandestine relationship, it's going to take more than an interview (most likely taken some time ago) to deter the rumors.
As she boasts about loving the single life, Swift didn't hesitate to gush about working with Lautner: "He and I have gotten really close. It would be confusing on the set with two Taylors in the same scene. They were like, 'Taylor, on your mark—no, not you, the other one!' So halfway through the shoot, I said, 'How about you guys call me Swifty and call him Taylor?'"
Too cute!
Read More

| People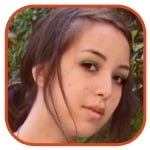 Posted by Robin Paulson Categories: Movies, Style,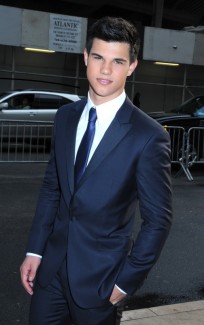 While his New Moon co-stars Kristen Stewart and Robert Pattinson are fighting tabloids about their "non-existent" romance, Taylor Lautner is fending from 40 year-old women. Who knew that cougars had a thing for wolves?
"I've had women in their 40s come up to me and ask if I can sign their underwear! The weirdest thing is that their daughters are with them. I'm at a signing and the mom and the daughter come up, and the mom is the one freaking out. The moms are crazier than the daughters, going: 'Taylor, I'm wearing your Team Taylor panties, can you sign 'em?' And the daughter's in the background, going: 'Urrghh, Mom!'"
Here I thought that Lindsay Lohan's mom was embarrassing!
Well, can we really blame them? He does look awfully hot in those suits. He ought to take it as a compliment—he might score someone as hot as Demi Moore in the future. Oh wait—he has a hot girlfriend already!
Read More

| Splash News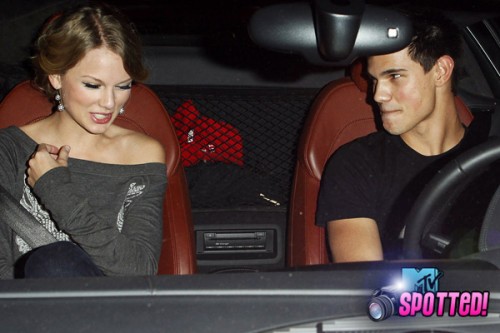 Country's sweetheart Taylor Swift and Twilight hunk Taylor Lautner ought to admit that they're dating already!
The adorable, name-sharing pair got to know each other on the set of their film Valentine's Day, which led Swift to reveal that kissing Lautner was life-changing.
Now they're shopping together at Alice + Olivia, having dinner with Swift's mother, and attending hockey games together—if that doesn't scream "We're a couple!" then I'm not quite sure what does.
Click to continue reading Taylor Swift and Taylor Lautner Should Stop Hiding
Read More

| E! Online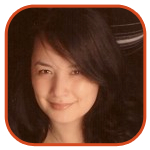 Posted by Veronica Santiago Categories: Movies, Music, Television, Dating, Videos, Rumors,
Forget Joe Jonas. It looks like his ex has got someone a lot beefier lined up for herself.
Despite numerous public appearances together in the past few weeks (including one just last night in Beverly Hills), Valentine's Day co-stars Taylor Swift and Taylor Lautner have not yet confirmed an official romance. But that won't keep a curious talk show host from prying.
On today's episode of The Ellen DeGeneres Show, the country star did her best to get around any questions about the New Moon hunk. When asked about a recent off-camera outing together, Swift cutely replied: "I really like hockey a lot. And it turns out—so does he!"
Read More

| Ellen DeGeneres Show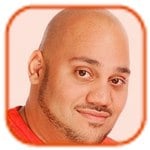 Posted by Andru Edwards Categories: Movies,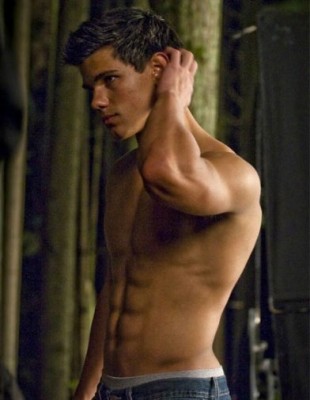 Taylor Lautner has been craving the sweet stuff.
The 17-year-old actor, who plays werewolf Jacob Black in The Twilight Saga: New Moon, has had to cut out sugary treats in order to bulk up for the role. "I really miss ice cream. My favorite flavor is actually cake batter. It's really good but I can't have it. It's torture," he said.
But despite all his hard work, Taylor recently revealed that he is "embarrassed" by the publicity photos. The actor posed topless in promotional pictures and admitted he didn't want his family to see the images. "It's embarrassing for me. And I'm sure it's awkward for all of them. I'm hoping that I don't get teased by my family because I'll start blushing," Lautner stated.
Click to continue reading The Cons of Having Taylor Lautner's Body
© Gear Live Media, LLC. 2007 – User-posted content, unless source is quoted, is licensed under a Creative Commons Public Domain License. Gear Live graphics, logos, designs, page headers, button icons, videos, articles, blogs, forums, scripts and other service names are the trademarks of Gear Live Inc.