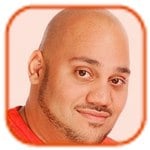 Posted by Andru Edwards Categories: Movies, Television, Rants, Videos,
Russell Brand has never voted. Despite taking over political magazine New Statesman as guest editor for one issue, the comedian admits he has never cast a single vote in a UK election because he doesn't believe in the British government system.
Speaking to BBC program Newsnight, he told host Jeremy Paxman, "I don't vote. I don't get my authority from this pre-existing paradigm which is quite narrow and only serves a few people. I look elsewhere for alternatives that might be of service to humanity. Alternate means or systems." When an incredulous Jeremy questioned his capabilities to discourse on politics, Russell insisted he was passionate about finding an alternative system which wouldn't leave the working class "disillusioned" and "despondent."
Click to continue reading Russell Brand: I've Never Voted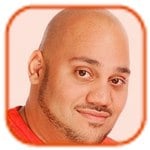 Posted by Andru Edwards Categories: Movies, Dating, Rumors,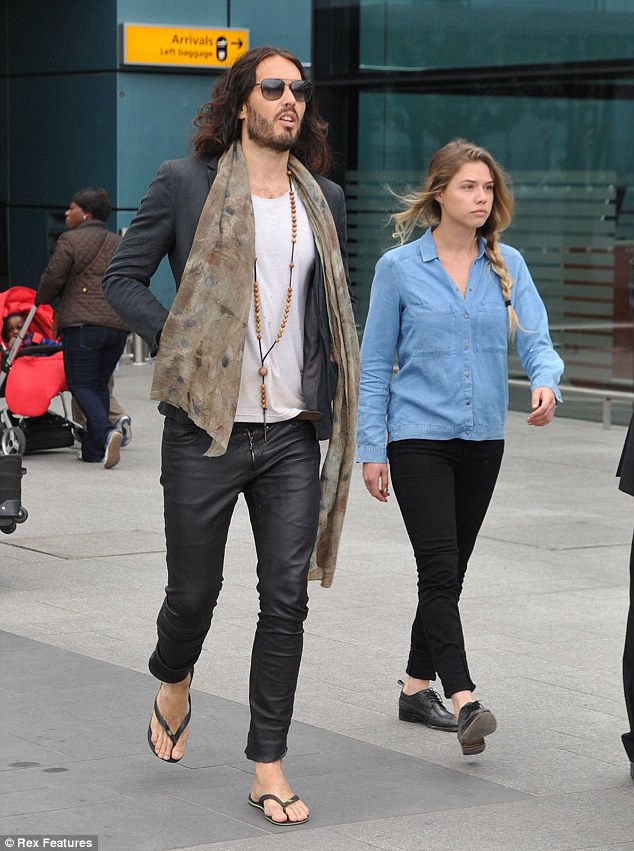 Russell Brand has been "quietly dating" hotel heiress Alessandra Balazs, according to reports.
The 38-year-old former sex addict has been romantically linked to the beauty, the daughter of Andre Balazs, for several months and has even splashed out by taking her on posh vacations. "Russell and Alessandra have been quietly dating for months now and [have] even gone on holidays together and, he took her to London with him," a source said.
The pair were first spotted together in April enjoying a romantic lunch in Venice, California, and then seen again last month when they flew into London Heathrow airport as the British comedian was due to testify in parliament on the drugs policy.
The former actress has residences in both New York City and Los Angeles, while Russell has set up home in California but the couple regularly fly from coast to coast to spend quality time with each other, although, they are rarely pictured getting cozy as Alessandra tries to avoid the camera.
Click to continue reading Russell Brand Quietly Dating Alessandra Balazs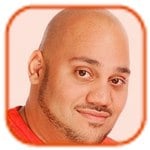 Posted by Andru Edwards Categories: Movies, Music, Divorce, Features,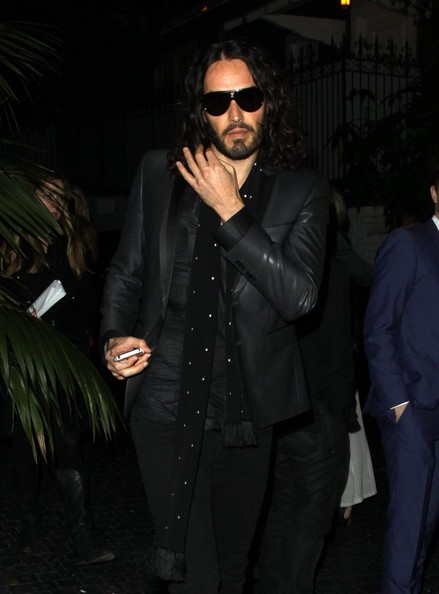 Russell Brand was always faithful to Katy Perry.
The comedian insists he never cheated on the singer - whom he split from in December 2011 after 14 months of marriage and divorced in 2012 - even though the former sex addict struggled with the idea of committing to one person for the rest of his life.
"When I'm in a relationship I'm diligently monogamous and stick to the principles agreed on within that relationship. You've got to. I tried it [marriage] and I loved it. I really think she's a lovely beautiful person. It's just hard isn't it? She's got a lot of options, I've got a lot of options, so you've got to really, really want it."
Russell, 38, and Katy, 28, hardly spent any time together in the first few months of their married life as Katy jetted off on her mammoth California Dreams world tour soon after the ceremony. Nevertheless, the British actor doesn't just blame their work schedules or long-distance nature of their union for the breakdown of their relationship and admits he found it difficult to prioritize her needs.
Click to continue reading Russell Brand: I Never Cheated on Katy Perry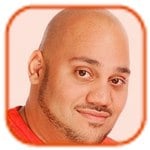 Posted by Andru Edwards Categories: Movies, Dating, Rumors,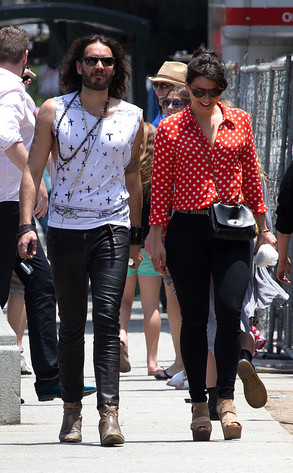 Russell Brand has been spotted with former love Isabella Brewster.
The 37-year-old comedian briefly dated the 27-year-old sister of Jordana Brewster last summer before moving on to a short live fling with Geri Halliwell but the relationship appears to be back on track after the couple were spotted visiting the Melrose Trading Post flea market in Los Angeles over the weekend. Isabella and Russell met at a yoga class and at one stage the romance was believed to be serious enough that Russell was planning to move in with the brunette beauty.
The Rock of Ages actor was most recently linked to model-and-MTV presenter Kate Peck, after he met her at the ARIA Music Awards in Sydney in November where they both hit it off and arranged to meet several times at the Park Hyatt Hotel. "They've been enjoying quite a passionate fling, mostly at the swanky Park Hyatt. They've seen each other a few times, Kate likes his cheekiness, he's definitely her type. Unlike former girlfriends, Russell wanted to keep it all top secret," a source said at the time.
Russell has not had a serious girlfriend since splitting from Katy Perry in 2012 after just 14 months of marriage.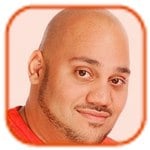 Posted by Andru Edwards Categories: Movies, Music, Divorce,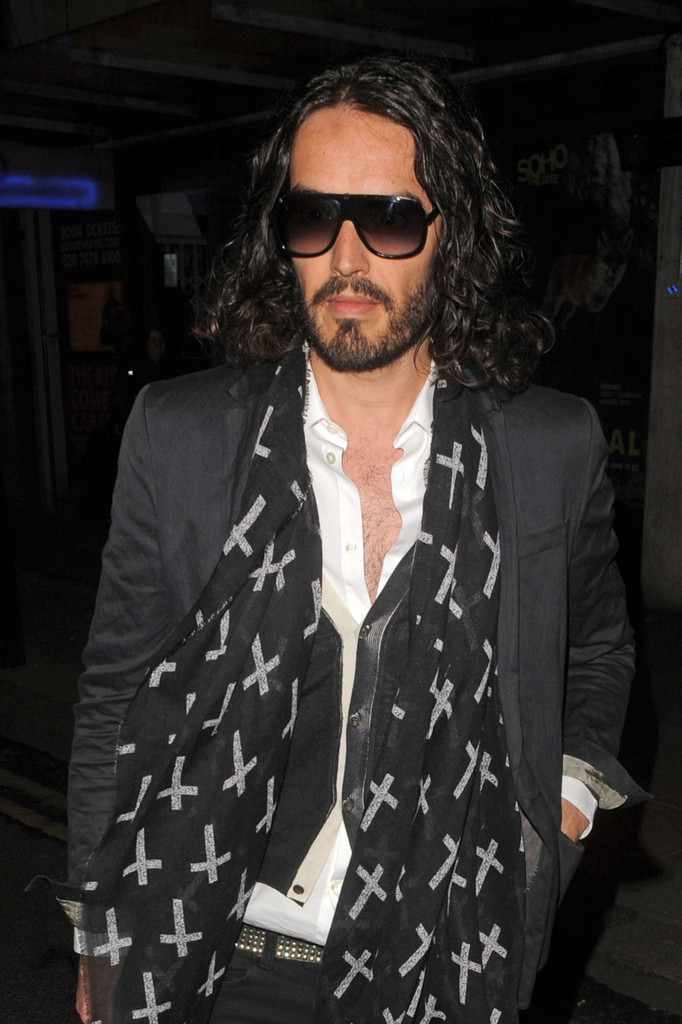 Russell Brand has joked about his "sacred" marriage to Katy Perry - insisting 14 months is long enough to be married.
The 37-year-old funnyman made his return to radio on British station XFM on Monday night, joined by special guest Noel Gallagher along with regular presenters Matt Morgan and Trevor Lock, and was surprised to learn the former Oasis rocker knew the exact length of his matrimony to the "California Gurls" singer.
After being told his friends made a bet on how long his wedded bliss would last, which caused Noel to erupt with laughter, Russell exclaimed, "Don't cackle, I tried my hardest. How come you know exactly how long my marriage was. Was you timing it?" Noel responded, "For the record, in the sweepstake I came the closest."
Russell then continued to give humorous marital advice, making gags about his relationship with Katy, with whom he tied the knot in a traditional Hindu ceremony in India in October 2010 and filed for divorce from in December 2011. "Thanks, nice to know you're all behind me, very supportive, nice to know you're all supporting me. Let me tell you a thing about marriage. Marriage is a bond that can last up to 14 months. This is a sacred 14-month arrangement. Begins on an elephant. Ends in a newspaper," he joked.
Click to continue reading Russell Brand Jokes About "Sacred" Marriage to Katy Perry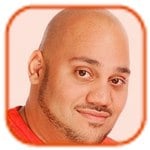 Posted by Andru Edwards Categories: Movies, Music, Divorce, Rumors,
Katy Perry has signed a $3 million deal to write her autobiography.
The "Firework" hitmaker - who is currently dating John Mayer - is expected to discuss in detail her 14-month marriage to British comic Russell Brand in the tome, which will be called Part of Me because she wants to put out her side of the story before her former spouse releases the next installment of his My Booky Wook autobiographical series.
"Several publishers have been after Katy for a while. She decided to go ahead so fans don't have a one-sided story when Russell publishes another Booky Wook," a source told The Sun.
The news comes weeks after Russell - who has written two books about his life, My Booky Wook and Booky Wook 2: This Time It's Personal - confirmed he was discuss his relationship with the pop star in his third literary offering because he knows he can't ignore something that was such a huge part of his life.
Click to continue reading Katy Perry to Write Autobiography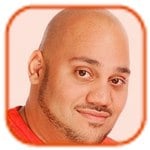 Posted by Andru Edwards Categories: Movies, Legal Issues,
Russell Brand is being sued for $185,000 in damages by a pedestrian. The comedian - who was first sued for $25,000 by Victor Sneed last year - has now been hit by an even bigger legal claim as the alleged victim claims he needs greater financial compensation after being mowed down by a car last October, which he says Russell was driving.
Victor alleges his mammoth medical bill needs to be paid for injuries to his left hand, left arm, left hip, neck and left wrist. He claims he's already spent $45,000 in medical expenses and will need yet another $140,000 for future surgeries.
However, Russell has strongly denied the claims and refuses to cough up the cash, believing Victor's "own negligence" was to blame for the accident. A court document reads, "Under the provisions of the California Code of Civil Procedure, [Russell Brand] denies both generally and specially each, every and all of the allegations contained in the Complaint, and denies that plaintiff [Victor Sneed] sustained damages in the sum alleged, or in any other sum or at all. Plaintiff is barred from any recovery on the basis that the plaintiff's own negligence was the sole and proximate cause of the accident and injuries he sustained."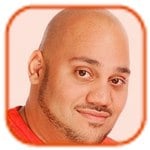 Posted by Andru Edwards Categories: Movies, Divorce, Weddings, Features,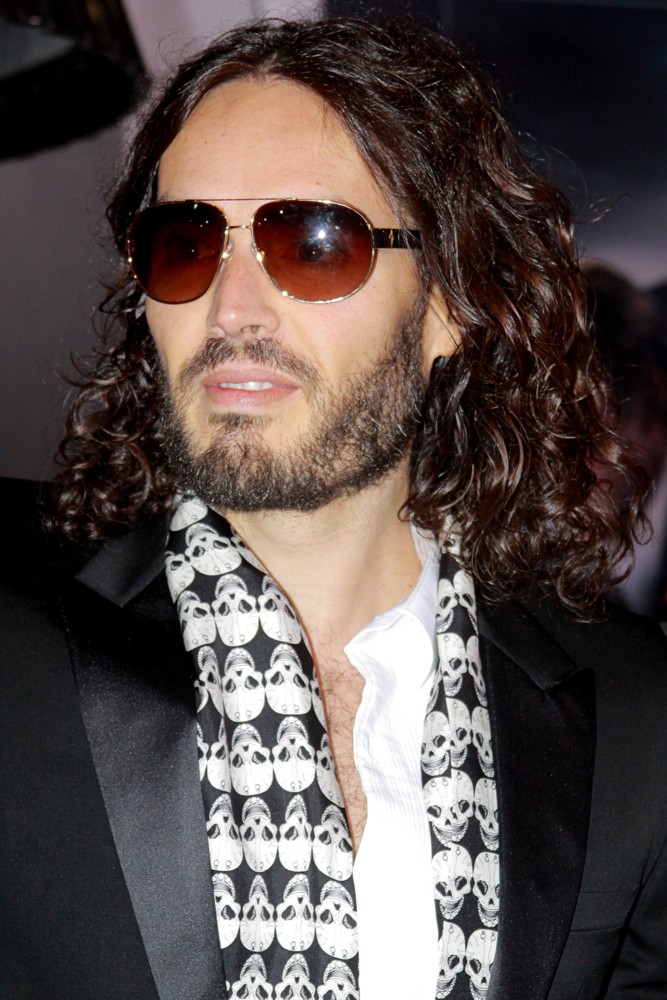 Russell Brand wants to get married again. The Arthur actor says he is open to tying the knot for a second time even though his first marriage, to Katy Perry, ended in divorce after just 14 months.
"I suppose [I will get married again], if I meet the right man or woman," he told E! News.
Before marrying Katy in October 2010, Russell, 37, says he was so obsessed with sleeping around, it took over his life: "I was once so devoted to 'sh**ging' I would forget to eat. I was like those people in China who die because they're so into their Xbox they stop having dinner. I focus on other things now, like meditation and yoga. I spend more time meditating than having sex. Isn't that good? It was unthinkable five years ago. I think the quality of the sh**ging has improved, though. Yoga gives you an understanding of chakras and energy and how to umbrella the G-spot."
While he has been linked to a string of women since his marriage ended, Katy, 28, is in a serious relationship with singer John Mayer.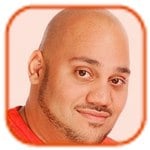 Posted by Andru Edwards Categories: Movies, Rumors,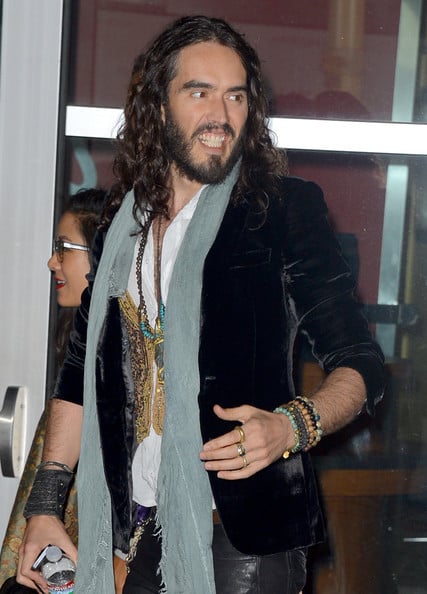 Russell Brand is training to become a yoga teacher. The Get Him to the Greek star is a huge fan of the Indian exercise and wellbeing practice and even thinking of opening his own studio in Los Angeles with the help of his instructor Tej Kaur.
"His teacher at Goldenbridge Yoga is in charge of teacher training at the center and has encouraged Russ to take the course. He ­decided to give it a go. The pair have become good friends and Russell relies on Tej to bring ­calmness into his often crazy life. Once he's finished his course next Spring, he'll set up his own studio in Los Angeles," a source said.
Former sex and drugs addict Russell, 37, may even use the center to help those less fortunate than himself. "He has this idea of an all-giving studio where teachers work for their own fulfillment and those in need such as the homeless and addicts in need of finding their spiritual soul. He wants to create his own mantra and take his teachings round the world like other renowned teachers he's learned from in the past. It's all part of his dream of building his own community and he would like to offer fre­e classes to those in need. It would also include meditation, cooking classes, lectures and aromatherapy classes," the source added.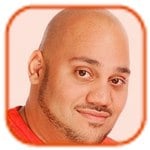 Posted by Andru Edwards Categories: Movies, Music, Divorce, Parties,
Katy Perry is planning a divorce party.
The "Part of Me" singer - whose divorce from Russell Brand was finalized in July - would have been celebrating her second wedding anniversary on October 23 so instead of getting upset about it, she is planning to threw a huge bash, which will also mark her 28th birthday.
"Katy has been dreading October 23 for weeks now and has been trying to think of ways to turn it into something positive. It's her birthday two days later and the last thing she wanted to do was spend that week depressed and miserable, which would then mean not doing anything to celebrate her birthday. Her pals have been persuading her to have a huge party or go to Vegas for a few days but Katy decided on throwing a small gathering at her home. She has decided to call it her divorce party and it will be a day of doing what she loves with her favorite people," a source told The Sun.
Katy is now dating singer John Mayer, while funnyman Russell has been linked to a string of different women.
© Gear Live Media, LLC. 2007 – User-posted content, unless source is quoted, is licensed under a Creative Commons Public Domain License. Gear Live graphics, logos, designs, page headers, button icons, videos, articles, blogs, forums, scripts and other service names are the trademarks of Gear Live Inc.