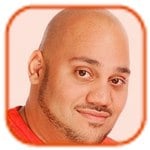 Posted by Andru Edwards Categories: Movies, Television, Celebrity Babies, Features,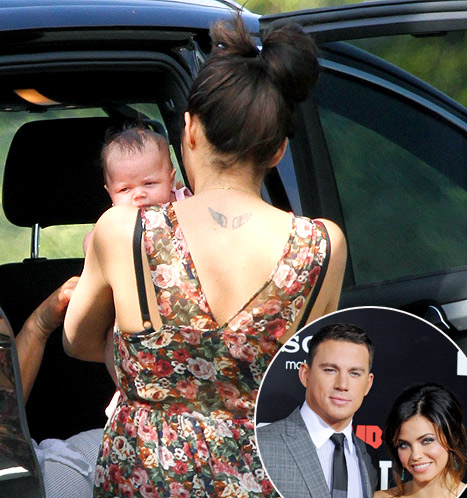 Jenna Dewan-Tatum is raising her daughter to be a vegetarian.
The vegan Witches of East End star, who has a seven-month-old baby girl Everly with husband Channing Tatum, has no plans to introduce the tot to meat anytime soon but will let Everly make her own diet decisions when she is older.
"She eats fruits and veggies and nothing else. I just want her to be healthy, choose healthy food habits. We'll let her decide," the 33-year-old actress told People.com.
The brunette beauty admits that she and Channing have very different approaches to food because he is a serious "meat eater." She said, "We are complete polar opposites that way. Sometimes I can drag him to my vegetarian vegan restaurants - he politely eats, then promptly goes home and eats what he really wants! Opposites attract!"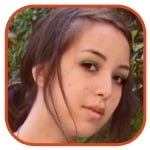 Posted by Robin Paulson Categories: Movies, Celebrity Babies, Photos,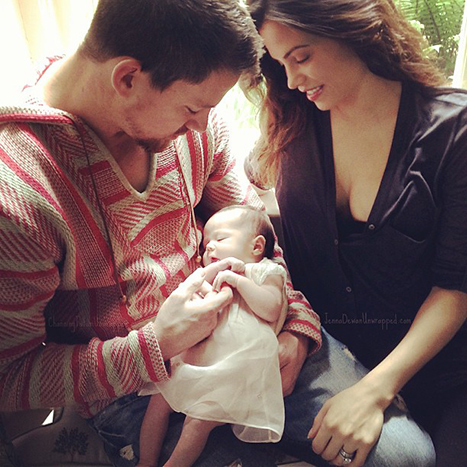 As the world eagerly awaits the unveiling of Kim Kardashian and Kanye West's baby girl, another Hollywood couple has graced us with a photo of theirs this Father's Day.
After having brought Everly Tatum into the world at the end of last month, parents Channing Tatum and Jenna Dewan-Tatum fittingly introduced her to the world on a day dedicated to honoring dads everywhere. "First Father's Day with my girls," Channing wrote in the caption to the above photo, which he shared on Facebook. Everly's 32 year-old mom Jenna also posted the photo, writing, "First Father's Day with our lil angel!"
Read More

| Us Weekly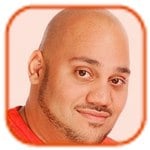 Posted by Andru Edwards Categories: Music, Child Stars, Meltdowns,
Kid Rock believes that Justin Bieber will go off the rails.
The 42-year-old musician - whose real name is Robert James Ritchie - says fame will eventually take its toll on the 19-year-old singer and he will embrace the darker side of celebrity. "It's just a matter of time before someone puts a huge line of cocaine in front of Bieber and he's going to be like, 'Yes! This is f**king awesome!'" he said.
The rocker also spoke out about Britney Spears, admitting he felt sorry for the "Toxic" hitmaker: "Poor girl. Turned into a space cadet. That dead stare, just f**king like someone stole her soul… "
Kid isn't the only star who is worried about Justin, Channing Tatum recently revealed he thinks the "Baby" hitmaker - who was discovered at the age of 14 - found fame too young and hopes he doesn't go off the rails like many child stars do: "I do believe that whatever age you become famous, you end up staying that age. I worry about Bieber, man. That kid's wildly talented. I hope he doesn't fall down into the usual ways of young kids because it' so hard for someone to be responsible when they're not asked to be. We're not asked to do things ourselves."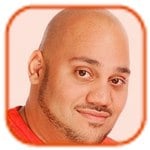 Posted by Andru Edwards Categories: Movies, Television, Celebrity Babies, Features,
Jenna Dewan-Tatum plans to juggle work and her baby.
The actress - who gave birth to her first child, a daughter named Everly, with Magic Mike star Channing Tatum last week - has revealed she plans to be a working mum after landing a role in new TV show Witches of East End.
"I got the TV show and found out I was pregnant at the same time. It's overwhelming, but I wouldn't want it any other way. I'll learn manage love, work and a baby all at once. It's a crash course. I think, 'How am I going to do all this?' I have no idea what I'm up against. But I'm as mentally prepared as I can be. It's an adventure!"
The 32-year-old beauty further revealed that her hunky husband was incredibly supportive during her pregnancy and despite their work respective commitments, they always put their relationship first: "Most actors are consumed by career and getting ahead. Channing and I are ambitious, but our relationship comes first. We take it all day by day saying, 'OK, how can we make this work together?' Channing's been great. He just takes the route of no confrontation, just support, saying things like, 'What do you want to eat? I'm going to leave it up to you?'"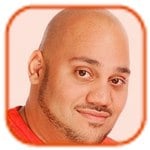 Posted by Andru Edwards Categories: Movies, Celebrity Babies,
Channing Tatum and Jenna Dewan-Tatum have welcomed their first child into the world.
The 32-year-old actress gave birth to the couple's child in London on Thursday according to reports - but no further details are known at the time of writing.
The pair - who married in July 2009 - had been in the city while Channing, 33, was shooting scenes for science fiction movie Jupiter Ascending. However, production is set to move to Chicago next month, while Jenna will also start work on Lifetime TV series Witches of East End. But an insider - who said Channing will be an "adorable" father - insisted the couple's child will by always be their number one priority.
"The baby will get top billing as far as priorities go. Channing is going to be the most adorable hands-on daddy ever and do whatever is necessary to make sure Jenna can balance it all," the source said.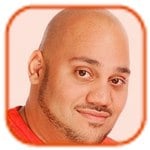 Posted by Andru Edwards Categories: Movies, Pregnancies, Features,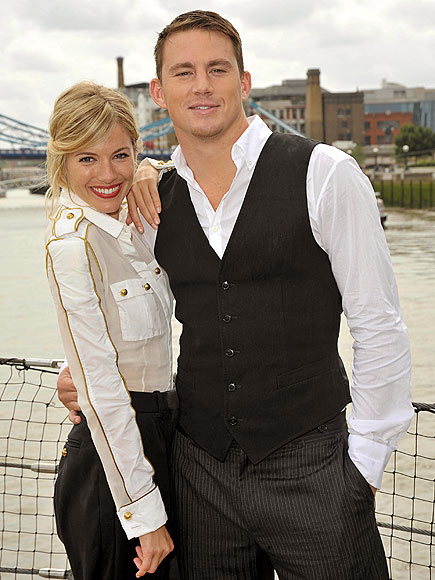 Channing Tatum has been calling Sienna Miller for baby advice. The 32-year-old actor's wife Jenna Dewan-Tatum is currently pregnant with the couple's first child and he has turned to his G.I. Joe: The Rise of Cobra co-star Sienna for tips on what to expect.
"It's an on-going phone conversation, he's actually in London so I've been helping him out a lot. We've got the same obstetrician, same everything," Sienna said.
Channing and Jenna are living in London while he films Jupiter Ascending and Sienna is in New York with her fiance Tom Sturridge and their daughter Marlowe but she is "more than happy to be on-call" for the pair.
Jenna, 32, recently revealed Channing has been looking after her during the pregnancy and has been tending to her every need:
Click to continue reading Channing Tatum Asks Sienna Miller for Baby Advice
Channing Tatum has been named the Sexiest Man Alive by People. The Magic Mike star has been awarded the annual title by the publication and admits he thought they were "messing" with him when he got the news.
The modest actor, who is married to his 10 Years co-star Jenna Dewan, told the magazine, "My first thought was, 'You are all are messing with me.' I told Jenna after we'd been in the bathtub washing our dogs because they'd gotten skunked. She was like, 'What?'"
Channing, 32, also revealed his wife has started to call him by his new title rather than by his name: "Yeah, she calls me [the Sexiest Man Alive] now. And who can blame her?"
Although Jenna, 31, is happy to be married to the Sexiest Man Alive, she is adamant there is more to her husband than just his handsome looks and toned body. "People know him to be fun and sexy, but they don't know how emotionally deep and spiritually open he is. He is such an open-hearted person; what you see is what you get," she said.
Click to continue reading Channing Tatum Is Named People's Sexiest Man Alive
Channing Tatum says he won the "genetic lottery" with his looks.
The Magic Mike star is happy to be labeled as handsome as he believes it has helped him in his career so far, although he knows he can't rely on his looks forever: " just don't get it when I hear people say, 'I'm fighting my looks! I'm too pretty!' My parents are great looking people and I won the genetic lottery there. And, yes, you get more jobs because of those good genes. But your looks can't define you forever. Your acting will do it eventually."
However, Channing - who has previously worked as a stripper and a model - says he's had to work hard to improve his acting skills. The 32-year-old hunk - who is married to actress Jenna Dewan - told T2, "I never wanted to be an actor, and I had no artistic ambitions growing up. It all just fell into my lap. My looks got me into the industry, but it's taken me eight years to figure out the acting part."
Channing Tatum has told his wife to stop waxing.
The 32-year-old actor underwent an intensive beauty and grooming regime for his role as stripper Michael Lane in his new film Magic Mike, and he has given his wife Jenna Dewan permission to stop waxing her legs after undergoing the painful hair removal procedure himself.
"I didn't want to shave because I just wanted to do it once. That was a big mistake, I will never do it (wax) again! I don't know how women do it. I did have a huge amount of compassion, but after I told my wife that she doesn't have to do it anymore, she still does it - so I have zero compassion! I said let everything go, no one needs to go through that."
The film - which also stars Matthew McConaughey, Alex Pettyfer and Joe Manganiello - is based on Channing's own experience of stripping when he was 19 and short of cash. The Hollywood heartthrob recounted how his most embarrassing moment on stage was the first night he ever performed one of his saucy routines, when he realized his sister Paige was in the audience:
Click to continue reading Channing Tatum Tells His Wife to Stop Waxing
Matthew McConaughey says stripping is like "a drug."
The 42-year-old actor was told by director Steven Soderbergh that he didn't have to bare all in new movie Magic Mike - in which he plays former stripper Dallas - but knew he would regret it if he didn't flash his flesh, and was surprised by how much he enjoyed the experience.
"It wasn't in the script, but Soderbergh said in the beginning that if it felt right, I could strip at the end of the movie. I said, 'I gotta dance, man.' I would regret it for the rest of my life if I was in a male stripper movie and didn't get up there and strip myself. At first it was scary as hell, but then it became like a drug, and I couldn't wait to do it again. Look, I love to dance, but I've never been a stripper. Channing [Tatum]'s one of the best hip-hop street dancers I've ever seen, and I didn't want to challenge his style, so I worked on my own strengths. I also knew that my dance had to be the dirtiest. It had to be wonderfully filthy," he admitted.
Click to continue reading Matthew McConaughey: Stripping is a 'Drug'
© Gear Live Media, LLC. 2007 – User-posted content, unless source is quoted, is licensed under a Creative Commons Public Domain License. Gear Live graphics, logos, designs, page headers, button icons, videos, articles, blogs, forums, scripts and other service names are the trademarks of Gear Live Inc.