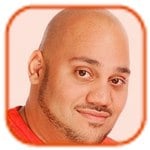 Posted by Andru Edwards Categories: Movies, Television, Dating, Rumors,
Tom Cruise is reportedly dating Laura Prepon.
The Valkyrie actor - who was previously married to Mimi Rogers, Nicole Kidman and Katie Holmes - is said to have asked the Orange is the New Black star out on a date after being "fascinated" by his fellow Scientologist for a long time.
"Tom has known Laura for a few years now and they are all in the same social group that includes John Travolta and his wife Kelly Preston. He's always been fascinated by her and, since seeing her in Orange Is The New Black, that has turned into an attraction. So he bit the bullet and asked her out on a formal date," a source said.
Tom, 51, and Laura enjoyed both their first and second dates at a restaurant in The Manor Hotel, a Scientology retreat, and the actor is said to be "smitten" after pulling out all the stops to impress the 33-year-old beauty.
Click to continue reading Tom Cruise Goes on a Date with Laura Prepon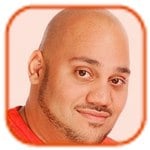 Posted by Andru Edwards Categories: Movies, Dating, Rumors,
Tom Cruise allegedly tried to convert Penelope Cruz to Scientology.
The Mission: Impossible actor is said to have enlisted the help of Church leader David Miscavige in the early 2000s to help him convince his then-girlfriend and Vanilla Sky co-star to allegedly drop her Buddhist beliefs and convert to his religion. Mark "Marty" Rathbun, who used to be Inspector General of the Church, spoke out in a new documentary called Scientologists at War, telling how top Scientologists were tasked with pandering to Tom's every need - including helping him recruit Penelope for auditing, which is the cleansing of negative influences in order to heighten spiritual awareness and access untapped potential.
"Cruise started making some noises about getting some help [from the Church of Scientology, and] Miscavige had me drop me everything. I helped him on his divorce from Nicole and then I was auditing him and I was helping him get Penelope auditing. I was helping him in all aspects of his life," Marty said.
Click to continue reading Tom Cruise Tried to Convert Penelope Cruz to Scientology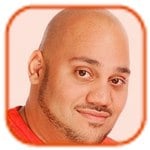 Posted by Andru Edwards Categories: Movies, Divorce, Child Stars,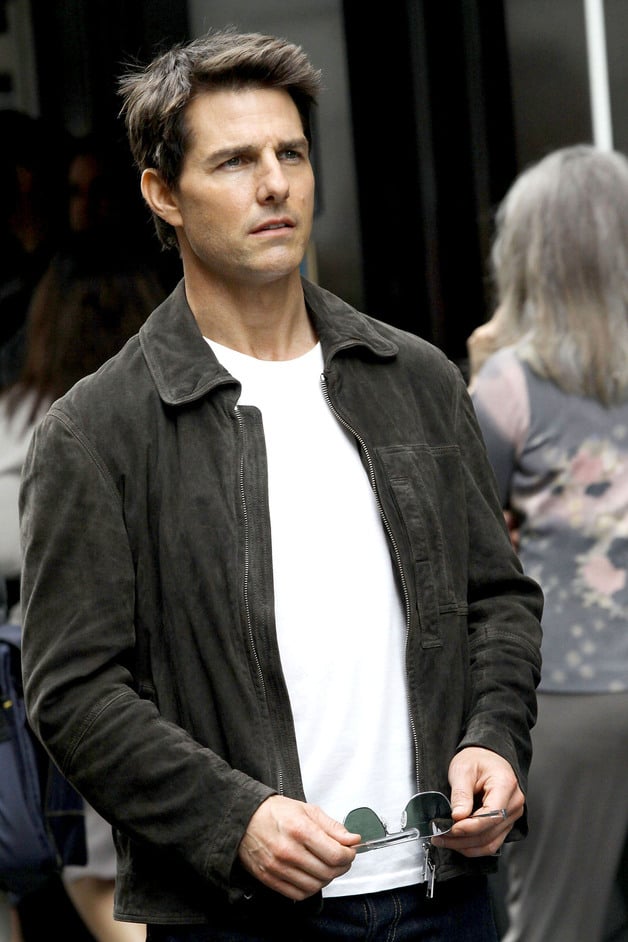 Tom Cruise is getting special treatment from Scientology leaders.
The 50-year-old actor has allegedly been granted exclusive visitation privileges to see his daughter Suri since his divorce from Katie Holmes thanks to his A-list status, despite Scientology normally banning members from contacting those who have left the church.
Nancy Many, ex-president of the religion's Celebrity Center, told RadarOnline, "They have already bent the rules for Tom. If Tom was any other Scientologist, including lesser celebrities, he would not be allowed to continue seeing and maintaining communication with Katie or Suri, because they are no longer in Scientology. So far, because of who he is, Cruise has spent time with Suri, which has already upset the parents and children of existing Scientologists who can't talk to their loved ones. If he is supposed to be a Scientologist, why don't the rules for every other member apply to him?"
The Mission Impossible actor hasn't seen Suri, 6, since their fun-filled trip to Disney World on August 5, and even missed her first day of school due to filming new action flick All You Need Is Kill in London.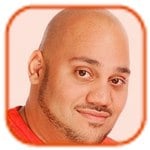 Posted by Andru Edwards Categories: Movies, Divorce,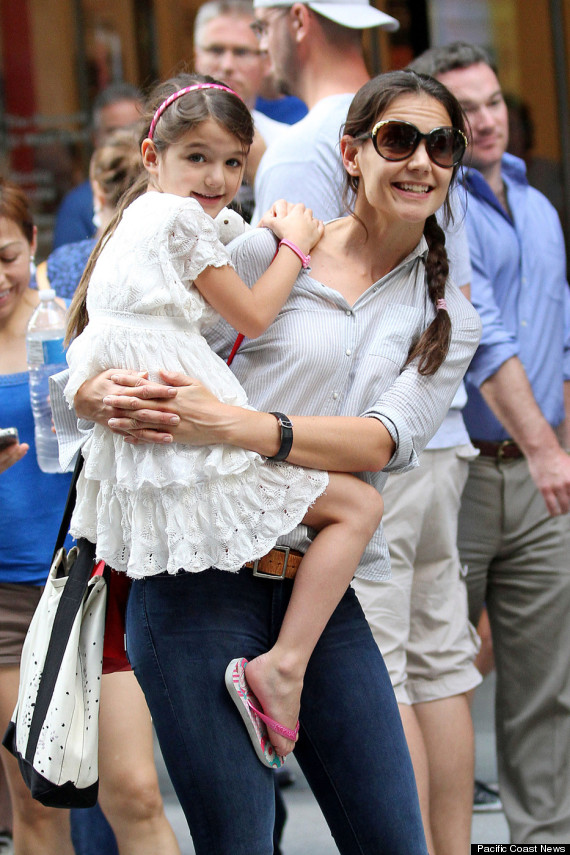 Katie Holmes is a "new woman" since splitting from Tom Cruise.
The former Dawson's Creek actress filed for divorce from her husband of five years in June, and insiders say she is happier than ever as she is no longer under his control or has to follow the rules of his religion Scientology.
"She now gets to see her family more, feels free to concentrate on her career and is no longer living in fear of Scientology. Katie is a new woman, she feels refreshed, free of Tom and doesn't have a worry in the world," a source close to Katie said.
Katie is also embracing single life as it means she can put herself first and not worry about upsetting Tom. "When before she used to fret if she was ever single, now she's happy to be alone. Katie's enjoying her independence and is working on herself right now. Tom also influenced what movies she appeared in, so she was unable to steer her career in the way she wanted to. Now, she has full control over what she wants to do and that freedom is exciting for her," the insider added.
Click to continue reading Katie Holmes Is a 'New Woman'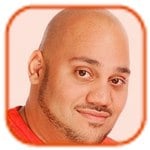 Posted by Andru Edwards Categories: Movies, Television, Divorce,
Jason Lee's ex-wife says Scientology ruined their marriage.
Carmen Llywelyn, who was married to the former My Name Is Earl star for six years says the church's meddling in every aspect of their relationship, including their sex lives, helped to end their union in 2001:
"Scientology broke my heart, almost more than Jason did. When you get married and you have that dynamic of family and children there is that entity, that other extra part, that is involved in so much of the intimate details that at this point in my life I couldn't imagine being a mature woman so mature that I had children and actually allow it, literally, into my bedroom. The church goes into your bedroom. When you're in session and you're going through the auditing process, if a question comes up or a thought comes up that has to do with your husband or an intimate sexual detail, you are required to say it. I don't want to get too gross, but [it would] have to do with sexual positions."
Click to continue reading Jason Lee's Ex-Wife: Scientology Ruined Our Marriage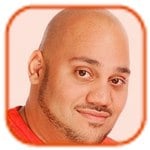 Posted by Andru Edwards Categories: Movies, Divorce, Rumors,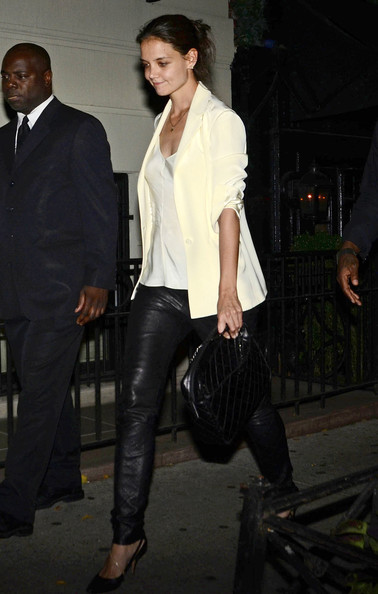 Katie Holmes signed a confidentiality agreement as part of her divorce settlement with Tom Cruise.
The former couple - who split last month after five years of marriage - agreed conditions to end their union on Monday, with the terms said to include the actress agreeing not to speak about her estranged spouse's personal life or his religion, Scientology.
"Confidentiality was the key. If Katie hadn't signed up to remain silent it could have become a very messy legal battle," a source said.
Representatives with both stars have insisted the details of their settlement will be kept under wraps, though it is believed Katie will get primary custody of their six-year-old daughter Suri, with Tom allowed visitation rights. The welfare of the little girl was key to the pair resolving their split amicably and privately following initial speculation there would be a public court battle.
Click to continue reading Katie Holmes Signed Confidentiality Agreement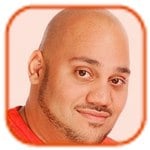 Posted by Andru Edwards Categories: Movies, Divorce, Celebrity Babies, Legal Issues, Rumors,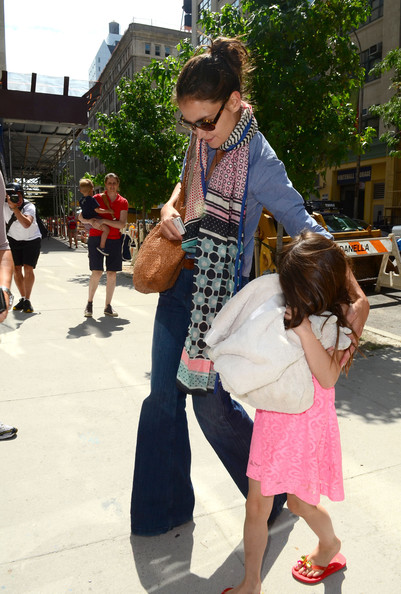 Katie Holmes will reportedly get primary custody of her and Tom Cruise's daughter Suri.
The 33-year-old actress and the 50-year-old star - who split late last month after five years of marriage - agreed a divorcement settlement earlier today, and insiders believe the brunette beauty will continue to live with their six-year-old daughter in New York City.
Katie is also thought to have insisted that Suri is accompanied by the actress' own team of bodyguards when she visits Tom to ensure she isn't indoctrinated into sci-fi cult Scientology. "Katie insisted that Suri's nanny and bodyguards always accompany her when she visits Tom. Katie did this for several reasons. This will ensure a smooth and easy transition for Suri when she is with Tom. Suri is Katie's number one priority. Tom only has Scientologists that work for him and Katie insisted that her staff will always be with their daughter. Under terms of the settlement, Suri isn't permitted to be exposed to anything Scientology related and this includes going to any Scientology churches, parties, etc. Katie made sure that this was ironclad in the agreement," a source said.
Click to continue reading Katie Holmes to Get Primary Custody of Suri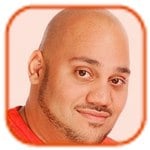 Posted by Andru Edwards Categories: Movies, Divorce, Celebrity Babies, Rumors,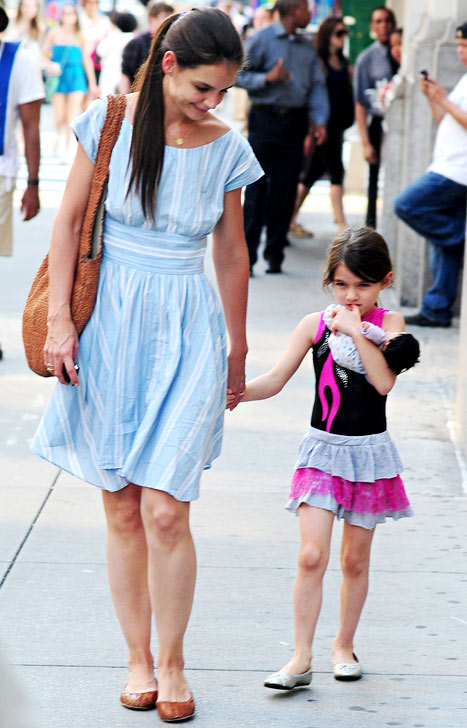 Katie Holmes filed for divorce in order to save her daughter from undergoing Scientology auditing.
The 33-year-old actress ended her marriage to Tom Cruise - who is a high-profile member of the quasi-religious cult - last week and sources close to the star have revealed she was worried their six-year-old daughter would be subjected to a process known as "sec checking," according to TMZ.com.
During these tests, the subject holds electrode handles on a device called an electropsychometer or E-Meter and is then asked a series of personal questions that help the church locate "areas of spiritual distress," but according to ex-members it is designed to help kids spy on their parents. While the person is being asked the questions, a church auditor collects E-meter readings from the device, which has been compared to a polygraph machine.
Click to continue reading Katie Holmes Wanted to Save Suri From Scientology Tests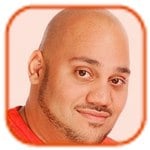 Posted by Andru Edwards Categories: Movies, Legal Issues, Rumors,
John Travolta is hiding out in the Bahamas.
The actor has recently been accused of sexual misconduct from a number of male masseurs - which he denies - and has reportedly jetted off to a vacation home in the Bahamas with his wife Kelly Preston and children Ella, 12, and 18-month-old Benjamin to ride out the scandal, according to E! News. The house is not the same property where John and Kelly's 16-year-old son Jett tragically died in January 2009.
Earlier this week the family spent time in Florida at their home in the gated Jumbolair aviation community and a nearby Scientology building, where onlookers said they appeared "normal."
"He was at Jumbolair, the whole family, acting like everything was normal," the witness explained.
The sightings of family unity come after it was claimed Kelly told friends she has "had enough" following the allegations and the publication of pictures the star dressed as a woman at a private event in 1997, and had decided to leave her husband.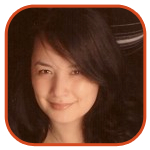 Posted by Veronica Santiago Categories: Television, Legal Issues,
Tonight, Bart Simpson is the subject of controversy…and it was for something he actually didn't do.
Nancy Cartwright, the woman behind the iconic cartoon character, recently used her talents for something not exactly sanctioned by FOX. In the clip above, the long-time Scientologist lent her voice - and Bart's - in an automated call used to promote a Scientology event.
"This is not authorized by us," Simpsons executive producer Al Jean told the Hollywood Reporter. "The Simpsons does not, and never has, endorsed any religion, philosophy or system of beliefs any more profound than Butterfinger bars."
It's not known what actions, if any, the network may take against Cartwright or the organization at this time.
Read More

| The Hollywood Reporter

© Gear Live Media, LLC. 2007 – User-posted content, unless source is quoted, is licensed under a Creative Commons Public Domain License. Gear Live graphics, logos, designs, page headers, button icons, videos, articles, blogs, forums, scripts and other service names are the trademarks of Gear Live Inc.