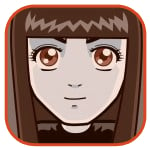 Tweet
Posted by Sheila Franklin Categories: Music,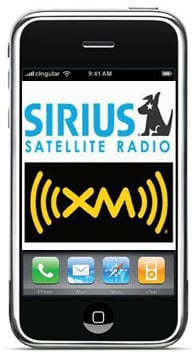 Sirius XM, in a valiant effort to stay afloat, is launching an app for iPhone and iPod touch users to access the satellite radio service. Expected out in Q2, no extra equipment is needed to access the content for new subscribers. Although no specific price was mentioned, the company said it would be available to their 19 million regular subscribers as well as the 7 million U.S. iPhone users. This is good news for the beleaguered company since it has lost sales from automobiles and those who just cannot afford the luxury of the music service.
Read More

| Reuters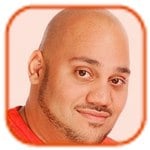 Tweet
Posted by Andru Edwards Categories: Entertainment, App Store News, Free Apps,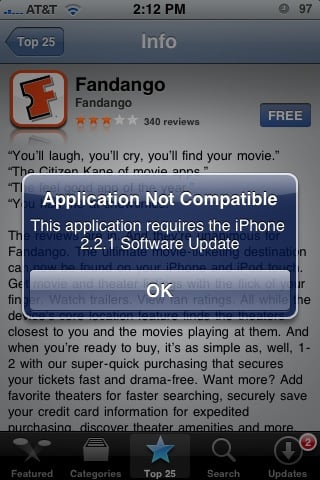 We know, there was a lot of excitement surrounding the iPhone 3.0 beta release yesterday, and tons of people rushed to upgrade. However, now we are seeing some of the negatives that are starting to creep up. Sure, the keyboard can be a bit sluggish in some apps, and MMS isn't working at the moment, whatev on those. What really sucks, though, is the fact that there are some apps that will just flat out refuse to
run
install. Case in point, the new Fandango app. If you try to install it on your 3.0-enabled iPhone, you'll get a message telling you that the application isn't compatible, and that it requires the iPhone 2.2.1 software update. We aren't feeling that, because we wanna get our Fandango on!
Let us know if you find any other apps that choke on iPhone 3.0.
Update: Looks like the problem here is with installing from the App Store directly on the iPhone. We just tried downloading and installing Fandango using iTunes, and it works swimmingly. Keep that in mind.
[Thanks, Tyler!]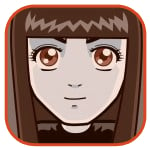 Tweet
Posted by Sheila Franklin Categories: Music, Videos,
The Mentalists, a girl group from the UK, created this video "Kids" by MGMT using only their iPhones and instrument simulation apps. The band's singer, Kim-Leigh Pontin, plays an ocarina by Smule, Alice Offley plays a miniSynth from Yonac, Kelly Appleton uses Iconic Apps' Retro Synth and Lyndsay Evans played the DigiDrummer Lite application from Magnus Larsson and Nick Rudolfsky. Kim-Leigh mentions that they weren't paid by anyone to do this, but thought of it herself and calls herself a wannabe geek.
Read More

| cnet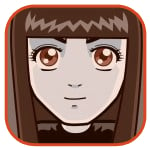 Tweet
Posted by Sheila Franklin Categories: Games, $4.99, $6.99,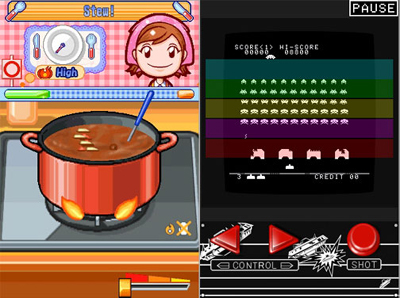 Square Enix's Taito has released two apps for the iPhone 3G/iPod touch. Space Invaders has all the fun of the original version, bonus content, and can be controlled with the motion sensor or other touch methods. Cooking Mama features both old and new recipies. You can find each at the App Store, with prices $6.99 for the cooking game and $4.99 for the ETs. The company says that there will be other apps available down the road.
Read More

| Kotaku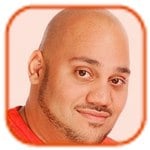 Tweet
Posted by Andru Edwards Categories: Books, New Apps, Free Apps,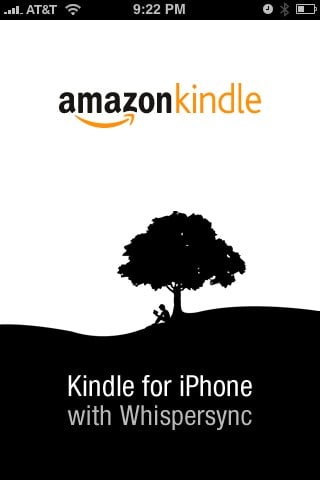 We knew that Amazon was planning on bringing their Kindle e-books to other devices, but we didn't think it would happen this soon. This evening, Kindle for iPhone was released on the App Store, available for free. In a nutshell, you are able to associate your iPhone or iPod touch with your Amazon account, and can then buy Kindle book content and have it sent to your phone for reading. Kindle for iPhone is also compatible with the Whispersync service, which allows you to continue reading any Kindle content from where you left off, no matter which device you are reading on. That means you can start reading on your iPhone, stop, then power on your Kindle and continue from the same page you left off on. Very nice.
If you are a Kindle or Kindle 2 owner, and you've purchased books for those devices, when you download Kindle for iPhone you'll have an Archived Items category that will list all your purchased books, which you can access immediately. In using the app, we found that it works extremely well—not as well as a Kindle, mind you, but as an extra way to read the e-books (or as a way to save yourself the $359 Kindle price tag,) the app shines. Go ahead and hit the App Store to grab Kindle for iPhone.
Read More

| Kindle for iPhone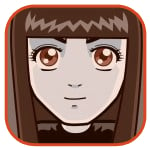 Tweet
Posted by Sheila Franklin Categories: Entertainment, Free Apps,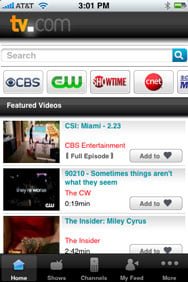 CBS Interactive has launched their TV.com application. With it you get free access to clips from CSI, the L word, Star Trek and more. Shake your iPhone or touch and get a random clip. There is also free streaming from CBS News, Sports and Radio, Showtime and cnet. Although most of the content are clips, promos and interviews, there will undoubtedly be more full episodes if the app is well received.
You can download the TV.com app now.
Read More

| TV.com app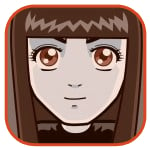 Tweet
Posted by Sheila Franklin Categories: Games, Videos, $1.99,
Become a samurai and slice through your opponents, even if you do not own a Wii. The Katana application lets you pull out the sword, then swing your iPhone/touch at the evil-doers until they are defeated. Sound effects though your headphones or speaker include weapon noises and your enemies' defeat when you put your sword back in its scabbard. Katana is on sale 30% through February 28. You can get a copy at the App Store for $1.99.
Read More

| Appliya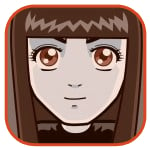 Tweet
Posted by Sheila Franklin Categories: Games, $1.99,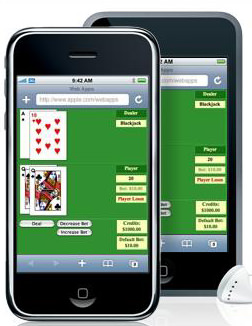 If you dig card games, you will love the app Blackjack 21, previously known as iBlackjack. Play against the house with official Vegas rules like double down and split. There is strategy assistance for hard or soft totals or splitting pairs. This version includes a running card counter, which will surely get you kicked out of the real Vegas if you happen to take your iPhone or touch with you when you visit the city. Blackjack has full support for OS 2.2 and a price of $1.99.
Read More

| App Store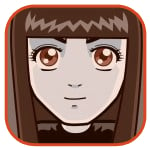 Tweet
Posted by Sheila Franklin Categories: Games, Videos, $2.99,
When Ethan Nicolas' iShoot hit #1 on the App Store list, he quit his day job to further develop applications. That meant he was making about $21,000 a day from 10,000+ downloads after Apple's cut. Although it has dropped to #6, the $2.99 artillery game seems to still be making the bucks. There can be up to 4 players at a time, either human or computer, to see who can be the last tank standing. There are 25 weapons, including a mega mortar, dirt ball, stinger missiles and planet buster, realistic sound effects and authentic landscapes for destroying the planet, piece by piece.
Read More

| iPhone Savior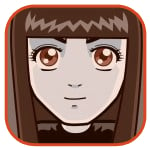 Tweet
Posted by Sheila Franklin Categories: Music, $4.99,
iShred can turn your iPhone or iPod touch into a rock funfest. Frontier Design's app can turn even the most musically-challenged newbie into an artiste. Included is an interface with effects such as Fuzz, Delay, Treble Boost, Vibrato and Tremelo, and has a recorder and starter songs. Altogether there are over 2,000 chords, fret positions and scales. iShred can be used with Frontier's Guitar, an acoustic app, and can be found $4.99 at the App Store.
Read More

| Frontier Design

© Gear Live Media, LLC. 2007 – User-posted content, unless source is quoted, is licensed under a Creative Commons Public Domain License. Gear Live graphics, logos, designs, page headers, button icons, videos, articles, blogs, forums, scripts and other service names are the trademarks of Gear Live Inc.