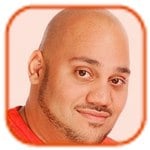 Posted by Andru Edwards Categories: Social Networking, New Apps, Videos, $2.99,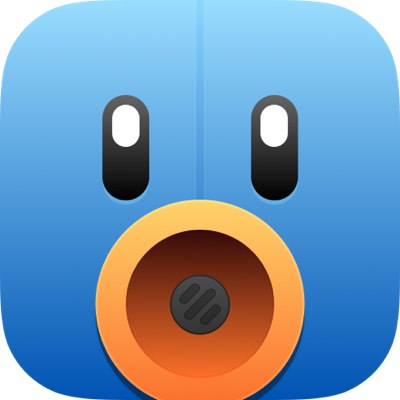 Tweetbot is the Twitter client of choice here at Gear Live HQ, and we've been delighted by the newest version, Tweetbot 3.0. Released yesterday on the App Store, Tweetbot 3.0 is an all-new app, completely rewritten and redesigned from the ground up by the team at Tapbots. If you're a user of the older version, the new Tweetbot may seem a bit unfamiliar at first, but that's just because the team stripped away old design ideas, and decided to take on iOS 7 design language, and it turned out fantastic. New functionality makes the app faster, and it's normally ready with your fully updated timeline whenever you launch it, thanks to the integration of the iOS 7 Background Fetch API. Sounds in Tweetbot are as whimsical as ever, and the whole app just feels brighter and more open. If you're already a Tweetbot user, it should be noted that Tweetbot 3.0 is a new, separate purchase. Check out a video demo after the break.
You can download Tweetbot 3.0 for iPhone now for $2.99.
Click to continue reading Tweetbot 3.0 for iPhone brings updated design to an already great app
Read More

| Tweetbot 3.0 for iPhone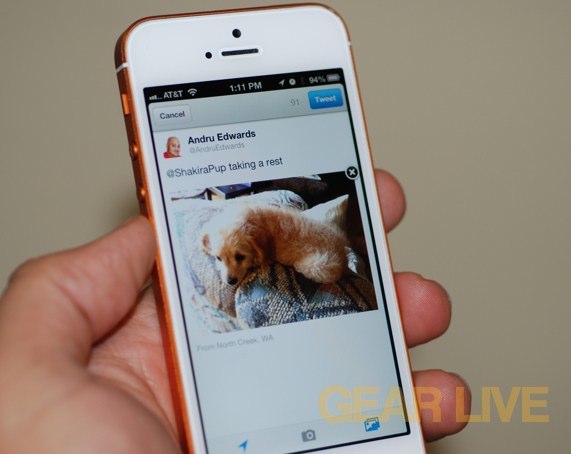 Twitter for iPhone 5.7 has been released, bringing with it improved photo sharing and a preview of what your media- and metadata-filled tweets will look like prior to you posting them, so you can get them juuust right. The Twitter timeline also gets a makeover, now being wider and easier to read throughout the app. You'll also now receive a notification whenever a friend of yours joins Twitter (we aren't sure how that one works,) alongside all the typical bug fixes and code optimizations. You can download Twitter for iPhone now.
Read More

| Twitter for iPhone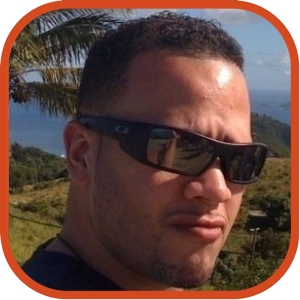 Posted by Jason Diaz Categories: Social Networking, App Updates, $2.99,
The fine folks at Tapbots have updated their popular iOS twitter client, Tweetbot, to version 2.8 for iOS. The update adds a new tab specifically for media timeline consumption, showing just the images and videos from those you follow. Additionally, you can now swipe right to left on any given tweet to reveal retweets and the number of users who favorited. Viewing photos has been made frictionless by eliminating the transition to another screen, much like the image viewer behavior of Tweetbot for OS X. Direct Tweetbot download links here: iPad and iPhone / iPod Touch.
What's New in Version 2.8
New media timeline. Scroll to the top of a timeline and switch to the new media view (next to the search box). This view displays only supported image and video tweets.
Completely redesigned image viewer
Tweet/status detail view now displays the number of Favs and Retweets
Fixed Instagram Previews
Various other bug fixes
Read More

| Tweetbot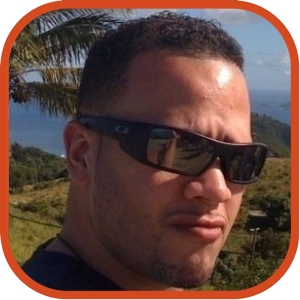 Posted by Jason Diaz Categories: Social Networking, App Updates, iPad Apps, Free Apps,
Instagram started it; Facebook has it now and, of course, social micro-blogging service Twitter won't be left behind. Twitter has followed suit with it's own editing and filtering functionality update in version 5.2. Here is a list of changes and new features:
Create beautiful photos right within Twitter, with filters powered by Aviary.
Apply one of eight different filters to instantly add a new look and feel to your photos
Choose a filter by comparing all your options in a convenient grid view or by swiping through each version
Make your photos pop with balanced light and colors by tapping the auto-enhance wand
Crop and scale to frame the action the way you want
We've also added many other improvements and fixes to this update.
Read More

| Twitter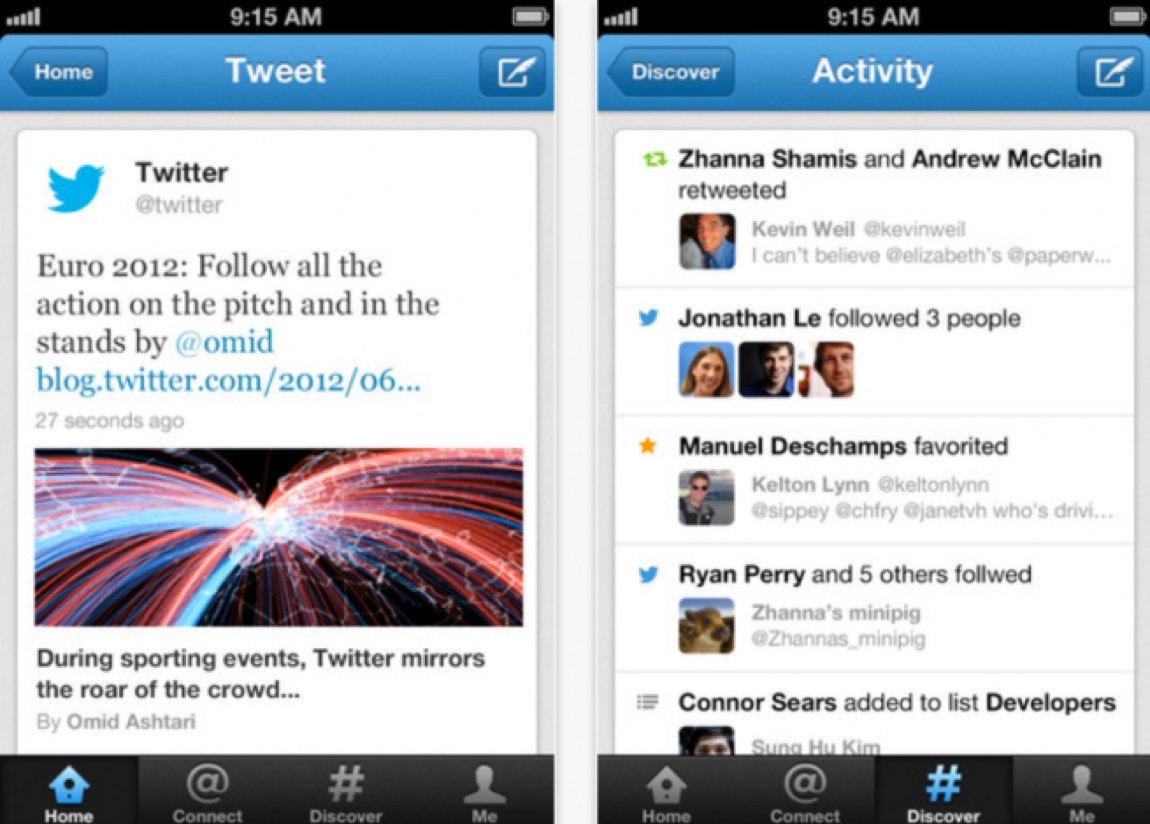 Today Twitter for iPhone 4.3 was released on the App Store, a major update to the official Twitter client that brings with it the ability to view enhanced and expended tweets right in the app. Here's a rundown of the features:
Expanded Tweets -- when you view Tweet details containing links to partner websites, you can now see content previews, view images, play videos, and more (rolling out gradually)
Enhanced experience around selected events with the bets Tweets and photos from those involved
Push notifications for Tweets -- choose to receive notifications from people you follow any time they tweet or retweet
Ambient notifications -- enables you to see brief non-interruptive notifications in the status bar while you're using the app
Improvements to search autocomplete for users
Discover -- now indicates when new stories are available for you to view
Tappable avatars take you directly to user profiles
Performance improvements
Support for password entry in app when experiencing authentication issues
Support for the Hungarian language
Icon (image at right) features the new Twitter bird!
You can download the new Twitter for iPhone and iPad now, completely free.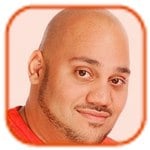 Posted by Andru Edwards Categories: Social Networking, New Apps, Reviews, Videos, Free Apps,
We've spent the last half-day or so completely enamored with the latest release from the fine peeps over at Tapbot, Tweetbot. Typically, a new Twitter client isn't anything we would get excited about, as there are probably hundreds out there, and the free Twitter for iPhone does the job well enough anyway. However, we've been impressed with every other app that Tapbot has put out. We're talking about things like Calcbot, Weightbot, Pastebot, and the awesome Convertbot. So when they released Tweetbot after working on it for over a year, we had to check it out.
It's difficult to describe everything that Tweetbot does, but if I had to sum it up with one statement, I'd say "It just makes sense." Oh, and also, it's a joy to use. While the official Twitter app has been suffering from feature bloat (going so far as to try and force a trend bar on us,) Tweetbot is a refreshing throwback to what made Tweetie great in the first place. They've even managed to make lists actually useable and convenient, rather than a clunky add-on, by giving each its own timeline.
We highly recommend Tweetbot -- get a look at the video above that walks through its interface. Pretty slick, right? You can get it now for $1.99 in the App Store.
Read More

| Tweetbot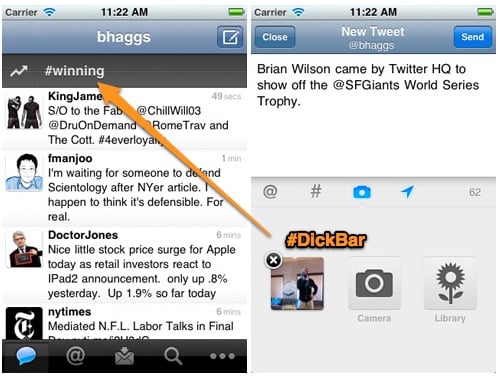 After a rather rough start, Twitter on Thursday said it will remove the Quick Bar from its iOS app, which provided users with updates on trending topics.
Though the Quick Bar - referred to by some as the "Dick Bar" after CEO Dick Costolo - had "incredibly high usage metrics," Twitter has opted to remove it from the app rather than continually update it.
"Rather than continue to make changes to the QuickBar as it exists, we removed the bar from the update appearing in the App Store today," Twitter creative director Doug Bowman wrote in a blog post. "We believe there are still significant benefits to increasing awareness of what's happening outside the home timeline."
The Quick Bar was added to the app earlier earlier this month as part of an upgrade that also made it easier to access features like photos, trends, and links. It sat above a user's Twitter feed and displayed one of the days' current trending topics. Tapping the word would take you to a list of recent mentions.
Click to continue reading Twitter concedes, finally removes Quick Bar from iOS app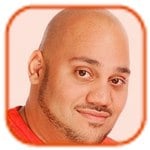 Posted by Andru Edwards Categories: News, App Updates, Free Apps,
Flipboard, one of the best iPad apps for reading through your Facebook and Twitter feeds in a magazine format, just received a major update that brings a bunch more features to the table. You can now view your Google Reader subscriptions, Flickr feeds and groups, and the app also boasts more features for Facebook and Twitter as well. You can use the app not only to check out all the content that's out there, but now it's easier to add your own updates, photos, and articles back into your social networks as well. Hit the video for a look. Flipboard is completely free.
Read More

| Flipboard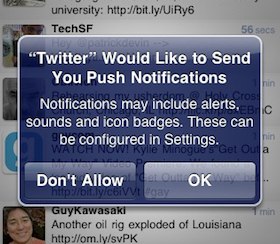 If you've been waiting for push notifications to become a part of Twitter for iPhone, it looks like that day is finally coming. Twitter is currently testing push notifications in anticipation of rolling it out to the masses in their next update, which should be available when iOS 4.1 gets released next week.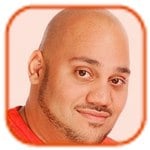 Posted by Andru Edwards Categories: Social Networking, App Updates, New Apps, Free Apps,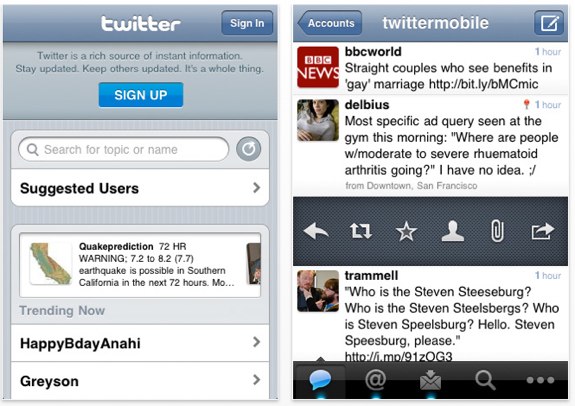 Tweetie has been pretty much universally recognized as the best iPhone Twitter client since it launched, and Tweetie 2.0 took it to the next level. In fact, it was so good, that Twitter decided to buy the app outright, rather than building their own iPhone app. News soon came that Tweetie would become "Twitter for iPhone" and would be made free (Tweetie sold for $2.99) to anyone who wanted it. Well, today is that day, as Tweetie 3.0 has been released with new features (we've got a list of them after the break) and is now simply known as Twitter. It's full-featured, it's the official Twitter app for the iPhone, and therefore it will have access to more Twitter resources than any other Twitter app out there. We recommend it highly, and you can download it now.
© Gear Live Media, LLC. 2007 – User-posted content, unless source is quoted, is licensed under a Creative Commons Public Domain License. Gear Live graphics, logos, designs, page headers, button icons, videos, articles, blogs, forums, scripts and other service names are the trademarks of Gear Live Inc.