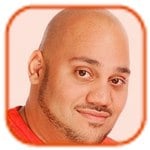 Posted by Andru Edwards Categories: Photography, Social Networking, New Apps, Videos, $2.99,
If you've been looking for an iPhone app that can replace the default camera app for taking photos, Best Camera just may be what you've been looking for. Developed by Seattle photographer Chase Jarvis, Best Camera provides a full-featured camera control app, fantastic photo editing (think of it as an iPhone version of Photoshop,) and a great online community that lives both online and in the app, where you can see great photos that have been taken by other Best Camera users.
The app lets you fade, crop, lighten, darken, and add a ton of effects to photos you take. You can then share those photos to social sites like Facebook, Twitter, Flickr, and the Best Camera community.
As part of the launch, and to build up the Best Camera community, there will be a photo contest where the winner receives an iPhone 3GS. Hit the video above to get a look at the idea behind the app, and how it works. It costs just $2.99, and you can download Best Camera now on the App Store.
Read More

| Best Camera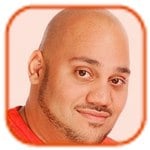 Posted by Andru Edwards Categories: Social Networking, New Apps, Reviews, Free Apps,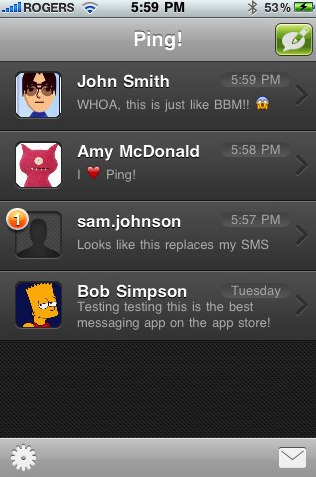 We were just alerted to a new iPhone and iPod touch app called Ping!, which aims to provide free iPhone-to-iPhone (and iPod touch) messaging to users of those devices. We tried it, and thought it was worthy enough to give a shout out to.
Basically, once you download the free Ping! application, you set up a username, and you are set. You can invite others from within the app over email, letting them know your username, and also set up whether you want push notifications or not. Once you start a conversation, it's very similar to SMS…except it's free, and instant. You get the speed of an IM conversation with the persistence of SMS, all at no extra cost. Even better, it works internationally. So you can send and receive messages with people in other countries, and again, at no extra cost.
Go ahead and give Ping! a try, we think you'll like it.
Read More

| Ping! in App Store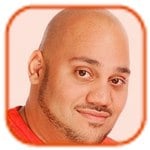 Posted by Andru Edwards Categories: Music, App Store News, New Apps,
Hey, streaming subscription music fans, it looks like Spotify has finally been approved by Apple, and it will be appearing in the App Store shortly. You may not realize how big a deal this is at first glance, but trust me, this is huge. Spotify is a service that gives you all-you-can-eat access to music for a set fee each month. The app appearing on the iPhone and iPod touch means that you can use another store besides iTunes to listen to, and download, music. Yes, Spotify even lets you listen to downloaded tracks if you are offline. This is a game-changer, and we look forward to getting our hands on Spotify once it is released!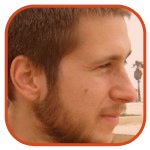 Posted by Brandon Gribin Categories: Productivity, New Apps, $0.99, $1.99,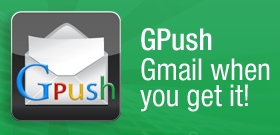 While you can't have true Push Gmail on the iPhone [Editors Note: You can, if you set up Gmail as an Exchange account, but you don't get Push Notifications this way], an app arriving very soon on the App Store will come close to replicating the true experience.
Currently, the iPhone's Mail App pings Gmail periodically, or when you hit refresh, to see if you have any new messages. Push e-mail would be virtually instantaneous - as push notification on the phone is.
GPush is an app that will shoot off push notifications whenever you get new e-mail. You'll then be able to go into your phone's Mail App and see your new e-mail as the Inbox refreshes.
Click to continue reading Push Gmail coming soon with GPush iPhone app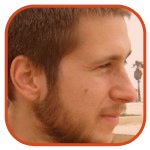 Posted by Brandon Gribin Categories: Games, New Apps, Reviews, $1.99,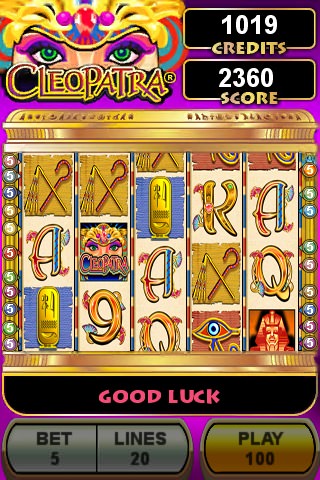 As I see it, there are three types of slots players:
People who sit for hours on end at a single machine
People who pull on a machine once, hoping for a lucky spin, as they stroll by
People who refuse to touch a machine (they just don't know they're slot players yet)
Cleopatra is the perfect iPhone and iPod touch game for the first type of slots player. And possibly a fun diversion for the other two types of players.
IGT, International Game Technology - a slot machine manufacturer, recently released Cleopatra on the iPhone and iPod touch. The app is a portable version of the video slot game that's in casinos all over the world. The iPhone and iPod touch version is a solid rendition and should be up your alley if you're looking for a slots game.
Click to continue reading Cleopatra for iPhone and iPod touch Review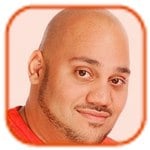 Posted by Andru Edwards Categories: Photography, Social Networking, New Apps, Reviews, $0.99,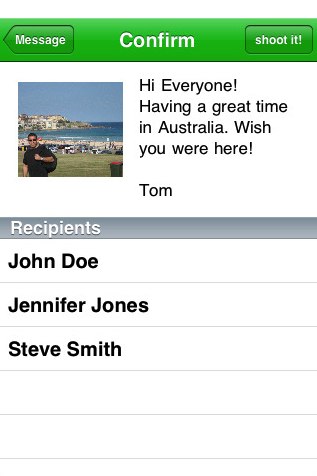 We've been beta testing the Shoot It! app for the past couple of months, and we are excited to let you guys know that it is now available for purchase in the App Store for $0.99. Why the excitement? Well, Shoot It! is one of the apps we use very regularly, and it's one of our favorite apps that we've ever used on the iPhone. So, What is Shoot It?
Shoot It! allows you to send high quality postcards to anyone in your iPhone or iPod touch Address Book, using images in your Camera Roll, or an image that you take from within the app using the iPhone camera. You can send a postcard to as many people as you like, and you also fill in a message that would be printed on the back of the photo. The end result is, as we said, a high quality 4x6 glossy postcard that has the image of your choice on the front, and your message on the back. Since you can send the message to any number of contacts, you end up with the ability to send one message to, say, twenty people, in just a minute or two.
Click to continue reading Shoot It! photo app now available in App Store
Read More

| Shoot It!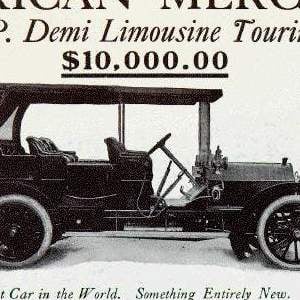 Posted by Drea Avellan Categories: Social Networking, Utilities, New Apps, Video Apps, Free Apps,
Today, the fine folks at 12 seconds have announced the release of a new app for iPhone 3GS users—12cast. 12cast is their first native video app for the iPhone, allowing users to log into Twitter, record, title their posts and share them with friends. The goal with this app was to create an easy and seamless video sharing tool for Twitter. In hopes to get the word out, 12cast has created a contest so easy to enter, well, a caveman could do it. Simply send out a Twitter or 12seconds post with the hashtag #12cast, and you will be instantly entered to win iPhone data service for a year. For every 12seconds post you make with the hashtag #12cast, you will be entered 3 times. The contest ends Friday, August 7th—so get out there and start posting! 12cast is now available free at the iTunes app store.
Read More

| 12cast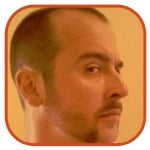 Posted by Finnian Durkan Categories: Utilities, New Apps, $0.99, Free Apps,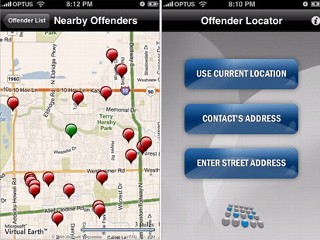 Love to use your iPhone to listen to music, pick a restaurant or even find out which golf club you should use at Augusta National's 18th Hole? Of course you do, and so do I…Well, if by 'Augusta National' you mean 'Greenlake Pitch and Putt' then you and I are kindred spirits; making leisure activities that much easier is what the iPhone was made for. But keeping our kids and loved ones safe? C'mon, the iPhone can't possibly do that, can it? Well now, thanks to ThinAir Wireless, it can. Enter the Offender Locator iPhone App.
Click to continue reading Offender Locator iPhone App Top Seller Locates Registered Sex Offenders
Read More

| Offender Locator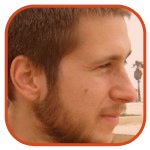 Posted by Brandon Gribin Categories: Games, New Apps, $7.99,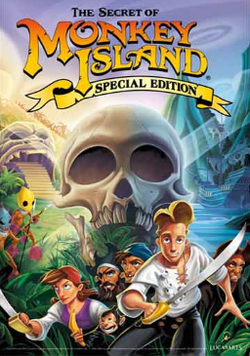 The Secret of Monkey Island is now on the App Store! The classic point-and-click adventure game was originally released in 1990 on the Atari ST, Macintosh and PC systems. The Special Edition version released on the iPhone/iPod touch is also available on PC and Xbox 360.
The Special Edition features updated graphics, music, and voice recordings. You can switch between the new and old versions simply by swiping your fingers across the screen.
The game seems to be an excellent update although there have been mixed reactions to the controls. You move the cursor around by sliding your finger on the screen and using it like a track-pad. The game does not allow you to simply tap on a part of the screen to interact with it but hopefully LucasArts will adjust that in a future update.
All in all, Monkey Island coming to the iPhone is only a sign of more good things to come. From LucasArts, hopefully other classics will be revitalized soon - like Sam and Max and Day of the Tentacle.
This big App Store release clearly shows how much of a player the iPhone is becoming in the gaming world - even if not all hardcore gamers want to admit it.
Read More

| Monkey Island: Special Edition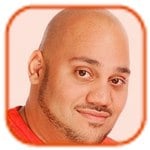 Posted by Andru Edwards Categories: Travel, New Apps, $1.99,
We've got a couple of NYC MTA-related subway apps we want to share with you today, the first being Exit Strategy NYC. A simple app, Exit Strategy NYC basically shows you which car you should ride in depending on where you plan on getting off the train. You tell it what line you are riding, and which direction you are going, along with telling it your final destination. It will then show you which train cars are closes to the exits and staircases for transferring.
We do know that a majority of the lines and stops in all of New York City are covered, but there are a few that aren't complete. Still, those will come in a future update, and this app can really end up saving you a ton of time. Even better, it's only $1.99, which means it costs less than a ride on the subway. This one is highly recommended, and you can purchase Exit Strategy NYC now in the App Store.
Read More

| Exit Strategy NYC
© Gear Live Media, LLC. 2007 – User-posted content, unless source is quoted, is licensed under a Creative Commons Public Domain License. Gear Live graphics, logos, designs, page headers, button icons, videos, articles, blogs, forums, scripts and other service names are the trademarks of Gear Live Inc.