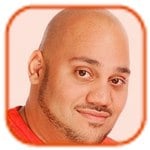 Posted by Andru Edwards Categories: Productivity, App Updates, iPad Apps, Apple, $9.99,

To go along with the new iPad, Apple has been hard at work updating nearly all of its apps to support the new Retina display of the tablet, and that includes all three iWork apps. Pages, Keynote, and Numbers are all now available in version 1.6 in the super high 2048x1536 resolution. Pages also brings new 3D bar and charts, Keynote has new animations available, and Numbers is largely the same aside from the new Retina support. You can download all the app updates now, or buy them for $9.99 each.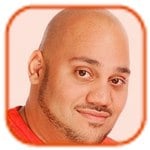 Posted by Andru Edwards Categories: Photography, iPad Apps, New Apps, Apple, $4.99,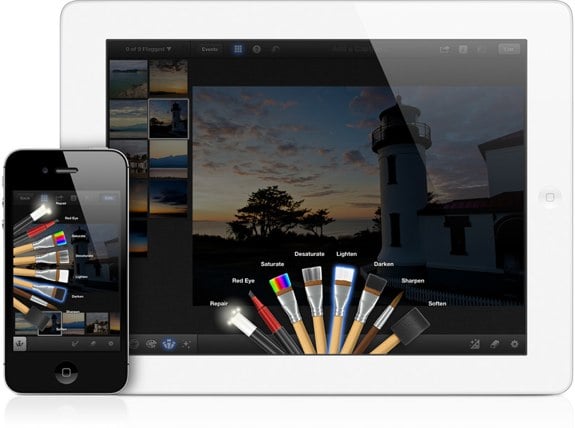 At yesterday's iPad event, Apple unveiled the final piece of the puzzle as it pertains to bringing the full iLife suite to iOS with the release of iPhoto for iPad and iPhone. Similar to GarageBand and iMovie, iPhoto is available now as a universal app for $5. So, what's the draw? Well, iPhoto lets you use your iOS device's multi-touch display to perform basic photo editing function like simple one-tap white balance, red-eye removal, and exposure adjustments. You can also crop and straighten images, and remove blemishes with ease.
You can pull up your photos that are stored on your device, including the camera roll and Photo Stream, and compare images side-by-side. Edits are non-destructive as they save a copy rather than editing the original. You can process images that are up to 19 megapixels, which should be fine for the vast majority of people out there, but for those of you shooting with a Canon 5D Mark II in RAW format, you may wanna look elsewhere for your photo processing software--but in that scenario, why would you be using an iPad for that function anyway?
You've got a bunch of sharing options, including Twitter, Facebook, and Flickr. You can also export photos to your Camera Roll and to iTunes and email them to contacts. One new feature is Journal, where you can select a group of photos that iPhoto then puts together in a unique gallery with dates, weather information, maps, and more. It's like making a diary out of photos relating to an event or range of dates.
For $5, you can't go wrong with iPhoto for iOS. You can get it now on the App Store.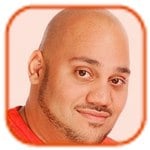 Posted by Andru Edwards Categories: Productivity, iPad Apps, New Apps, Free Apps,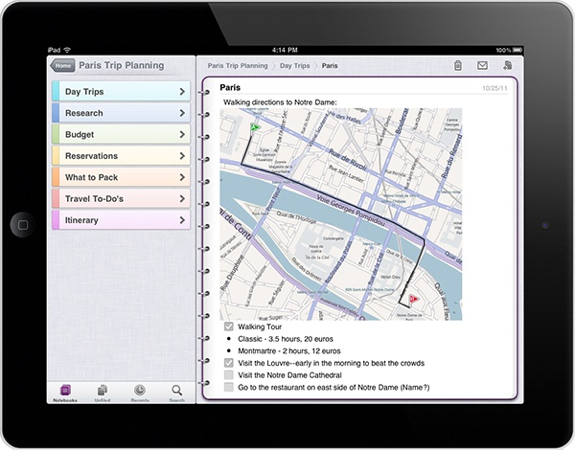 Microsoft on Monday released a version of its OneNote for the iPad.
"Since the launch of OneNote for iPhone nearly a year ago, a recurring request from our customers has been for a version that can be used more easily on the iPad's larger screen," Microsoft said in a blog post. "We're happy to announce that today's new release of OneNote for iOS devices includes a version that's tailored for the iPad."
OneNote is Microsoft's note-taking and sharing software. Like other popular note-taking apps, such as Evernote, Awesome Note, and Google Notebook, OneNote Mobile gives users the ability to jot down, amend, and organize their notes on the go.
OneNote notebooks are stored via Microsoft SkyDrive. "Your own cloud-based SkyDrive account lets you easily sync all of your notebooks across all of your devices, so they're always up-to-date and accessible from virtually anywhere—on your iPhone, your iPad, your Web browser, or your computer," Microsoft said today.
Click to continue reading Microsoft OneNote arrives on the iPad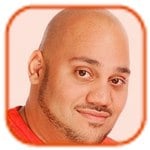 Posted by Andru Edwards Categories: Books, iPad Apps, $3.99,
Monster Costume, an iOS developer focused on recreating the way children interact with books, has released Bartleby's Book of Buttons Volume 2, and it's got some nice AirPlay surprises packed in. When using an AirPlay mirroring-capable device like the iPad 2, iPhone 4, or iPhone 4S, you can send the story to your Apple TV in high definition, while the device then become a controller for progressing the story. We've been fans of Bartleby since Volume 1, and you can pick up Bartleby Vol. 2 now on the App Store. Full release after the break.
Click to continue reading Bartleby's Book of Buttons Vol. 2 now available with awesome AirPlay integration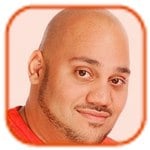 Posted by Andru Edwards Categories: Social Networking, iPad Apps, Free Apps,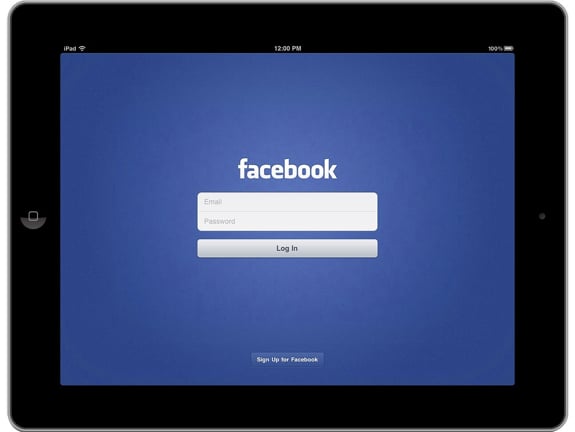 It seemed like a no-brainer for Facebook to drop an iPad app back when the original iPad launched in early 2010, but it's taken the company a year-and-a-half to finally get things in order. The wait is now over, and today you can download the official Facebook iPad app. Within the app you can browse photos at full screen, watch videos (with AirPlay integration!), and access things like the news feed, messages, Groups, chat, and more.
If you aren't seeing it in the App Store yet, it should be live shortly.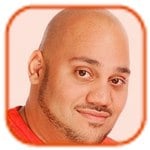 Posted by Andru Edwards Categories: Books, iPad Apps, Sales, Free Apps,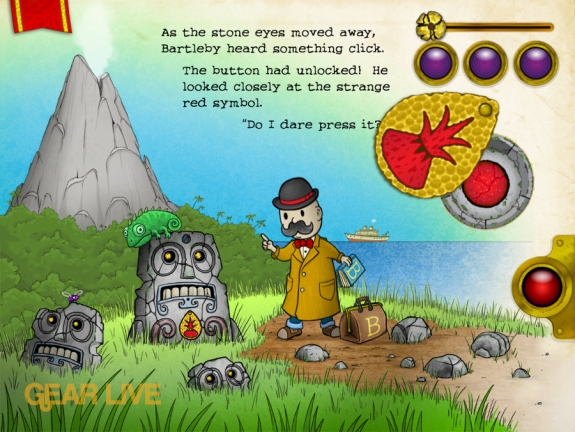 One of our favorite iPad apps for children, Bartleby's Book of Buttons: Volume I, is now being served up for free thanks fo the folks at Monster Costume. They're prepping Volume 2 of the storybook, and have decided to make Volume I (which typically sells for $4.99) free through WWDC 2011. If you've got an iPad, you should have Bartleby on it. Why? See our Bartleby's Book of Buttons review.
Read More

| Bartleby's Book of Buttons Vol. 1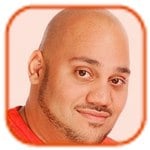 Posted by Andru Edwards Categories: Reference, iPad Apps, New Apps, Free Apps,
Microsoft knows the importance of the mobile audience, even when it means taking advantage of a competitor's mobile platform—in this case, Apple's. Since late 2009, iPhone users have been able to download a Bing app that offers voice search, local shopping, scrolling image search, maps and directions. Now iPad owners get a Bing app that adds a new trends feature, which lets them explore the trending search topics of the week.
The new app, which is available in the iTunes App Store starting today, sports a homepage featuring the trademark (and often stunning) Bing photo of the day, along with tiles showing local weather, news, maps, movies, and trends. The interface makes a lot of use of the swipe touch gesture, especially in image search. A dropdown menu offers all these choices plus Images, Videos, Shopping and History—that is, your search history, not the school topic.
Trends shows tiled images for the week's major current events. It can almost be thought of as a lightweight replacement for an app like The Daily or Flipboard. Touching one of its images opens a search page showing news and images about the topic, like MLB Opening Day. Some topics get a slicker treatment rather than just a Bing search results page: touching through an entry about "30 Rock's" Tina Fey labled "Ms. Bossypants" displayed a grid of stories that somewhat resembled the New York Times' Web site layout. After reading a result page, you can swipe left-to-right to get back to the trends page.
Click to continue reading Bing launches magazine-like iPad app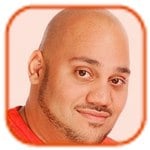 Posted by Andru Edwards Categories: Entertainment, iPad Apps, New Apps, Free Apps,
TiVo on Tuesday unveiled an iPad app that will allow TiVo Premiere owners to use their Apple tablet as a remote and TV guide.
The TiVo Premiere App for the iPad provides access to all the content available on the set-top box - from TV listings and your DVR queue to show information and social-networking link-ups.
The app will provide access to live TV and DVR recordings; to watch, just swipe and the show will start playing on the TV. When you're away, use the app to set up a TiVo recording.
The bottom menu includes several options, including Info, Guide, My Shows, Browse, and Manage. For more info about a show or celebrity, the TiVo app lets you explore biographical information without interuppting the show on the TV. To discuss what you're watching, the app provides a link to Twitter and Facebook.
There is also an advanced remote icon, which brings up a traditional remote interface. Slide your finger along the bottom of the screen to fast forward or rewind TV content.
To access, download the free app from the App Store and enter the key from your TiVo box. Users must have a TiVo Premiere or TiVo Premiere XL box and an active, paid TiVo subscription.
Read More

| TiVo App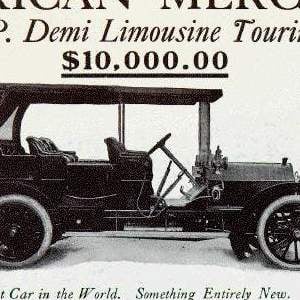 Posted by Drea Avellan Categories: Games, App Updates, iPad Apps, Sales, Free Apps,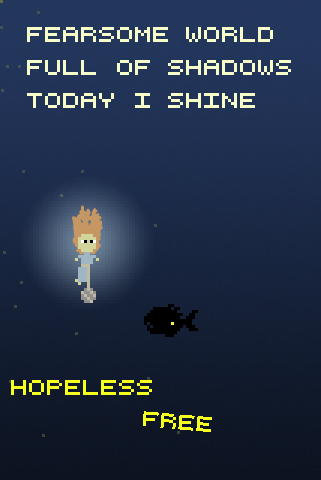 In conjunction with Free App A Day (FAAD), Atakamalabs has released the popular IndieCade Jury Award winning title rewrite, Today I Die Again by Daniel Benmergui, completely free. Today I Die Again is a thought provoking adventure using words as means to action.
The scene opens underwater with the body of a dead woman floating lifeless in the dark. The rock tied around her waist suggests that her demise was no accident. A poem floats above her: "hopeless world / full of shadows / today I die"
Players must use the floating glowing words or reveal hidden ones to help you transform the ever-present poem in order to progress through the game. All along the way you battle the dark creatures from the depths in effort to break through to the surface. The oddly creative music score sets the mood perfectly as you are immersed deeper into this pixelated world. Today I Die Again is truly a unique game unlike any other, exploring new ways to express emotions through a video game experience.
Today I Die Again is available free on the iTunes store for iPhone and iPod Touch.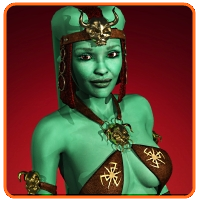 Posted by Patrick Lambert Categories: Games, iPad Apps, Reviews, $0.99,
Last month a little gem popped unnoticed on the App Store named Cover Orange. Following a recent promotion giving away the game for free, it has now reached the top 10 list on iTunes. The premise is for you to move from level to level, protecting oranges from acid rain. The first thing you notice is how similar this one is to Angry Birds, from the way the levels are made, to the physics properties that the gameplay relies on. In this case, instead of throwing birds offensively, you have to protect your oranges from the nasty clouds and their acid rain.
Both the graphics and sounds are amazing, with the oranges themselves thanking you for saving them. The animations are excellent, with everything flowing nicely from one sequence to the next. Solving physics puzzles is the meat of the game, and you get access to various objects to try and cover your oranges with, like barrels and wheels, by interacting with the other items on the level. High scores are linked to the Game Center, but it's just a lot of fun solving each level. The controls are extremely simple, you simply grab objects and let them drop where you want, and watch how they interact with the level.
The game costs $0.99 and is available for iPhone, iPod touch and iPad. It comes with 120 levels, 40 of them being new as of the latest update. The video trailer shows the game well, and at this price, it really is a must have.
Read More

| iTunes
© Gear Live Media, LLC. 2007 – User-posted content, unless source is quoted, is licensed under a Creative Commons Public Domain License. Gear Live graphics, logos, designs, page headers, button icons, videos, articles, blogs, forums, scripts and other service names are the trademarks of Gear Live Inc.