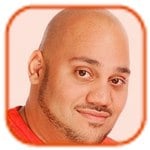 Posted by Andru Edwards Categories: News, App Updates, New Apps, $4.99,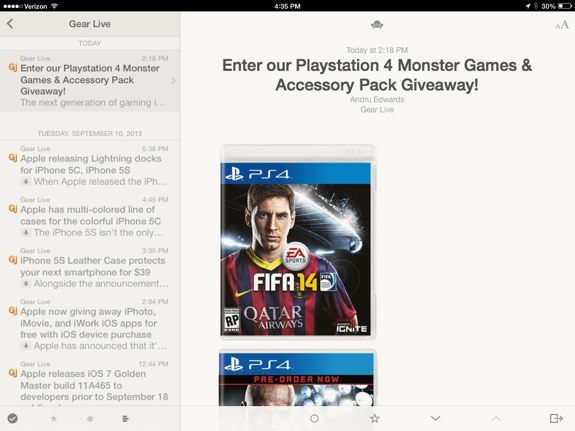 We loved Reeder for iOS and Mac, and the thoughtful RSS reading app was fantastic, right up until Google pulled the plug on Google Reader, a service that was essential to the usability of Reeder--at least on the Mac and iPad. Now, developer Silvio Rizzi is back with his second act: Reeder 2. Unlike the first version, Reeder 2 is a universal binary, which means that for the price of the app, you get both the iPhone and iPad versions included. The design language of Reeder 2 is updated to match the look and feel of iOS 7, and gone is the requirement and reliance on Google Reader. In its place, Reeder 2 now allows you to pull and sync data from Feedbin, Feedly, Feed Wrangler, Fever, and can even act as your RSS storage app in and of itself.
You can pick up Reeder 2 now for $4.99.
Read More

| Reeder 2 (App Store)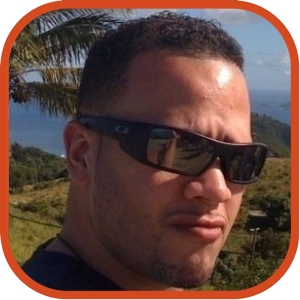 Posted by Jason Diaz Categories: Music, App Updates, Apple, $4.99,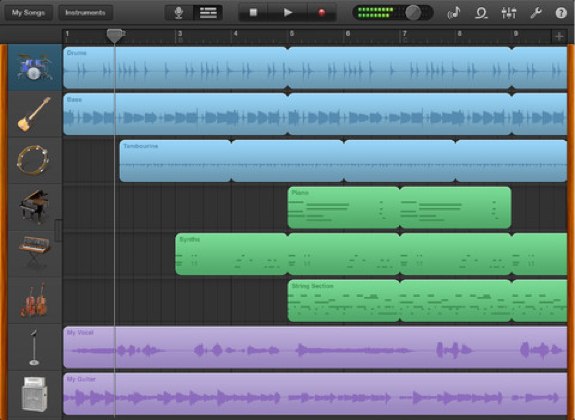 Apple has update Garageband for iOS for free with some new features, tweaks and fixes. The notable new features is Audiobus support within the app. Users can now add other compatible music and sound apps with the Audiobus feature, so get your creative touch music juices going and be the next Harlem Shake. GarageBand is priced $4.99 and its a universal app that works with iPhone, iPad and iPod touch.
What's New in Version 1.4
Play and record music apps supported by Audiobus directly into GarageBand*
Turn off grid snapping to get finer control over region and note editing
Fixes an issue that resulted in feedback while connecting 3rd-party audio accessories into the headphone/microphone jack
Requires iPhone 4S, iPod touch (5th generation), iPad 2 or later. Audiobus requires a separate purchase.
Read More

| App Store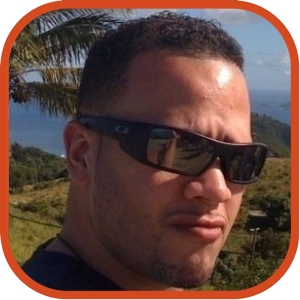 Posted by Jason Diaz Categories: Utilities, App Updates, $4.99,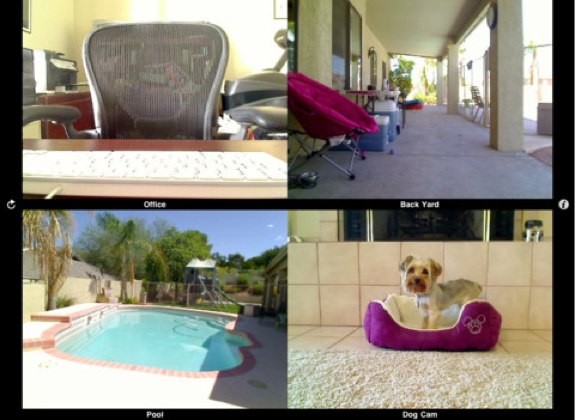 Video security surveillance app maker, SKJM, has updated its iCam app to version 2.2 and added some useful features. iCam now supports 256-Bit AES encryption, motion event image thumbnail gallery style, and supports the iPhone 5 4-inch display size. The update also includes various bug fixes and optimizations. I highly recommend this invaluable app. iCam has motion detection functionality sent via push notifiation alert with support for a bevy of third-party of security surveillance cameras. iCam is universal binary iOS app. Most notable feature: iCam for iPhone can support up to 12 simultaneous live video streams and the iPad up to 16. Don't don't have it? iCam is priced at $4.99 in the App Store.
What's New in Version 2.2
Added support for 256-bit AES encryption.
Added support for Motion Event Image Thumbnails.
Added iPhone 5 screen size optimizations.
Fixed various minor bugs.
Be sure to also update the iCamSource application running on your computer(s) to the latest version: http://skjm.com/icam/support.php
Read More

| iCam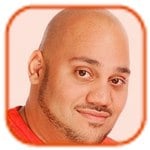 Posted by Andru Edwards Categories: Music, App Updates, Apple, $4.99,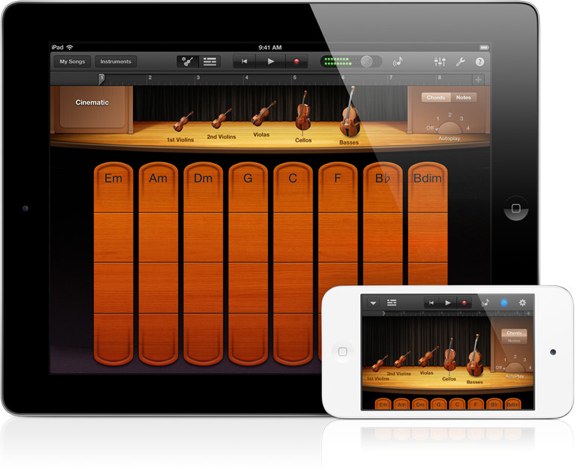 Yesterday, after its iPad event, Apple released an updated version of GarageBand for iOS that includes a few new features. First is Smart Strings. Similar to the other smart modes, Smart Strings makes it easy to control a set of string instruments and to have them work together to create music on the fly. There's also a new note editor, as well as iCloud integration that allows you to push a track to iCloud so you can then access it from your other iOS devices. Lastly, Jam Sessions allows multiple iOS devices to all play together, mimicking a live jam session. Pretty neat. You can download the update now from the App Store, or buy it for $4.99.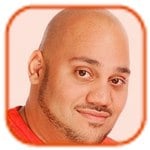 Posted by Andru Edwards Categories: Photography, iPad Apps, New Apps, Apple, $4.99,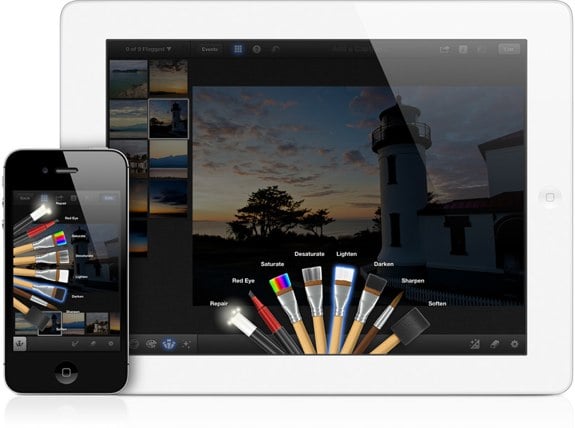 At yesterday's iPad event, Apple unveiled the final piece of the puzzle as it pertains to bringing the full iLife suite to iOS with the release of iPhoto for iPad and iPhone. Similar to GarageBand and iMovie, iPhoto is available now as a universal app for $5. So, what's the draw? Well, iPhoto lets you use your iOS device's multi-touch display to perform basic photo editing function like simple one-tap white balance, red-eye removal, and exposure adjustments. You can also crop and straighten images, and remove blemishes with ease.
You can pull up your photos that are stored on your device, including the camera roll and Photo Stream, and compare images side-by-side. Edits are non-destructive as they save a copy rather than editing the original. You can process images that are up to 19 megapixels, which should be fine for the vast majority of people out there, but for those of you shooting with a Canon 5D Mark II in RAW format, you may wanna look elsewhere for your photo processing software--but in that scenario, why would you be using an iPad for that function anyway?
You've got a bunch of sharing options, including Twitter, Facebook, and Flickr. You can also export photos to your Camera Roll and to iTunes and email them to contacts. One new feature is Journal, where you can select a group of photos that iPhoto then puts together in a unique gallery with dates, weather information, maps, and more. It's like making a diary out of photos relating to an event or range of dates.
For $5, you can't go wrong with iPhoto for iOS. You can get it now on the App Store.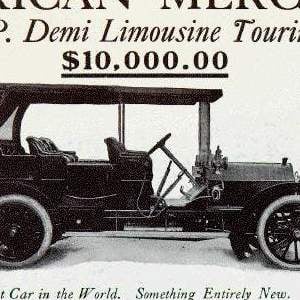 Posted by Drea Avellan Categories: Games, iPad Apps, New Apps, Reviews, Electronic Arts, $4.99,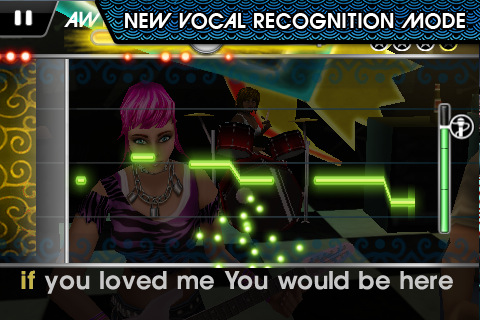 Traveling the world has always been a lifetime goal of mine. However, with so many remote places to visit, bringing a console along to play videogames is out of the question. Thankfully, Electronic Arts (EA) has releases their second installment of Rock Band for both iPhone and iPad platforms called Rock Band Reloaded. Singing along to some of my favorite songs while climbing the top of a mountain anywhere in the world is now a very possible scenario!
Click to continue reading Rock Band Reloaded Review
Read More

| Rock Band Reloaded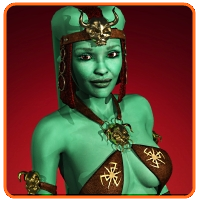 Posted by Patrick Lambert Categories: Entertainment, iPad Apps, Reviews, $2.99, $4.99,
Let's Create! Pottery from Infinite Dreams is not a new app, but it has remained rather unknown until recently when the company released the Let's Create! Pottery HD for iPad. This app is quite unique, and provides a very unusual experience. The basic premise is that you're looking at a spinning pot, which you shape with your fingers to create all sort of pots, vases and receptacles. The gestures are very intuitive, and reminiscent of working with real clay. You can make the object taller, shorter, smaller or bigger, and create all kind of rounded shapes for your works. Once you're done, you click on the firing icon and then the app will create the finished vase in beautiful 3D. The technology used to change that initial figure into a 3D vase is quite amazing.
Click to continue reading Let's Create! Pottery review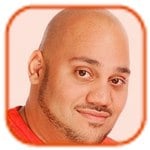 Posted by Andru Edwards Categories: Books, iPad Apps, New Apps, $4.99,
Hey, all you iPad-owning parents out there, if you are looking for a children's storybook that does more than just read aloud to your kids, you've gotta check out Bartleby's Book of Buttons Vol. 1: The Far Away Island. What makes this different enough to warrant our excitement? Well, we've been playing with it since it's been in beta, and it's just fun for kids…and to be honest, even fun for an adult to go through once or twice. It's a case study for how you can take books, and do them differently on the iPad, providing a fun, interactive experience for kids and parents to share together. Each chapter of the book is a puzzle that follows the story, but to get to the next chapter, you must first solve the puzzle. Each puzzle that you solve "unlocks" that chapter in the table of contents, so you can skip to any unlocked chapter from the beginning.
The puzzles aren't hard, but for a little child it might take them a minute or two of playing with the page to figure it out, which is great to see. We've got a Bartleby Book of Buttons gallery that shows you a page from each chapter, to give you an idea of what we mean. But seriously, if you have a child between the ages of, say, 5-10, we don't see how you can go wrong. Bartleby's Book of Buttons Vol. 1 is available now on the App Store for $4.99.
Read More

| Bartleby's Book of Buttons Vol. 1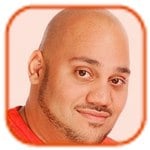 Posted by Andru Edwards Categories: Lifestyle, Reviews, $4.99,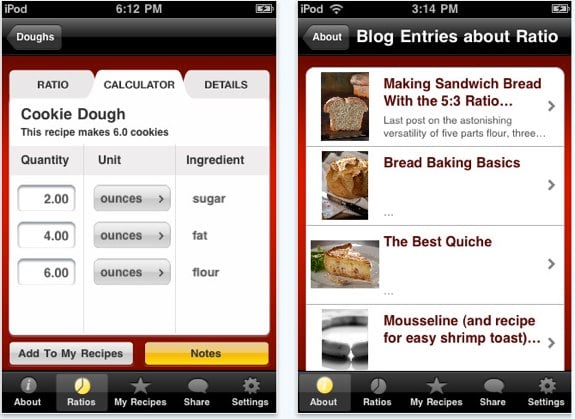 We've been playing with the Ratio app for a bit, and we must say, we're impressed. If you are into cooking, or if you want to get into cooking, this is one of those apps that comes out and sets you free from recipes and having to follow them perfectly. The app is $5, and here's what you can expect from it:
The 32 critical ratios that form the backbone of the culinary arts, with instructions: doughs, batters, meat preparations, custards, sauces (pasta dough and pizza dough, sponge cake and pancakes, fritters and crepes, stocks and sauces, crème caramel and chocolate sauce.
A calculator that figures out how much of each ingredient you need, no matter how many or how few people you want to serve.
An ounces-to-grams converter (ratios work no matter what unit you choose to use!).
Delicious variations for recipes on all the ratios, ideas for the creation of new dishes according to your tastes.
An easy way to store your own recipes and notes that you've created from the basic ratios.
Quick fun ways to share what your cooking with your fellow cooks, on Facebook and on Twitter.
Ratios is also a great way to understand and tweak your own recipes, to help you make your pancakes even fluffier, your pizza dough crisper, your crème brulee richer.
Definitely nice to have in the palm of your hand, and the app is already optimized for iOS 4.
Read More

| Ratio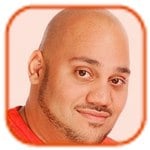 Posted by Andru Edwards Categories: Productivity, iPad Apps, Reviews, Site Features, Videos, $4.99,
We're getting really excited about the upcoming release of Apple's iPad this weekend, mainly because of the amazing apps we've been seeing. We managed to get our hands on a preview copy of Wormhole Remote, a remote access app by Nate True, friend of Gear Live. Wormhole Remote is designed to let you get up from your Mac desktop (or notebook) and use your iPad to control it remotely while you're lounging on the couch. Check out Wormhole Remote's promo video as well as an exclusive walk-through of the app after the jump.
Click to continue reading Wormhole Remote iPad review
© Gear Live Media, LLC. 2007 – User-posted content, unless source is quoted, is licensed under a Creative Commons Public Domain License. Gear Live graphics, logos, designs, page headers, button icons, videos, articles, blogs, forums, scripts and other service names are the trademarks of Gear Live Inc.